---
Crew
Director/Screenplay – Gary J. Tunnicliffe, Producer – Michael Leahy, Photography – Samuel Calvin, Music – Deron Johnson, Visual Effects – Gardocki Digital LLC. (Supervisor – Matthew Gardocki), Makeup Effects – Two Hours in the Dark Inc. (Supervisors – Mike Jay Rregan & Gary J, Tunnicliffe), Production Design – Brent Mannon. Production Company – Dimension Films
Cast
Damon Carney (Sean Carter), Randy Wayne (David Carter), Alexandra Harris (Christine Egerton), Paul T. Taylor (Pinhead), Gary J. Tunnicliffe (The Auditor), Jeff Fenter (Carl Watkins), Rheagan Wallace (Alison Carter), Helena Grace Donald (Jophiel), Grace Montie (Crystal Lanning), John Gulager (The Assessor)
---
Plot
Brothers Sean and David Carter are brothers work as police detectives and have been partnered together. They are investigating the activities of a serial killer known as The Preceptor who kills victims in a manner according to the Ten Commandments. They are joined by Detective Christine Egerton who has been assigned to keep an eye on them. The investigation leads Sean to 55 Ludovico Street where he is drawn into a netherworld inhabited by demonic figures who torture him for his guilty secrets. However, after doing so, they let Sean go, seeing him as being in the wrong place. As Sean and the others follow the trail of The Preceptor, Pinhead and the creatures from beyond continue to haunt them.
---
Clive Barker's Hellraiser (1987) was one of the classic horror films of the 1980s. Both Barker and its star Doug Bradley developed a cult following. There were several sequels made – Hellbound: Hellraiser II (1988), Hellraiser III: Hell on Earth (1992) and Hellraiser: Bloodline (1996). From Bloodline onwards, the rights to the series were purchased by Dimension Films who partnered with Neo Art & Logic to make a further series of sequels with Hellraiser: Inferno (2000), Hellraiser: Hellseeker (2002), Hellraiser: Deader (2005) and Hellraiser: Hellworld (2005). There has been a decrease in quality throughout these where Barker's original and its heavy symbolism drawn on S&M and Christian notions of sin has been watered down to the point where the Cenobites are now no more than otherworldly boogeymen. The series was revived again with the cheap and reviled Hellraiser: Revelations (2011), which, like Hellraiser: Judgment here, was a so-called 'ashcan production' – made as cheaply as possible for no other reason to continue to secure hold on the copyright. This would be followed by the remake Hellraiser (2022).
The new sequel is directed by Gary J. Tunnicliffe who is probably better known as a makeup effects supervisor who started work at the Image Animation facility (the company that produced the makeup effects for the original Hellraiser, although Tunnicliffe did not work on that film). Since 1994, Tunnicliffe has managed his own L.A.-based makeup effects company Two Hours in the Dark, Inc and been responsible for work on the likes of Candyman (1992), Lord of Illusions (1995), Blade (1998), X-Men Origins: Wolverine (2009) and a host of others. He has contributed effects to almost all of the Hellraiser sequels since Hellraiser III and conceived the story for Hellraiser: Revelations. Tunnicliffe made his directorial debut with the alien monster film Within the Rock (1996) and has also made Hansel and Gretel (2002) and Jack and the Beanstalk (2010) and written the screenplays for Guardian (2001) and Megalodon (2002). He has also made occasional acting appearances in films he has worked on.
It need not to be said that most of the Hellraiser sequels are fairly terrible. There are one or two exceptions – Hellraiser: Inferno was unexpectedy good and Hellraiser: Hellseeker was halfway watchable. But most of the sequels since Hellraiser; Bloodline have not been. And so you have to commend Gary J. Tunnicliffe as he is clearly making an effort with Hellraiser: Judgment to stand out above these and add something new to the mix – even if at the end he does not fully succeed.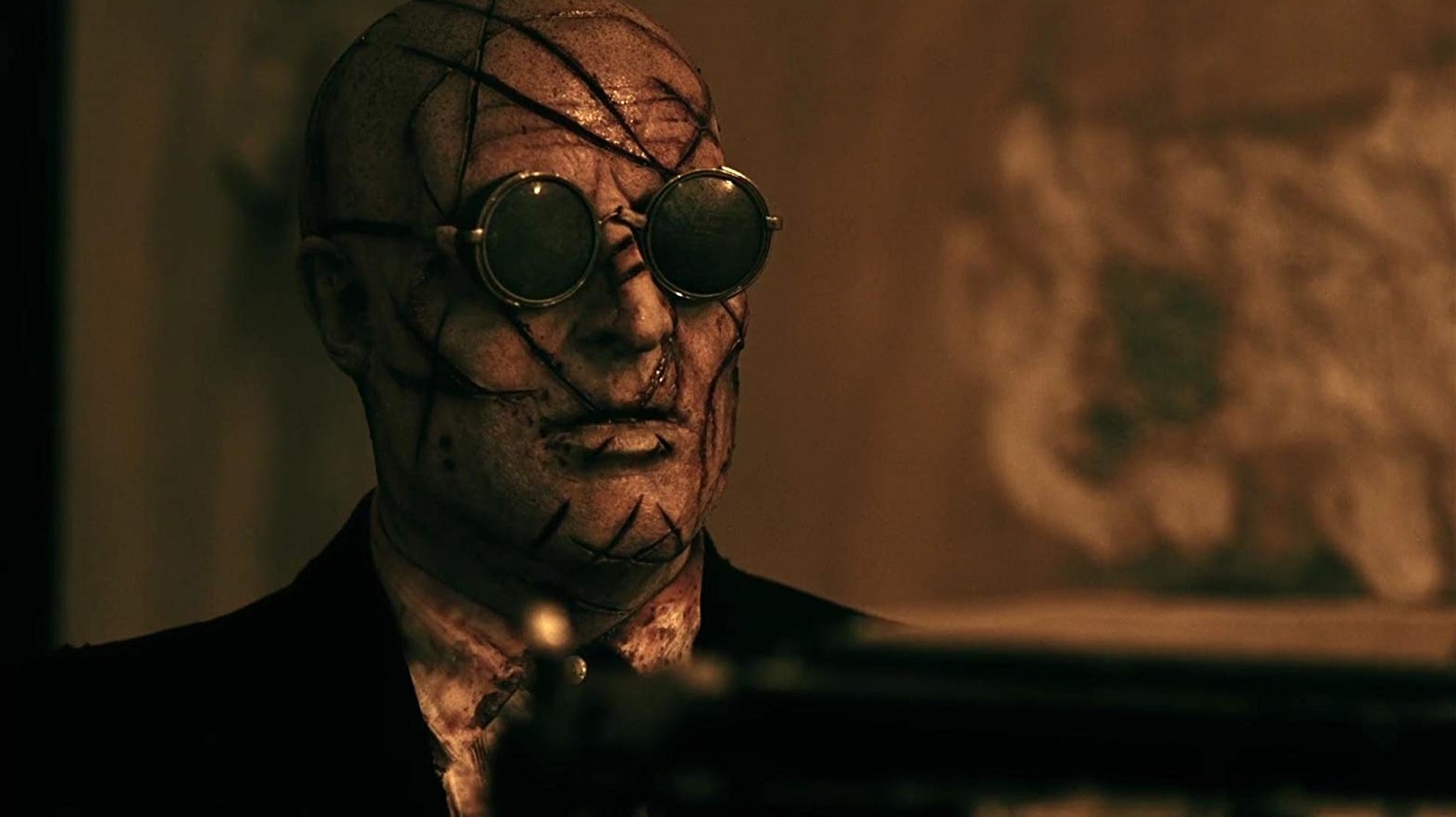 Hellraiser: Judgment holds your attentions from the opening ten minutes where Jeff Fenter is lured to 55 Ludovico Street and imprisoned in a wheelchair by a being known as The Auditor (played by Gary J. Tunnicliffe himself) who wears a suit and dark glasses, has a face covered with a lattice of scars and sits at a desk where he types Fenter's confession on an old-fashioned typewriter attached to organic tubes. He is replaced by a figure known as The Assessor (John Gulager) – a middle-aged man in a suit top with no shirt who eats the confession, washing it down with what he tells us are 'the tears of children' from a vial and then vomits it up in a basin in the corner. This goes through tubes into a trough in an adjoining room where three topless women with deformed faces who are chained there devour the vomit. Fenter is then imprisoned on a table where someone in a whole body black vinyl suit and gimp mask sits astride him and slices him up with blades, before several naked plus-size women come and devour his body.
All of this gives the film something wild and very definitely different – a shot of imagination that none of the other Hellraiser sequels had. There's another wild sequence a few minutes later as the three detectives investigate a murder scene to find Grace Montie's body, which has had her dog sewn inside her stomach while it is still alive. It is at this point that you think Gary J. Tunnicliffe is about to reanimate the corpse of the Hellraiser franchise the same way electricity courses through the body of the Frankenstein monster on the lab table.
The downside is that this is that we have a film that places its most imaginative scenes first. Thereafter, Hellraiser: Judgment coasts along on that impetus before revealing it has little else up its sleeve. The rest of the film seems to have been made on a miniscule budget – not necessarily a problem, so too was the original Hellraiser. However, this is evident in many things such as the lack of conviction to the way the detectives operate to the fact that Hell seems to be just an ordinary disused home and a warehouse.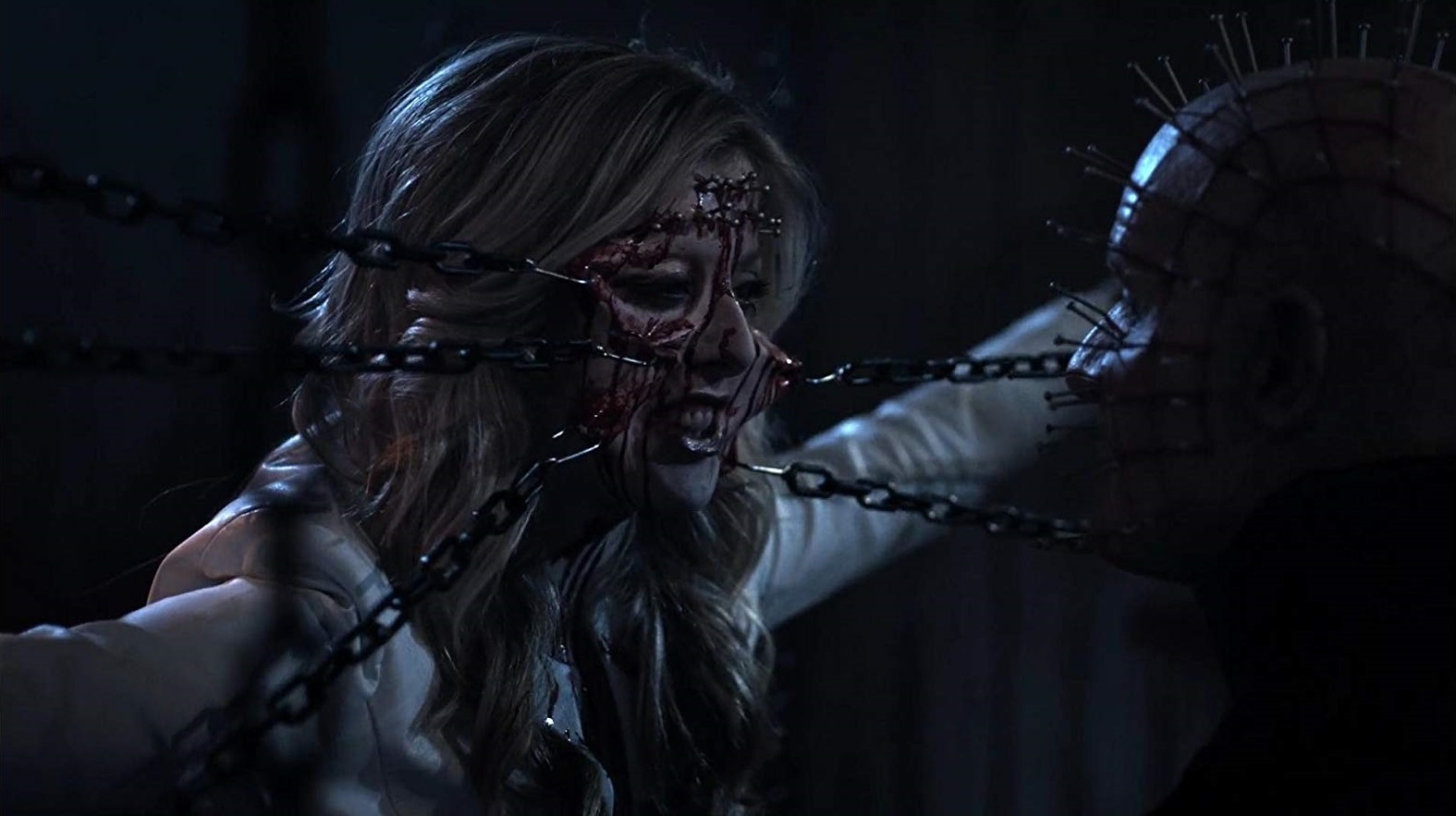 A more crucial issue is the moribund plot. As it is, we have a captivating opening scene where Jeff Fenter enters the realm of the Cenobites – but for a long time this does not seem like this is connected to anything else. We are then thrown into the story about the police hunting a serial killer known as The Preceptor but this doesn't seem connected to the Hellraiser mythos. There is a lack of urgency to the plot – no sense of the detectives piecing a mystery together, while the personal conflicts that later prove crucial are only touched on.
There is a mildly effective twist revelation of the identity of The Preceptor, which pushes Hellraiser: Judgment into being sort of a rehash of Hellraiser: Inferno by way of Se7en (1995). The end ventures back into the afterlife where we get more of Pinhead who only has been a character seen in the background. At least Paul T. Taylor does a better job of resembling Doug Bradley and getting the funereal intonation right than Stephan Smith Collins did in Revelations. The film sort of goes sideways towards the end where various parties are punished – it is still a long way from Clive Barker's vision of forbidden pleasures and ecstatically pleasurable torture.
After this, Pinhead [PLOT SPOILERS] tortures an angel (Helena Grace Donald) and for this is condemned by being turned back into his mortal self. It's an ending that doesn't really work – I mean, how is any further sequel going to deal with the absence of the central villain, the only familiar character to run through all of the films? Is the series' continuity even going to care about this or just ignore it, or are we going to have a work centred around a human Pinhead? If nothing else, you are sufficiently intrigued to come back and find out what the series does next.
---
---