---
Crew
Director – Scott Derrickson, Screenplay – Scott Derrickson & Paul Harris Boardman, Producers – W.K. Border & Joel Soisson, Photography – Nathan Hope, Music – Walter Werzowa, Visual Effects – Neo Digital Images (Supervisor – Jamison Goei), Special Effects – Ultimate Effects (Supervisor – David Waine), Makeup Effects Supervisor – Gary J. Tunnicliffe, Production Design – Deborah Raymond & Dorian Vernacchio. Production Company – Dimension Films/Neo Art & Logic.
Cast
Craig Sheffer (Detective Joseph Thorn), Nicholas Turturro (Detective Tony Enone), James Remar (Dr Paul Gregory), Doug Bradley (Pinhead), Nicholas Sadler (Bernie), Noelle Evans (Melanie Thorn), Lindsay Taylor (Chloe Thorn), Matt George (Leon Gaultier), Michael Shamus Wiles (Parmage), Sasha Barese (Daphne Sharp), Carmen Argenziano (Captain)
---
Plot
Denver police detective Joseph Thorn picks up the Lament Configuration at the site of a bizarre murder. Later he sneaks away from his wife and daughter to visit a prostitute and opens the box, whereupon he has a nightmare of the Cenobites. The next day, the prostitute is found murdered. Thorn finds the severed finger of a child left behind, just like at the first murder scene. He covers up evidence of his involvement with the prostitute and is forced to blackmail his partner into silence. He pursues the killer, determined to save the child. The trail leads to a sinister figure known only as The Engineer who is behind all the vice and fetishism in the city. Thorn is warned that those who seek The Engineer will find The Engineer coming after them and he soon finds himself in a game where The Engineer taunts him, targeting the people in his life and leaving a severed child's fingers at each murder scene.
---
Hellraiser: Inferno was the fifth entry in the Hellraiser series. By now, Clive Barker, who wrote and directed the original Hellraiser (1987) and lorded as Executive Producer over one good – Hellbound: Hellraiser II (1988) – and two lame sequels – Hellraiser III: Hell on Earth (1992) and Hellraiser: Bloodline (1996) – has bowed out and sold all interest in the Hellraiser series to Dimension Films. Which is a shame as, contrary to the law of diminishing returns, Hellraiser: Inferno is one of the best of the Hellraiser sequels.
Hellraiser: Inferno is also the most variant of the Hellraiser sequels. The other films spent their time expanding out on the basic mythology established in the first film. Hellraiser: Inferno dispenses with most of that – Pinhead is a relatively unimportant character and more importantly we are told that Pinhead is just one of the faces that the character wears. Where the sequels became pop-up effects shows focusing on the villains, Hellraiser: Inferno returns to Clive Barker's original notion of the Lament Configuration unleashing forbidden desires.
Indeed, there are times that Hellraiser: Inferno seems more like a supernatural version of 8MM (1999) than it does a Hellraiser film. The characters are a good deal darker than any of the other sequels – child molesters, while the hero is notably a corrupt, blackmailing cop who has a coke problem and leaves his wife and child to dally with hookers. Hellraiser: Inferno also makes Clive Barker's universe a much more subjective vision – the Hell and Cenobites here, we are now told, are only personal visions, not objective ones as the other films have always implied.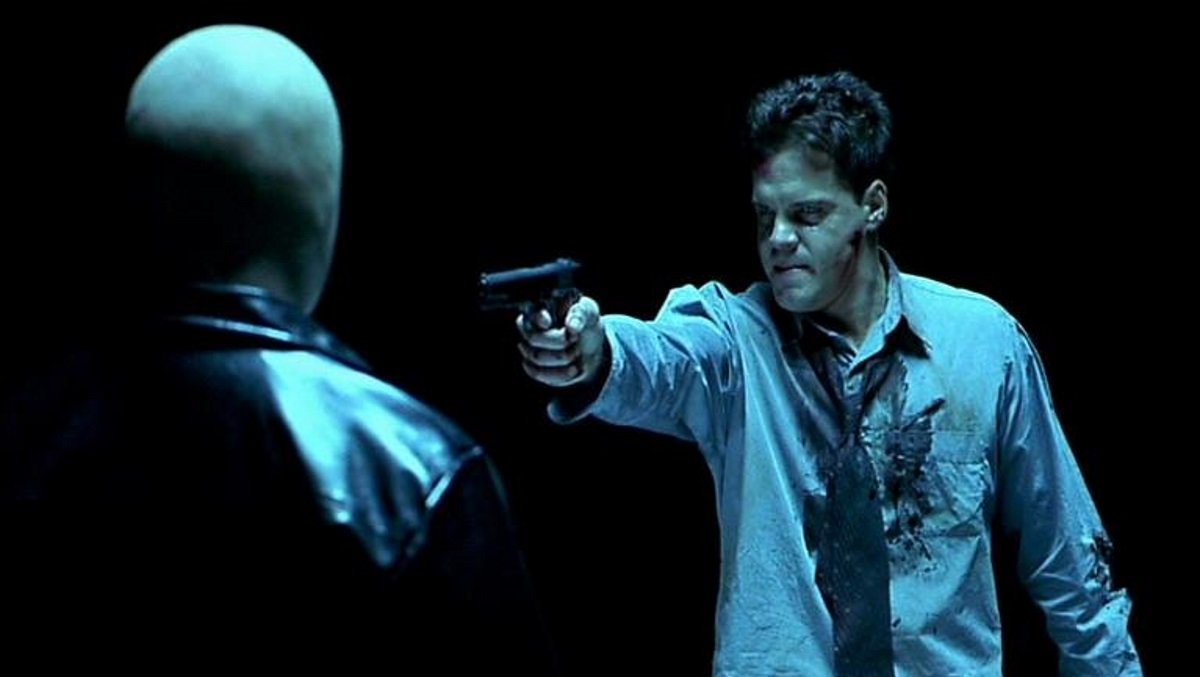 Director Scott Derrickson showed himself as a talent worth looking out for, as Hellraiser: Inferno was a most promising debut. Some of Derrickson's visions are as startling as anything that Clive Barker offered up in Hellraiser. There is a wild dream sequence with Craig Sheffer being pursued up the stairs by a faceless Cenobite torso and two women who have blank sewn-shut faces who kiss him with long black tongues that seem to have lives of their own, while sliding their black leather gloved hands through his rib cage to caress him. There are some good shock images with victims being whipped with hooked chains and a beautiful narrated flashback where a man who annoyed The Engineer returns to find his missing girlfriend's severed head in the bed accompanied by a note: "I took what I needed and left you the rest."
The film is filled with a deepening eerieness and offbeat incidental imagery – the figure of a gun-toting cowboy who runs a gambling house and gives sinister warnings, visits to body-piercing parlours with hallucinations of tattoos coming to life, hospital patients with grins that are grotesquely stretched as though they have bars in their mouth, and eerie dreams that then start to come uncannily true after Craig Sheffer wakes up.
Derrickson also constructs the story as a fascinating puzzle, one in which Pinhead becomes a quasi-supernatural figure now known as The Engineer who toys with the hero, killing those around him but first sending him videotapes and dreams as clues to taunt him. The revelation of the Engineer's identity is a fine, effective surprise. Most of the Hellraiser sequels have been unimaginative shows – someone opens the box, Pinhead comes, torture ensues, Pinhead dispatched – but Hellraiser: Inferno is one that actually concerns itself with a story.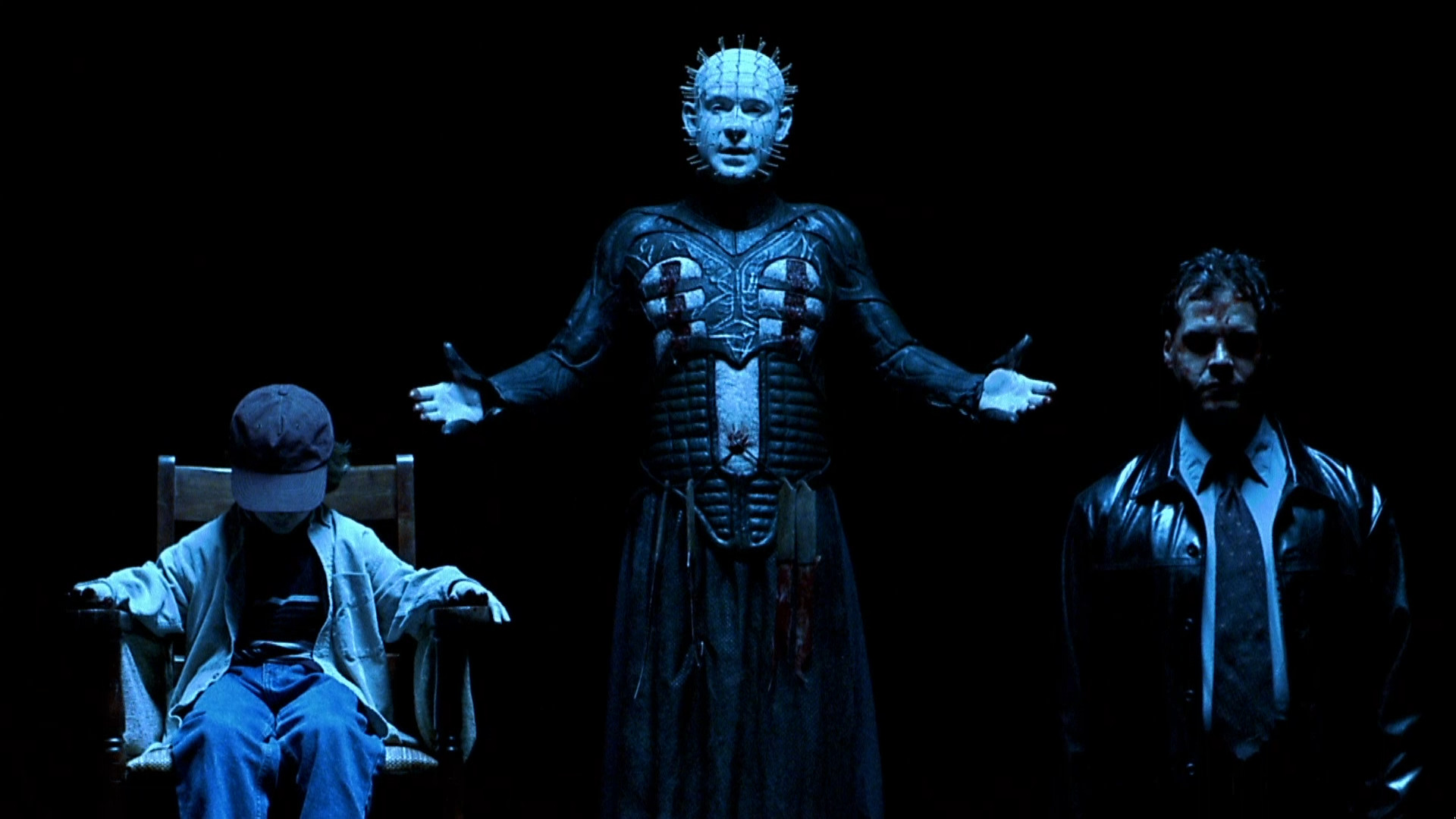 On the minus side, Craig Sheffer, who was also the hero in Clive Barker's Nightbreed (1990), is inexpressive, going through the entire film with a constipated expression that one gathers is meant to register upset. Also the descaling of the series vision of Hell to a hallway and a couple of rooms in a house is a long way down from the second film's grandiose vision of an M.C. Escher Hell. The ending wherein the series' vision of Hell and Sadean demons is banally reduced to a ridiculously moralistic personal Hell where someone is merely being punished for leading a selfish life is lame. It is the only disappointment in what is otherwise the most original and certainly best directed of the sequels.
The subsequent sequels were Hellraiser: Hellseeker (2002), Hellraiser: Deader (2005), Hellraiser: Hellworld (2005), Hellraiser: Revelations (2011) and Hellraiser: Judgment (2018). This was followed by the remake Hellraiser (2022).
Scott Derrickson also wrote the screenplay for Urban Legends: Final Cut (2000) and provided story for Wim Wenders' The Land of Plenty (2004). He later went on to direct the courtroom possession drama The Exorcism of Emily Rose (2005), the big-budget remake of The Day the Earth Stood Still (2008), the horror film Sinister (2012), Deliver Us From Evil (2014), Doctor Strange (2016) and The Black Phone (2021).
(Winner Best Sequel/Remake at this site's Best of 2000 Awards).
---
---