---
Crew
Director/Screenplay – Larry Fessenden, Producer – Dayton Taylor, Photography – Frank DeMarco, Music – Geoffrey Kidde, Makeup Effects – Tad Hills. Production Company – Glass Eye Pix.
Cast
Larry Fessenden (Sam), Meredith Snaider (Anna), Aaron Beall (Nick), Patricia Coleman (Rae), Heather Woodbury (Liza), Jesse Hartman (Lenny)
---
Plot
At a Halloween party, Sam meets and is attracted to the enigmatic Anna. He goes to leave with her but she has vanished when he returns from getting his coat. Later they meet by chance in the street and begin a heated sexual affair. Anna then demonstrates a strange penchant for drinking his blood. After Sam starts feeling drained and sick, he begins to wonder if Anna might not be a vampire.
---
Larry Fessenden is a horror director who gained a name for himself through the low-budget horror film. Fessenden first emerged with the little-seen Frankenstein reworking No Telling (1991), then found some attention with Habit before going onto make the better-budgeted Wendigo (2001), the environmental horror film The Last Winter (2006), the monster movie Beneath (2013), and the modernised Frankenstein retelling Depraved (2019), as well as the N is for Nexus segment of ABCs of Death 2 (2014) and the Fever episode of Isolation (2021). More recently, Larry Fessenden's production company Glass Eye Pix has produced a host of low-budget horror movies for other directors (see below for which).
Larry Fessenden's films are low-key films. They do not always have an easy narrative line. Rather they are almost impressionistic in nature, accumulating a greater picture out of trivial peripheral detail and the seemingly inconsequential aspects of ordinary life surrounding the central story. In Habit, Larry Fessenden spends much time painting pictures of his hero's everyday life – trips to street fairs, helping his ex-girlfriend move house, his waiting job, hanging out with his friend's bar band, a memorial service for his father – which have little or nothing to do with the horror element. Of course, the real reason for Fessenden's approach is that amid all the casual detail, slowly and with complete naturalism, the horror elements slip in almost unnoticed – tiny details like Anna's waiting to be invited into Sam's apartment, or not being able to come in while he is cooking garlic and so on.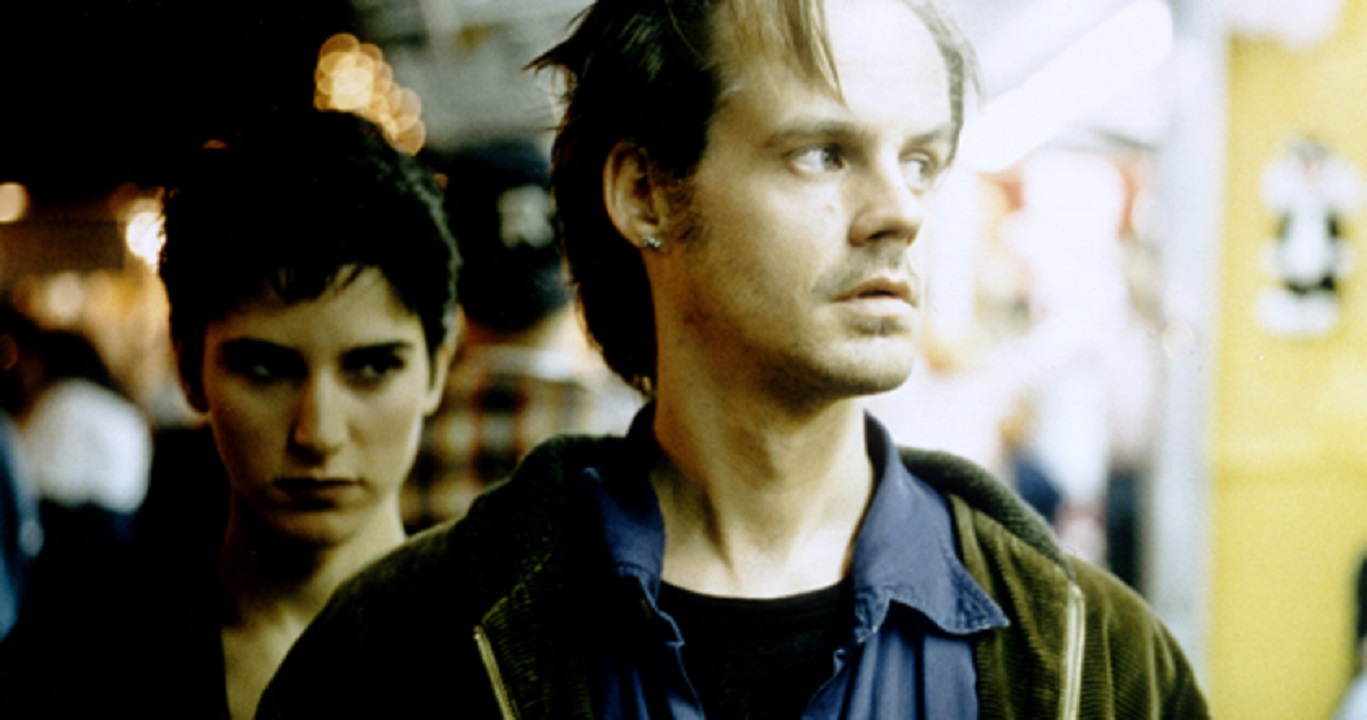 When the vampire element does emerge fully, Larry Fessenden's approach is strikingly perverse. He delights in creating sexually provocative scenes – Anna giving Sam a handjob against a statue in Battery Park, or lovemaking on the rooftop of his apartment. These sex scenes are directed with an urgency and an aggressiveness rather than an eroticism. In the most strikingly perverse scene, Fessenden makes out with Meredith Snaider in a hospital supply room, fucking her against the wall while she bites into and drinks from his upraised wrist.
These scenes are not without a poetic beauty – there's a bathtub scene touching scars that evokes a tender eroticism of sorts. Some of the shots drifting through New York City are evocative, none the more so than one scene drifting past a group of nude bodies posing for a photographer in the streets – it has nothing to do with anything else but the casual beauty of the image is haunting.
Fessenden is particularly well served by his lead actress Meredith Snaider, who offers the perfect degree of ethereal mysteriousness. Fessenden himself plays the main role. Uniquely, he looks like a permanently unemployed thirtysomething slacker with a drug dependency problem, and it is no surprise as he has been cast in small parts as an addict in both Martin Scorsese's Bringing Out the Dead (1999) and Brad Anderson's Happy Accidents (2000).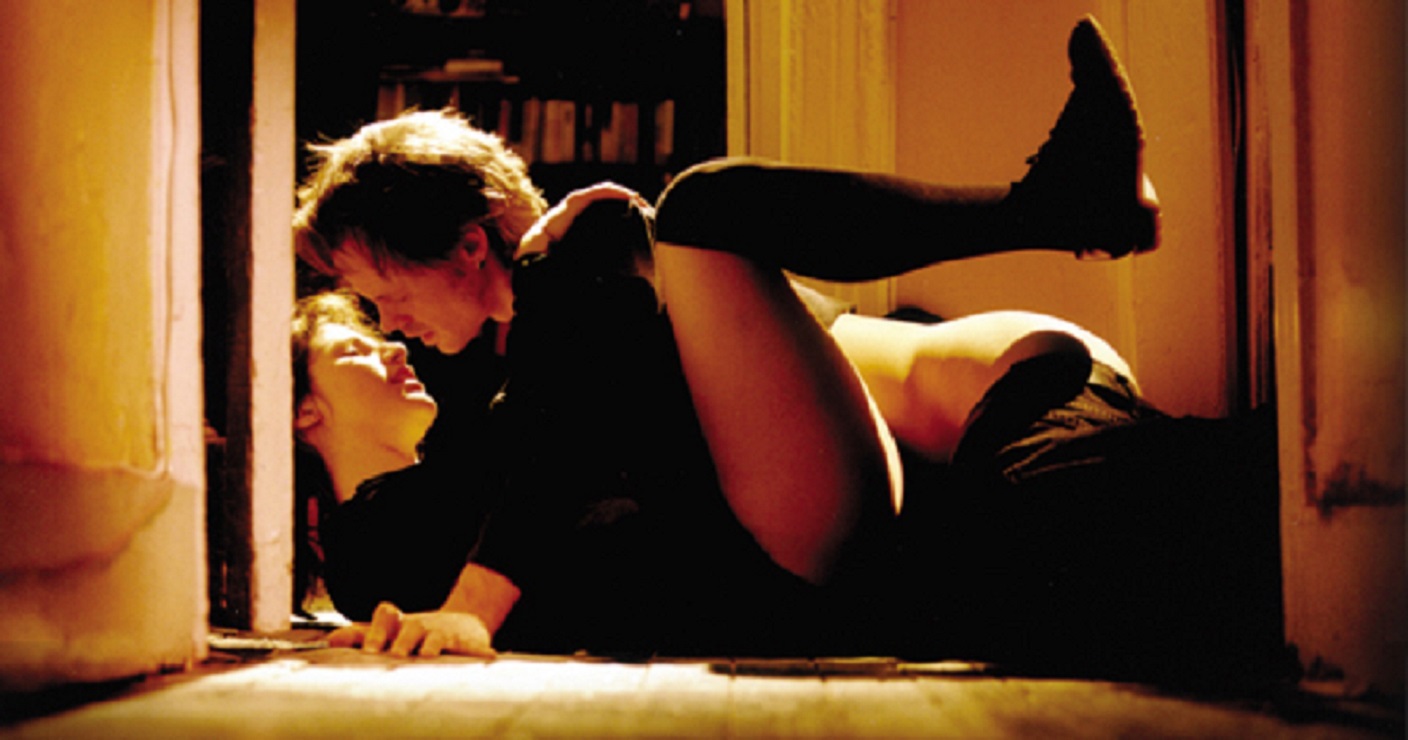 Habit has some similarities with Kevin J. Lindenmuth's equally interesting Addicted to Murder (1995). Both Larry Fessenden and Kevin J. Lindenmuth are low-budget New York based horror filmmakers and both of their films are intense relationship dramas that feature a man meeting and then becoming involved with an enigmatic vampire woman. Fessenden had earlier made Habit as a short film Habit (1981).
Glass Eye Pix's other genre films are:- The Off Season (2004), Zombie Honeymoon (2004), The Roost (2005), Automatons (2006), Trigger Man (2007), I Can See You (2008), I Sell the Dead (2008), The House of the Devil (2009), Satan Hates You (2009), Bitter Feast (2010), Stake Land (2010), Hypothermia (2011), The Innkeepers (2011), Late Phases (2014), Darling (2015), Most Beautiful Island (2017), Psychopaths (2017) and The Ranger (2018).
---
---