---
Crew
Director – Gregory Dark, Screenplay – Dan Madigan, Producer – Joel Simon, Photography – Ben Nott, Music – Tyler Bates, Visual Effects – Fuel International (Supervisor – Andrew Hellen) & Photon VFX, Special Effects Supervisor – Brian Holmes, Makeup Effects Supervisor – Jason Baird, Production Design – Michael Rumpf. Production Company – WWE Films/Lionsgate.
Cast
Kane (Jacob Goodnight), Samantha Noble (Kira Vanning), Christina Vidal (Christine Zarate), Luke Pegler (Michael Montross), Rachael Taylor (Zoe Warner), Steven Vidler (Frank Williams), Penny McNamee (Melissa Beudroux), Michael J. Pagan (Tyson 'Tye' Simms), Mikhael Wilder (Russell Wolf), Craig Horner (Richie Bernson), Cecily Polson (Margaret), Tiffany Lamb (Hannah Andress)
---
Plot
Police answer a call to a house where the hulking Jacob Goodnight has killed a bunch of people and plucked out their eyes. They are attacked by Goodnight where Officer Frank Williams has his arm severed by an axe but survives while his partner is killed. Four years later, Williams is given the assignment of overseeing a group of male and female teenagers released from juvenile hall on work detail to help clean up the old dilapidated Blackwell Hotel and convert it into a shelter for the homeless. However, as the teens begin exploring and fooling around in the building, the hulking Jacob Goodnight is waiting in the hidden passageways and emerges to slaughter them.
---
See No Evil is a slasher film. It should not to be confused with several other films with the same name, notably the psycho-thriller See No Evil (1971) and See No Evil: The Moors Murders (2006), a British tv mini-series about the true-life Ian Brady-Myra Hindley killings that came out the same year.
The film is directed by Gregory Dark who has made more than fifty pornographic films since the mid-1980s, including well known efforts such as New Wave Hookers (1985), Animal Instincts (1992) and several The Devil in Miss Jones sequels. See No Evil was billed as Gregory Dark's first mainstream breakthrough film, although this is not strictly the case as he had directed several other non-adults only works, including genre efforts like the zombie comedy Night of the Living Babes (1987) and the sf/action film Street Asylum (1990), although See No Evil is the only of these to receive anything approaching a theatrical release.
The sole novelty selling point that See No Evil has is that the hulking killer is played by Kane, more mundanely born as Glenn Jacobs, one of the top wrestlers with the WWE. Notedly, the principal producing company of See No Evil is WWE Films, while WWE CEO Vince McMahon is listed as an Executive Producer. Formed in 2002, WWE Films is a subsidiary intended to spin the popularity of the wrestling characters out into feature film roles. They have made a surprising number of works, including The Marine (2006), 12 Rounds (2009) and The Reunion (2011) starring John Cena, The Condemned (2007) with Stone Cold Steve Austin, Knucklehead (2010) with The Big Show, Inside Out (2011) with Triple H, as well as Leprechaun: Origins (2014), a revival of the 1990s series starring 4'5″ wrestler Dylan Postl, even animated films that cross WWE wrestlers over with The Flintstones and Scooby Doo and Surf's Up 2: Wavemania (2017).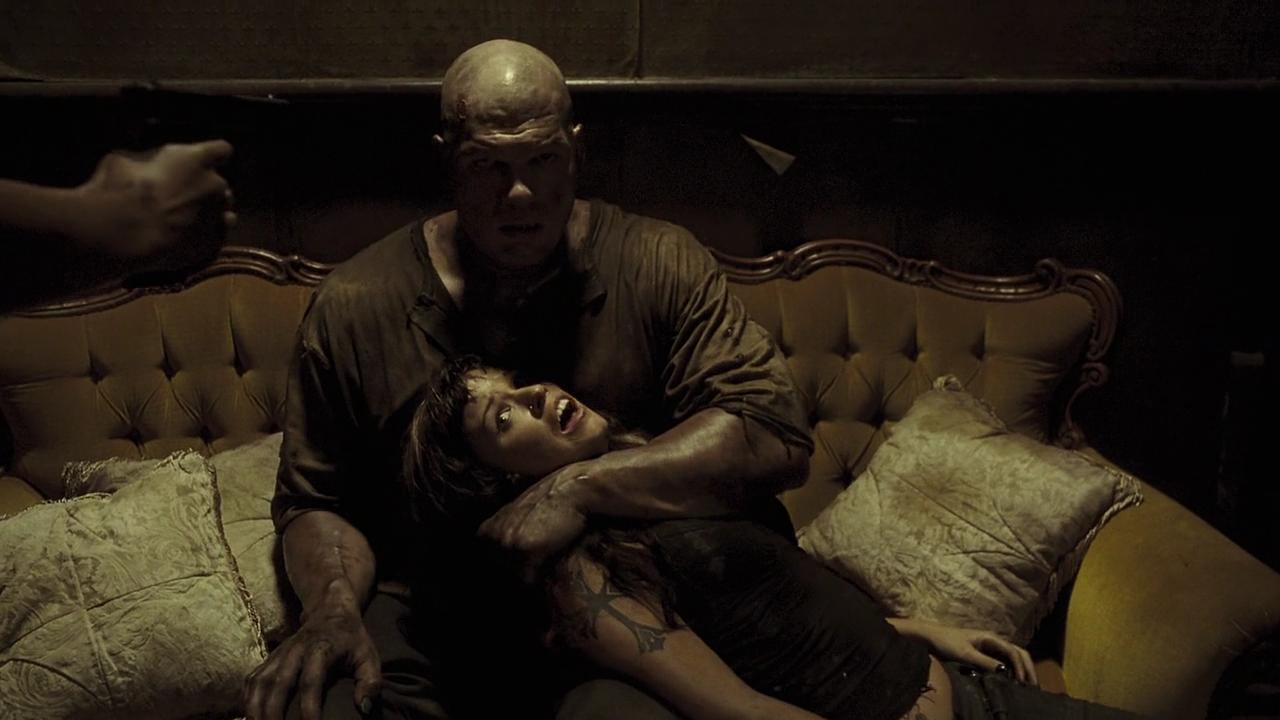 In all regards, See No Evil is a routine slasher film. It is more professionally made than its 1980s counterparts where the filmmaker have actually travelled to Australia and built the interior of the hotel there as a set. The cast get mildly more characterisation than the average slasher film but the plot never does anything out of the ordinary. Steven Vidler, for instance, is set up as the Cop With a Past who must confront the killer to obtain closure only for his character to be killed off well before the end. For all his star billing, Kane's performance is limited to being no more than a hulking monosyllabic presence, no different than any of the other stuntmen that inhabit the hockey mask in the Friday the 13th sequels.
There is a promisingly brutal opening where cop Steven Vidler and partner enter a house, only for the partner to get an axe in the head, Vidler his arm severed and the surviving woman found with her eyes gouged out. However, outside of maintaining a moderate level of brutality, Gregory Dark fails to offer much in the way of style. The film only seems to have brutality and gory despatches going for it and these end up being nothing terribly standout.
There is the occasional scene like where bitchy Rachael Taylor is hiding in a cupboard but is given away by her cellphone ringing whereupon Kane grabs the phone and forces her to swallow it. Or where Penny McNamee does a Suspiria (1977) and is dropped through the glass roof of an atrium and left dangling on the end of a rope inches from the floor where a broken bone pokes through her skin and the dog from the hole in the wall comes and starts licking up the blood, followed by a whole pack of other dogs that promptly devour her.
See No Evil 2 (2014) was a sequel directed by the Soska Sisters and featuring a return performance from Kane.
---
---