Germany/Canada. 2008.
Crew
Director/Screenplay – Bruce LaBruce, Producers – Jürgen Brüning, Jörn Hartmann, Michael Huber, Jennifer Jones & Bruce LaBruce, Photography (colour + some scenes b&w) – James Carman, Makeup – Pascal Herr, Art Direction – Stefan Dickfeld. Production Company – Jürgen Brüning Filmproduktion/Heinz und Horst Filmproduktion/New Real Films/Existential Crisis Productions.
Cast
Jey Crisfar (Otto), Katharina Klewinghaus (Medea Yarn), Marcel Schlutt (Fritz Fritze), Susanne Sachsse (Hella Bent), Guido Sommer (Adolf), Christophe Chemin (Maximilian), Stefan Kuchsner (Butcher/Otto's Father)
---
Plot
Everywhere there has been a plague of gay men returning from the dead as zombies. In Berlin, Otto climbs up out of a grave and wanders the city with no idea who or what he is. Forced to live homeless, he is attacked by people who despise the zombies. He takes some solace in a series of gay encounters, although has a habit of eating the flesh of the other men with whom he liaises. He then finds a poster advertising a casting call for a movie about the zombies being made by Medea Yarn – although even after being cast he has difficulty convincing her that he is a real zombie and not play-acting the part.
---
Bruce LaBruce (born more mundanely as Bryan Bruce) is a Toronto-based journalist, photographer and filmmaker. LaBruce gained attention with his photographic work for gay magazines. This pushes a certain envelope – it is hardcore and often confrontational where he covers a good deal of S&M/bondage/fetish material, or subverts expectation such as chicks with guns poses that on closer inspection are shown to be played out by chicks with dicks and the like. LaBruce began making gay-themed films with No Skin Off My Ass (1991), Super 8½ (1994), Hustler (1996) and Skin Gang/Skin Flick (1999). It was with Skin Gang that LaBruce started to court controversy, showing a gang of skinheads engaged in sex, something that increased with his next film The Raspberry Reich (2004), a pornographic film about terrorists, LaBruce's subsequent gay pornographic zombie film L.A. Zombie (2010) gained quite a degree of notoriety.
Bruce LaBruce makes his initial visit to the gay zombie film with the less well-known Otto; or, Up With Dead People. Indeed, Otto feels like a dress rehearsal for the far better polished L.A. Zombie. Although where LaBruce made L.A. Zombie as an outright pornographic film, Otto only occasionally heads in that direction. We have one or two gay sex scenes but LaBruce stops short of actual penetration shots – the one exception is the sheer outrageousness of a scene where one zombie tears open the stomach of a recently dead man and thrusts his dick into the intestines causing the other man to come back to life.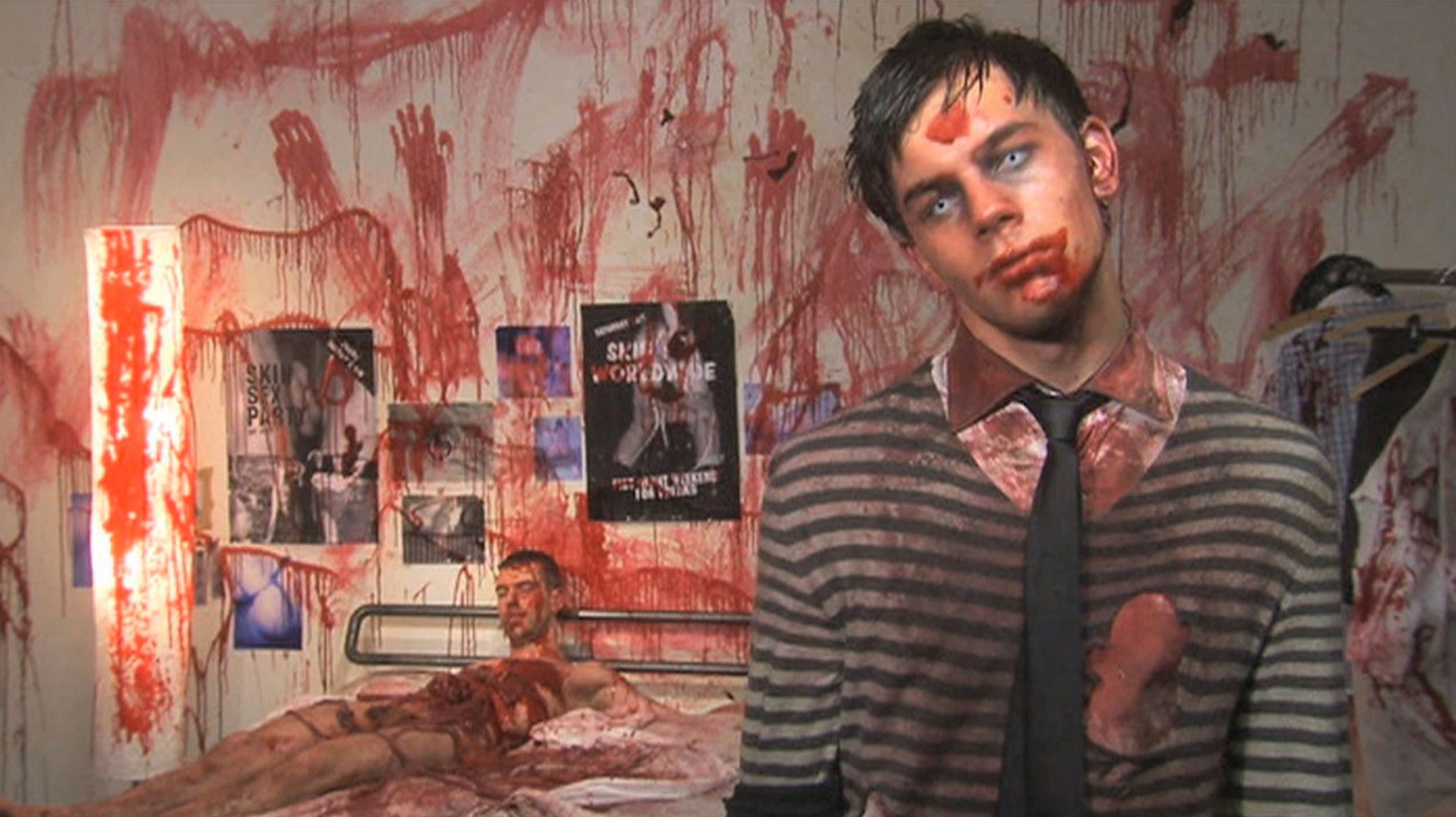 Where L.A. Zombie had no bones about being a pornographic film, Otto; or, Up With Dead People comes more down around the level of a student art film. There is sort of a plot to the film but it is one that LaBruce only occasionally remembers to get back to – it's more a case of some things happening in random order and then the film ends. LaBruce uses effects more common to an experimental film than a genre-identifying horror film – characters speak direct to the camera as though they were being interviewed; one character (Susanne Sachsse) seems to have stepped out of a silent movie and speaks in subtitles while her appearance is tinted in grainy black-and-white amid otherwise colour scenes. For no clear reason, LaBruce includes lots of solarised scenery. LaBruce shot Otto; or, Up With Dead People in Berlin using a German cast (who all speak English throughout).
LaBruce seems to want to make some metaphor between being a zombie and a gay person. In truth though, the idea of zombies and porn don't mix – there have been a few straight efforts to combine the two with Beyond Fucked: A Zombie Odyssey (2013) and The Walking Dead: A Hardcore Parody (2013) – but zombie porn has the major hurdle in that sex with dead people (be they gay or straight) is just not sexy. (No offence meant to necrophiles).
The analogies are further diluted in the later scenes where LaBruce has Katharina Klewinghaus spouting various speeches taking capitalism and the consumer society to task (although I could never be sure during these if these were actual issues that Bruce LaBruce was getting worked up about or where he was satirising something).
---
---