---
Crew
Director/Screenplay – Mickey Keating, Producers – Sean Fowler, William Day Frank, Mickey Keating & Morgan White, Photography – Mac Fisken, Music – Giona Ostenelli, Makeup Effects – Jeffrey S. Farley, Art Direction – Anna Henning. Production Company – Pod Pictures LLC.
Cast
Dean Cates (Ed), Lauren Ashley Carter (Lyla), Brian Morvant (Martin), Larry Fessenden (Smith)
---
Plot
Ed turns up at the apartment of his sister Lyla and persuades her of the need to join him to go and help their brother Martin. Martin has left a phone message that indicates his mental health is going off the rails again. They travel to where Martin is barricaded up in a lakeside cabin in Maine. As Martin pulls a shotgun on them, they realise that he is in a worse state than they thought. He incoherently claims that he was experimented on while in the military in the Middle East and that he has a creature imprisoned in the basement.
---
Mickey Keating is a director who suddenly began to accrue a name for himself in the mid-2010s. Keating first appeared with Ritual (2013) and started to gain buzz with Darling (2015). Pod was released a month before Darling. Keating subsequently went on to make Carnage Park (2016), Psychopaths (2017) and Offseason (2021). His name has gained reasonable buzz and is held up with some promise in genre circles.
I enjoyed Darling, which also starred Lauren Ashley Carter, but I have to say I have searched the rest of Mickey Keating's films in vain looking for the same touch. Keating's other films have been passable with touches of originality but nothing standout. Pod feels exactly like a film that was quickly put together, based around a cast of three and the availability of somebody's house to shoot in (which comprises the location of almost the entire show). There's an improvisational quality to the film – as though Keating and the cast were making up character interactions as they went without a concern for wider matters like the direction of the story.
The problem with Pod is that as soon as we arrive at the house Keating launches into full-on shakycam to denote some kind of intensity. After a time, this starts to become tedious – especially when it feels as though all the jitteriness is being used to disguise a series of scenes that fail to justify such an attempt to wind up the intensity.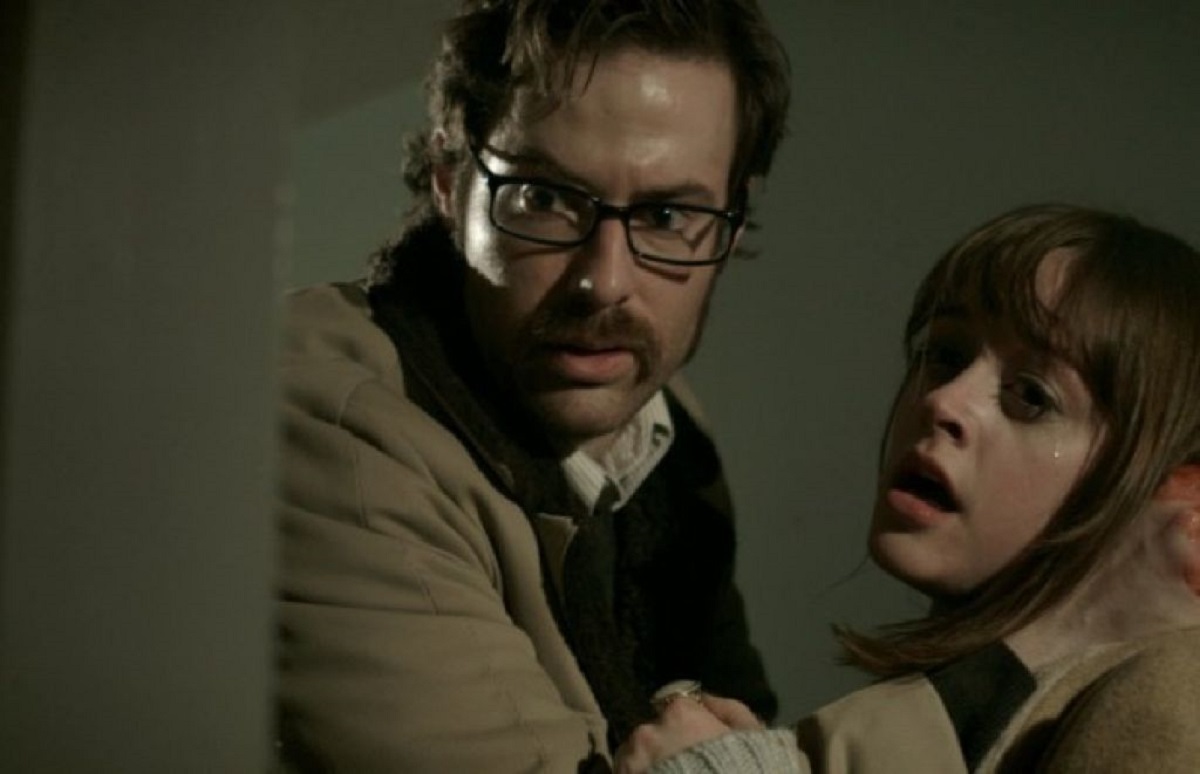 The bulk of the film consists of Brian Morvant ranting incoherently about military experiments, being taken over by creatures and trying to prevent the other two from going down to the cellar. They eventually do enter the cellar and there proves to be something there. That is about the whole of the film. What exactly is in the cellar is never explained. Certainly the film gets some surprise value when, having been built up around a trio of characters, it starts killing them off. On the other hand, it feels like a film that is waiting for a third act to build on everything that has happened. The downer of an ending feels unsatisfactory.
Perry Blackshear's They Look Like People (2015) did a far more remarkable job of depicting mental instability and the possibility of something monstrous lurking. All we have here is a film that builds up much paranoia about nothing, provides a monster that does nothing, and introduces a bunch of characters whose efforts amount to nothing. A very similar and better film was I Trapped The Devil (2019), which has an almost identical plot where a brother and his wife visit Scott Poythress who claims to have trapped The Devil in his cellar.
---
---