---
Crew
Anthology Concept – Anthony Crooker, Producers – Nathan Crooker & James P. Gannon, Opening/End Title Music – Fil Eisler, Additional Music – Nero Bellum. Production Company – Kamikaze Dogfight/Ghost Gang Productions.
Fever
Crew
Director/Screenplay/Producer – Larry Fessenden, Photography – Jack Fessenden, Music – Jack Fessenden, Production Design – Beck Underwood. Production Company – Glass Eye Pix.
Cast
Larry Fessenden (Man), Beck Underwood (Wife), Jack Fessenden (Son)
5G
Crew
Director/ Producer – Andrew Kasch, Screenplay – Cody Goodfellow, Photography – Powell Robinson, Music – Alexander Taylor, Visual Effects – Seth Gottlieb, Ryan Metcalf, Mike Phillips, A.K. Roy & Ashley Slaton. Production Company – Colonel Jim Productions.
Cast
Graham Denman (Chad), Damien Gerard (Voice of The Bracelet)
The Dread
Crew
Director/Screenplay – Dennie Gordon, Producers – Dennie Gordon & Geoff Schaaf, Photography/Music – Harrison Schaaf, Visual Effects – John Ross. Production Company – Star Lake Productions.
Cast
Dennie Gordon (Woman), Geoff Schaaf (Man)
Pacific Northwest
Crew
Director/Photography – Bobby Roe, Screenplay – Zack Andrews & Bobby Roe, Producer – Zack Andrews, Music – Steven Yeaman, Visual Effects – Brian Berdan & A.K. Roy. Production Company – Foreboding Films.
Cast
Sunny Roe (Sunny), Bodhi Roe (Bodhi), Nick Lyon (Duct Tape Man), Todd MacCulloch (Gas Mask Man)
Meat Hands
Crew
Directors/Screenplay/Producers – Adam Brown & Kyle I. Kelley, Photography – Kyle I. Kelley, Music – Brien Carroll, Visual Effects – Zach Handler. Production Company – Bullmoose Pictures, Inc..
Cast
Adam Brown (Alex), Allison Kelley (The Body)
It's Inside
Crew
Directors/Producers/Production Design – Alix Austin & Keir Siewert, Screenplay/Photography – Keir Siewert, Music – Thibault Chavanis, Visual Effects – A.K. Roy. Production Company – Hydraholix Productions.
Cast
Alix Austin (Paige)
Gust
Crew
Director/Screenplay/Producer/Photography/Music – Zach Passero, Visual Effects – ZP Studios, LLC. Production Company – ZP Studios, LLC.
Cast
Hannah Passero (Mom)
Homebodies
Crew
Director/Screenplay/Producer/Photography – Alexandra Neary, Visual Effects – Ryan Metcalf & A.K. Roy, Body Part Special Effects – Tony Campagna. Production Company – Allykat Productions.
Cast
Mariah Delfino (Cecilia Hernandez), Alex Reed (Ryan), Kathleen Bruce (Grandmother), Peter Neary (Father), Frank Hernandez (Nurse). Lesley Neary (Mother)
Comfort Zone
Crew
Director/Screenplay/Producer – Christian Pasquariello, Photography – Daniel Feigl & Christian Pasquariello, Visual Effects – Jan Boroewitsch & Niklas Reisnberg. Production Company – Christian Pasquariello.
Cast
Fine Belger (Eva), Hans Gurbig (Voice of Adam)
---
Plot
Fever:- A man infected with Covid leaves New York City and goes to his home in the country to isolate but in his fever thinks about killing his family to prevent infection. 5G:- In San Diego, Chad, a Covid conspiracy theorist and vlogger, has been confined in his apartment on a detention bracelet and had his online account suspended. After jamming his ankle bracelet into the toilet in frustration, it short circuits and then begins talking to him, urging him take action on his theories. The Dread:- In Los Angeles, a woman's husband has died of symptoms and she fears intruders outside their home. Pacific Northwest:- Two children, Sunny and Bodhi, have been left alone at home on an island off the coast. Their mother has expired and they are awaiting their father's return. Masked men on motorcycles now come and invade the house. Meat Hands:- In Chicago, a man living at home is desperate for human company so much that he warms meat inside a plastic glove to hold against his skin. He then finds a body fallen outside on his lawn. It's Inside:- In London, Paige, a Covid conspiracy theorist, believes the government is spying on everything she does and tries to tear their bugs out of her body. Gust:- In El Paso, a mother stays at home in isolation. Homebodies:- In Miami, a tv news reporter is given orders to get a scoop on why the Lanway family have not been seen for days and decides to break into their home with a video camera. Comfort Zone :- Eva, a woman from Berlin, comes around to find herself imprisoned inside a storage container.
---
The Anthology Film – a film that tells several different stories – has been with us since the early days of cinema. In the 2010s, it has gained a renewed lease of life with works like The ABCs of Death (2012) and V/H/S (2012) films and sequels. These have led to a spate of anthologies where episodes come from different directors usually with some genre background. See the likes of Chillerama (2011), The Theatre Bizarre (2011), Southbound (2015), Tales of Halloween (2015), Holidays (2016), XX (2017), The Field Guide to Evil (2018) and Nightmare Cinema (2018), among others.
Isolation was an anthology where various filmmakers shot a series of short films during the Corona Virus lockdowns of 2020. (See my essay Films About Plague and Pandemic for a more detailed overview of films made during and about the pandemic).The opening title cards state that the film depicts how people around the world reacted to the pandemic. To this extent, each episode opens with a title card that identifies it by the city where it takes place, although it should be noted that this is heavily skewed towards the USA and that out of the nine episodes only two of them do not take place in US locations.
Most of the episodes give the impression they were shot with the filmmakers at home and using their families as cast and production crew Larry Fessenden's Fever, for example, is made by Fessenden, wife Beck Underwood and son Jake performing all the roles on screen and behind the camera. In Pacific Northwest, Bobby Roe casts his own children and plays the corpse of the father. You can make the same assumption about Dennie Gordon's The Dread where she and presumably her partner Geoff Schaaf play roles behind and in front of the camera, while son (?) Harrison shoots and composes the score. In Gust, Zach Passero performs all the roles, while mother/wife (?) Hannah is the only cast member. Similarly all the tasks on It's Inside are divided between Alix Austin and Keir Siewert and Austin is the only person on screen.
Larry Fessenden is the best known filmmaker present and makes the first episode Fever. Fessenden has directed films such as Habit (1997), Wendigo (2001), The Last Winter (2006), Beneath (2013) and Depraved (2019). He also maintains Glass Eye Pix, which produces a strong body of genre films on a consistent basis. Fessenden makes acting appearances in all of Glass Eye's and others' films.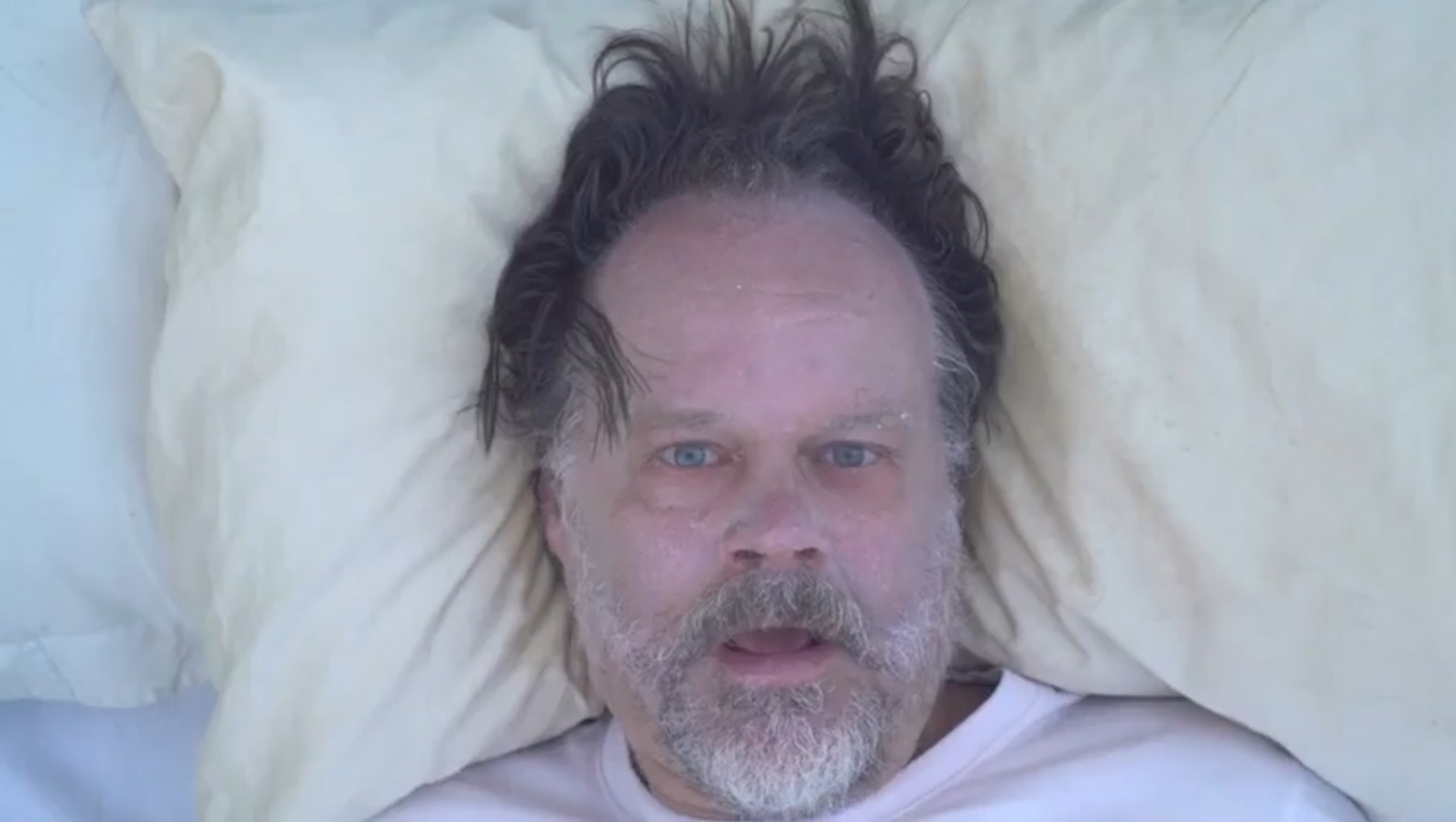 Fessenden is a fine filmmaker but as here and in the N is for Nexus episode of ABCs of Death 2 (2014), the short form doesn't show him at his best. He gets some fine shots of the streets of New York deserted and people banging pots and pins from their apartment balconies. We get Fessenden at home in bed and what appear to be fantasies where he is having a fever dream about killing his family and disposing of their bodies in the lake (dragging them down to the dock at the same time as being bedridden with Covid symptoms apparently). But the piece seems to cry out for a longer treatment and as the short length it is (seven minutes) never goes anywhere.
5G comes from Andrew Kasch who has mostly worked in the industry as an editor but has directed episodes of other horror anthologies with Tales of Halloween and Monsterland (2016). This is an amusing piece about a conspiracy theorist (Graham Denman) who has been placed on home detention. He short circuits his ankle bracelet after jamming it in the toilet bowl whereupon it becomes an Imaginary Companions and starts talking to him, spouting Covid conspiracy theory nonsense (hence the title 5G, which some theorists claimed was the cause of the virus at one point). This comes with some humour to its paranoia before an amusingly sardonic ending.
The Dread comes from Dennie Gordon who is mostly known for directing the comedy Joe Dirt (2001) and a couple of other films but has otherwise worked as a tv director. The episode features Gordon as a woman alone in her house just after her partner Geoff Schaaf has died. She sees shadowy shapes outside the house and fears intruders before the intruder reveals he is Schaaf and comes and sits with her on the patio placing a gun on the table. She then wakes up to find this was a dream and Schaaf is alive in bed beside her, while outside Los Angeles collapses into chaos and is burning. I really didn't get where this one was coming from or understand its' twist.
Pacific Northwest comes from Bobbie Roe who had previously directed the Found Footage Halloween horror The House October Built (2014) and its sequel. Roe has cast his own children and you get the impression shot everything at his own home. The children give naturalistic performances and this is an effective story of them fleeing a Home Invasion and trying to survive. It has a tension that makes for one of the better episodes.
Meat Hands comes from newcomers Adam Brown and Kyle I. Kelley who had previously made a number of short films. Like several other stories in the anthology – 5G, Gust, It's Inside – it is about someone isolated and all on their own (which has a tendency to make the stories seem repetitive after you see about the third one). This is okay, mainly notable for its perverse opening image of co-director Adam Brown warming plastic gloves of meat and holding them against his face and the sardonic end coda where he curls up under the blanket with the corpse on the lawn.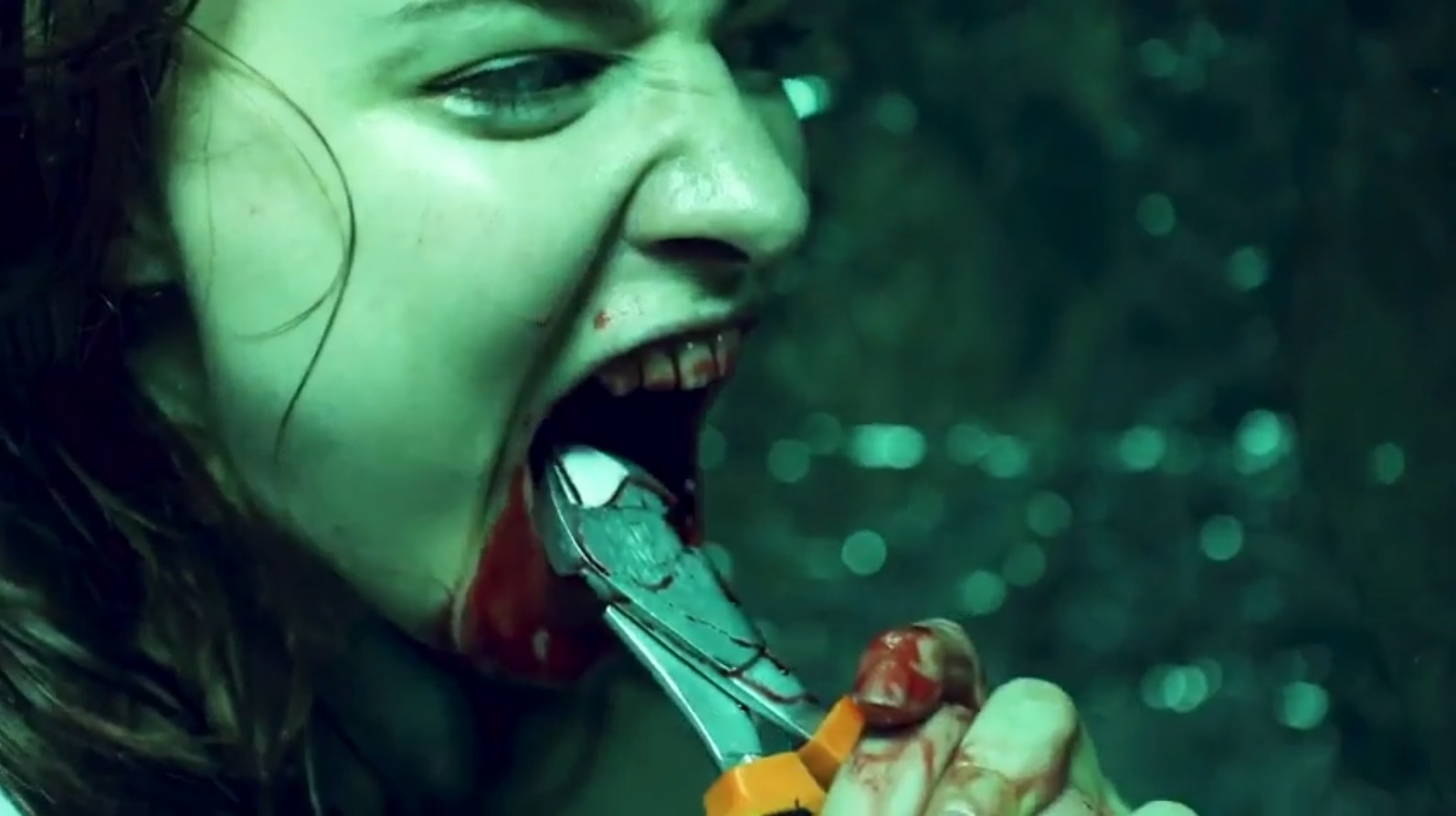 It's Inside comes from Alix Austin & Keir Siewert, a British duo who had previously made several short films together. This is the standout episode of what is otherwise a disappointing and lacklustre anthology. Austin goes to town in the role of a conspiracy theorist and the film enters an admirably paranoid mindset. She caps the performance off by grim images where she starts tearing her own teeth out with pliers and then slitting open her arm and pulling out implants. It should also be noted that this episode, along with several (but not all) of the others, tie up together and include references to each other.
Gust comes from Zach Passero who had previously made a couple of films, most notedly the horror film Wicked Lake (2008). This is an episode that consists entirely of watching someone home alone and doing nothing much around the house. The episode comes to an ending where Hannah Passero exits the house and inhales as a gust of air comes. What we are meant to make of this is unclear – my guess was that it meant that she was inhaling some airborne contaminant.
Homebodies comes from Alexandra Neary who has also only made shorts before this. This is a quasi-Found Footage piece as a reporter breaks into the mansion of a wealthy family in search of the cause of their disappearance from public view. This gives the impression it is heading for something suitably horrific with brief glimpses of bodies in a hideous state in the house. Like Fever, it feels like an episode curtailed by its brief runtime and that it needed more story and detail about what is happening.
The same could be said of Comfort Zone from Christian Pasquiarello, a German director who had previously made one full-length film with Alien Invasion: S.U.M.1 (2017). This consists of a girl who wakes up in a shipping container and talks with a guy through the wall. Her name is Eva and finds his name is Adam. That is about all there is to the episode apart from an ending that ties in to the Pacific Northwest episode.
---
Trailer here
---