---
Crew
Director/Screenplay – Josh Lobo, Producers – AJ. Bowen, Susan Burke, Josh Lobo, Spence Nicholson, Scott Poythress, Rowan Russell & Scott Weinberg, Photography – Bryce Holden, Music – Ben Lovett, Visual Effects – Mike Pappa, Makeup Effects – Blake Harbour, Production Design – Karleigh Engelbrecht. Production Company – Yellow Veil Pictures.
Cast
Scott Poythress (Steve), AJ Bowen (Matt), Susan Burke (Karen)
---
Plot
Matt and his wife Karen pay an unannounced visit to his brother Steve for Christmas. Steve doesn't want them there and only reluctantly agrees to let them stay. Steve then explains to Matt that he has The Devil a prisoner, locked up behind a heavily bolted door in the cellar. Both Matt and Karen think Steve has gone crazy and has a real person locked up there. As Matt and Karen debate what to do, tensions in the house escalate.
---
I Trapped the Devil was a directorial debut for Josh Lobo. Lobo had spent several years flitting around Hollywood trying to get an entry into the industry without much success. He eventually liquidated all of his savings ($20,000) and placed them into making a film. Everything was stripped to a minimum of sets (the film all takes place inside a regular suburban home) with a cast of three and was shot in eighteen days.
The film resembles Mickey Keating's Pod (2005), which similarly concerned two siblings who visited a brother who appeared to be going crazy in his belief that he has some kind of creature locked up in his basement. I didn't feel that inspired about Pod but watching I Trapped the Devil, it feels like a much better version of the same story. Pod felt like Keating had obtained use of a location and improvised much of the show with his cast. I Trapped the Devil has a similar feel but Josh Lobo and the actors do a far better job of drawing you into the drama.
Josh Lobo absorbs you into an obsessive headspace. The set-up is a relatively simple one – all hinging around the question of whether Scott Poythress does actually have The Devil in his cellar – a classic example of The Ambiguously Fantastic. The characters and surroundings have a perfect everyday realism and the location is an ordinary suburban home. But as soon as the film unveils the premise, things come with a grinding tension – the characters are bared and tense, while the score seems to go at it with a psychotic intensity.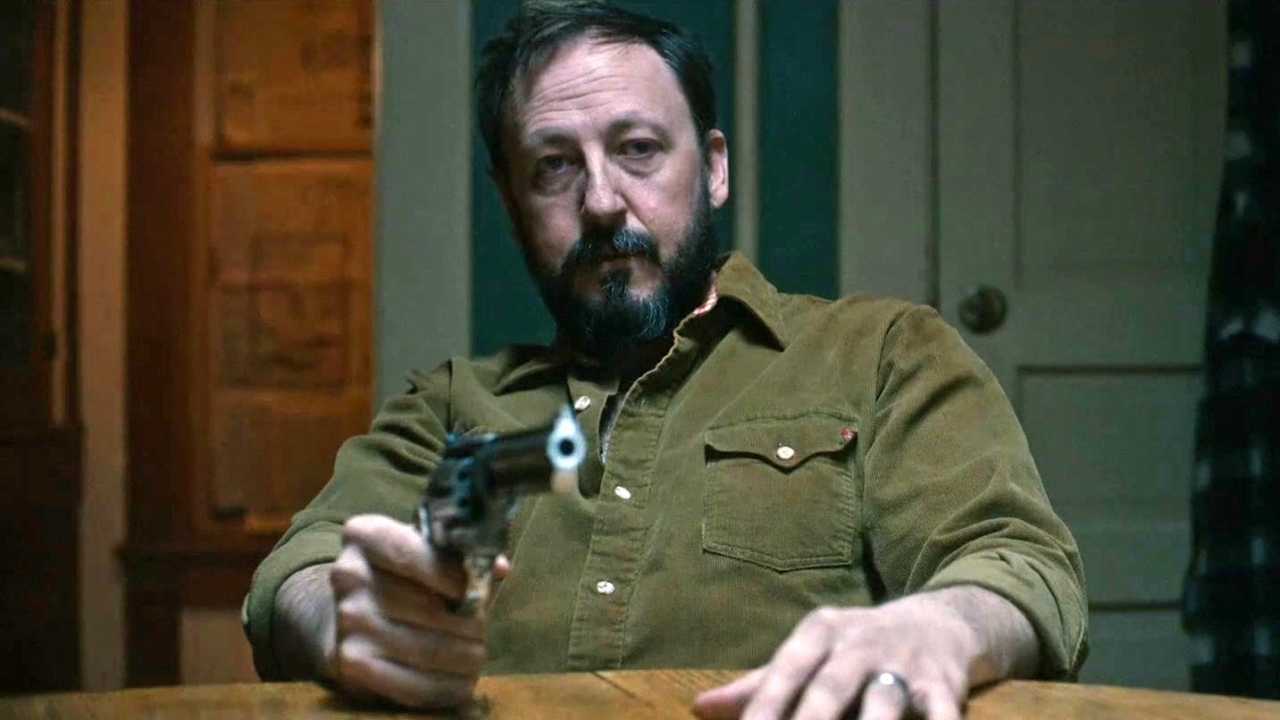 On the other hand, after a great set up. I Trapped the Devil never seems to go anywhere. Everything seems set up but the film falters when it comes to finding a direction in the second and third acts. There is much debate over Scott Poythress's sanity and what the others should do, some scenes where he explains things. Then we get a long section that would appear to be a fantasy being had by Poythress, which is an unsatisfying distraction that feels like padding.
The film has on one essential question – what is in the cellar and is it really The Devil? However, this is something that Josh Lobo seems to ever avoid answering. It is a film that creates a Chekov's Gun – one that begs the expectation that the characters will venture into the cellar and find out what is there. Instead, Lobo opts for an ambiguous ending that seems to echo the appearance of The Devil in the Federico Fellini segment of Tales of Mystery and Imagination (1968).
---