---
Crew
Director/Screenplay – Darren Lynn Bousman, Producers – Darren Lynn Bousman, John M. Eckert, Richard Saperstein & Brian Witten, Photography – Joseph White, Music – Bobby Johnston, Visual Effects – Switch VFX (Supervisor – Jon Campfens), Additional Visual Effects – Malditochroma VFX (Supervisor – Pablo Jose Fuertes) & Skull Tree FX, Special Effects Supervisor – Jeff Skochko, Production Design – David Hackl. Production Company – Genre Company/Blah Shank Productions/Empire Film & Entertainment Group/Switch VFX.
Cast
Stephen Moyer (Richard Vineyard), Mia Kirshner (Cynthia Vineyard), Allie MacDonald (Sadie Vineyard), Peter DaCunha (Danny Vineyard), Erik Knudsen (Ryan), David W. Keeley (Sheriff Winters), J. LaRose (Ranger Bob), Shawn Ashmore (Dale), Athena Karkanis (Erica)
---
Plot
Richard Vineyard insists that his wife Cynthia, teenage daughter Sadie and young son Danny accompany him on a camping trip into the Pine Barrens of New Jersey. As they arrive, there are reports of campers having been attacked by something in the woods. Richard increasingly comes to believe that the woods are haunted by the Jersey Devil, which legends say was either the son of a socially shunned woman who had been impregnated by The Devil or that her deformed child was taken over by The Devil. As they head deeper into the woods, Richard starts to become increasingly more paranoid and unstable, which he reveals is due to his having been bitten by the family dog turned rabid. As they find others attacked and killed, Cynthia and the children cannot be unsure whether the unbalanced Richard is responsible or it is the Jersey Devil that he claims he can see.
---
Darren Lynn Bousman is the director most associated with the Saw franchise. He made the first three sequels, Saw II (2005), Saw III (2006) and Saw IV (2007), and oversaw the series' move from a torturous psychological containment drama to one where the emphasis was on extreme and nasty Torture Porn as such came to be named. Subsequently, Bousman went on to other films including Repo: The Genetic Opera (2008), Mother's Day (2010), 11-11-11 (2011), The Devil's Carnival (2012), Alleluia! The Devil's Carnival (2016), Abattoir (2016), St Agatha (2018), Death of Me (2020) and Spiral: From the Book of Saw (2021), as well as the The Night Billy Raised Hell episode of Tales of Halloween (2015). I cannot say how strongly I dislike Darren Lynn Bousman's films with their unsubtle and single-mindedly unpleasant emphasis on extreme sadism and brutality.
All of that said, The Barrens surprises somewhat – I mean, it is a routine film and there is little that surprises about it, but it surprises because it is something so completely different from Darren Lynn Bousman. Excepting the science-fiction musical Repo, all of Bousman's other work has been horror that lacks any subtlety and usually makes a direct beeline for shock effect as quickly as possible. By contrast, The Barrens is a model of restraint. Apart from the occasional gored body supposedly killed by the Jersey Devil, it is focused on character-driven drama. It is Bousman in a very controlled state of mind and showing far more restraint than he has in all of his other films put together.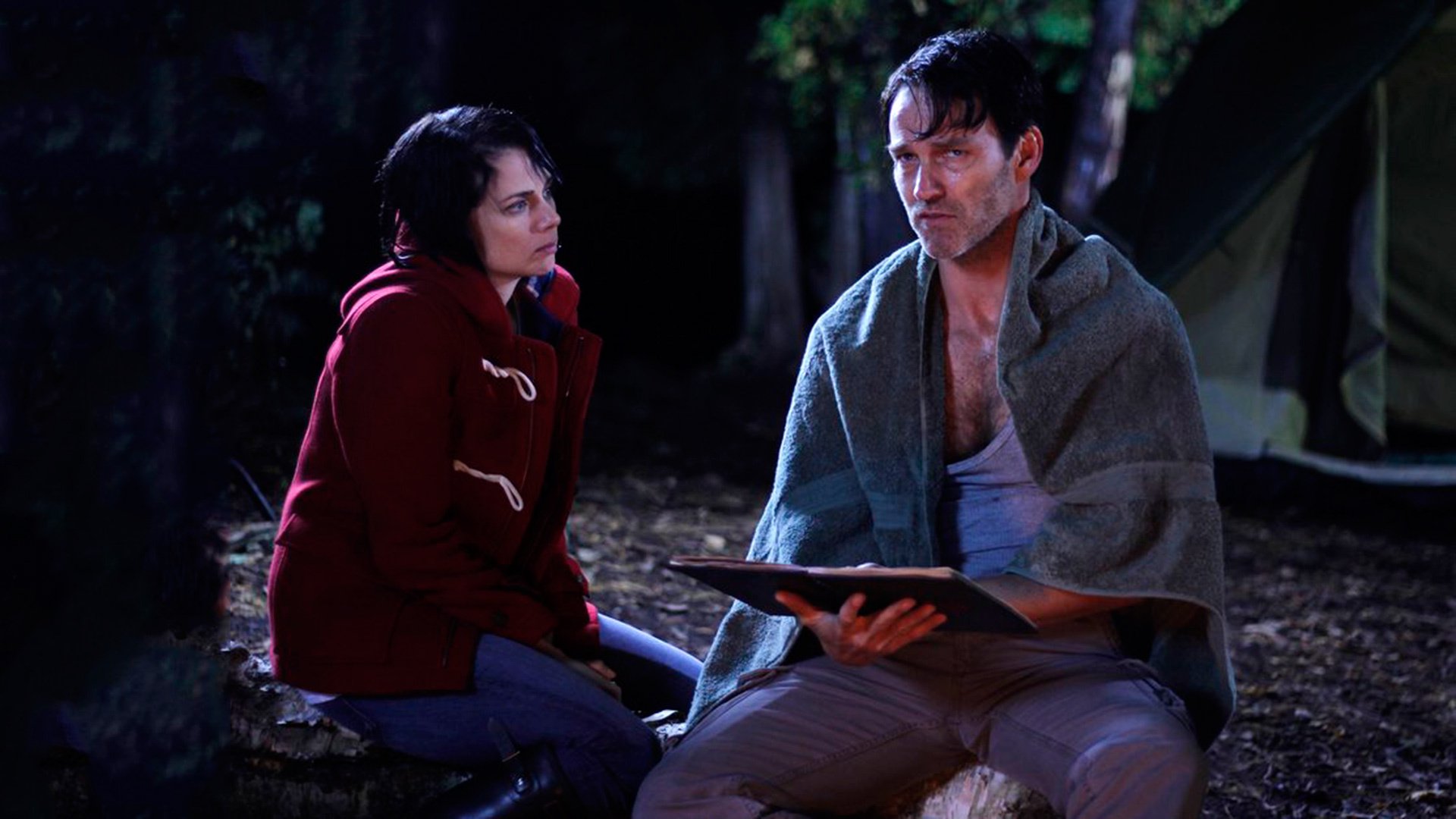 Bousman makes The Barrens into a Lewtonian drama – after Val Lewton, the producer of films like Cat People (1942) and I Walked with a Zombie (1943) where you could never be sure whether the supernatural was real or in its characters imaginations. A state of ambiguity runs through throughout The Barrens as to whether there is a Jersey Devil attacking people in the woods or whether Stephen Moyer had received a bite from a rabid dog and is suffering from paranoia and hallucinations.
Of course, the downside of all this is that with Bousman dialing back the out-and-out shock-horror element, the film is quiet and uneventful. It never gains its effect until Bousman has Stephen Moyer go off the rails in the latter parts. And in the end, Bousman's hovering around the question of the reality of the Jersey Devil is not a particularly cleverly or well achieved state of ambiguity. The eventual resolution ends up being a rather indifferent, not to mention a predictable, one.
The film stars British actor Stephen Moyer who rose to prominence and a certain sex symbol status after being cast as the vampire Bill Compton on tv's True Blood (2008-14). Here, Moyer, who also takes a co-producer credit on the film, plays at opposite remove to that as someone unbalanced and not particularly likeable.
---
---