---
USA/Australia. 2000.
Crew
Director – Robert Lee King, Screenplay/Based on the Play by Charles Busch, Producers – Virginia Biddle, Jon Gerrans, Marcus Hu & Victor Syrmis, Photography – Arturo Smith, Music – Ben Vaughan, Visual Effects – Richard Kerrigan, Miniature Effects – Peter Clines, Makeup Effects – John Goodwin, Production Design – Franco-Giacomo Carbone. Production Company – Strand Releasing/New Oz/Red Horse Films.
Cast
Lauren Ambrose (Florence 'Chicklet' Forrest), Nicholas Brendon (Starcat), Thomas Gibson (The Great Kanaka), Charles Busch (Captain Monica Stark), Danni Wheeler (Berdine), Kimberley Davies (Bettina Barnes), Beth Broderick (Ruth Forrest), Matt Keeslar (Lars), Amy Adams (Marvel-Ann), Nick Cornish (Yo-Yo), Andrew Levitas (Provoloney), Kathleen Robertson (Rhonda), Jenica Bergere (Cookie), Nathan Bexton (T.J.), Buddy Quaid (Junior)
---
Plot
Teenager Florence Forrest is afraid that she is a nobody due to her flat-chest. She is introduced to a group of surfers on Malibu Beach and determines to join this strictly male domain. A dominant, sexually aggressive split personality that calls itself Ann Bowman keeps emerging in her, something that turns the coolest of the surfers, The Great Kanaka, on. At the same time, somebody is killing people around the beach community who have physical imperfections and Florence is worried that her split personality might be the killer.
---
Psycho Beach Party is a genre parody, a form that has been much used and abused over the last decade. Unlike other genre parodies, Psycho Beach Party's origin is in the drag musical/stage show. The film is based on a 1988 off-Broadway play by Charles Busch. Busch had previously had a huge hit with Vampire Lesbians of Sodom (1984) and several other such genre-bending, cod B-movie plays. In all of them, Busch himself played major roles while in drag – in the stage version of Psycho Beach Party, for instance, he played the flat-chested heroine, although here plays only the supporting role of the female police captain. (In the film, the role is inherited by Lauren Ambrose who would later go onto become a regular on tv's Six Feet Under (2001-5), while you can also spot a then unknown Amy Adams as one of the other beach bunnies).
In Psycho Beach Party, Charles Busch feeds the 1960s beach party/surfer movie through B-movie genre cliches. It is not a particularly adept or even terribly funny spoof. Busch and director Robert Lee King's knowledge of the sf/horror genre is never very acute or that focused on any particular target. The film opens on a cute parody of Attack of the 50 Ft Woman (1958) and then amusingly cuts to a geeky teen girl offering a critical deconstruction of the feminist implications (alas anachronistically well before either film theory or feminism became well-known). However, the rest of the film lacks such a sharpness.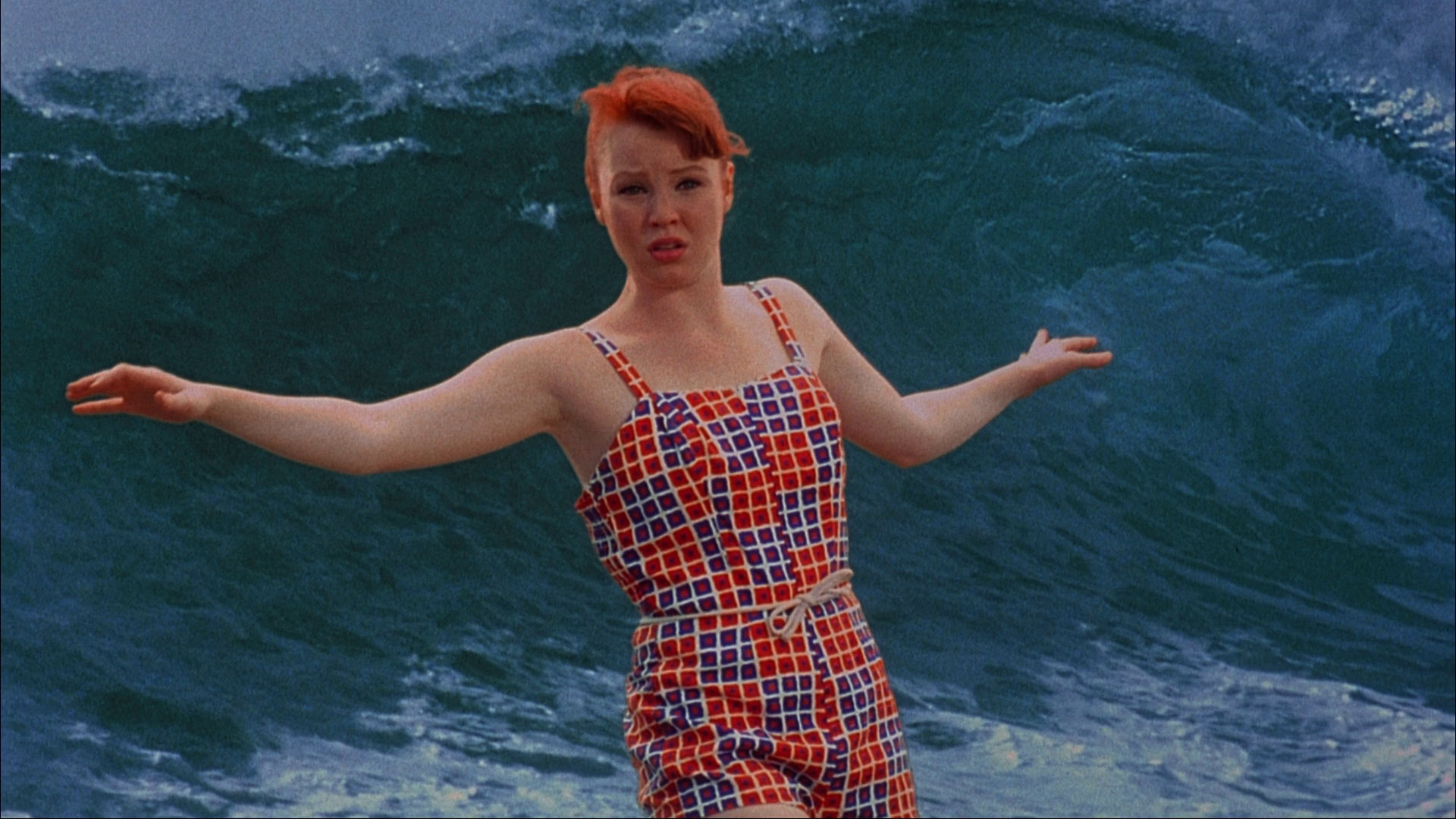 Where Psycho Beach Party works better is in deconstructing the beach party movie with Busch and King aptly bringing out the inherent homo-eroticism of the genre. The revelation of the killer's m.o. also emphasises a subtle semiotic point about the beach movie genre – it took place in a fantasy world where everybody was good-looking, straight and deformity never existed.
For all that, Psycho Beach Party is not a particularly good film. For a drag musical – which should celebrate gender-identity boundary-breaking – it seems awfully giggly about its sexuality. At times, it seems like bad adolescent or sitcom humour that wants to derive jokes out of things like seeing a guy dressed in a corset or being turned on by a dominant woman, macho guys dressing in woman's nightwear or suddenly kissing, and a sweet innocent girl suddenly trash talking as being funny in themselves. They aren't, nor is the film.
---
Trailer here
---