---
Crew
Director/Story/Visual Effects – Chip Gubera, Screenplay – Chelsea Andes, Producers – Adam Boster, Chip Gubera, Ben Kaplan & Brian Maurer, Photography – Brian Maurer, Music – Sleazo, Songs – Don't Mind Dying, Production Design – Justin Powers. Production Company – Mucho, Mucho, Mucho Productions/Burnt Bridge Films/Boster Castle Studios.
Cast
Ben Kaplan (Jack Roper), Morgan Carter (Kristy Smith), Jewel Shepard (Momma Myers), R.A. Mihailoff (Jesse Myers), Rebecca Crowley (Caitlin Myers), Delious Kennedy (Sheriff Weston), Travis Hierholzer (Backpacker), Conrad Gubera (Jimmy)
---
Plot
There are reports of a serial killer nicknamed The Ripper who is picking up women via online dating sites and killing them. In St Louis, Jack Roper and Kristy Smith meet in person after connecting on an online dating site. She has made plans for them to spend the weekend at a cabin in the countryside for their first date. They arrive at the Myers Cabin Rentals where they meet the strange redneck proprietors Jesse Myers and his wife who insists on being called Momma. They settle into the cabin and spend a great night together. However, their hosts then make them prisoners with the intention of torturing and killing them.
---
Slasher.com was the fourth film from Missouri-based director Chip Gubera. Gubera had previously made the musical horror Song of the Dead (2005), co-directed Mil Mascaras vs the Aztec Mummy (2007) and solo directed Academy of Doom (2008).
The title Slasher.com holds intriguing possibilities but is misleading. You expect some kind of internet-based horror film like The Den (2013) or Unfriended: Dark Web (2018) with people being stalked via the internet or even the confused FeardotCom (2002) about a haunted internet site. In actuality, all that the idea telescopes down to is a film about a serial killer who is targeting victims via dating sites. Even then, following the introduction of the dating site serial killer in a series of news clip montages in the opening scenes, we meet Ben Kaplan and Morgan Carter as they head off on their date. We expect this to get creepy but soon The Ripper is forgotten about (at least until later in the show).
Instead what the film segues into is essentially no more than a Backwoods Brutality effort maybe with one or two dashes of the creepy tourist destination genre that briefly sprang up after Hostel (2005). Ben Kaplan and Morgan Carter settle into the cabin but it would appear that redneck hosts R.A. Mihailoff and Jewel Shepard, along with weird daughter Rebecca Crowley, are inheritors of The Texas Chain Saw Massacre (1974) school of welcome and like stalking and brutalising their guests. The middle of the film segues into fairly standard Backwoods Brutality material with Kaplan and Carter being hunted about through the woods.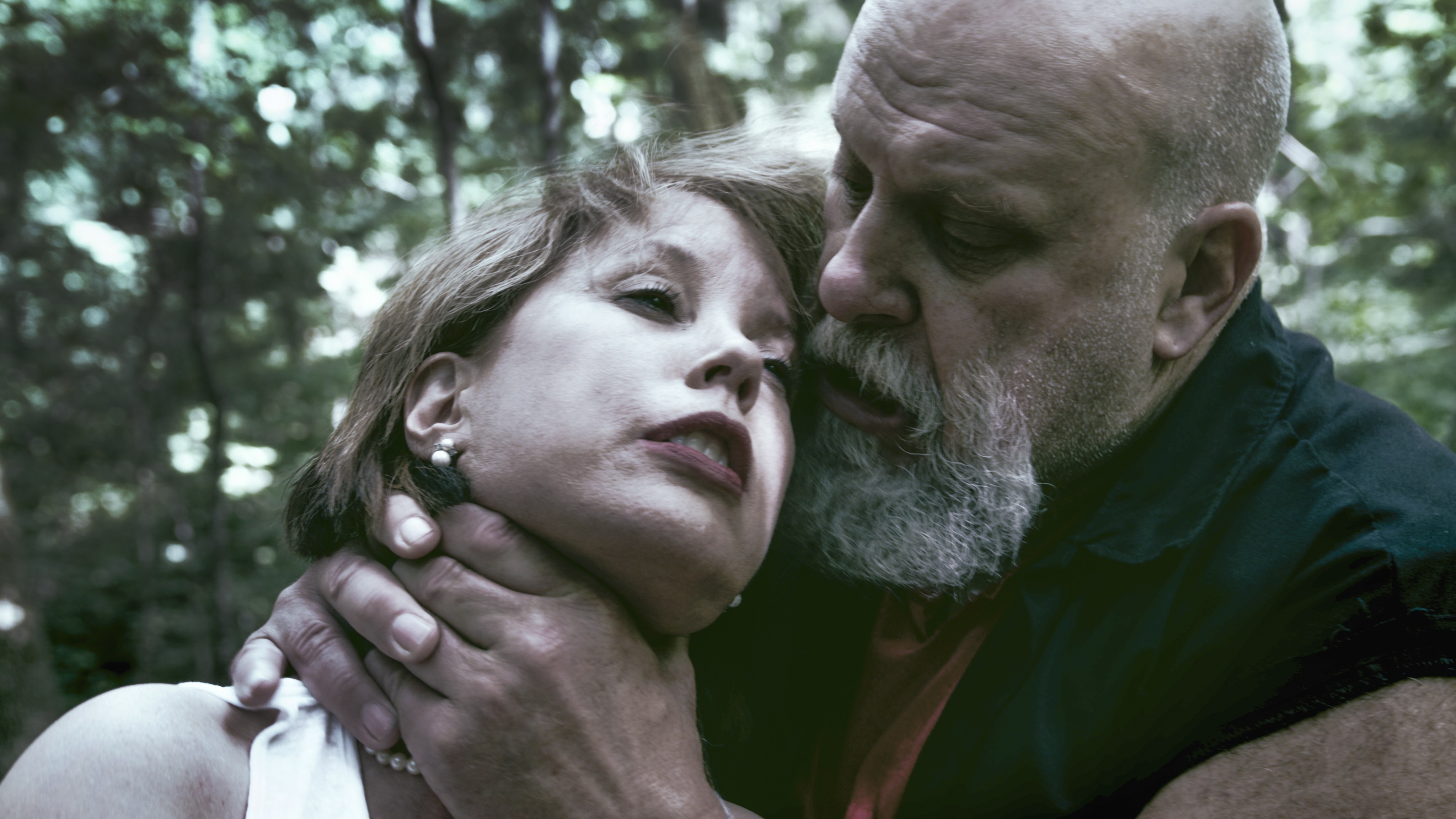 None of this is particularly memorable. However, where the film starts to perk up is when it starts to put a series of absurd twists on everything [PLOT SPOILERS] both in throwing what we expect is happening on its head and having the internet serial killer that we had forgotten about until now suddenly make a reappearance. Things become rather absurd by about the point of the second twist on everything but the preposterousness of the twists actually becomes the film's saving grace.
Slasher.com also tries to pay genre homage in its casting. R.A. Mihailoff was a former wrestler who was cast as Leatherface in Leatherface: Texas Chainsaw Massacre III (1990) and has thereafter made regular appearances in genre films. Top-billed Jewel Shepard was a former stripper who gained a certain amount of fame in Return of the Living Dead (1985) and appeared in assorted genre roles since. Here, now into her sixties, she plays the matriarch of the house – alas in a straight acting role where she keeps her clothes on, and in her attempts to camp the part up, you can see that actual acting abilities are not Shepard's strong suit.
---
---