---
Crew
Director – Chad Ferrin, Screenplay – Daniel Benton & Robert Rhine, Producer – Robert Rhine, Photography – Christian Janss, Music – Richard Band, Visual Effects Supervisor – Joe Castro, Special Effects Supervisor – Joe Castro, Production Design – Eddie Inda. Production Company – Girls and Corpses Films.
Cast
Robert Miano (Father Romero), Bai Ling (Amanda), Robert Rhine (Rabbi Larry Feldman), Lance Henriksen (Captain Howdee), Kevin J. O'Connor (Buzz), Jin N. Tonic (Veronica), Matthew Moy (Thang), Bill Moseley (Garvan), Sylvia Spross (Sally), Kyle Jones (Brad), Adrienne Barbeau (Mrs. Montague), Kelli Maroney (Mrs. Jenkins), Stefanie Peti (Debbie), Luca Pennazzato (Flex), Johnny Williams (Frankie Foldem), Sammy the Dwarf (Dukie), Craig Ng (Chinshu), Gino Salvano (Abudabu), Corrin Evans (Sister Prudence), Maddie McGuire (Sister Genevieve), Daniel Benton (Sleeping Passenger), Brad Server (Deaf Mute), Jeff Blumberg (Martin the Possessed), Jolie Chi (Mrs. Stevens)
---
Plot
The Catholic priest Father Romero is called in to perform an exorcism on his former Vietnam War comrade Garvan. During the course of the exorcism, Garvan jumps out the window to his death. Father Romero sets out to transport Garvan's body to Vietnam. He boards a budget flight aboard Viet Kong Airlines under Captain Howdee. However, not long after take-off, the evil force emerges from Garvan's body in the hold and begins to possess various of the passengers.
---
Exorcism at 60,000 Feet was the seventh film from Minnesota-based director Chad Ferrin. Ferrin first appeared with the psycho film Unspeakable (2000), which received distribution through Troma, and then went onto The Ghouls (2003) about a journalist discovering zombies, the psycho film Easter Bunny Kill! Kill! (2006), Someone's Knocking at the Door (2009) about demonic rapists, the Death Row horror The Chair (2016) and Parasites (2016) about killer homeless people and subsequently the H.P. Lovecraft film The Deep Ones (2020).
Ferrin has set out to parody the possession film – the opening scene spoofs Father Merrin's arrival in The Exorcist (1973) and Lane Henriksen's pilot is named Captain Howdee after Linda Blair's imaginary companion Captain Howdy, although surprisingly there are no more direct parodies of the film than that. In essence, Exorcism at 60,000 Feet could be a tongue-in-cheek exorcism film crosshatched with an airline disaster film – think The Exorcist meets Airport 1975 (1974). In that Linda Blair appeared in both films, it is not a difficult stretch of the imagination to think that the screenwriters found their inspiration by contemplating what would happen if Airport 1975 had played out with Linda Blair still in Regan McNeil mode.
It should be noted that a similar idea had been conducted before with the more serious tv movie The Horror at 37,000 Feet (1973), from which this almost certainly draws inspiration in its title – although that dealt more with an occult artifact than any mid-air possession.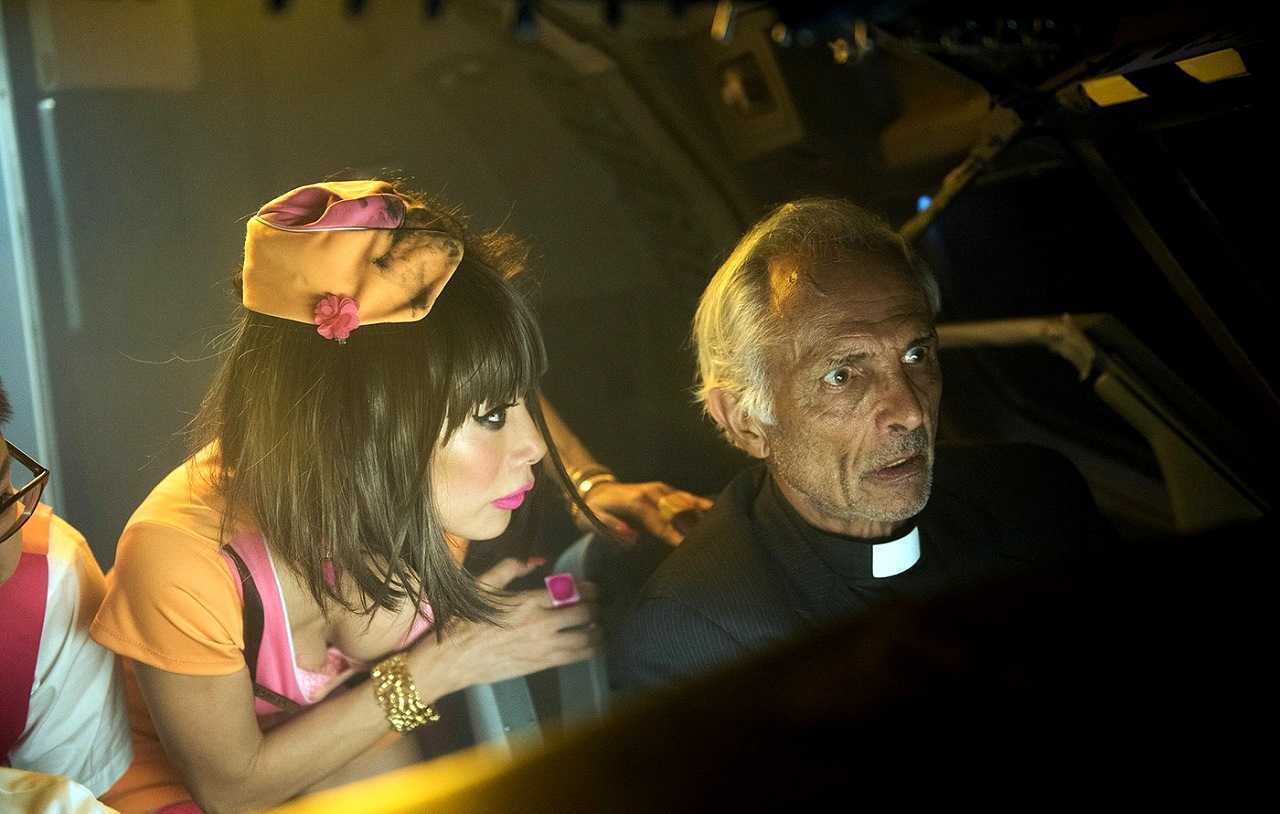 Chad Ferrin has never done the whole paying tribute to genre fandom thing before in his films. Or more to the point never appears to have had a budget where he can do so. Here he does and casts a host of genre names including Lance Henriksen as the pilot; genre veteran Bill Moseley as the dead Vietnam comrade; the former Mrs John Carpenter Adrienne Barbeau, known for films like The Fog (1980) and Escape from New York (1981), as the widow with a dead poodle; and Kelli Maroney from Night of the Comet (1984) as the mother with the dwarf son.
Among the cast, it is a surprise to see Chinese actress Bai Ling in a rare comic role as the hostess – although it is part that definitely crosses a line of questionable racial caricature at times. (Given that we have two comic dwarves also present, this is not exactly a PC film). The two screenwriters also appear in acting roles – Robert Rhine is the rabbi, while Daniel Benton is a middle-aged passenger who spends most of the film asleep.
Chad Ferrin does nothing particularly sophisticated with the possession cliches – we never find out much about what the possessing entity is. Mostly the film seems construed as a series of outrageous scenes. Kelli Maroney gets to breast-feed Sammy the Dwarf (something we never actually see); there are gross things with expired food; dwarf air host Matthew Moy gets projectile vomited on; Stefanie Peti gets possessed and turns her head around while having bathroom sex with Kyle Jones. All of the characters are played as loud and exaggerated cartoonish caricatures. None of it emerges as particularly amusing. It feels like a film that is trying too hard to be outrageous and funny but only ends up being silly.
---
---