---
Crew
Directors – Matt Bettinelli-Olpin & Tyler Gillett, Screenplay – Guy Busick & R. Christopher Murphy, Producers – Bradley J. Fischer, William Sherak, James Vanderbilt & Tripp Vinson, Photography – Brett Jutkiewicz, Music – Brian Tyler, Visual Effects – Deluxe VFX Toronto (Supervisors – Davis Saunders & Ricky Verma), Special Effects – Area 1 Effects (Supervisor – Stephen Van Allen), Production Design – Andrew M. Stearn. Production Company –Mythology Entertainment/Vinson Films/Radio Silence/TSG Entertainment.
Cast
Samara Weaving (Grace), Adam Brody (Daniel Le Domas), Mark O'Brien (Alex Le Domas), Henry Czerny (Tony Le Domas), Andie McDowell (Becky Le Domas), Melanie Scrofano (Emilie Le Domas), Kristian Bruun (Fitch Bradley), Nicky Guadagni (Helene Le Domas), John Ralston (Stevens), Elyse Levesque (Charity Bradley), Liam McDonald (George Le Domas)
---
Plot
Grace is about to marry Alex, one of the wealthy Le Domas family who have made their fortune through boardgames. The wedding ceremony is held at the Le Domas family estate. As Grace and Alex prepare to settle in for their wedding night, Grace is told she must take part in a ceremony that will confirm her as part of the family. The family is gather at the midnight hour. Grace is told how the family owes their fortune to an ancestor who made a pact with the mysterious Le Bail on a ship voyage. Now as part of the pact, every new person to join family must select a card from a mysterious box that Le Bail left and all of them play the game it chooses. Grace chooses her card and the box selects the game of Hide and Seek. Grace sets out to hide, unaware that this means that the rest of the family come hunting her with a selection of weapons and that she must be killed before dawn otherwise the pact decrees that all of the family will die.
---
Directors Matt Bettinelli-Olpin and Tyler Gillett are two of the four-person team that make up the collective Radio Silence (along with Justin Martinez and Chad Villella). Radio Silence directed 10/31/98, one of the better episodes of the Found Footage anthology V/H/S (2012). Bettinelli-Olpin and Gillett branched off on their own to make the Found Footage diabolical pregnancy film Devil's Due (2014), before the Radio Silence quartet reteamed for one of the episodes of the anthology Southbound (2015). Ready or Not was Bettinelli-Olpin and Gillett's second film as a duo, although it is credited as a Radio Silence film (Chad Villella has also served as an executive producer on their films, although Justin Martinez is nowhere to be found). They subsequently went on to direct Scream (2022).
We have had occasional films over the last few years based around the idea of deadly versions of popular games with the likes of Would You Rather (2012), Truth or Dare (2018) and Escape Room (2019). The capsule description of Ready or Not could be to call it a version of the oft-filmed The Most Dangerous Game (1932) – in which an individual(s) is hunted by an aristocrat and forced to survive with only their bare hands to defend themselves only to turn the tables on the hunter – transplanted into the typical setting of an Agatha Christie thriller.
The Agatha Christie thriller is explicitly referenced – Adam Brody gets a line about "And then there were none," which is what Christie's novel and later play Ten Little Niggers/Ten Little Indians (1939) is usually retitled as these days. This has been filmed a number of times – as And Then There Were None (1945), Ten Little Indians (1965), And Then There Were None (1974), Ten Little Indians (1989) and And Then There Were None (2015). Interestingly, the story has been cited as the basis of the slasher film with Twitch of the Death Nerve (1971), an uncredited giallo adaptation from Mario Bava.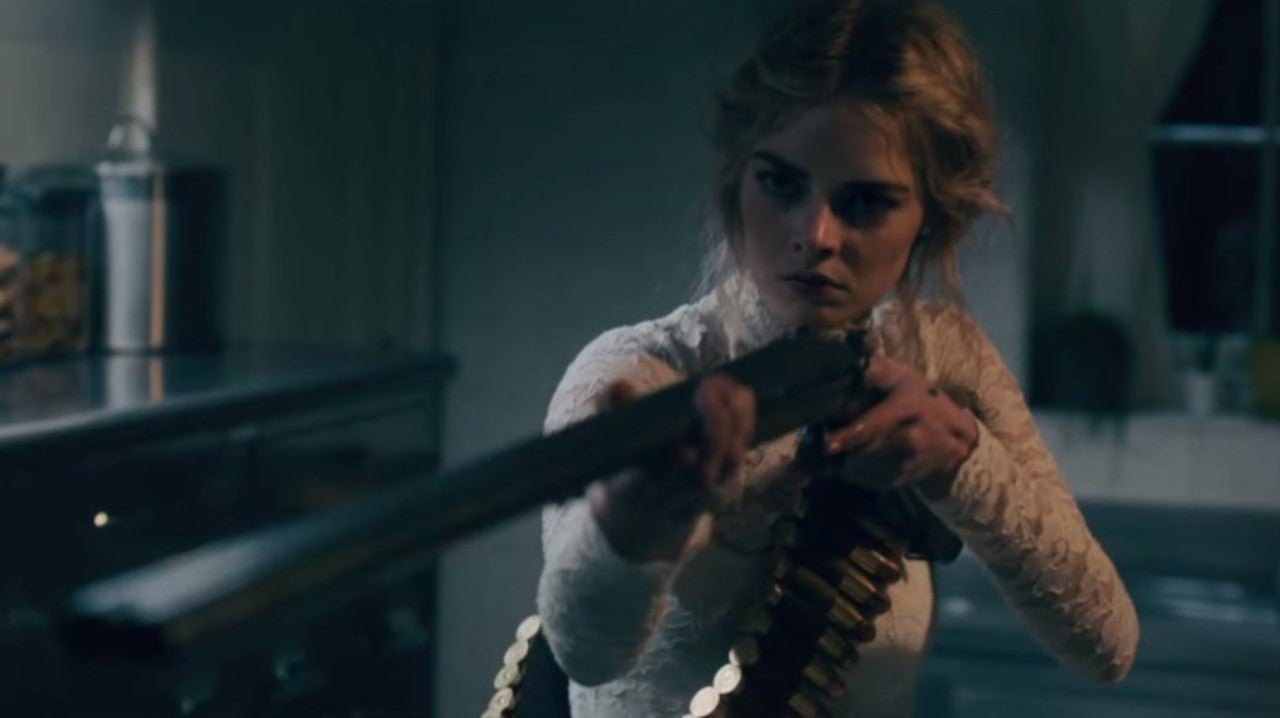 2019 seems to hold a renaissance of films about Christie-styled murder mysteries with Murder Mystery (2019) from this film's producers James Vanderbilt and Tripp Vinson coming out a month before this and Rian Johnson's high-profile Knives Out (2019) being released four months later. Kenneth Branagh had made a big-budget version of Agatha Christie's Murder on the Orient Express (2017) a couple of years earlier and had started work on the subsequently released Death on the Nile (2022), while in the interim there had been a number of Christie works revived for British television.
Perhaps even more so than Agatha Christie, Ready or Not feels as though it is based on the boardgame Cluedo (Clue in the US) (1943). (The game had previously been adapted into one film Clue (1985) and the mini-series Clue (2011), even an Off-Broadway musical). Although there is no characters named after colours (Professor Plum, Miss Scarlett, Colonel Mustard etc), there is the same sense of the drama moving between the rooms and secret passages of a large mansion and of a variety of weapons (the axe, the pistol, the dagger) being employed as murder weapons.
The crucial difference between the Cluedo game and the film is that the game is modelled after a typical Agatha Christie whodunnit where the players guess which of the assembled is the murderer, whereas the film has one person being pursued by everybody else and is more a work of survival horror. There is also the addition of a supernatural element (something that never appeared in any of Christie;s works) where the family have made a Pact with The Devil.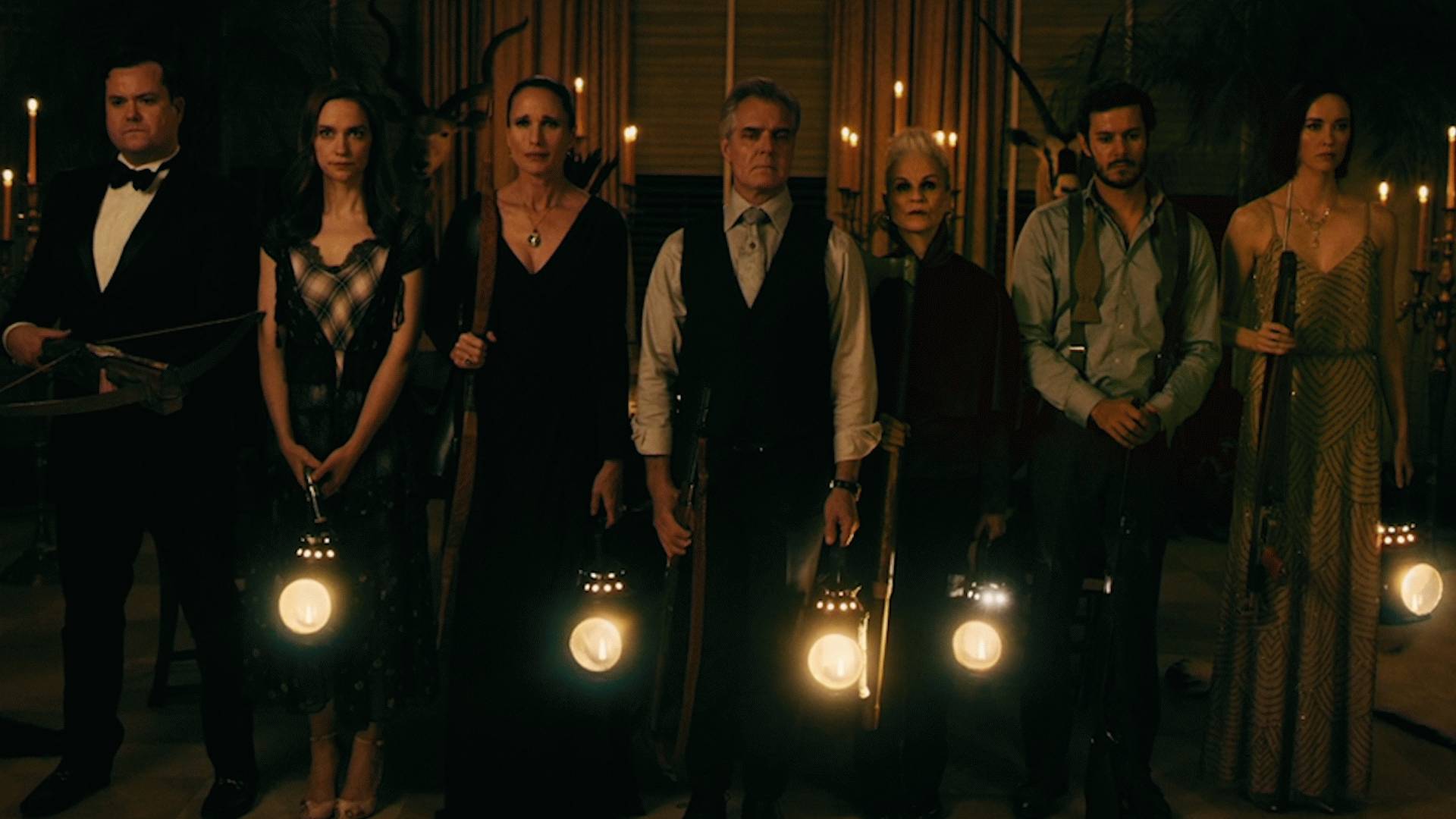 It is nice seeing Australian actress Samara Weaving getting a leading role that allows her to sink her teeth in and show her potential. It is also quite striking seeing Andie McDowell back on screen. It has been a few years since one has seen Andie in anything and she has gotten old in the interim – now at the age of 61. With the sharp and unsentimental performance she gives, one suspects that McDowell could well have a new career path ahead of her in these types of roles. The one who plays to the gallery with entertaining regard is Kristian Bruun, previously known as the milquetoast husband of one of the clones on tv's Orphan Black (2013-7).
Ready or Not received a good deal of positive word of mouth and was even praised by Stephen King. I enjoyed the film for the most part. It is slickly put together. Bettinelli-Olpin and Gillett make the interiors of the mansion (Toronto's Casa Loma) look amazing, all shot in a golden honeydew light. Ultimately though, I thought Ready or Not was okay, nothing standout. As opposed to those singing its praises, I had seen a few too many human hunting films of recent – everything from The Hunger Games (2012) to The Belko Experiment (2016) – for the scenes with Samara Weaving being pursued through the house before predictably picking up weaponry to fight back to be anything but familiar. Bettinelli-Olpin and Gillett give the show an undeniable sense of black humour – especially the scenes with Melanie Scrofano constantly firing weapons and hitting someone else by accident, plus the end of the show – although you wish they had pushed the humour for far more than that.
(Nominee for Best Cinematography at this site's Best of 2019 Awards).
---
---