USA. 2012.
Crew
Director – Gary Ross, Screenplay – Suzanne Collins, Billy Ray & Gary Ross, Based on the Novel by Suzanne Collins, Producers – Nina Jacobson & Jon Kilik, Photography – Tom Stein, Music – James Newton Howard, Visual Effects Supervisor – Sheena Duggall, Additional Visual Effects Supervisor – Scott Farrar, Visual Effects – Clearcut FX, Digiscope (Supervisor – Dion Hatch), Hybride Technologies (Supervisor – Daniel Leduc), Pixomondo (Supervisors – John K.F. Pareanteau & Bjorn Mayer), Rhythm & Hues Studios (Supervisor – Betsy Paterson), Rising Sun Pictures (Supervisors – John Dietz & Dennis Jones) & Whiskeytree, Inc, Special Effects Supervisor – Steve Cremin, Makeup Designer – Ve Neill, Prosthetic Effects – Optic Nerve (Supervisor – Glenn Hetrick), Production Design – Philip Messina. Production Company – Colorforce/Lionsgate
Cast
Jennifer Lawrence (Katniss Everdeen), Josh Hutcherson (Peeta Mellark), Woody Harrelson (Haymitch Abernathy), Wes Bentley (Seneca Crane), Stanley Tucci (Caesar Flickerman), Elizabeth Banks (Effie Trinket), Lenny Kravitz (Cinna), Amandla Stenberg (Rue), Liam Hemsworth (Gale Hawthorne), Donald Sutherland (President Corolianus Snow), Willow Shields (Primrose Everdeen), Paula Malcolmson (Katniss's Mother), Alexander Ludwig (Cato), Toby Jones (Claudius Templesmith), Dayo Okeniyi (Thresh), Isabelle Fuhrman (Clove)
---
Plot
In the future, the USA has collapsed and broken up into twelve districts. To quell rebellion among the impoverished districts, two teenage contestants, one male, one female, are selected from each and taken to the Capitol to compete in the annual televised Hunger Games. There the twenty-four of them must fight one another to the death in an arena until there is only one winner. In District 12, sixteen year-old Katniss Everdeen's younger sister Primrose becomes the girl selected. Because Primrose is ill, Katniss takes the unusual step of volunteering to take her place. The chosen male is Peeta Mellark. The two are taken to The Capitol and treated to the luxurious lifestyle they will enjoy if they become winners. They are put through a training program where Katniss becomes a favourite of former District 12 winner Haymitch Abernathy and the costumier Cinna who give her tips on how to attain notice and gain sponsorship. This and her skill with a bow and arrow propels Katniss to become one of the favourites to win the Games. Amid this, Peeta admits during a tv interview that he has a secret crush on Katniss. The games begin and the contestants are placed into the arena in the wild with a handful of weapons and survival equipment to fight to the death.
---
Ever since the massive success of the Harry Potter and Twilight films, filmmakers everywhere have been trying to luck onto the next bankable franchise and literary crossover that will become a runaway hit among young adult audiences. Amidst a plethora of wannabes that failed to take off, The Hunger Games proved to be the one that went stratospheric following Twilight. The film was an adaptation of the best-selling novel The Hunger Games (2008) by former children's television writer Suzanne Collins. Collins also wrote two sequels Catching Fire (2009) and Mockingjay (2010), which follow Katniss Everdeen as she becomes a central figure in a rebellion to bring down the society.
Suzanne Collins has followed in the footsteps of J.K. Rowling and Stephenie Meyer and signed onto the film as both a co-writer and producer to ensure the integrity of her vision. The film version was placed in the hands of Gary Ross who previously directed Pleasantville (1998), a genre film where characters enter an old black-and-white tv show, and the true-life horseracing drama Seabiscuit (2003). Before that, Gary Ross has had a career as a screenwriter and was involved on the scripts for Big (1988), Mr Baseball (1992), Dave (1993) and Lassie (1994), while he has also produced the animated The Tale of Despereaux (2008).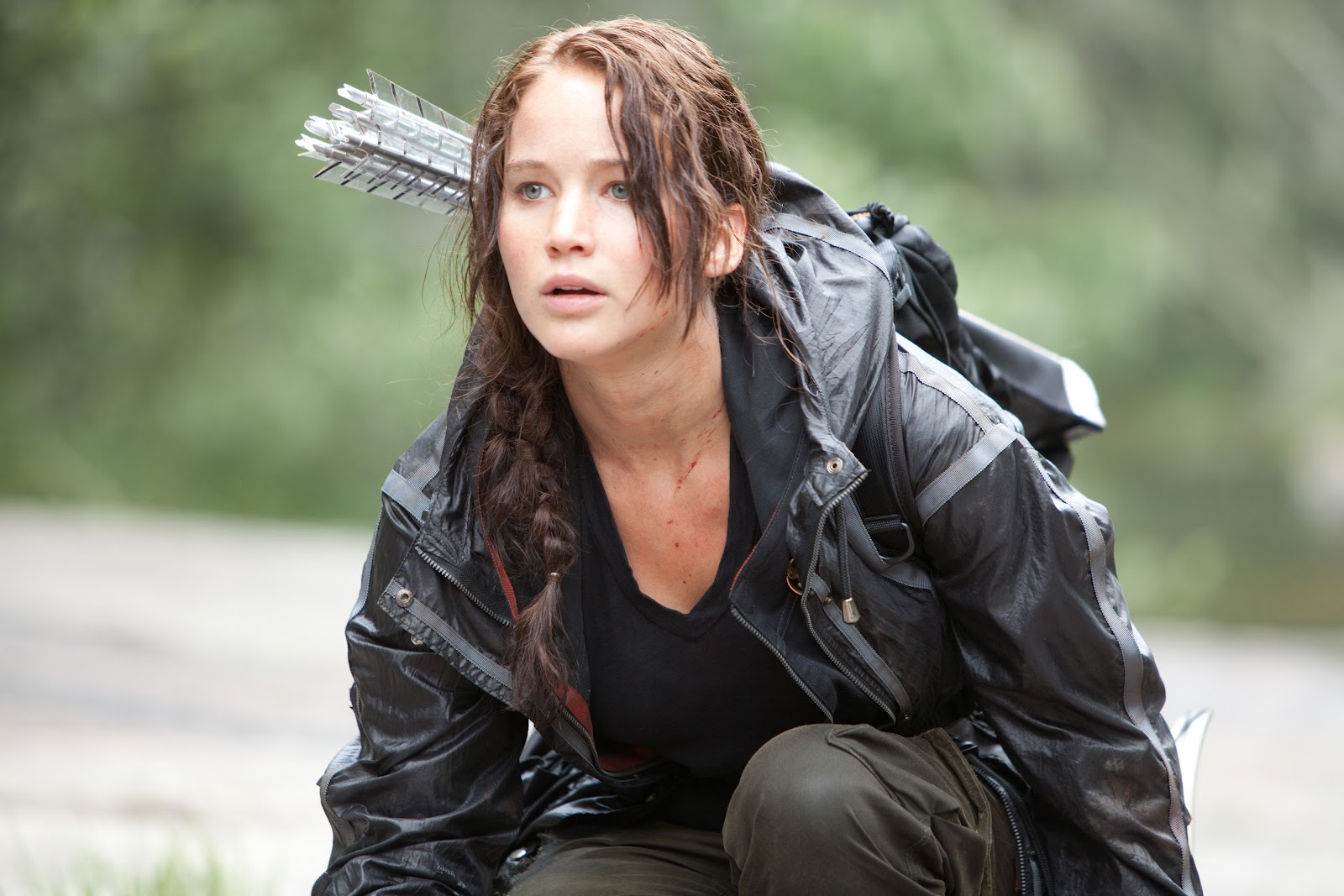 Though The Hunger Games was a box-office hit, the determination to pitch it as the new Twilight left one switched off before even entering the theatre. The film's success ended up with audiences celebrating its originality when in fact The Hunger Games is no more than the reshuffling of a series of well-worn themes from other science-fiction films. The film that The Hunger Games is most often compared to is the Japanese cult classic Battle Royale (2000), a much more violent variation where a school class of teenagers are abandoned on an island and given weapons to fight to the death. The Battle Royale connection was apparently suggested to Suzanne Collins at the time she submitted her draft to her publisher but she claims that she was advised not to watch it. Beyond Battle Royale, there are a host of other films featuring themes of human bloodsports and/or futuristic televised death combat that you could point to starting from The Tenth Victim (1965) to works such as Punishment Park (1971), Death Race 2000 (1975), Rollerball (1975), The Prize of Peril (1983), The Running Man (1987), Temmink: The Ultimate Fight (1998), Series 7: The Contenders (2001), The Condemned (2007) and Death Race (2008). The Hunger Games does no more than shuffle the basic ideas of these around.
The Hunger Games comes with an undeniable sociological undertow and would at face value seem to be another fable of The Recession. It takes from Rollerball and The Running Man the idea that the controlling forces of society will broadcast blood and circuses via the media in order to quell unrest among the masses. In many respects, The Hunger Games adheres quite closely to Stephen King's original book version of The Running Man (1982) where people seek to escape from grinding poverty by signing up for a televised gameshow where they will be hunted and killed. On the other hand, the future we are in is designed with a sociological vagueness that never dwells much on how these social circumstances could have come about and where the filmmakers seem to wilfully avoid any depth. (THis changes markedly in the sequels). The ruling classes of the world are all cliched images of pouffed and androgynously made-up people that science-fiction wheels out whenever it wants to suggest a decadent ruling elite, while the costuming of the people in District 12 draws on sentimentalised images of poverty that we associate with The Great Depression. When it moves out of its generic blandness to try and say something, The Hunger Games seems to hold a satiric vision of modern youth – where the idea of going on a reality tv show and allowing oneself to be packaged in terms of audience sympathies is an instant ticket to fame and fortune that sidesteps that normal criteria that most people go by of having to go out and earn a living. Perhaps the most amusing notion that The Hunger Games adds to this is the idea of its competitors having to earn sponsorship in order to get donations of supplies from people outside.
In terms of the polished package it wheels out, The Hunger Games does passably. Once the hunting kicks in, the film keeps one reasonably absorbed. On the other hand, it felt I was watching an okay assemblage of genre elements but nothing that sets the world on fire. I also wondered if Gary Ross was the right director for the material. Ross's films don't exactly stand out as burning youth hits. Works like Pleasantville and Big are lit up with a veneration for traditional values, while Seabiscuit seems a film pitched to the Academy Awards voter crowd. In none of this does Gary Ross seem to be an action director or one with a finger on the pulse of where today's youth is coming from. In fact, in Ross's hand, the focus in The Hunger Games is not on the action scenes but on the characters and depiction of Katniss's survival skills. Many of the above listed gladiatorial combat films put far more of an emphasis on action so for once it is a surprise to have a big box-office success where the action element is low key.
The best thing about The Hunger Games is its providing a leading role for the relatively unknown Jennifer Lawrence, previously the young Mystique in X: First Class (2011). She is perfectly cast in The Hunger Games, playing with a convincing seriousness rather than posing for glamour. Indeed, in her blend of focused almost otherworldly intent, balanced with the vulnerability of a woman who has not yet found her confidence in the world, Jennifer Lawrence reminds of a young Cate Blanchett. Here she shows the potential to be one of the most promising serious actresses in the years ahead and I am certainly interested in keeping a track on her career from this point, something that was confirmed a few months later with her Academy Award-winning performance in Silver Linings Playbook (2012).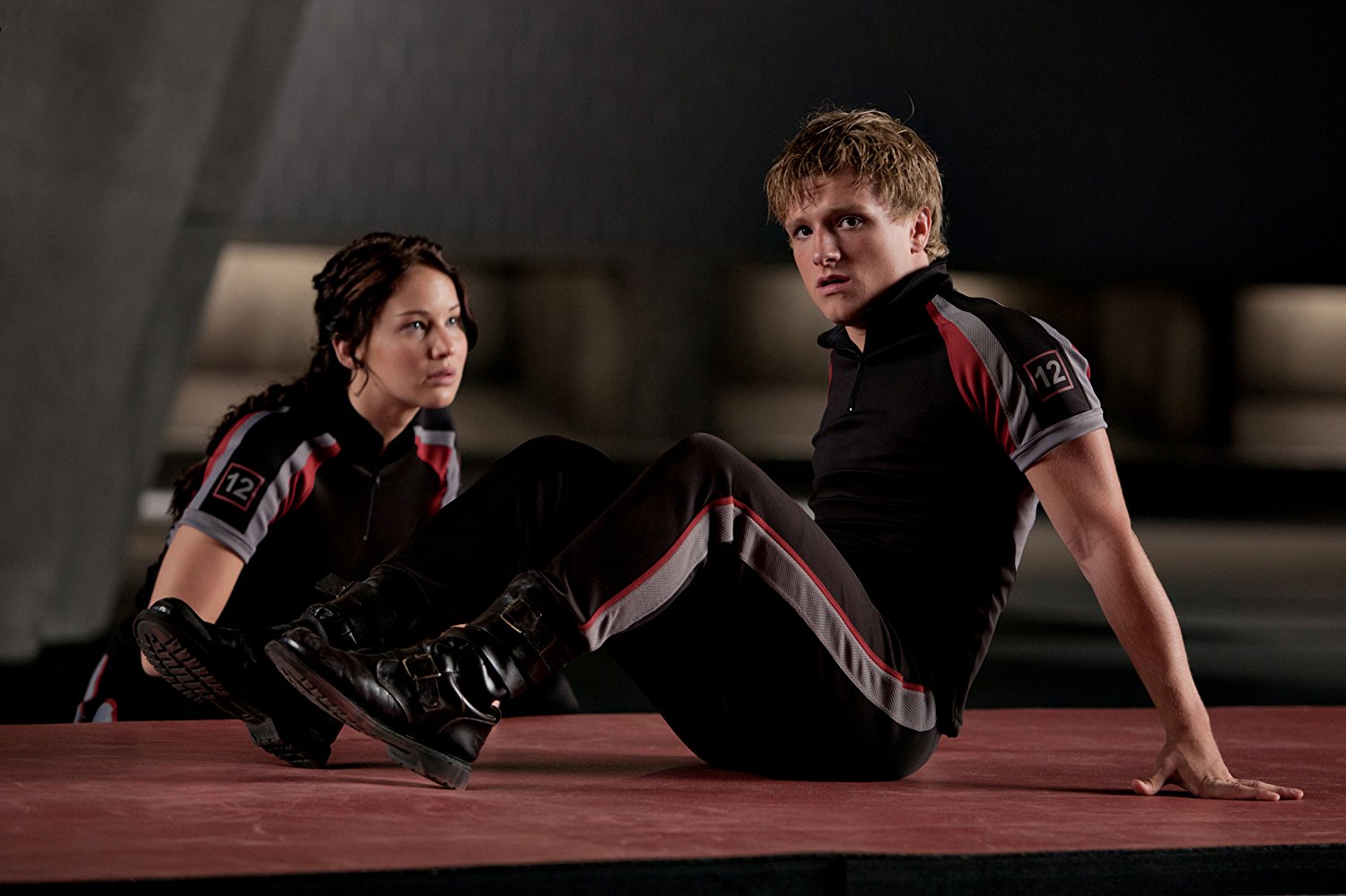 Not the same can be said for Josh Hutcherson who is written with a deliberately ambiguous character but comes out less as a potentially romantic lead than the punk teenager who spends his time beating up smaller kids after school. Woody Harrelson is on fine form but suffers from character flaws. He has a strong entrance – as someone we first see drunk as he delivers the brutal reality of the Katniss and Peeta's fates with mocking unconcern – such that it offsets the subsequent character we see throughout the rest of the film – someone who offers Katniss pithy wisdom and sides with her because he is a rebel inside. What we never get is a scene where we see the two halves of Harrelson's character segue into the other and him coming around from his indifference to a respect and liking for her.
But then The Hunger Games is a film that falls short of truly pushing its characters anywhere. Katniss Everdeen is a strong and ethical heroine but the film seems unable to reconcile its sympathies for her with the scenario that it pushes her into – where she must participate in the murder of other youths. At no point is she ever placed in a situation where she must confront the moral actuality of this. She never has to make the decision of picking up a weapon to deliberately kill another youth or else not doing so and allowing herself to be killed. We do see her kill throughout but it is always in self-defence against someone who has attacked first or to protect others who are in danger but never anywhere does she have to make the choice of whether or not to cold-bloodedly kill. This soft-pedalling of the moral reality of the situation she is in, in providing its heroine with only justified opportunities to kill, makes The Hunger Games the case of a film that creates a brutal life-or-death situation but walks away from ever having its heroine have to confront what this would no doubt entail.
Everybody, with the exception of Gary Ross, returned in the sequels The Hunger Games: Catching Fire (2013), The Hunger Games: Mockingjay Part 1 (2014) and The Hunger Games: Mockingjay Part 2 (2015), which built the fairly light original out into a story of revolution. The Hunger Games was parodied in The Starving Games (2013) and The Hungover Games (2014).
(Nominee for Best Actress (Jennifer Lawrence) at this site's Best of 2012 Awards).
---
---