---
Crew
Director/Screenplay – Jon Stevenson, Producers – Annie Elizabeth Baker, Brian Landis Folkins, Brandon Fryman, Robert B. Martin, Jr., Jon Stevenson & Jimmy Weber, Photography – Scott Park, Music – Jimmy Weber, Makeup Effects – Sara Hunter & Stephanie Lane, Production Design – Brandon Fryman. Production Company – Pretty People Pictures.
Cast
Brian Landis Folkins (David Brower), Wil Wheaton (Andy), Kathleen Brady (Lucille Brower), Amy Rutledge (Lisa), Adrian Egolf (Diane), Josh Staab (Camera Guy)
---
Plot
In Denver, Colorado, David Brower is a lonely, single guy aged forty living at home in the basement, tending his ailing, dementia-ridden mother and subsisting on her social security cheque. David has hopes of finding someone via the Rendezvous video dating service, although his videos have not had any response in six months. He picks up a video called Rent-a-Pal out of the agency's bargain bin. This proves to be a videotape of someone called Andy who insists that they are going to be friends and have a good time. Andy encourages David to open up and his messages gradually become more personal. However, when David receives a connection from another girl Lisa, Andy becomes jealous.
---
Rent-a-Pal was a directorial debut for Jon Stevenson.
Conceptually, Rent-a-Pal reminds of the segment of Amazon Women of the Moon (1987) where lonely Marc McClure finds an adult video that invites interactive participation. That maybe added to something of the disturbed imaginary companion theme a la Daniel Isn't Real (2019). The film determines to give us an authentic flavour of the 1980s – its very premise would never have been able to take place in any other period. Thus we get a plot centred around the almost completely forgotten practice of video-dating while the background is filled with vcrs and videotapes, manual credit card readers, audio cassettes, acid wash jeans and t-shirts for the Reagan/Bush presidential campaign.
Lead actor Brian Landis Folkins (who also produces the film) steps into the role of the middle-aging man with no social life and living in his mother's basement with an uncommon conviction. Folkins is an unknown thus brings no baggage of prior roles and wears the part with a resigned, world-weary weight as though he was naturally living it. Opposite him is Wil Wheaton, best known as a teen actor on tv's Star Trek: The Next Generation (1987-94), still looking as though he was only in his early twenties at the age of 47. Wheaton plays the role of the video friend with the same cheery upbeat optimism he did Wesley Crusher, which the film promptly turns on its head in unnerving ways.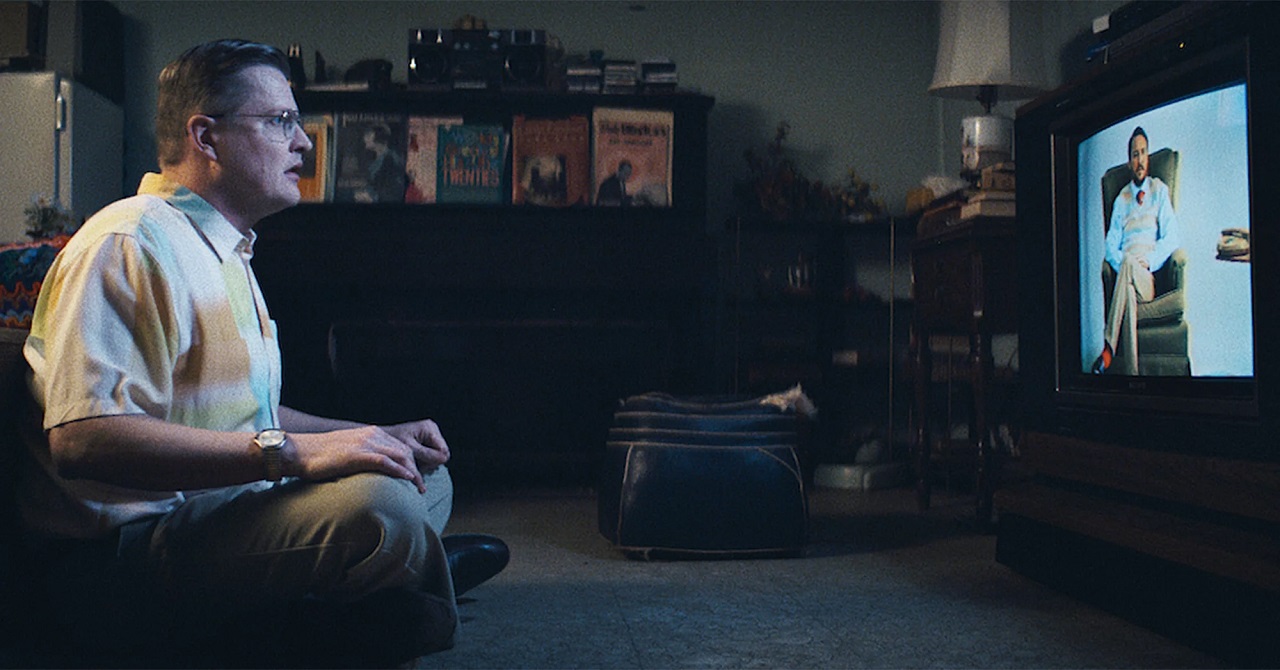 What Rent-a-Pal does rather well is give the authentic feel of a family member trapped in a caregiving role and dealing with a difficult, dementia-ridden parent. Some of these scenes come with a flavour realism as though they had been experienced by the writer in real-life. The film is more than willing to push this into uncomfortable places – there's a squirm-inducing scene where Brian Landis Folkins' mother walks in just as he is masturbating to a sexy story being told by Wil Wheaton. When Folkins does start to connect with Amy Rutledge, this too comes with quite a degree of feeling and part of you is rooting for things to work out for the downtrodden underdog.
In the latter quarter of the show, the film pushes the premise and the relationship between Brian Landis Folkins and Wil Wheaton over into more unsettling places, particularly when Wheaton starts plying Folkins with guilt over wanting to go out with Amy Rutledge instead of spend time with him and then nudging him to unleash his frustrations against his mother. These scenes are made all the more strange by the fact that the film never exactly pinpoints what Andy is – a simple figure on a videotape that has some kind of physical existence, an Imaginary Companion or all in Brian Landis Folkins' mind or all in Brian Landis Folkins' mind.
---