---
Crew
Director – Andy Palmer, Screenplay – Carlos Alazraqui & Jill-Michele Melean, Producers – Carlos Alazraqui, Warner Davis & Jill-Michele Melean, Photography – Filip Vandewal, Music – Andrew Scott Bell, Visual Effects – NMS3 & White Rhino, Visual Effects Supervisors – Kris Millsap & Daniel Saldivar, Makeup Effects – Ojala Productions (Supervisor – Jim Ojala), Production Design – Greg Armstrong. Production Company – Freestyle Digital Media/Mob Goo Productions/Petri Entertainment.
Cast
Rob Belushi (Carlo Serelli), Jill-Michele Melean (Gina Garcia), Vince Donvito (Vince Devalo), Carlos Alazraqui (Mr Serelli), Erinn Hayes (Patricia Miola), Bret Ernst (Dominic Serelli), Maurice Lamarche (Mr Miola), Monique Coleman (Rose), Tara Strong (Filomena), Roger Rignack (Father Mike), Joseph D. Reitman (Mario), Gary Anthony Williams (Anthony), Paula Lisbe (Mrs Miola)
---
Plot
The town of Lake Elsinore, California is home to four Mafia families all living under witness protection. To keep the peace between the families, Carlo Serelli, who works as a dog groomer, is ordered by his father to marry Patricia Miola, the daughter of a rival family head. Carlo protests that he does not love Patricia and stands up to say so at the family dinner where he is meant to propose. After this causes much upset, Carlo decides to bite the bullet and go to Patricia's father to propose. However, problems are being caused as the sausage meat from a local food truck starts turning everyone that eats it into zombies.
---
The 2010s have been the era of the monster mash-up. We've seen principally zombies and killer sharks combined with everything under the sun or mashed up in ways that set out to be as ridiculous as possible. Witness Infection offers a combination of Mafia and zombies, which is a first. Prior to this, we did have zombies mixed with the British gangster film in Gangsters, Guns and Zombies (2012) and Mafia combined with vampires with John Landis's Innocent Blood (1992). In conception, Witness Infection imagines something or the order of the Steve Martin mafia on witness protection comedy My Blue Heaven (1990) overrun by a series of Italian caricatures taken from Jersey Shore (2009-12) – and with the addition of Zombies.
The script comes from Carlos Alazraqui who is an actor and has done a huge amount of animation voice work since the 1990s on tv series ranging from Hey Arnold! (1996-2004), Spongebob Squarepants (1999-2021), Family Guy (1999- ) to American Dad (2005- ), among a lengthy list of others, as well as live-action work, most notedly as a regular on Reno 911 (2003- ). He can be spotted on screen here as the father of Rob Belushi who is pushing him into the marriage. Alazraqui co-writes with Jill-Michele Melean, another Reno 911 alumni who plays Rob Belushi's co-worker and the female lead.
I enjoyed Witness Infection far more than I was expecting to. The film takes a bunch of Italian caricatures and winds them up to an hilariously ridiculous level. Especially funny is the dinner scene with Tara Strong making sarcastic comments about Rob Belushi being 'a poodle-fucker' at the same time as he is caught between standing up to fulfil parental expectation and trying to defy them, all of which proceeds to go hilariously sideways. Much of the film runs around these complications.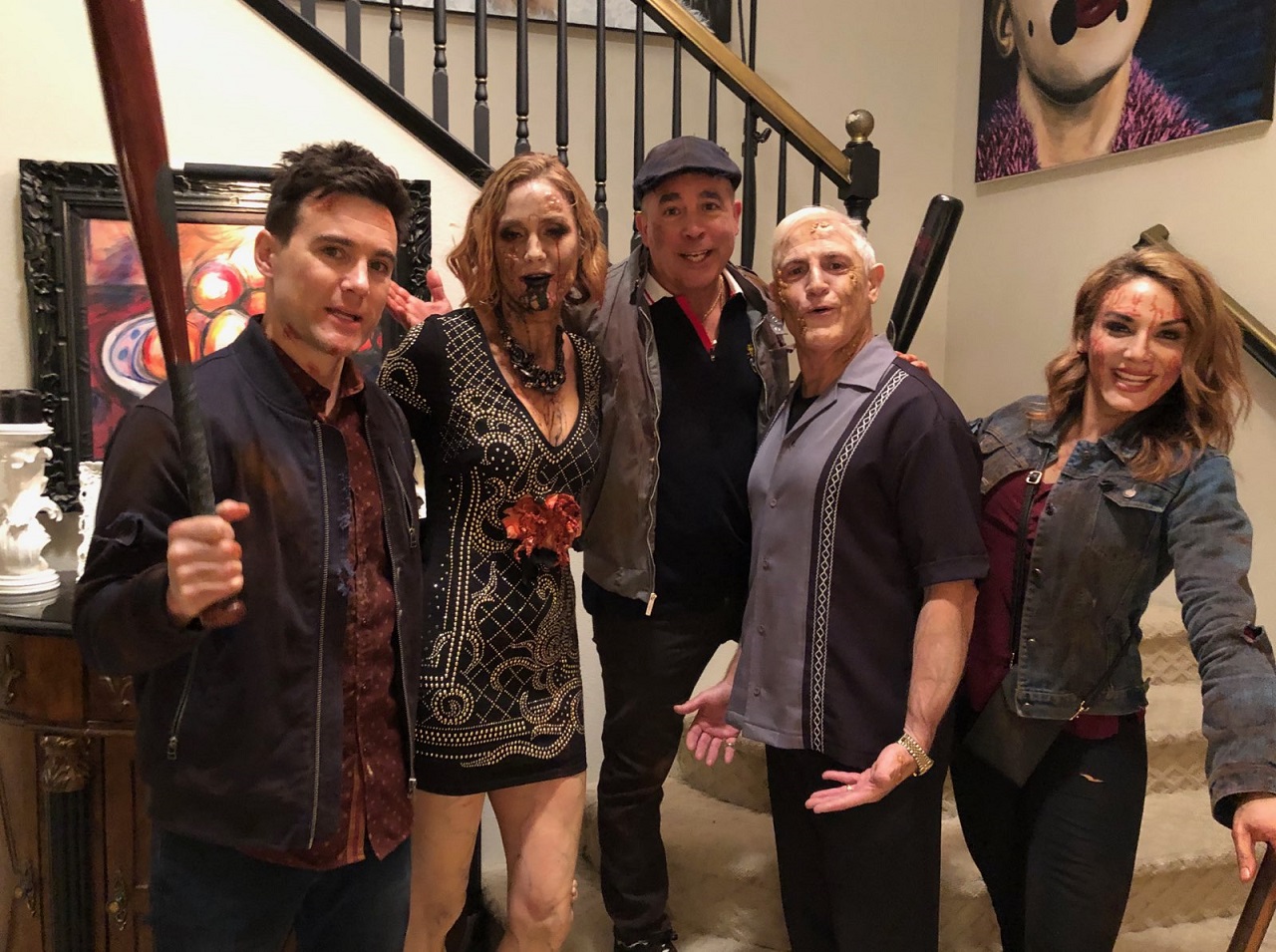 The film does not neglect the horror side either. There is a moderate level of gore, some of which is unfortunately digital. Especially entertaining is one scene where Carlos Alazraqui beheads a zombie with a toilet seat.
Veteran voice actor Maurice Lamarche does a funny turn as another Mafia don, while Paula Lisbe steals the scene as his wife returning home and thinking Jill-Michele Melean is the bimbo he has been seeing. Equally, Monique Coleman turns up in a brief scene to do a rather funny parody of Pam Grier in full Blaxploitation mode.
Director Andy Palmer had also made horror films such as Find Me (2014), Alien Strain (2014), The Funhouse Massacre (2015), Badlands of Kain (2016) and Camp Cold Brook (2018).
---
Trailer here
---