---
Crew
Director – Kourosh Ahari, Screenplay – Kourosh Ahari & Milad Jarmooz, Producers – Kourosh Ahari, Jeffrey Allard, Armin Amiri, Alex Bretow, Mohammed Dormanesh & Cheryl Staurukalis, Photography – Maz Makhani, Music – Nima Fakhrara, Visual Effects Supervisor – Esmaeel G. Adivi, Special Effects Supervisor – Nick Plantico, Production Design – Jennifer Dehghan. Production Company – Mammoth Pictures/7 Skies Entertainment/Indie Entertainment/Orama Filmworks/Leveller/Supernova 8 Films.
Cast
Shahab Hosseini (Babak Naderi), Niousha Noor (Neda Naderi), George Maguire (Hotel Receptionist), Michael Graham (Police Officer), Armin Amiri (Farhad), Elester Latham (Displaced Man), Kathreen Khavari (Elahe), Gia Mora (Sara), Alain Wachnevsky (Mohsen), Lily V.K. (Sofia), Leah Oganyan (Shabnam Naderi)
---
Plot
Husband and wife Babak and Neda Naderi are an Iranian couple living in Los Angeles where he works as a doctor. They leave a party of fellow Iranian expatiates to head home. Neda is concerned about Babak driving after having been drinking. After getting lost, they make a decision to go to a hotel for the night and sign in to the Hotel Normandie. There they soon begin to experience strange things, including mysterious strangers, sinister figures and a shifting sense of reality leaving Babak unable to be sure what is happening.
---
A few years ago when reviewing Tobe Hooper's Djinn (2013), I set out to answer the question if there had ever been such a thing as an Islamic horror film or even one that had ever emerged from Islamic countries. I found very occasional examples produced by Middle Eastern countries, although these had next-to-zero release in English-speaking territories. There was the British-made Born of Fire (1986) but that seemed to be it. Subsequently, we did see the Turkish Baskin (2015) and both A Girl Walks Hone Alone at Night (2014) and the very good Under the Shadow (2016), both made by an Iranian expatriates. (See Islam in Fantastic Cinema).
The Night was a directorial debut for Kourosh Ahari who is Iranian-born but moved to the US in his teens. The film, while shot in Los Angeles, was a co-production between the US and Iran and has the distinction of being the first US film to be released in Iran since the Cultural Revolution of 1979.
As it starts, The Night seems anything but what you would expect a film that would play in Iran to be like. We are at a party made up of very Westernised Iranian expatriates somewhere in Los Angeles. Their conversation slips back and forth between Persian and English. They smoke and drink (something that has been banned in Iran since 1979). The women are preparing non-traditional food – ie. having assimilated to the culture – and wear Western dress with no hijab (which is mandated by law in public in Iran). Niousha Noor reveals to the others that she and husband Shahab Hosseini have just gotten matching tattoos, while the film opens with them plying the party game Mafia. Although there is no explicit mention made of religion, there is the sense as with Under the Shadow that the couple at the centre of the film are being punished by dark forces for having strayed from traditional faith.
After Shabab and Niousha Noor arrive at the Hotel Normandie, The Night segues into being a haunted hotel film. There is a certain genre of haunted hotel films – Stephen King has cornered the market on this with one defining classic The Shining (1980) and another pretty good entry with 1408 (2007), while you could include here the subsequent Shelter in Place (2021), the shifting temporal topographies of the French New Wave classic Last Year at Marienbad (1961) and the experimental film The Decay of Fiction (2002) and probably add the Coen Brothers' non-supernatural psycho film Barton Fink (1991) to the mix as well.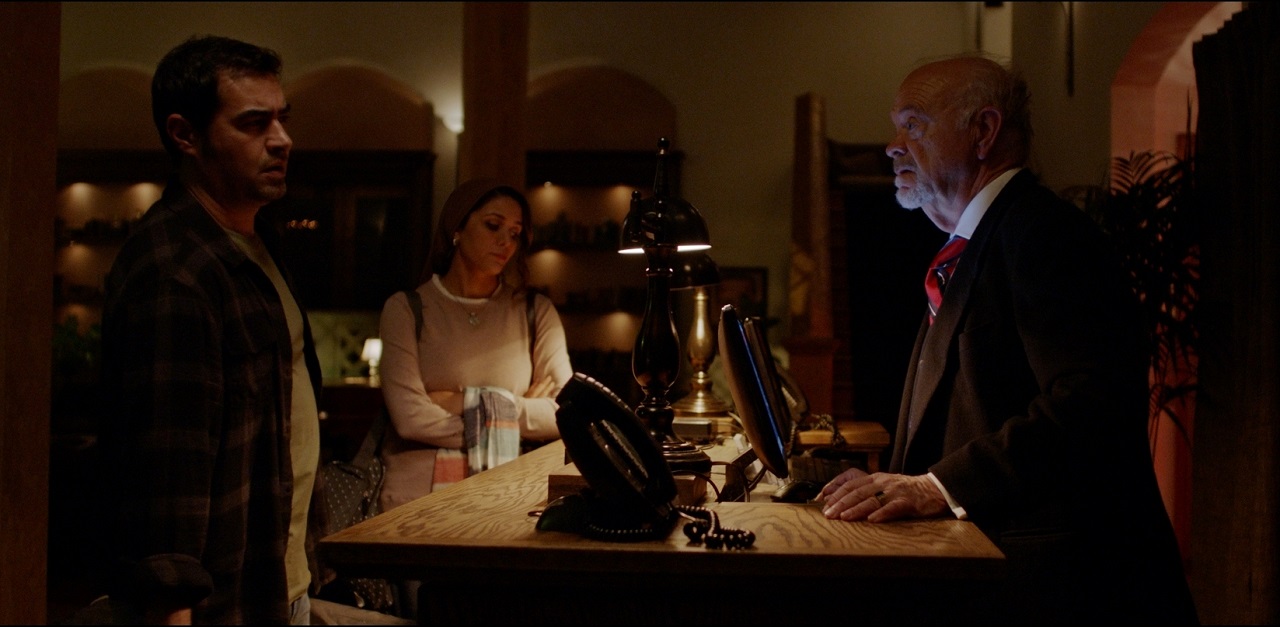 In common with all of these, The Night shares the idea of the hotel as a place of trapped souls from the past; of a realm of shifting topographies that seem to taunt and tease those caught in its walls; of sinister and disturbed visitors and inhabitants. There is also some undeniable similarity to Tobe Hooper's Djinn wherein a young married modern couple sign into a big empty building only to become trapped inside it by the malevolent things that lurk there.
Kourosh Ahari sets up some undeniably effective set-pieces. There is a pervasive atmosphere of strangeness – the homeless guy who walks out the door and later returns delivering warnings in Persian; the perfectly polite desk clerk who later tells Shabab about the number of deaths he has experienced – "and the worst of them is the death of a child." Shabab comes downstairs with the baby but then enters into a bewildering series of alternate takes on the event where Niousha comes down, admonishes him, doesn't come down or has taken the baby herself, before finding he has been asleep in bed all along. If anything, what the film resembles is the baffling shifting realities of the Norwegian Next Door (2005). In perhaps the strangest of these scenes, a cop answers their call and comes to the door where he proves politely dismissive of any of their insistence on anything being wrong then asks to pick up the baby, all before there is a knock at the door, which turns out to be the real (?) cop.
The film comes somewhat unglued towards its ending where we are not entirely sure if this is some type of punishment – maybe the hotel is a form of purgatory and Shabab is being haunted for the death of the child in his hospital, Niousha for having an abortion – but this is never made clear. The film reaches an enigmatic ending not unakin to that of The Shining where Shabab maybe has imagined it all but then finds his reflection in the mirror has a life of its own, before it turns around and the two stand just like the painting we had seen earlier in the hallway of two figures standing with their backs to the frame.
---
Trailer here
---