---
Crew
Director – Tim Hunter, Screenplay – Neal Jimenez, Producers – Sarah Pillsbury & Midge Sanford, Photography – Frederick Elmes, Music – Jurgen Knieper, Production Design – John Muto. Production Company – Hemdale/Sanford-Pillsbury Productions.
Cast
Crispin Glover (Laine), Keanu Reeves (Matt), Daniel Roebuck (Samson 'John' Tollet), Dennis Hopper (Feck), Joshua Miller (Timmy), Ione Skye Letch (Clarissa)
---
Plot
Samson 'John' Tollett turns up at school, telling everybody that he has killed his girlfriend. His friends go out to see the body, which John has left strangled on a riverbank but nobody seems particularly upset. The only reason John ever gives for killing her is because "she talked shit". It is only when the group's nominal leader Laine tries to do something to help John that trouble starts to snowball.
---
Director Tim Hunter wrote the script for the often disturbing Over the Edge (1979) for director Jonathan Kaplan. Over the Edge dealt with a group of disaffected teens whose sole gathering point, a local community centre, is threatened by closure due to a community curfew on teens, something that instead serves to exacerbate their aimlessness. Making his directorial debut with River's Edge, Tim Hunter returned to the same territory of disaffected teen nihilism. River's Edge was loosely based on a real-life incident in San Jose in the early 1980s where teenager Anthony Broussard killed his girlfriend and none of his peers seemed moved to do anything.
River's Edge, like Taxi Driver (1976) and The Driller Killer (1979), is a genuine case of a sociological horror film – one where murder and psychosis is seen to be produced by the weight of society pressing down on individuals. Tim Hunter creates a disturbing sense of social hopelessness in his picture of a nowhere America smalltown filled with broken homes, drug-addled teens, petty law-breaking, people trapped in nowhere jobs and of teenagers lacking purpose in life. A mother throws her hands up at one point: "I give up this mother bullshit. You're mistakes anyway. I'll leave you like your father did."
Amid this, the murder is seen as an act of nihilistic futility against a hopeless future. "The whole world's gonna end anyway," Daniel Roebuck says. "I got this philosophy – you do shit and you die." It is something that creates a chilling moral vacuum at the centre of River's Edge, not so much at the killing, which is never depicted, but at the callous indifference to it by the teens.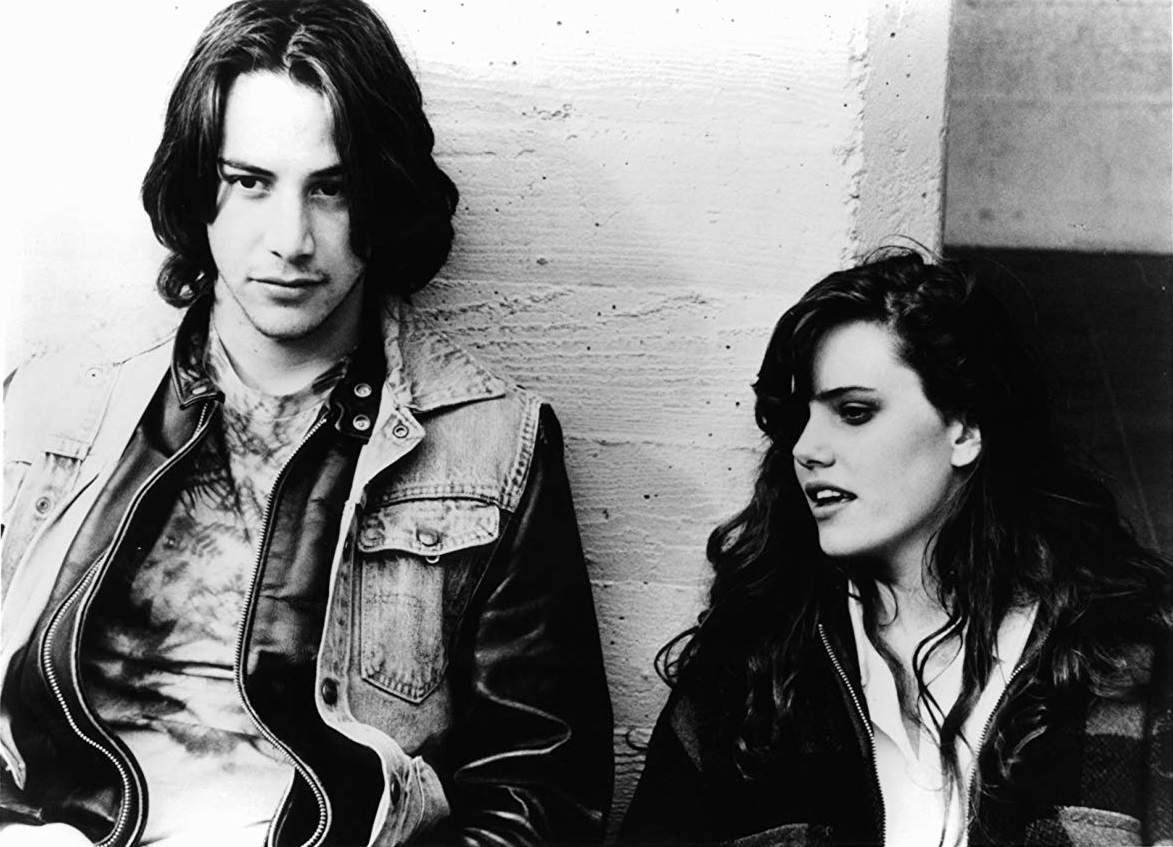 As such, River's Edge is infinitely more disturbing a teen horror film than any Friday the 13th (1980) imitator, for it gives a glimpse into the future of the generation of the Reagan Administration grown in the shadow of the nuclear age with no hope for their future. If a film like Michael Moore's comic documentary Roger & Me (1989) shows the underside of 1980s slash-and-burn freemarket think and the devastating effect that such can have on a small town, then River's Edge could be a Roger and Me that finds nothing at all to laugh about in the situation.
In contrast to the bland angst of teen films of the era such as The Breakfast Club (1984) and Risky Business (1986), River's Edge put its finger far more accurately on the anguish of its generation. Along with the presence of 1960s counter culture icon Dennis Hopper as a burned-out biker turned dope dealer and the character of a former student radical high-school teacher trying to arouse the current generation to some idealistic fervour, River's Edge holds an equally scathing commentary on the washed-up dreams of the 1960s Love Generation, if not directly blames them for the dissolute state of their children.
The film is filled with some fine acting, especially from Crispin Glover, who gives an amazingly hyperactive performances, doing all his acting with his hands and totally unrecognisable from his previous turn as super-nerd George McFly in Back to the Future (1985). There are a surprising number of up and coming names present on the cast list, including Keanu Reeves and Ione Skye. At the centre of the film is Daniel Roebuck, who gives a disturbingly dull-eyed performance. There is that moment he talks of having absolute power in his hands and how his mind just goes blank when he gets angry that is frightening.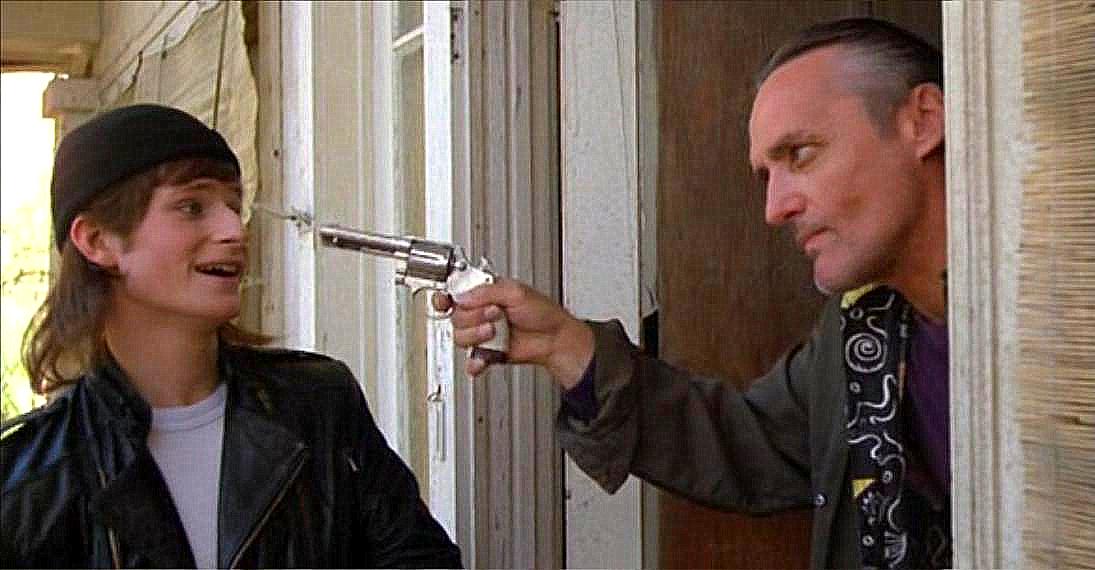 Dennis Hopper was on the career comeback trail after giving up a decade of hard alcohol, drugs and wife-abuse and gives an hilarious performance as the inflatable doll-wielding, fugitive biker. At one point, he describes the accident in which he lost his leg: "I remember seeing my leg on the side of the road with a beer can beside it, and thinking "I wonder if they can sew it back on?" and then thinking "I wonder if there's any beer in the can"."
Tim Hunter later directed the serial killer thriller Paint It Black (1989); the tv movie The Colony (1995), which concerns sinister happenings in a gated community; and Control (2004) about the attempts to chemically harness the murderous tendencies of an executed man; and Smiley Face Killers (2020) based on a group of theoretically speculated true-life serial killers. None of his subsequent work has the chill sociological effect of either Over the Edge or River's Edge. Outside of that, most of Tim Hunter's work has been in tv with series such as Beverly Hills 90210, Twin Peaks, Eerie Indiana, Chicago Hope, Homicide: Life on the Streets, Mad Men, House M.D. and Dexter, among others.
---
---