---
Crew
Director/Screenplay – Nicolas Pesce, Producers – Max Born, Jacob Wasserman & Schuyler Weiss, Photography (b&w) – Zach Kupirstein, Music – Ariel Lon, Makeup Effects – Jamie Maloney & Cat Martin, Production Design – Sam Hensen. Production Company – Tandem Pictures.
Cast
Kika Magalhaes (Francisca), Diana Agostini (Mother), Paul Nazak (Father), Will Brill (Charlie), Olivia Bond (Young Francisca), Clara Wong (Kimiko), Flora Diaz (Lucy), Joey Curtis-Green (Antonio)
---
Plot
Francisca is at home on the family farm with her mother when a stranger Charlie comes and pulls a gun on them. Francisca's father returns to find Charlie having hacked the mother up and attacks him. Afterwards, Francisca drags Charlie's still living body to the barn and chains him up where she sews up his wounds. She grows up into a young woman but her aging father then dies. She kills the still imprisoned Charlie and then sets about finding other companions.
---
The Eyes of My Mother was a debut feature for Nicolas Pesce who had previously worked in music video. The film premiered at the 2016 Sundance festival and gained great word of mouth at various other international festivals.
You could easily The Eyes of My Mother having turned out like a work of lurid Grand Guignol – think of something like the Joan Crawford psycho-thriller Strait-Jacket (1964). Or perhaps the not dissimilar Sick Girl (2007), which seemed determined to push an envelope in terms of sadism and torture on the screen. The Eyes of My Mother has many surface plot similarities to both of these. The difference that is immediately apparent comes all in the directorial style. It is this that makes The Eyes of My Mother so effective; without it we would have just been an average schlock horror film about a disturbed girl with people imprisoned in the barn not too different from any of these others. However, what Nicolas Pesce brings to the show makes the film into something hauntingly unique.
In this case, Pesce shoots the film in stunning black-and-white. Just the rendering of a regular farm in black-and-white causes it to brood with all manner of implied troubles. The landscape – the nearby woods, hills, the open fields – seem to loom with palpably ominous effect. The production designer goes for an oddly atemporal look where you cannot quite pinpoint which era the film is taking place in.
Pesce cites the influence of famous black-and-white shot films such as The Night of the Hunter (1955) and Psycho (1960). What you are also reminded of is Mickey Keating's recent Darling (2015), which was in turn heavily influenced by Roman Polanski's Repulsion (1965). Both The Eyes of My Mother and Darling concern mentally disturbed girls who readily murder others where their surroundings – a farmhouse here, a big apartment in Darling – are shot in a stark black-and-white that seems to echo their alienated mental state.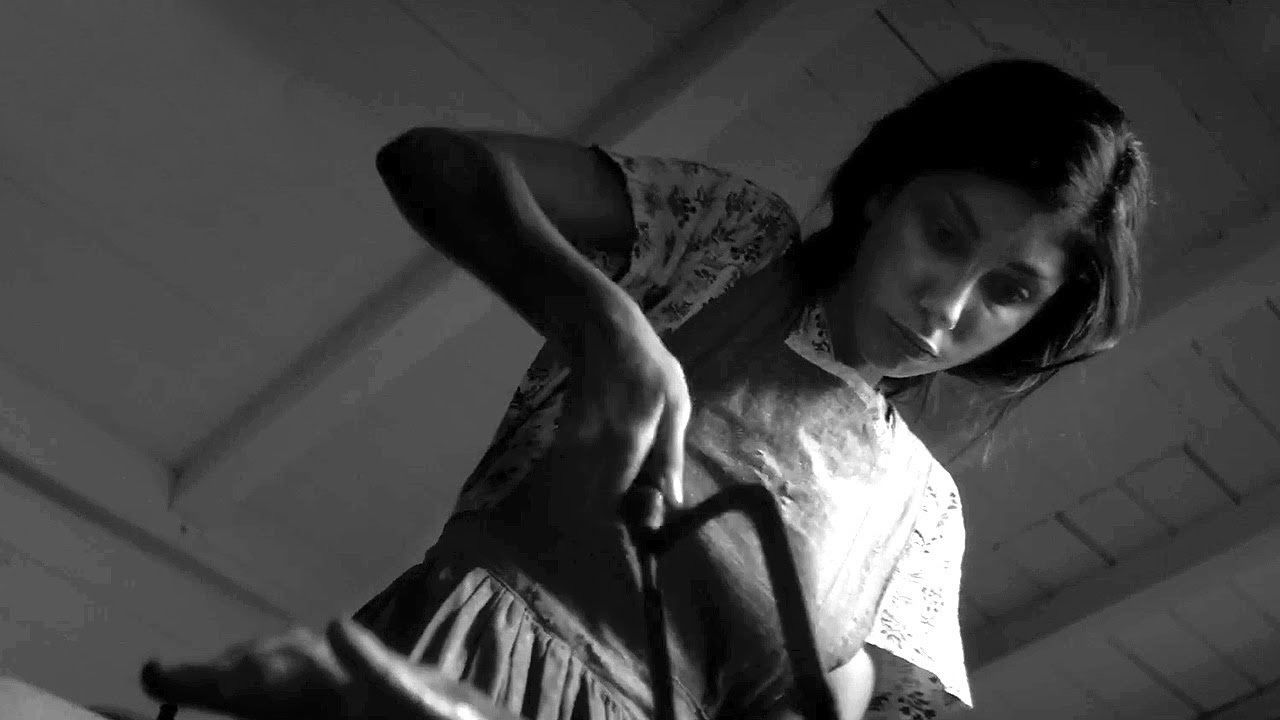 I was hugely impressed with what Nicolas Pesce does. He delivers a coolly composed film where everything feels like it has an exactingly measured place. Just scenes like where Clara Wong gets panicky and starts to back away and then the abrupt cut to Kika Magalhaes cleaning the blood off the kitchen floor show all that we need to know with infinitely more sinister effect than anything overt.
Kika Magalhaes's performance is an object lesson in detached calm that lets nothing in beyond her unruffled surface. The film has a tripartite structure, divided into three chapters where the plot and the mysterious goings-on in the barn eventually weave together like a perfectly collected jigsaw.
Nicolas Pesce next went on to make Piercing (2018) about a meeting between a serial killer and a prostitute, followed by the reboot of The Grudge (2020).
(Nominee for Best Cinematography at this site's Best of 2016 Awards).
---
---