---
Australia. 2014.
Crew
Director/Screenplay – Jennifer Kent, Producers – Kristina Ceyton & Kristian Moliere, Photography – Radoslaw Ladczuk, Music – Jed Kurzel, Visual Effects Supervisor – Marty Pepper, Special Effects Supervisor – Clint Dodd, Makeup Effects – Wicked of Oz, Prosthetics Supervisor – Dale Bamford, Production Design – Alex Holmes. Production Company – Causeway Films/Smoking Gun Productions.
Cast
Essie Davis (Amelia Varnick), Noah Wiseman (Samuel Varnick), Hayley McElhinney (Claire), Barbara West (Grace Roach), Daniel Henshall (Robbie), Craig Behenna (Warren Newton), Cathy Adamek (Prue Flannery), Benjamin Winspear (Oskar Varnick)
---
Plot
Amelia Varnick raises his six-year old son Samuel on her own. Her husband Oskar died in a car crash while she was on the way to the delivery room. Sam is a problem child with behavioural issues, including constantly fearing monsters in the closet. One day he brings a bedtime story for Amelia to read and this proves to be a book she has not seen before called 'Mister Babadook' about a fearsome creature that lurks in the shadows and wants to enter the house to scare and kill people. Immediately after, Sam becomes terrified of The Babadook, believing that it is coming for them. Even as she denies that The Babadook is real, Amelia hears noises and sees things in the shadows, believing that something is coming after them.
---
The Babadook is the directorial debut of Australian Jennifer Kent. Kent has been working as an actress since the 1990s mostly in Australian television with minor parts in films like The Well (1997) and Babe: Pig in the City (1998). She apparently wrote to Lars von Trier and asked to work as an assistant on the set of Dogville (2003) and was accepted. She made the genesis of The Babadook as a ten-minute short film Monster (2005). This was the springboard that allowed her to get the budget to expand it as a full-length film with The Babadook via a mixture of Australian financing and a Kickstarter campaign.
The Babadook sits alongside other films that delve into the topic of childhood boogeymen such as Darkness Falls (2003) and Boogeyman (2005). These are films founded in the modern school of horror created by the A Nightmare on Elm Street sequels, which mandated the provision of a line-up of teenagers and series of surreal novelty despatches at regular intervals. By contrast, The Babadook belongs more to a school of psychological horror – if it has an ancestor it is surely Roman Polanski's Repulsion (1965), which follows the mental disintegration of a woman as she remains locked inside her apartment where her sanity begins to crumble to the point she has a difficulty distinguishing between reality and nightmare. You could compare The Babadook to a film that came out a few months earlier with the mainstream-released Annabelle (2014) – both feature a sinisterly imbued inanimate object usually intended for children that brings an entity into a home with intentions to claim the soul of a child – but where Annabelle was no more than a series of processed pop-up shocks, The Babadook exists as an emotional journey.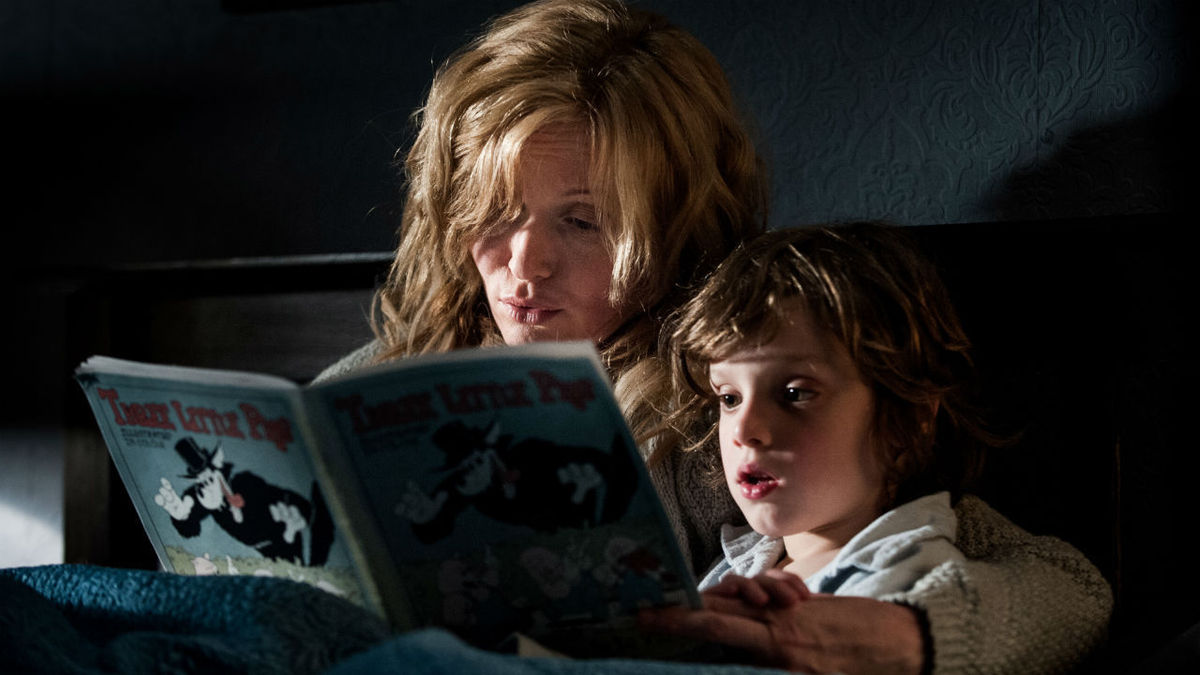 On a pure plot description level, The Babadook could easily have played out as a formula horror film – the difference all comes in the emphasis that Jennifer Kent places on the characters. She puts far more into establishing their everyday lives and concerns than any other supernatural horror of recent memory. This is a real world rooted horror film where the stresses are as much the supernatural menace of the show as Essie Davis's dealing with her problem son, the hostile unwelcome of his school and her sister-in-law, the problems in the lack of sleep, loss of work hours and so on. It is over half the film before we get any appearance of the Babadook, for instance. When the creature does finally emerge, its appearances are unworldly and unsettling.
On one hand, The Babadook is a film about a childhood monster made real; an equal reading of the film could just as easily be that it is something inside the crumbling mind of a stressed-out mother. Much of the later sections of the film see Essie Davis in a stare of near mental collapse due to insomnia and fear. I wondered how much of the film was Jennifer Kent's own story – although apparently it is not autobiographical and she is not a mother who raised a problem child. Nevertheless, this is very much a woman's perspective horror film – it would have emerged as a very different (and probably far less effective) film with a male director, one suspects – that charts the isolation, desperation, madness, fears and stress that someone goes through.
Kent is also not afraid to take the film into dark places and have Essie Davis venting anger and hatred at her own child – an almost taboo subject for Hollywood who venerates the family ideal above almost all else. The tenuous passover the film reaches where the Babadook is tentatively imprisoned in the cellar and life returns to a semblance of normalcy could just as easily read as a metaphor for dealing with these violent thoughts and mental illness – that the darkness remains caged and controlled for now but lurks ever-present.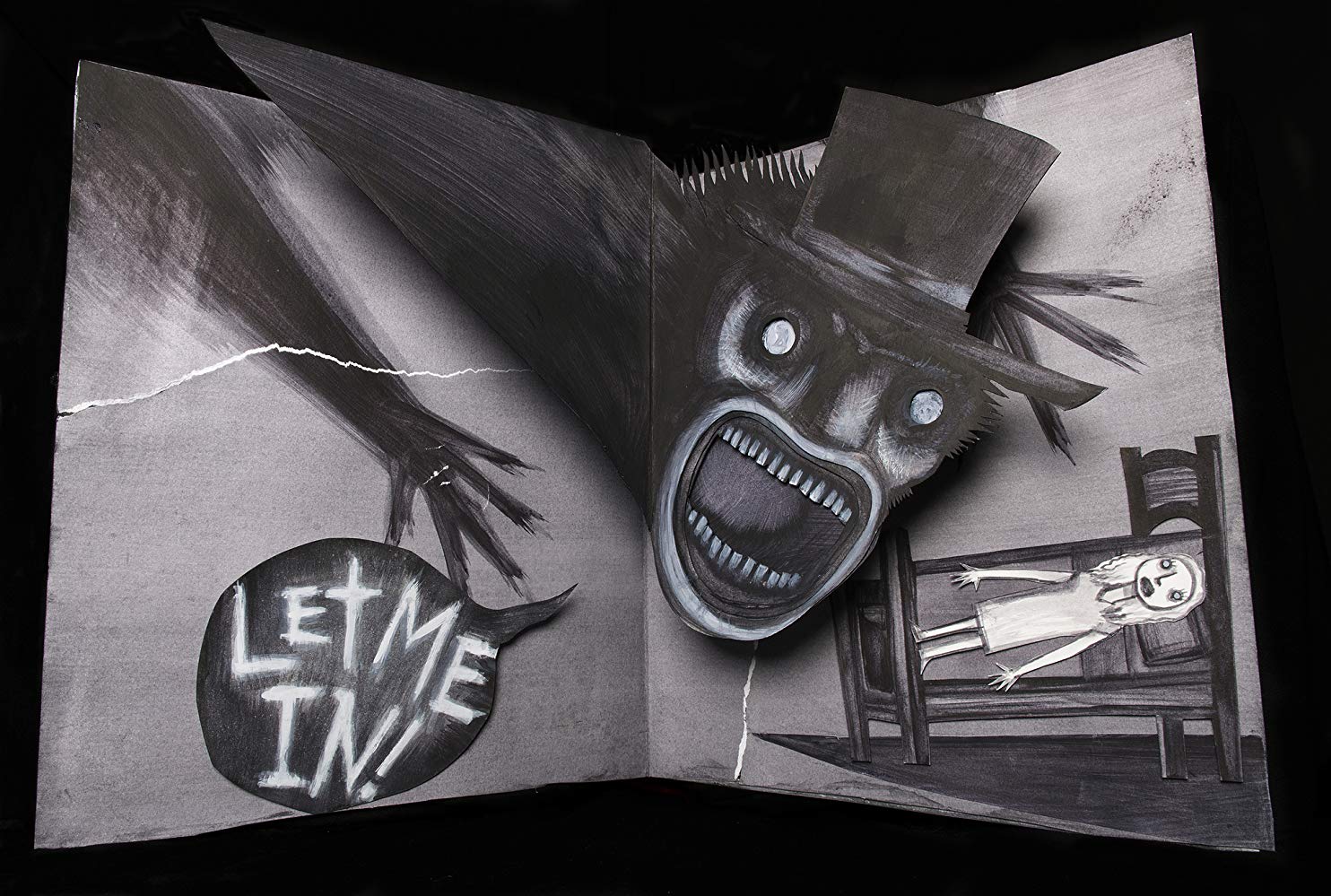 Essie Davis is an actress of watery looks and fragile shyness. She was apparently a classmate of Jennifer Kent in acting school. Davis has played in everything from Girl with the Pearl Earring (2003), Code 46 (2003), Charlotte's Web (2006) and Australia (2008) to the two Matrix sequels without becoming one of those instantly recognisable actresses. She is not someone you would immediately choose as a leading lady. That however is part of the effectiveness of her performance. Kent casts her in a deceptive way, allowing her to play mousy and quiet for much of the show. However, as we get in, the emotional range she is required to open up and deliver throughout the course of the film proves be extraordinary.
The result emerges as one of the most assured and controlled genre films, let alone directorial debuts, that have come this way in some time. Jennifer Kent has been receiving accolades all around the world everywhere the film has screened. In one of the more bizarre twists, a couple of years later The Babadook became a gay icon.
Jennifer Kent next went on to direct the historical revenge film The Nightingale (2018).
(Winner in this site's Top 10 Films of 2014 list. Winner for Best Director (Jennifer Kent) and Nominee for Best Actress (Essie Davis) at this site's Best of 2014 Awards).
---
---