---
Crew
Director/Screenplay – Carlo Mirabella-Davis, Producers – Mollye Asher, Carole Baraton, Frederic Fiore & Mynette Louie, Photography – Katelin Arizmendi, Music – Nathan Halpern, Visual Effects – Wild Union Post (Supervisor – Alex Noble), Production Design – Erin Magill. Production Company – Stand Alone/Syncopated Films.
Cast
Haley Bennett (Hunter Conrad), Austin Stowell (Richie Conrad), Elizabeth Marvel (Katherine Conrad), David Rasche (Michael Conrad), Laura Dias (Dr Santos), Laith Nakli (Luay), Denis O'Hare (Erwin)
---
Plot
Hunter is a former retail worker who has married Richie Conrad who comes from a family of considerable wealth. She lives in Richie's luxurious home. The two of them have been trying for a baby and Hunter now announces that she is pregnant. At the same time, Hunter becomes obsessed with eating objects – everything from marbles to safety pins, batteries and screwdrivers. When this ends with her having to be taken to the hospital to have her stomach pumped, Michael's family respond by hiring a nurse to watch her around the clock. Despite feeling her life is even more controlled, Hunter continues to feed her obsession.
---
Swallow was a directorial debut for Carlo Mirabella-Davis who had previously made several short films and was one of three directors on the documentary The Swell Season (2011). It comes produced by Joe Wright, director of Atonement (2007), Hanna (2011) and Darkest Hour (2017). The film played an impressive line-up of international festivals.
As the film starts in, Carlo Mirabella-Davis wraps us in the exquisite detail of the world of privilege that Haley Bennet lives in. We first see her perfectly outfitted as she cleans a handful of leaves from a pool while beyond there is a stunning vista down onto a river that runs below the property. Her preparations for dinner are intercut with the shock images of a lamb being slaughtered and then served up. (There is a lot of eating imagery throughout the film). We see her preparing dinner with restaurant quality artistry and then waiting for husband Austin Stowell's return perfectly made up.
Inside this world, we are made to feel how Haley Bennett is regarded as no more than an object. She is dressed in impeccable detail as though she had stepped out of some 1950s catalogue for women's fashion. The makeup people do much to emphasise the blush of her cheeks, creating the impression of someone shy and unsure of herself. We feel for her as she sits at the dinnertable with husband Austin Stowell and her efforts at conversation are ignored as he sits texting, or the dinner at a restaurant with his parents where she is encouraged to tell a story and does so with faltering self-confidence only for father-in-law David Rasche to cut her off right in the midst and turn to Austin Stowell and start discussing a matter of business.
Swallow develops a disturbing fascination. First we watch as Haley Bennett swallows a seemingly innocent marble. There comes an ick creepiness a few scenes later as she goes to the toilet, places on a pair of rubber gloves and puts her hand down into the bowl – you are left with the unpleasant expectation that she is going to start eating her own shit before she anticlimactically pulls out the excreted marble and places it in her collection. Thereafter there is the sometimes uncomfortable to watch progression of scenes as she eats her way through a variety of safety pins, items of jewellery, batteries and even a small screwdriver.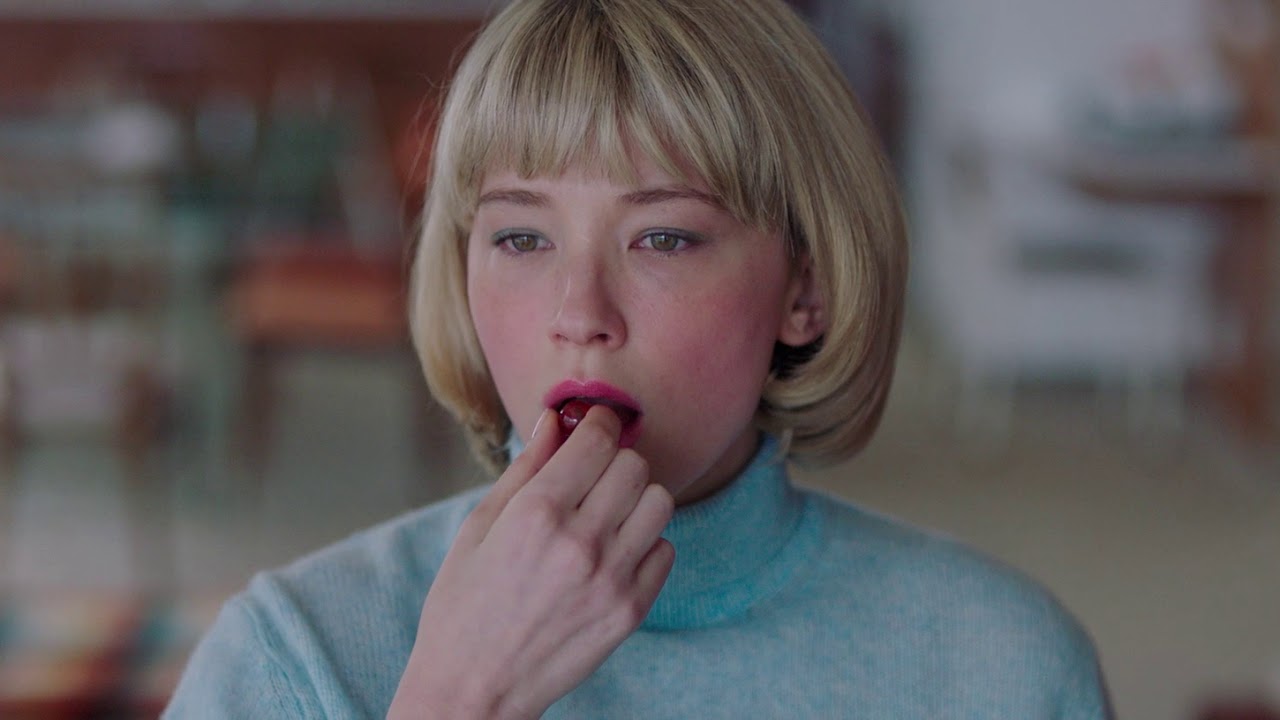 The only other film to come anywhere near the territory of disturbed psychology that Swallow does is Marina de Van's In My Skin (2002) in which de Van played a woman who was obsessed with mutilating her own skin. Likewise there, her reasons for doing so were never clearly stated, although some scenes suggested it was a reaction against the middle-class world she lived in.
What Carlo Mirabella-Davis seems to be offering is a surprisingly strong feminist text where we see that Haley Bennett's life is controlled from every angle (and even more so as the show progresses to the point her every move is watched by a nurse). Amidst this, the only thing she has under her control is her own body where her eating objects is a form of defiance as much as it seems pathological behaviour. This is a film that I was watching in terms of a horror story but had much deeper and more resonant emotional reactions from my female viewing companion who saw many parallels to previous controlling relationships in which she had been. The latter sections of the film seem to abandon horror territory altogether and follow Haley Bennett as she leaves the home and has to slowly adjust to making her own way in the world.
I had not seen much of Haley Bennett on screen before – she had a reasonable presence in films such as Marley and Me (2008), The Equalizer (2014), The Girl on the Train (2016) and The Magnificent Seven (2016) and had appeared in a few genre films – the title role in The Haunting of Molly Hartley (2005), The Hole (2009), Kaboom (2010) and Hardcore Henry (2015) – without making much distinction in memory. However, the performance she gives here, which goes all the way from shy innocent to the remarkable fire she demonstrates when she turns on Denis O'Hare marks her as a considerable talent worth paying attention to in future.
(Winner in this site's Top 10 Films of 2019 list. Winner for Best Actress (Haley Bennett), Nominee for Best Director (Carlo Mirabella-Davis) at this site's Best of 2019 Awards).
---
---