---
Crew
Director/Screenplay – Yeon Sang-ho, Producers – Lee Eun & Suh Young-joo. Production Company – Next Entertainment World/Studio Dada Show/Finceut.
---
Plot
In Seoul, Hye-sun and her boyfriend Ki-woong face eviction from her apartment for non-payment of rent. She is outraged to find that Ki-woong has placed her photo online, advertising her services as a prostitute, and walks out on him. The photo is found by Hye-sun's father Suk-gyu who heads out in search of her. He encounters Ki-woong and grabs him, demanding to see Hye-sun. Just then they see a woman attacking a man in the apartment hallway. The dead neighbour and the woman then burst in after them. Meanwhile, a horde of zombies emerge from the railway station. Hye-sun is caught in the midst as she and others attempt to flee the onslaught. Suk-gyu and Ki-woong try to make their way through the chaos that is engulfing the city to rescue her.
---
Train to Busan (2016) was an enormous international breakout hit from South Korea. It placed its director Yeon Sang-ho on the map as someone worth watching. Somewhat overlooked in the buzz circulating around Train to Busan was Seoul Station, Yeon's companion piece that was released one month later and acts as a prequel to the events of the other film (although, in actuality, the two can be viewed in any order and neither is necessary to understanding the other). While Yeon Sang-ho was acclaimed for Train to Busan and Seoul Station was overlooked, the irony is that Seoul Station was actually a more typical work for him. Indeed, his sole directorial work prior to 2016 had been in animation with the two feature films The King of Pigs (2011) and The Fake (2013), both non-genre,. Hhe did return to live-action with the subsequent psychic powers/superhero film Psychokinesis (2018) and the live-action Train to Busan sequel Peninsula (2020)..
Seoul Station is much the same as Train to Busan – it follows a crosscut of characters as a zombie outbreak occurs. In Train to Busan, the outbreak has happened all over the country and, as we start watching, is taking over the train; here we see as it hits the streets of Seoul (the film only takes place at the title location during the early sections). We never get to find the cause of the outbreak in either film.
The zombie film has been mashed up with almost every genre in recent years but has not exactly made any inroads into animation. There have been odd efforts such as Dead Fury (2008) and The Amazing Adventures of the Living Corpse (2012) but these have not exactly stood out. There was the anime version of Resident Evil: Degeneration (2008), which had had two follow-ups. The only other film to gain any notice was Night of the Living Dead Reanimated (2009), although that cannot be fully considered animation, and before that the B-17 segment of Heavy Metal (1981). The problem I suspect is that horror and animation have never been a particularly effective mix. Here, for example, you cannot help but think that the gore and splatter effects seem considerably the lesser when they are rendered as merely a red streak or blotch on someone's face or clothing.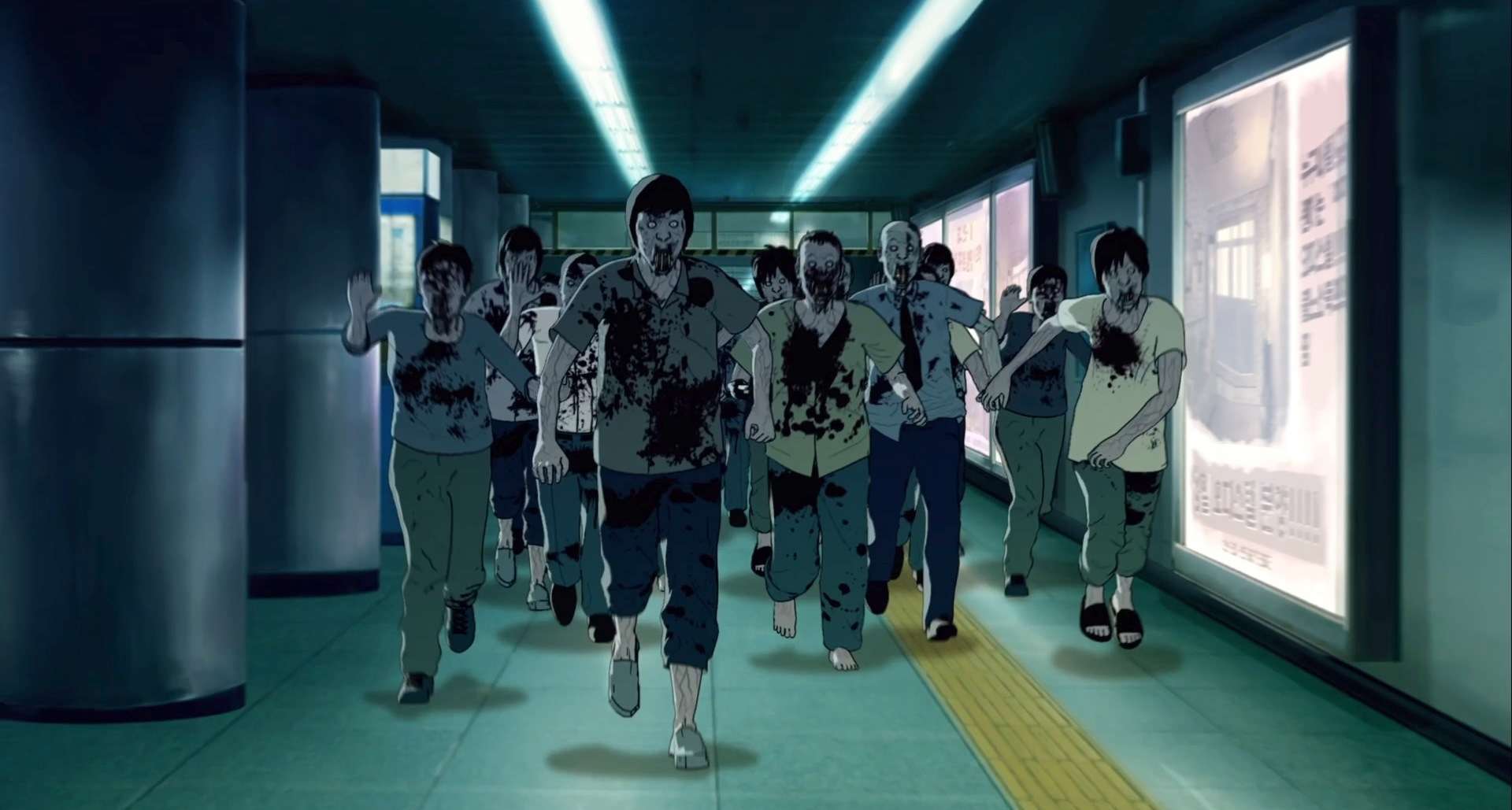 That said, Seoul Station works fairly entertainingly. It doesn't quite kick in with the pure pleasure that Train to Busan did. Nevertheless, Yeon Sang-ho gives us some fierce massed attacks with Hye-sun and others being pursued out of the station and through the streets. There is a wonderfully tense sequence where she and several others are placed in a jail cell surrounded by zombies outside at the same time as one of the group locked in with them turns. Yeon Sang-ho draws in plain, clean lines but you can also see that a surprising degree of detail placed into the background. And the film works as a fairly solid zombie entry.
The only negative point for me was the characters – or at least the way the film spins their arcs. The story follows three people – Hye-sun, her weak-kneed boyfriend Ki-woong and Suk-gyu as her traditional hardline father who has come to rescue her. These are well established and work fairly well. [PLOT SPOILERS] However, right near the end, this is twisted on its head as all three meet up and it is revealed that Suk-gyu is not Hye-sun's father but that she was a former prostitute and he was the pimp that she fled from. This throws all of the sympathies that we had invested in the characters considerably off beat – and not in a positive way. The film also goes on a downer of an ending with all three characters dead.
---
---