aka Vampire Hunter D: Bloodlust
---
Crew
Director/Screenplay – Yoshiaki Kawajiri, Based on the Comic Book by Hideyuki Kikuchi (Asahi Sonorama), Producers – Masao Maruyama, Taha Nagasawa & Mata Yamamoto, Photography – Hitoshi Yamaguchi, Music – Marco D'Ambrosio, Animation – Madhouse, Animation Directors – Hisashi Abe, Hiroshi Hamazaki & Yutaka Minowa, Mechanical Animation Director – Moritumi Naha, Art Direction – Yuji Ikehata. Production Company – Filmlink International/BMG Funhouse Inc/Vampire Hunter D Production Committee.
Voices
(English Language Version)
Andrew Philpot (D), Pamela Segall (Leila), John Rafter Lee (Meier Link), Wendee Lee (Charlotte Elbourne), Matt McKenzie (Borgoff Marcus), Alex Fernandez (Kyle Marcus), Jack Fletcher (Grove Marcus), Michael McShane (Left Hand), Julia Fletcher (Countess Carmilla), John Di Maggio (Alan Albourne)
---
Plot
The vampire hunter D, who is a Dunpeal, born half-human and half-vampire, accepts a bounty from Alan Albourne to bring back his daughter Charlotte who has been abducted by the vampire Meier Link. Also on the trail is the bounty-hunting team the Marcus Brothers. D forges a tentative friendship with one of the Marcuses, Leila, when he saves her life. As D continues on the trail, he learns that Charlotte has not been abducted but went willingly because she and Meier Link love one another.
---
The original Vampire Hunter D (1985), even though only released on video in the USA, became a cult item among anime fans with its surreal visuals and Gothic anti-hero. It is not entirely clear if Vampire Hunter D: Bloodlust is intended as a remake or a sequel – the story follows similar, although not identical, paths to the original – it could be the first film's plot reworked with more depth and substance. The English language print has been subtitled Bloodlust (which is kept in this review to avoid confusion between the two), although this subtitle does not appear on the print of the film itself and it otherwise has exactly the same title as the original, Vampire Hunter D, which lends some weight to the idea that it might be a remake.
Vampire Hunter D: Bloodlust is made by Yoshiaki Kawajiri, who also made Lensman (1984), the amazingly perverse Wicked City (1987), Demon City Shinjuku (1988), Ninja Scroll (1993), Highlander: The Search for Vengeance (2007) and one of the episodes of The Animatrix (2003).
The original Vampire Hunter D was simplistically animated and stylistically crude. It is immediately apparent from the opening shot in Vampire Hunter D: Bloodlust – a 3D pullback through a forest of crucifixes that then moves about the town as the vampire's shadow passes through the streets, causing flowers and crosses to wilt and animals to cower – that this is a new generation Vampire Hunter D. The difference between the two might be the same as that between the simplistic two-dimensional animation of Hanna-Barbera's tv shows and the high-art animation of modern Disney.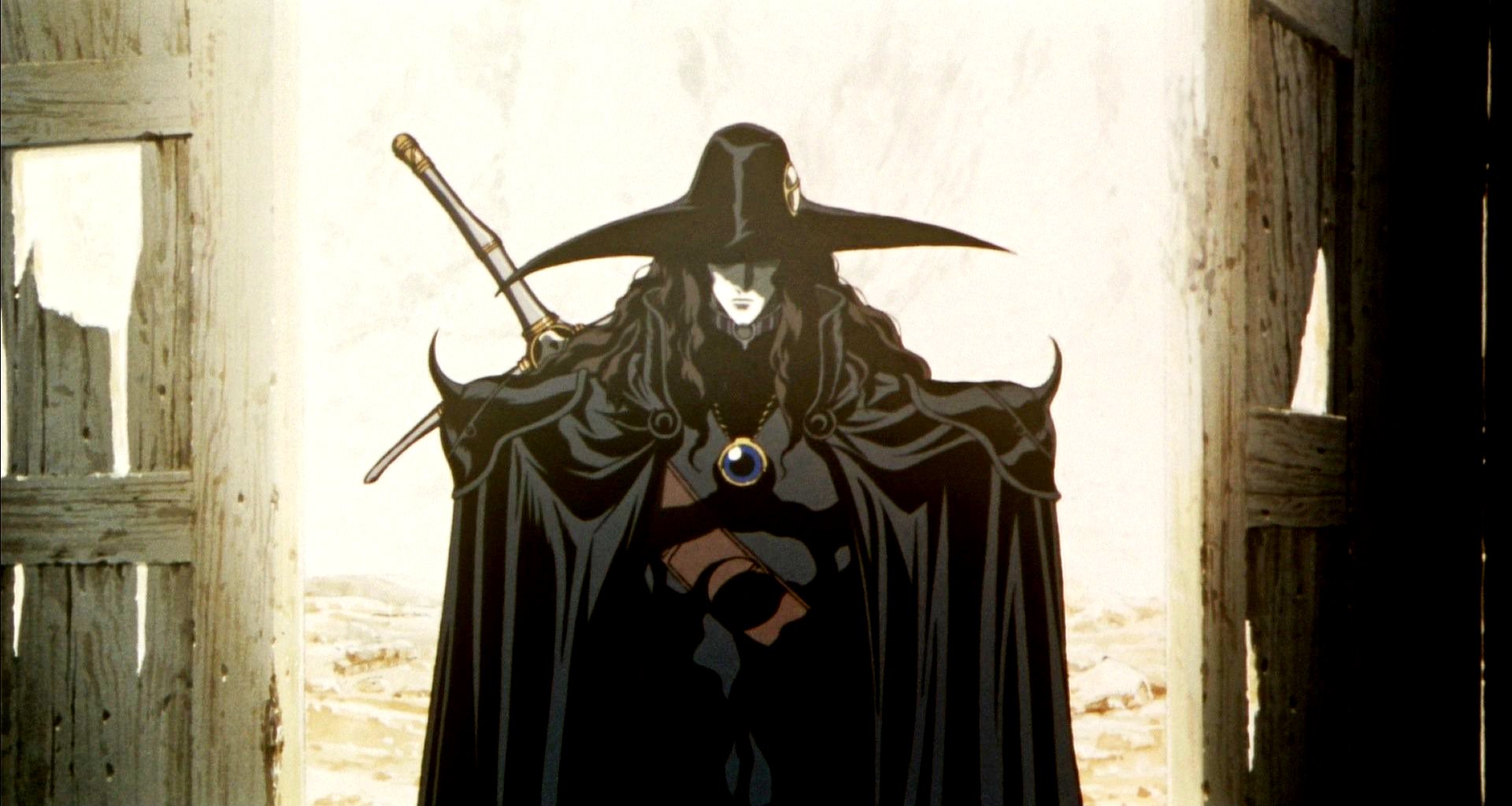 Yoshiaki Kawajiri leaps into the intensively driven action, mass destruction and changes between small and epic scale that makes anime such cult material. The action here is frequently enthralling – battles with the likes of a tree woman and flying coffins, a character with a wolf's head emerging from its stomach, the various hunters engaged in sword battles with vampires and zombies, horse and cycle flights through a minefield of laser beams and the like. The introduction of D comes in the midst of a full-scale battle between the Marcus Brothers and zombies with D catching a silver arrow fired at him in his hand and his cape resplendently opening like bat wings silhouetted against a full moon.
The backgrounds are beautifully stylised Gothic renderings – Vampire Hunter D: Bloodlust is one of the few animes to adopt the essence of the modern graphic novel. Indeed, with its sharply drawn contrasts of light, shadow and emphasised muscular shadings, Vampire Hunter D: Bloodlust could almost be the work of comic-book artist Jim Steranko brought to life. The characterisations are slim and … well comic-bookish. D gets slightly more dialogue than in the original but is still kept appropriately monosyllabic and mysterious.
---
---