---
Crew
Directors/Screenplay – Kevin Kölsch & Dennis Widmeyer, Producer – Travis Stevens, Photography – Adam Bricker, Music – Jonathan Snipes, Makeup Effects – Hugo Villasenor, Production Design – Melissa Jusufi. Production Company – Snowfort Pictures/Parallactic Pictures/Dark Sky Films/Astraneus Pictures
Cast
Alex Essoe (Sarah Walker), Amanda Fuller (Tracy), Noah Segan (Danny), Maria Olsen (The Casting Director), Marc Senter (The Assistant), Louis Dezseran (The Producer), Fabianne Therese (Erin), Pat Healy (Carl), Shane Coffey (Poe)
---
Plot
Sarah Walker is an aspiring actress, looking for a break in Hollywood while working in a fast food restaurant. She gets an audition for the lead in the horror film 'The Silent Scream' for the prestigious Astraneus Productions. Thinking she has failed the audition, she has a fit in the bathroom in which she tears her hair out in frustration. This intrigues the casting director who asks her to return and repeat this for them, which leads to her being called to a final audition at the producer's mansion. However, Sarah walks out when the producer places his hand up her skirt. Returning to her mundane life, she begins to think that doing so was a mistake and asks to be reconsidered. This time the producer asks if she will do anything for the role, including sacrificing her body and everything she has. Upon consenting, Sarah is asked to perform oral sex on him. The next day back home, Sarah is feeling ill. Increasingly, her body is taken over by an infection that is causing her to rot and decay. As he friends and roommate express concern, Sarah turns on them in a murderous rage.
---
Starry Eyes is an effort from the directing duo of Kevin Kölsch and Dennis Widmeyer. The two had previously collaborated on Postcards from the Future: The Chuck Palahniuk Documentary (2003) and Absence (2009), a thriller about the kidnap of a girl told from differing perspectives (although this does not appear to have any wide exposure), as well as several short films that all fall in the horror vein.
Starry Eyes sets out to be a dark Hollywood tale – you could throw it in the same company as Sunset Blvd. (1950), The Player (1992), Swimming with the Sharks (1994) and in particular with David Lynch's Mulholland Dr. (2001), David Cronenberg's Maps to the Stars (2014) and Nicolas Winding Refn's The Neon Demon (2016). You could almost coin the soundbite description of saying it is how Maps to the Stars would have emerged if it were made by Cronenberg back in his horror heyday.
Initially, I was not even sure if Starry Eyes was going to be the type of film I was going to end up writing about here. Fully half of the film follows Alex Essoe in the grind of a mind-numbing job as a waitress in a franchise restaurant, her failed auditions, hanging out with her friends, her breakthrough and then the realisation that getting the big starring role requires ending up on the figurative casting couch. In these scenes, Alex Essoe is the archetypical fragile innocent.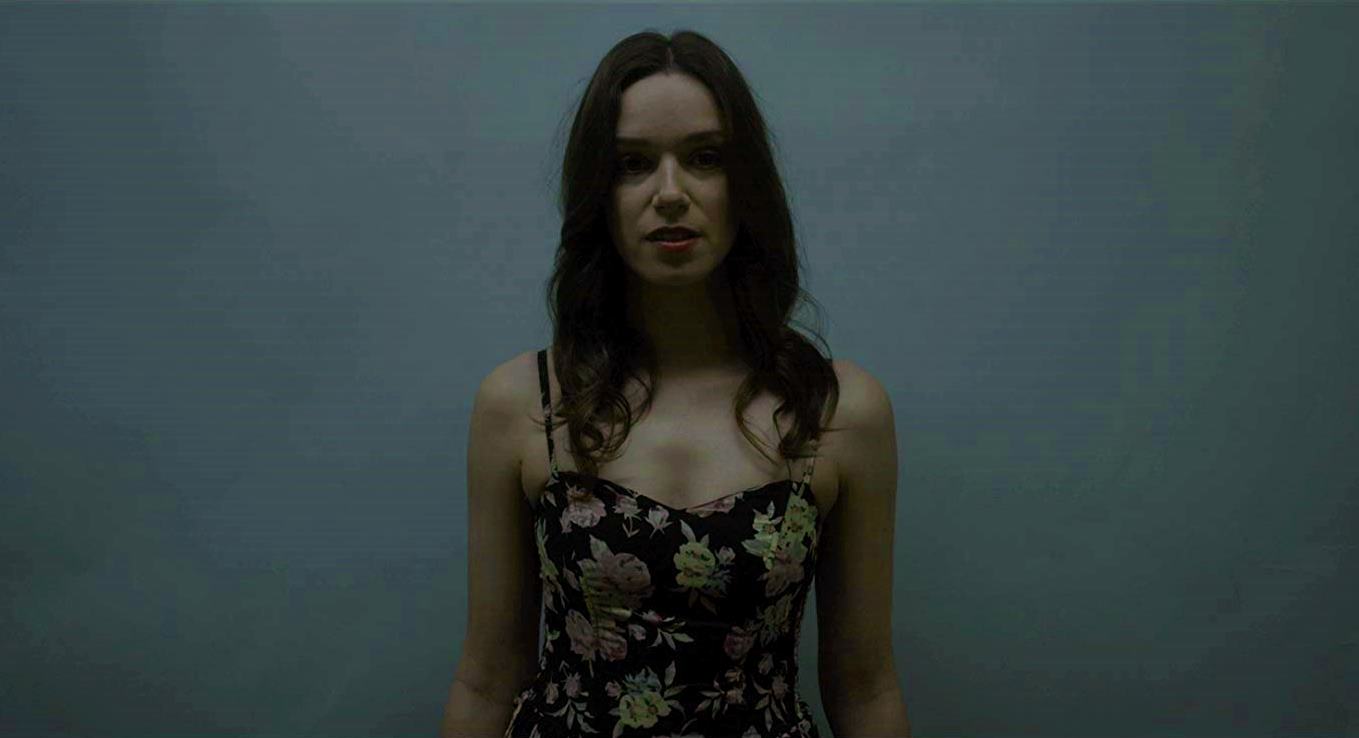 The audition scenes with Maria Olsen and Marc Senter acting cold and indifferent as they ask bizarre things of her – that she re-enact for them one of her fits where she tears her hair out, that she strip of all her clothes in front of a spotlight in an otherwise darkened room – have a strangeness factor that feel as though they could have hailed in from a David Lynch film. The scene at the producer's home with Louis Dezseran who looks at her with alarmingly intense, crazy-seeming eyes, gushing over the grand ambition of what they are trying to do and how amazing it will be for her at the same as he slides his hand up her skirt are equally fascinating.
It is after the point that Alex Essoe returns to the producer to be reconsidered that Starry Eyes takes a turn into genre territory and starts to get very weird. Exactly what happened at the producer's house after Alex Essoe returns and agrees to figuratively (possibly literally) sell her soul and goes down on him is not revealed. We next see her at work in a stupefied state, drooling into the food she is readying to carry out to customers, before being sent home. We then watch her progressive disintegration as her skin becomes pale and breaks out into open sores.
Kölsch and Widmeyer have a great deal of fun delivering scenes with Alex Essoe coughing up mouthfuls of maggots and the like. There is the feeling in these scenes that Starry Eyes has jumped tracks and gone from its initial mundane tale about the woes of a starlet trying to make a break in Hollywood to something like Thanatomorphose (2012) and Contracted (2013), which both follow the infection and progressive physical decay of their respective heroines.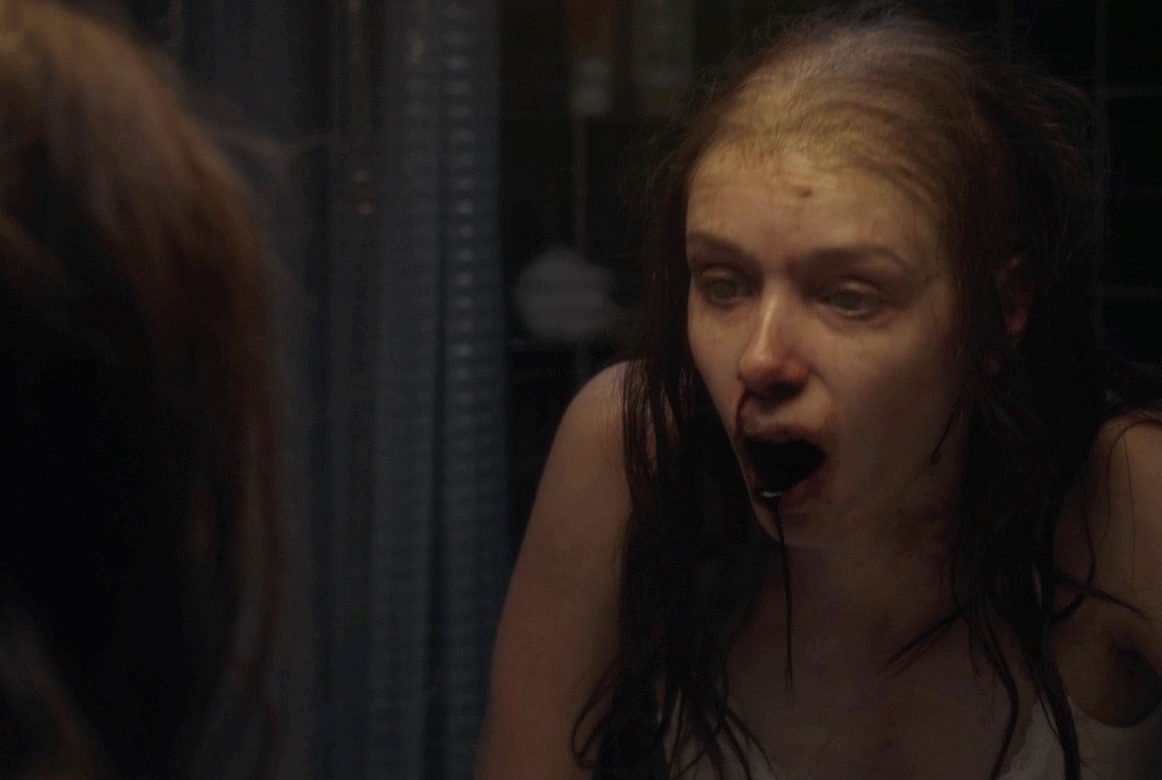 [PLOT SPOILERS] The film climaxes with the heavily infected Alex Essoe passing through the house bloodily slaughtering her friends and roommates. She is then taken away by mysterious hooded figures and buried in what would appear to be an occult ceremony. She emerges at dawn, brushing the soil off her nude body and returning home. Cleaned up, she appears as something other than human, an alien with green eyes and bald head. She seduces her remaining roommate and bites her lip off in a kiss, before going on to dress and place on a wig, now having presumably gone on to become the star that she gave up everything she had to be.
This is an ending that provides confusion as much as it ends up completely wild territory. [PLOT SPOILERS]. It is never particularly clear what type of deal Alex Essoe signed up to and why it was that she returned infected, had to kill her friends and was then resurrected as something alien-seeming. A few more explanations of the cryptic pact that she made would have helped the film immensely, you expect. As it is, you often feel like it is a film of disparate parts – one half about the harsh struggles of a wannabe actress, the other part an infection story and an ending that gets puzzlingly weird and seems to turn into some odd combination between a pact with the Devil story and the Terror Over Hollywood segment of Torture Garden (1967).
If nothing else, the weird contortions of the story allow an amazing acting range to Alex Essoe. She starts off as a frail innocent where I had some doubts, thinking she was just too quiet and waiflike to stand up as the lead. From there, she is placed through bizarre psychodramatics, becomes an infected zombie, gets to bloodily slaughter her friends, before emerging as an alien and placing on her makeup to become the epitome of glamour.
Kevin Kölsch and Dennis Widmeyer next went on to direct the Valentine's Day episode of the horror anthology Holidays (2016) and the remake of Pet Sematary (2019)
---
---