aka Destination Infestation
---
Crew
Director – George Mendeluk, Teleplay – Mary Weinstein, Producer – Kirk Shaw, Photography – Michael Balfry, Music – Peter Allen & Vince Mai, Visual Effects Supervisor – Paul R. Cox, Special Effects Supervisor – Al Benjamin, Makeup Effects – Todd Masters, Production Design – Hitoshi Okamoto. Production Company – Ignite Entertainment/Granada America/Johnson Film Project/Insight Film Studio Ltd/Swarm Productions, Inc.
Cast
Jessalyn Gilsig (Dr Carrie Ross), Antonio Sabato Jr. (Ethan Hart), Serge Houde (Captain Dan McReady), Ryan McDonell (Paulie), Ivan Cermak (Jason Blyth), Emily Tennant (Jamie Ross), Karen Holness (Kayla Johnson), Mackenzie Gray (Director Blumenthal), Lisa Marie Carlik (Beverly Blyth), Craig Veroni (Neil Webb), Matthew Harrison (Dean Phillips), Michele Lonsdale Smith (Miss Simmons), Matt Bellefleur (Ken), Craig Brunanski (Miami ATC), David Allan Pearson (Donald Aubrey), Michelle Boback (Robbie Avila), Daniel Bacon (Dr Mike Monahan)
---
Plot
A routine flight departs from Barranquilla, Colombia to Atlanta, Georgia. Suddenly one passenger collapses dead with ants crawling out of a hole in his chest. CDC entomologist Dr Carrie Ross is aboard with her teenager daughter and realises that these are a mutated form of black bullet ants, the most poisonous species in the world. The plane is refused permission for an emergency landing and told that it may not enter US airspace lest the ants be loosed on American soil. As the word gets around, every nearby country refuses landing too. Meanwhile, the ants have burrowed into the wiring of the plane and start causing power to short out. It is up to Carrie and air marshal Ethan Hart to venture into the plane's bowels to drive back the ants and rewire the circuitry for an emergency landing at a disused Air Force base.
---
Swarm/Destination Infestation, a film made for television, is a blatant copy of Snakes on a Plane (2006). Where Snakes on a Plane had a horde of killer snakes improbably loosed aboard a plane, Swarm has a swarm of killer ants aboard a plane. One wonders why the producers did not go the route of choosing an amusing exploitative title that said it all a la Snakes on a Plane – perhaps something like 'Mutant Ants on a Plane'.
The crucial thing that was the saving grace of Snakes on a Plane, and which Swarm is noticeably missing, is a tongue-in-cheek sense of humour. There are no Samuel L. Jackson one-liners, no sense of the filmmakers skewering the absurdity of the set-ups. Swarm regrettably takes its premise seriously – whereupon it only becomes a tedious Disaster Movie that has been crossbred with the cliches of the Animals Attack films of the 1970s and without an apparent awareness of the silliness of the idea. The dialogue often gets extremely silly in its po-faced seriousness – "The ants have taken the captain down" or "So in other words we're in a flying Molotov cocktail?" – and you cannot help but think that had Swarm taken the tongue-in-cheek route of Snakes on a Plane there would have been ample ammunition to work with.
What is even more disappointing is that Swarm sets up a good many dramatic disaster movie situations but lets them dissipate. There is a storm brewing but it never actually hits the plane; the military are ready to shoot the passengers as the plane lands but then it touches down and they don't; the captain is stung by ants but rather than be put out of the action or killed like the other victims are is back up and in his seat for the rest of the film; the fuel is in danger of running out but there appears to be enough for the plane to make it to a landing at the Air Force base; the ants are mutated but this never seems to have any bearing on how they behave.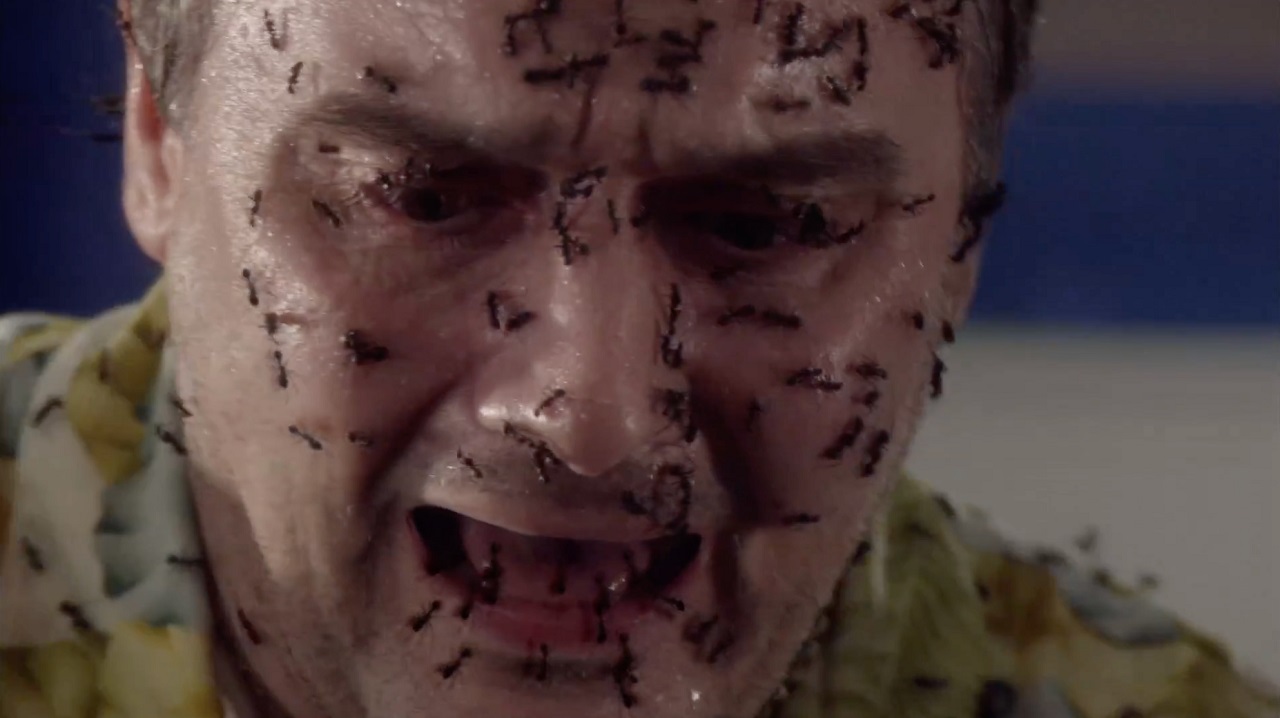 In fact, despite arraying the ant threat, the total amount of ant killings throughout the film amounts to only two. In the wholly laughable ending, Jessalyn Gilsig simply picks up a flare gun and blows the entire airliner up, incinerating the ants. (In any real world setting, she would promptly be brought up on charges by the airline company for wanton destruction of property).
As per disaster movie cliche standard, the characters have all been taken from a cross-section of society. The one person who plays way above and beyond the call of duty is Jessalyn Gilsig, a Canadian actress who has done well in US television and seems to be developing a burgeoning career as a disaster tv heroine – see also the same year's Flood (2007). Antonio Sabato Jr. makes for a stolid leading man.
Swarm is unrelated to the better known infamously bad Irwin Allen disaster movie The Swarm (1978) concerning a horde of killer bees or the subsequent French The Swarm (2020) about a woman who raises a swarm of killer locusts.
Canadian director George Mendeluk first appeared with Stone Cold Dead (1979) in which a detective hunts a serial killer and then made the William Shatner thriller The Kidnapping of the President (1980) and the excruciating Meatballs III: Summer Job (1987), before disappearing off to direct much Canadian-shot US television, although did return to genre material some years later with the zombie film Fight or Flight (2010). His one other genre works have consisted of a string of tv movies I Know What I Saw (2007), Nightmare at the End of the Hall (2008), Riddles of the Sphinx (2008), Storm Seekers (2008) and Forever 16 (2013).
---
---