---
USA. 2007.
Crew
Director – Stuart Gillard, Teleplay – Dan Berendsen, Based on the Books by H.B. Gilmour & Randi Reisfield, Producer – Kevin Lafferty, Photography – Manfred Guthe, Music – John Van Tongeren, Visual Effects Supervisor – Kevin O'Neill, Visual Effects – Engine Room, Production Design – Doug McCullough. Production Company – Zachary & Evie Productions, Inc./Carla Singer Productions/Disney Channel.
Cast
Tia Mowry (Alex Fielding), Tamera Mowry (Camryn Barnes), Kristen Wilson (Queen Miranda), Leslie Seiler (Ileana), Pat Kelly (Karsh), Patrick Fabian (Thantos), Karen Holness (Emily Barnes), Arnold Pinnock (David Barnes), Nathaniel Stephenson (Marcus Warburton), Christian Gallinger (Demetri), Jackie Rosenbaum (Beth), Kevin Jubinville (Aron), Jayne Eastwood (Mrs Norseng)
---
Plot
Alex Fielding and Camryn Barnes have discovered that they are twins with magical powers and are princesses from the magical kingdom of Coventry who were hidden on Earth for their own protection. Alex is now staying with Camryn's adopted family so that she can attend college. Their real mother Queen Miranda requests that they return to Coventry. Alex is too busy at school but Camryn agrees to go. Once in Coventry, Camryn thinks she hears the father they have never met calling from the Darkness for her to set him free. Neither her mother nor Alex believes her. Meanwhile, Alex becomes friendly with Camryn's former boyfriend Marcus at university, much to the upset of Camryn.
---
Twitches (2005) was a modest success on the Disney Channel. This was based on a popular books for teenage girls by H. B. Gilmour and Randi Reisfeld, which runs to ten books published between 2001-2004. The films were was largely put together to feature twins Tia and Tamera Mowry who appeared together in the sitcom Sister, Sister (1994-9). In Twitches, the two played twin sisters who grow up with different families and discover that they have magical powers and are heirs to a magical kingdom after they meet by accident at the mall. The Mowry twins and almost the entire cast and production crew have teamed returned for this sequel.
I must confess I have no patience for the Mowry twins and their constant airheaded natter, which was allowed to take over Twitches. Sitting down to watch them again in Twitches Too was something one had to regard as professional duty conducted through gritted teeth. To this film's credit, the Mowry twins' airheaded babble is kept in check and not allowed to take over as much as it did in the first film. Even so, every time the two turn to face each other and scream in excitement, the effect for anyone outside the intended teenage girl demographic is the cinematic equivalent of nails scratched on a blackboard.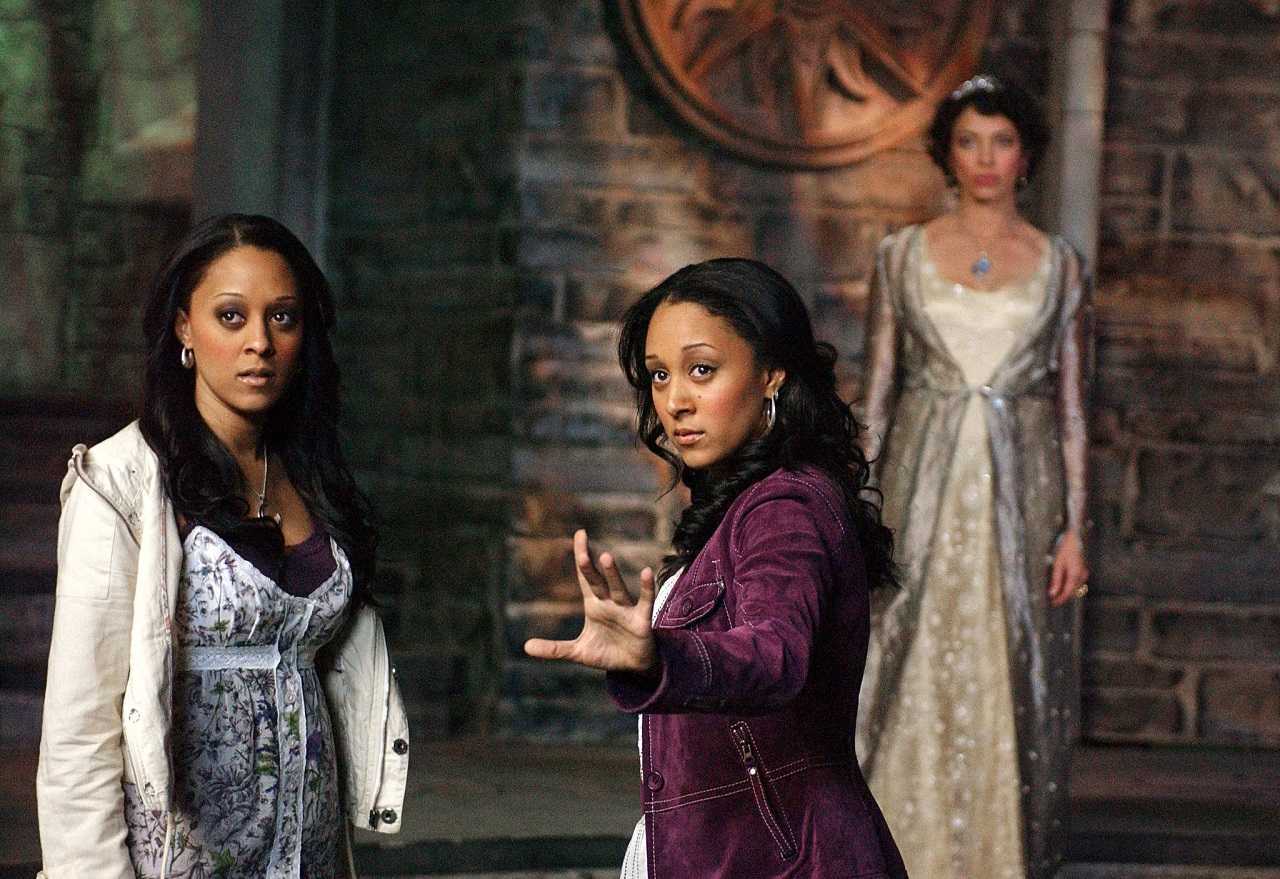 During the first half of the film, there is much slapstick centred around their magic powers – an effort to magically levitate the plates on the dinnertable to the dishwasher causing them to all go flying around the living room; or of the two sisters posing as one another to find out what ex-boyfriend Nathaniel Stephenson is up to. The film makes the mistake that many bad fantasy films do in giving the two central characters too much unrestrained magical power and creating no rules to govern or limit it. If this were any real world setting, I would be intensely concerned about the existence of so much magical power in the hands of such vapid airheads.
The Twitches books were always conceived as a copy of the Harry Potter series. There is slightly more effort to make Twitches Too work more as a fantasy story than in Twitches – even so it is an exceedingly slight effort. The film has not been granted a terribly big budget and the displays of magic and animate shadows are no more than cheaply produced digital effects.
---
Trailer here
---