(Darah/Rumah Darah)
---
Crew
Directors/Screenplay – The Mo Brothers [Kimo Stamboel & Timo Tjahjanto], Producers – Greg Chew, Tan Fong Cheng, Gary Goh, The Mo Brothers, Delon Tio, James Toh & Freddie Yeo, Photography – Roni Arnold, Music – Yudhi Arfani & Zeke Khaseli, Visual Effects Supervisor – Wendy Chow, Makeup Effects – Kumalasani Tanari, Art Direction – Rico Marpaung. Production Company – Gorylah Pictures/Merah Production/Guerrilla Visual Movement/Nation Pictures/MediaCorp Raintree Pictures.
Cast
Shareefa Daanish (Dara), Julie Estelle (Ladya), Sigi Wimala (Astrid), Arifin Putra (Adam), Ario Bayu (Adjie), Imelda Therinne (Maya), Dendy Subangil (Eko), Daniel Mananta (Jimmy), Mike Muliadro (Alam), Ruly Lubis (Armand)
---
Plot
Adjie, accompanied by his pregnant wife Astrid and three friends, go to visit his sister Ladya where she works at a restaurant to say goodbye before he and Astrid leave to move to Australia tomorrow. They persuade Ladya to come to Jakarta to see them off. Just as they leave the parking lot, a girl Maya steps out in front of the vehicle. Maya claims to have been robbed and asks for a ride home. As they drop her off, she insists they come in where she introduces them to her mother Dara and brothers Adam and Armand. Dara invites them to dinner but the food is drugged. Variously the group then find themselves attacked, imprisoned and slaughtered by Dara and her insane family who have enacted occult rituals to become immortal and now want Astrid's baby.
---
Macabre – no relation to the William Castle film Macabre (1958) or to Lamberto Bava's necrophilia film Macabre/Frozen Terror (1980) – is an Indonesian horror film. Indonesia has certainly made horror films before this – the IMDB lists some 130 titles made between the 1960s and the present – although none of these appear to have had any wide release in the West. Macabre is a debut film for the directing/writing duo known as The Mo Brothers, the otherwise unrelated Kimo Stamboel and Timo Tjahjanto, and is a feature-length expansion of their short film Dara (2007), which appeared in the Brian Yuzna produced anthology Takut: Faces of Fear (2008).
Macabre was a complete unknown before I sat down to watch it at the 2011 Vancouver Indonesian Film Festival. Not even the program notes fully prepared one for what to expect. The first fifteen or so minutes seem to be banally shot digital footage concerning a group of friends and their visit to Ario Bayu's sister Julie Estelle. Things become slightly but not overly strange with the introduction of Imelda Therinne as a mystery girl who claims to have been robbed and asks for a ride home, before inviting the group in to meet her family. From these scenes, Macabre seemed to be shaping up to be yet another Asian horror story, one that feels as though the filmmakers are straining to create an atmosphere of something sinister – scenes like those of members of the party spooking others with animal skulls come across as very try-hard. Nothing however could be further from the truth.
From about the point of the dinner party, Macabre opens up into something else altogether. In a head-spinningly abrupt space of time, the banal exchanges of the early sections slide into full-on Torture Porn brutality – scenes with Mike Muliadro being pursued through the house by Imelda Therinne slashing at him with a knife; Sigi Wimala barricading herself in the bedroom, only for Arifin Putra to stab her in the hand right through the door; the others tied up in the cellar watching through a hole in the door as Ruly Lubris beheads, then eviscerates and removes the organs from Mike Muliadro.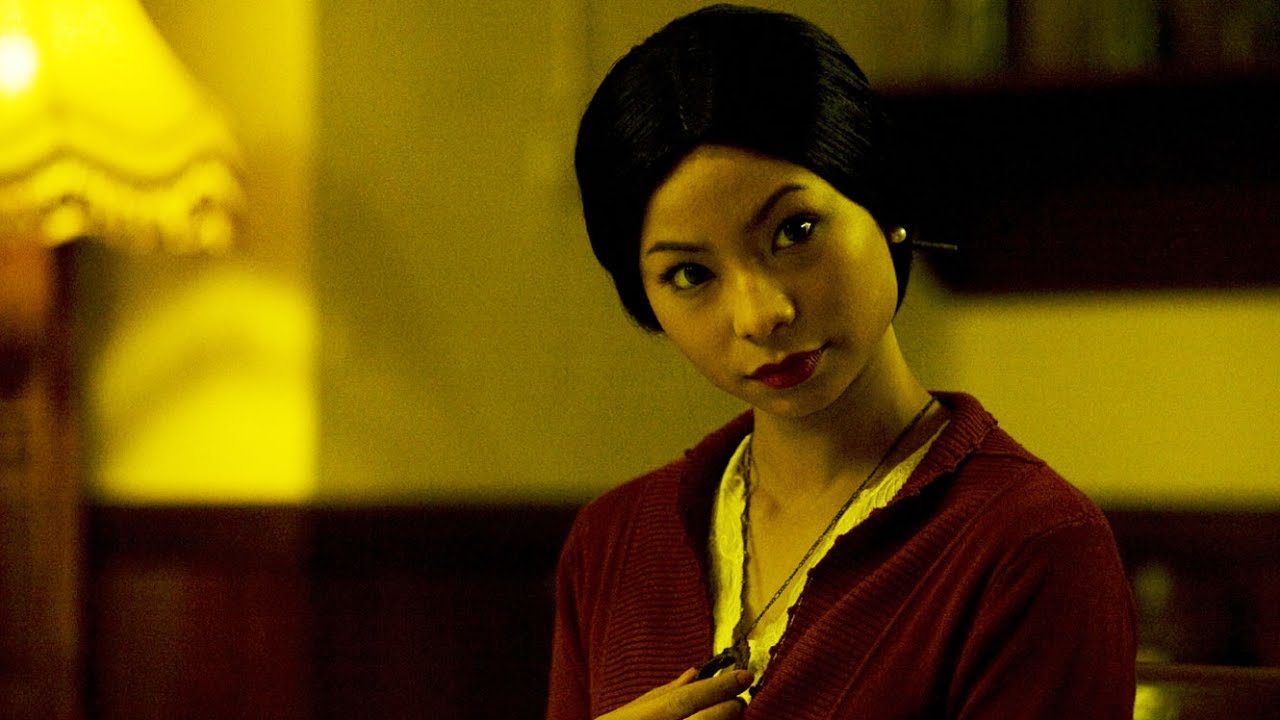 It rapidly becomes apparent that Macabre is an Indonesian variant on The Texas Chain Saw Massacre (1974). The Mo Brothers appropriate the plot basics from Texas Chain Saw – a group of innocents who stray into a house off the beaten road where they are abducted, tortured and killed by a very strange family. The Mo Brothers never do a huge amount to offer explanations – there is some suggestion of occult rituals and a set of photos that indicate that Shareefa Daanish's matriarch was the same age back in the 19th Century, while the family want Sigi Wimala's newborn child for reasons that may well have something to do with their being immortal and possibly also having supernatural strength and invulnerability to damage. There is also something to do with removing people's organs for collection by a mystery couple where what is going on is not exactly clear.
Wisely, The Mo Brothers do not dwell on the details too long and simply jump in and let the blood flow. And flow it does. In fact, Macabre emerges as the bloodiest film to hit screens in the Backwoods Brutality cycle since the French Frontier(s) (2007). There is an amazing bloodbath featuring the slaughter of a group of cops, including Arifin Putra hacking off limbs, Shareefa Daanish jabbing a stiletto heel into one downed cop's eyeball, Imelda Therinne sitting on the chest of one of the cops and repeatedly stabbing him, and the head cop having his head battered in by Shareefa Daanish with his own rifle butt.
The film reaches a remarkable climax that features Arifin Putra being burned alive and continuing on until he is stabbed in the crotch and his head torn off; Shareefa Daanish attacking Julie Estelle with a chainsaw and being strangled to death in an insane frenzy, before making a cliche return from the dead and finally being despatched by being run into a tree while clinging to the driver's door of the police van. During these scenes, the house becomes covered in so much blood that the combatants are constantly slipping over.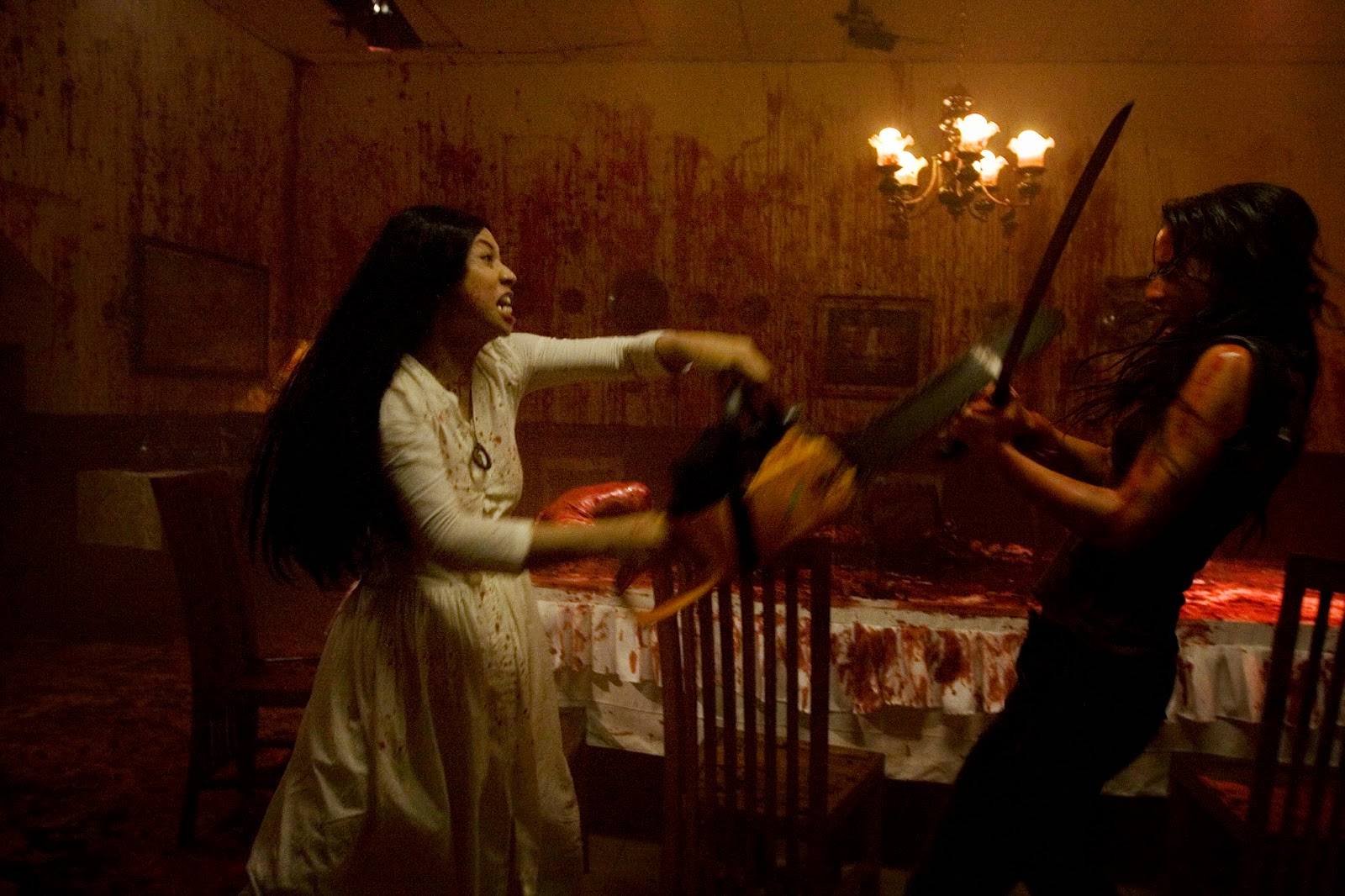 The find of the film is Shareefa Daanish who plays with a spooky intensity not seen on the screen since Eihi Shiina in Takashi Miike's Audition (1999) – a film that Macabre often resembles in its move from placid quiet to an increasingly wilder, all-out bloodbath. Shareefa Daanish plays with a coldness and regal aloofness that is made all the more frightening by her perfectly made up doll-like features, impeccably bound hair and spotless red-and-white ensemble. By the time of the climax with Daanish in a white dress, taking on Julie Estelle with a chainsaw, Macabre seems to have entered a totally wild territory.
The Indonesians show they are more than capable of holding up in the horror stakes just as well as any equivalent Western attempts and Macabre emerges as one of the most enthusiastically outrageous bloodbaths in recent memory. In fact, The Mo Brothers do a far better job of borrowing and making the Texas Chain Saw Massacre basics work than Rob Zombie did in the absurdly posturing House of 1000 Corpses (2003).
The Mo Brothers subsequently made Killers (2014) about a friendship between two serial killers and the non-genre action film Headshot (2016). On his own, Timo Tjahjanto has contributed episodes to three horror anthologies – the completely wild L is for Libido segment of The ABCs of Death (2012), the Safe Haven episode of V/H/S/2 (2013) and The Subject segment of V/H/S/94 (2021), plus the full-length horror film May the Devil Take You (2018) and its sequel May the Devil Take You: Chapter Two (2020) and the action films The Night Comes for Us (2018) and The Big Four (2022). Kimo Stamboel later solo directed the horror films DreadOut (2019) and The Queen of Black Magic (2019).
(Nominee for Best Actress (Shareefa Daanish) at this site's Best of 2009 awards)
(Screening Courtesy of the Vancouver Indonesian Film Festival)
---
---