---
USA. 1992.
Crew
Director – Anthony Hickox, Screenplay – Peter Atkins, Story – Peter Atkins & Tony Randel, Producer – Lawrence Mortoff, Photography – Gerry Lively, Music – Randy Miller, Music Supervisors – Carol Sue Baker & Xavier Dubois, Visual Effects – Cinema Research (Supervisor – Steve Rundel), Makeup Effects – Image Animation (Supervisor – Bob Keen), Production Design – Steve Hardie. Production Company – Fifth Avenue Entertainment/Lawrence Mortoff
Cast
Terry Farrell (Joey Summerskill), Doug Bradley (Pinhead/Captain Elliott Spenser), Paula Marshall (Terri), Kevin Bernhardt (J.P. Monroe), Ken Carpenter (Doc/Camerahead), Brent Bolthouse (Eric the DJ/CDhead), Peter Atkins (Rick the Barman/Barbie), Aimee Leigh (Sandy)
---
Plot
J.P. Monroe purchases the pillar that has the remains of Pinhead embedded in it as decor for his nightclub The Boiler Room. Still alive inside the pillar, Pinhead offers Monroe forbidden pleasures if Monroe will bring him victims. Monroe does so and Pinhead is able to reconstitute a new body. Pinhead then emerges and blasts his way through The Boiler Room, turning the patrons into a new army of Cenobites. A girl fleeing from what she sees at the club is granted shelter by novice tv journalist Joey Summerskill who becomes fascinated by the Cenobite mystery. Pinhead's human self Captain Elliott Spenser contacts Joey through her dreams, requesting her aid in finding the Lament Cube so that Pinhead can be sent back to Hell for good.
---
After being held up in releasing delays, this second sequel to Clive Barker's Hellraiser (1987) emerged as a big disappointment. Both Hellraiser and the previous sequel Hellbound: Hellraiser II (1988) were well worthwhile. Lacking the first film's mesmerising sense of a world of dark, forbidden pleasures opened up, or Hellbound's lesser, nevertheless effective venture into an M.C. Escher-esque Hell, Hellraiser III: Hell on Earth emerges as a film whose conceptual horizons never extend beyond being a A Nightmare on Elm Street (1984) clone.
Hellraiser III: Hell on Earth is mostly a chase movie, full of explosions and with Pinhead and the Cenobites reduced to little more than campy variations of Freddy Krueger, spitting out lame one-liners and conjuring up novelty deaths for victims. The new batch of Cenobites reveal a complete lack of imagination in their creation. Rather than Clive Barker's visions of demonic sadists whose bodies are fetishistically decorated in leather, with open wounds and metal piercing their flesh, we instead have Cenobites who, for pity's sake, fire deadly CD's from their head and have camera lenses in the place of an eye, perhaps at the most imaginative, one who smokes a cigarette through a wound in the middle of her throat, and in the most pathetic example, a former barman who now mixes Molotov cocktails and ignites them with his flaming breath. There is a shabby ordinariness to their creation. The Cenobites worked best when they were mysterious and threatening – this film's greatest failing is in bringing them too much into the light and once there having no real idea what to do with them.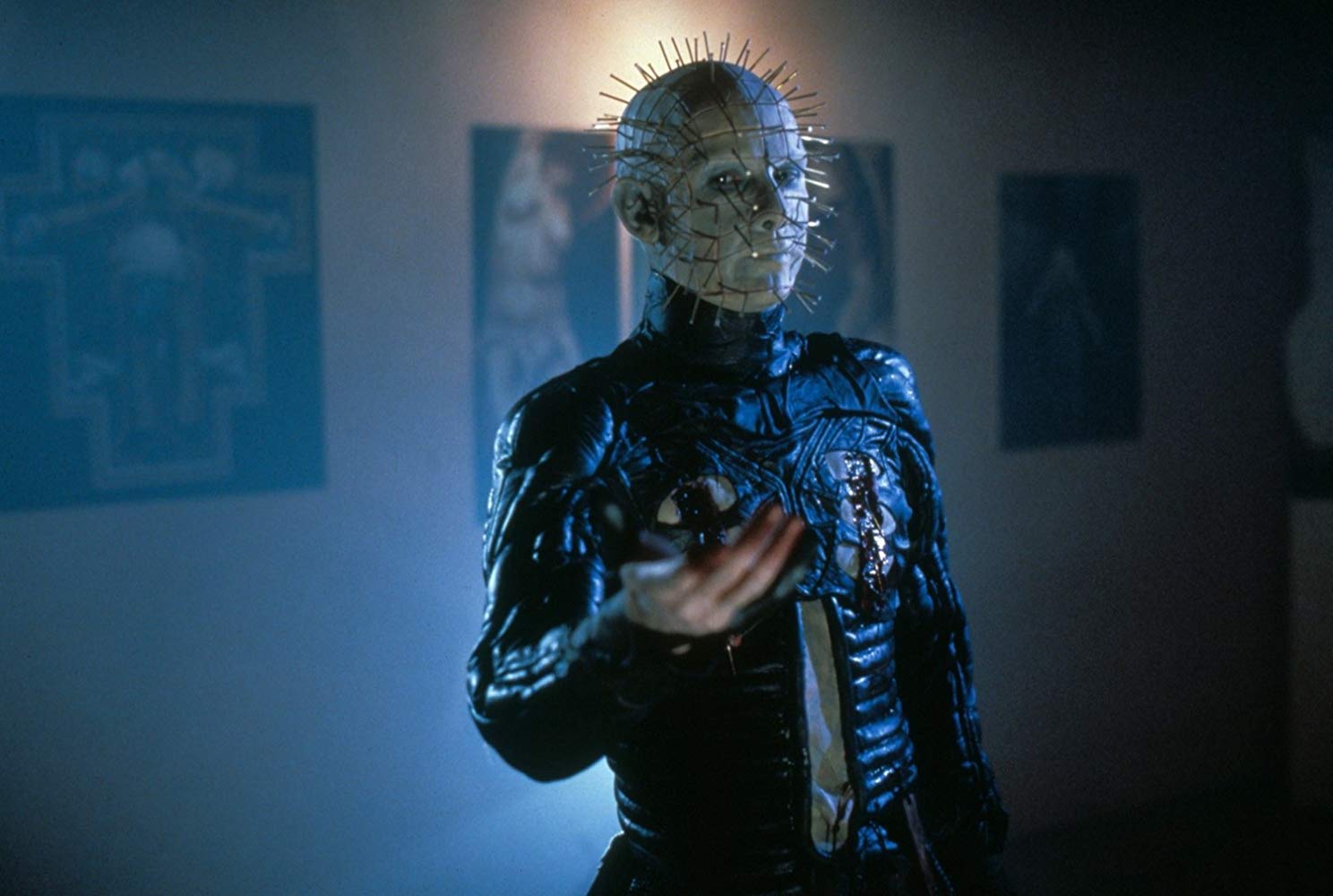 As a result, Hellraiser III: Hell on Earth has none of the threat that the previous two films did – its horror consists of only a few gore effects, which are displayed with no directorial suspense or skill, and good many explosions. Moreover, Clive Barker's original vision has become conceptually simplified – becoming a Cenobite no longer even entails having to sell one's soul in effect, now those who are merely killed by Pinhead can end up as Cenobites; and the Lament Configuration no longer functions as a key to the beyond but more like a crucifix in a vampire film.
The only remnant of Clive Barker's original creation is the most obvious one – Doug Bradley returning as Pinhead. Doug Bradley is the only one in the film who gives Clive Barker's original vision of forbidden pleasure any airing, conjuring up all manner of sadistic delights in the way he toys with Peter Atkins's dialogue in his wonderful basso voice. Unfortunately, even he cannot escape the Freddy Krueger role that the film insistently pushes him into. Regrettably, Doug Bradley has also become somewhat more chubby cheeked since the last film, with the result that Pinhead looks positively cute at times.
The one thing that the script does do, if nothing else, is take up on the appalling mistake that the second film made, of humanising Pinhead at its climax – this film does not, as one would have thought, forget all about that and continue on regardless, but instead takes the idea up and makes it the thematic centerpiece of the film. As a result, we have a much more dualistic Hellraiser than the previous two – it becomes a fight between evil as embodied by Pinhead and minions and between the uncorrupted innocence of Pinhead's original human self. Unfortunately, here Clive Barker's original vision of a darkly sexual Faustian deal has petered out into traditional Christian morality. Also for some reason the first two films' English setting has now been translated to an American city, the filmmakers clearly hoping that nobody will notice.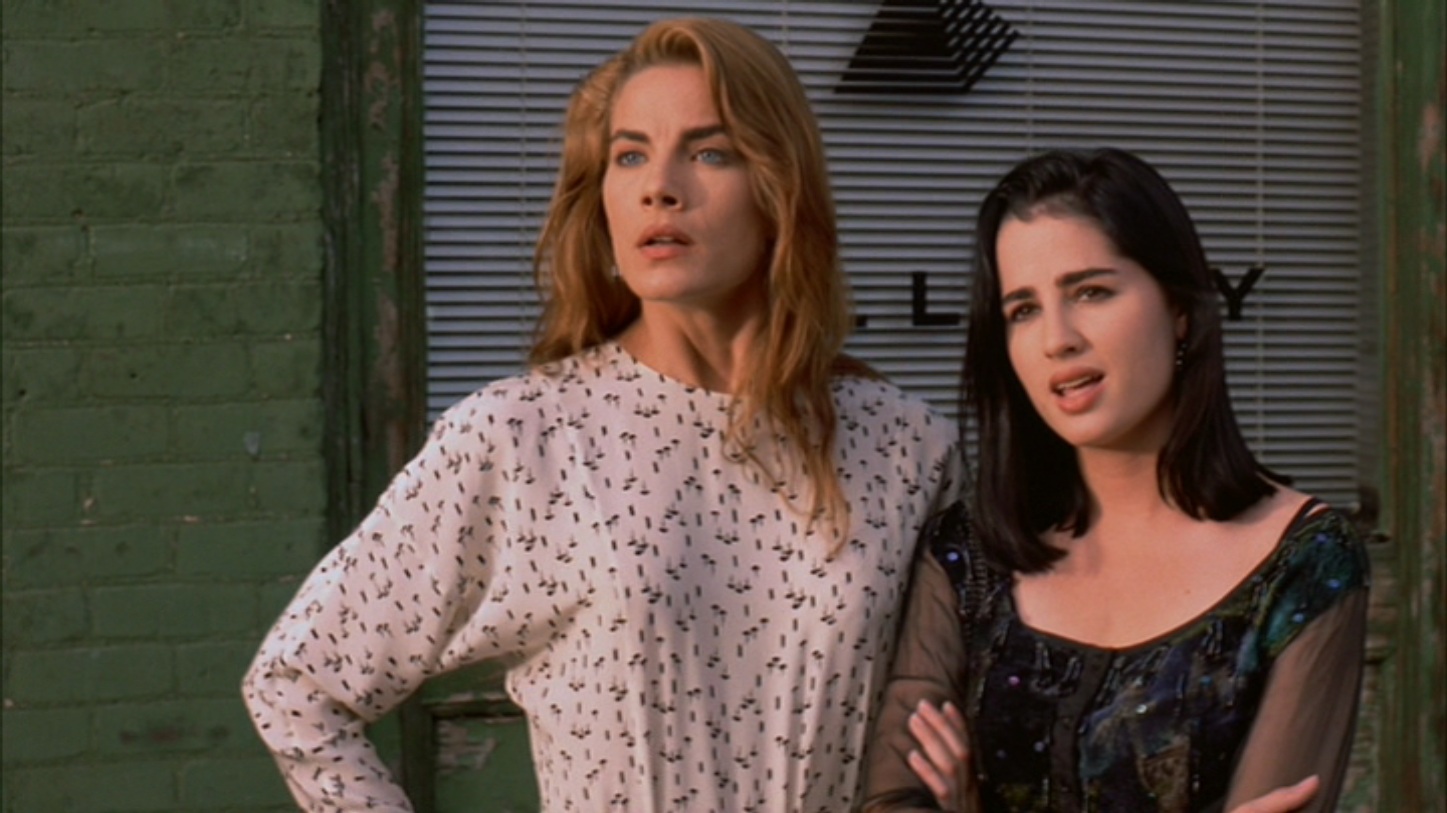 The other Hellraiser sequels are: Hellraiser (1987), Hellbound: Hellraiser II (1988), Hellraiser: Bloodline (1996), Hellraiser: Inferno (2000), Hellraiser: Hellseeker (2002), Hellraiser: Deader (2005), Hellraiser: Hellworld (2005), Hellraiser: Revelations (2011) and Hellraiser: Judgment (2018). This was followed by the remake Hellraiser (2022).
Director Anthony Hickox has made a number of other genre films, including the genre homage Waxwork (1988), the vampire film Sundown: The Vampire in Retreat (1989), Waxwork II: Lost in Time (1992), Warlock: The Armageddon (1993), the werewolf tv movie Full Eclipse (1993), Prince Valiant (1997) from the comic-strip, the action techno-thriller Storm Catcher (1999), the sadomasochism thriller Jill the Ripper/Jill Rips/Tied (2000), the biowarfare spill thriller Contaminated Man (2000), the action films Blast! (2004) and Submerged (2005), and the psycho-thriller Knife Edge (2009), while he has also produced Children of the Corn III: Urban Harvest (1995) and Carnival of Souls (1998) and written Prisoners of the Sun (2013).
---
---