---
Crew
Director – Catherine Hardwicke, Screenplay – Melissa Rosenberg, Based on the Novel by Stephenie Meyer, Producers – Wyck Godfrey, Greg Mooradian & Mark Morgan, Photography – Elliot Davis, Music – Carter Burwell, Music Supervisor – Alexandra Patsavas, Visual Effects Supervisor – Richard Kidd, Visual Effects – CIS Vancouver (Supervisor – Geoffrey Hancock), Industrial Light and Magic (Supervisor – Bill George), Lola-VFX & Rez-Illusion, Inc. (Supervisor – Jamieson Scott Goei), Special Effects Supervisor – Andy Weder, Production Design – Dan Bishop. Production Company – Temple Hill/Maverick Films/Imprint Entertainment.
Cast
Kristen Stewart (Bella Swan), Robert Pattinson (Edward Cullen), Billy Burke (Chief Charlie Swan), Ashley Greene (Alice Cullen), Peter Facinelli (Dr Carlisle Cullen), Nikki Reed (Rosalie Hale), Cam Gigandet (James), Taylor Lautner (Jacob Black), Sarah Clarke (Renee Dwyer), Michael Welch (Mike Newton), Anna Kendrick (Jessica Stanley), Christian Serrantos (Angela Weber), Justin Chon (Eric Yorkie), Gil Birmingham (Billy Black), Elizabeth Reaser (Esme Cullen), Rachelle Lefevre (Victoria), Edi Gathegi (Laurent), Jackson Rathbone (Jasper Hale), Kellan Lutz (Emmett Cullen), Ned Bellamy (Waylon Forge)
---
Plot
Teenager Bella Swan leaves Arizona and goes to stay with her father, the local police chief in the small town of Forks, Washington where Bella has not lived since she was four. She settles into the local high school and makes new friends. She is intrigued by Edward Cullen, one of the members of a local family who keep to themselves, after being paired with him as a lab partner. He takes an interest in her and then mysteriously saves her from being hit by a skidding vehicle. Bella is baffled as to how Edward was able to move halfway across a parking lot in the blink of an eye to do so. The two are drawn to each other but he warns her away, saying that he is dangerous. She ignores this, realising that she is falling in love with him. At the same time, her curiosity leads her to realise that Edward and his family are vampires. He confirms this but insists that they are 'vegetarians' – that they only drink the blood of animals. Edward's family cautiously welcomes Bella. While they are out playing baseball, the family encounter a group of other vampires. When they smell a human among the group, James, one of the other group, decides that he wants to feast on Bella. Edward flees with her for her own protection. James then snatches Bella's mother and demands that she surrender to him.
---
Coming from of all things a Mormon background, Stephenie Meyer began publishing with her novel Twilight (2005), which became a runaway best-seller with the Young Adult market. Meyer followed Twilight up with three sequels, New Moon (2006), Eclipse (2007) and Breaking Dawn (2008), which dutifully became best-sellers too with estimated sales of around 25 million copies. The Twilight books by have become less a best-selling success as they have a phenomenon, enjoying enormous popularity in terms of internet fansites, much in the way of erotic fanfic, conventions, cosplay and with the real-life town of Forks, Washington even enjoying an upsurge in tourism.
This film version of Twilight was stuck with a label that is a curse of death for it being taken seriously as an adult film – that star Robert Pattinson became a pin-up idol to millions of teenage girls. The phenomenon surrounding the film from this sector of the audience was so big that Robert Pattinson attained a status not seen since the heyday of The Beatles before the film had even opened. It became difficult as one was waiting for Twilight to open to disentangle oneself from the mania surrounding the film to appreciate the film with an unbiased critical eye. The good thing is that Twilight is much better than that. One stops well short of it calling it the best vampire film ever (as some tried to do) but it is certainly better than the emo teen romance label that it was dismissed as.
A large part of the film's success is due to director Catherine Hardwicke. Hardwicke's background is in films that offer a credible and realistic depiction of teen life with the likes Thirteen (2003) and Lords of Dogtown (2005) – even you could argue The Nativity Story (2006), which recast Joseph and Mary as teenagers. One of the commendable aspects about Twilight is that it never buys into the unreal fantasy of teen life – this is not a Beverly Hills 90210 (1990-2000) world where everyone is a fashion model, drives a showroom car and lives in an impeccable mansion. Rather here, the teens live in the real world – heroine Kristen Stewart drives a beat-up second-hand pick-up truck and lives in a tiny bedroom in a low income neighbourhood that is outfitted with a combination of leftovers from her childhood and her father's awkward attempts to buy bedding. Equally, Bella is not a fashion model but someone whose femininity is underemphasised to almost a tomboyishness (while still retaining enough to appeal as a romantic lead). Her arrival at school is not depicted in cliches of being bullied or isolated and having to prove herself but rather by those around her welcoming her into their circle of friends. (Alas the focus on realism was abandoned by the time of the sequels).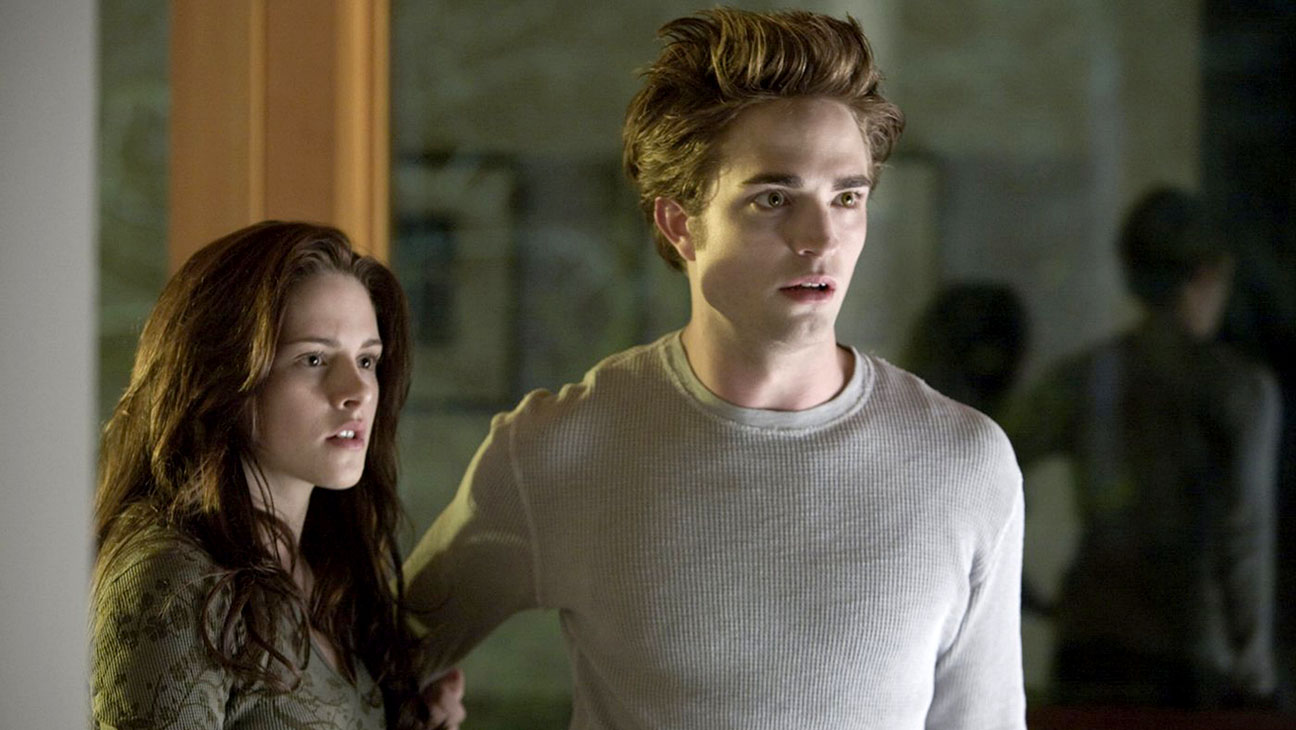 What is also welcome about Twilight is that it is a vampire film made by a director who established herself in other genres rather than is being made by a genre fan. It is a welcome thing to see a modern vampire film that comes entirely irony free, is not constantly deconstructing the myth or making genre in-jokes with characters named after other directors/characters in vampire cinema or one that is driven by makeup effects with vampires snarling, sprouting fangs, turning into bats etc. The effects work here is minimal and unobtrusive, all the emphasis is on the relationship.
The story is at heart not a whole lot different to a standard high school romance – new girl in town finds herself drawn to a moody loner and must deal with problems associated. Replace the vampires with ordinary humans and Twilight could almost be a film like Crazy/Beautiful (2001). Indeed, Edward is such an ordinary teen, the film even climaxes on him taking Bella to the prom.
Although one of the things that defies credibility about Twilight is its premise – vampires who are stuck as eternal teenagers sign in as high school students, romance grows between one vampire and a teenage human girl. If you have ever seen a group of 60-70 year-olds trying to mix in the company of teenagers and struggle to find anything in common, let alone any concept of romance that may not be regarded as perverse by the rest of society, you may understand the problems that come in trying to deal with this premise.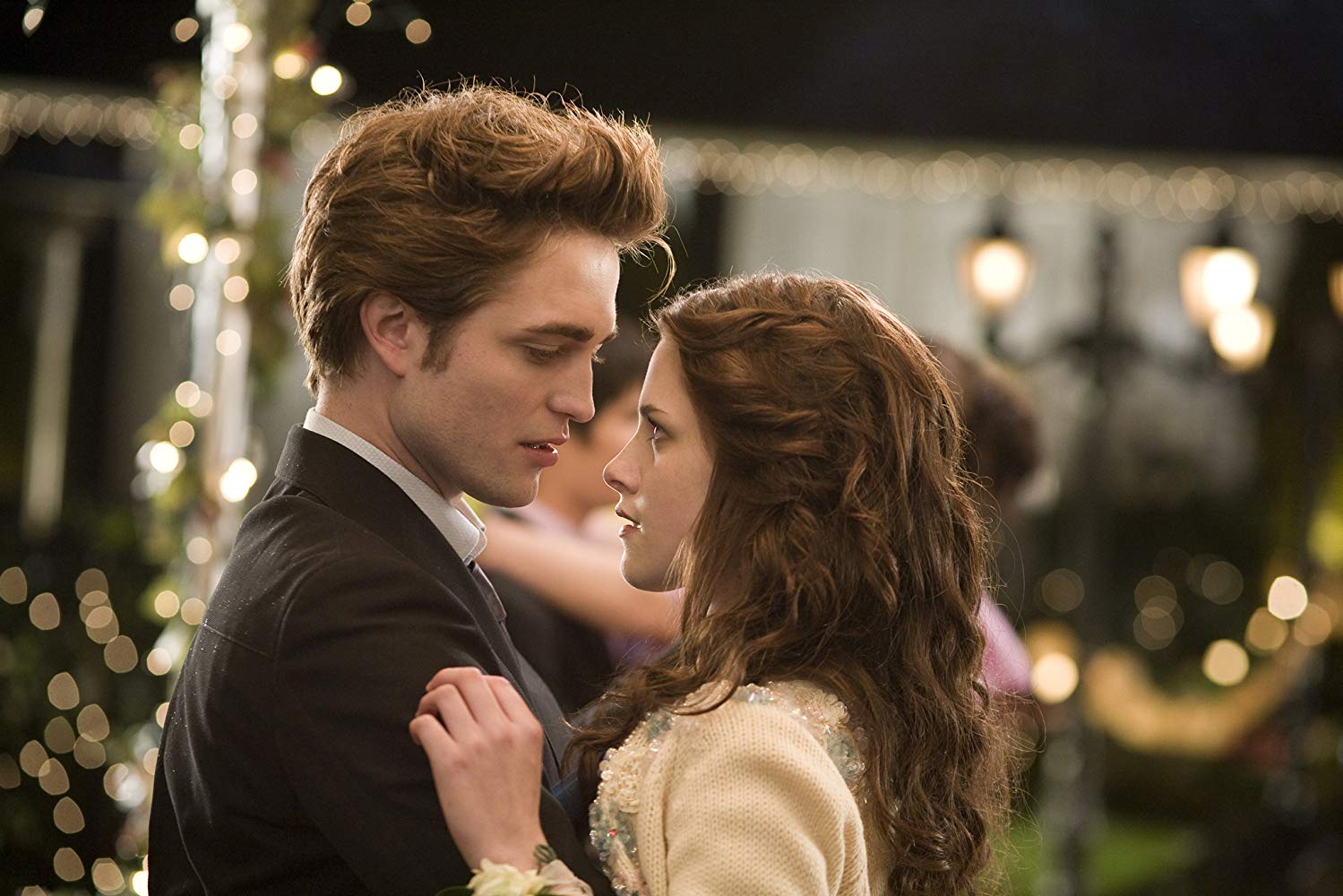 Catherine Hardwicke and the two leads play it out with an enormous degree of conviction. His status of a teen idol aside, I was considerably impressed by Robert Pattinson's abilities as an actor. Indeed, what struck me was just how much of a modern James Dean that Pattinson seems. He gives an appealingly mercurial and moody performance but equally one that aches with a soft and sympathetic earnestness. This is one of the few vampire films where the romance between vampire and human victim is not requisite but where one can become drawn into the progression of the relationship. Up against Pattinson, Kristen Stewart gives an equally serious performance. The two make Twilight work with a convincing resonance.
Twilight was a huge success. It was followed by adaptations of New Moon/Twilight Saga: New Moon (2009), Eclipse/The Twilight Saga: Eclipse (2010), Breaking Dawn Part 1 (2011) and Breaking Dawn Part Two (2012), featuring return performances from most of the principals. Twilight was also parodied in Vampires Suck (2010), Breaking Wind (2012) and Hotel Transylvania (2012).
Catherine Hardwicke next went onto adapt an adult version of the fairytale with Red Riding Hood (2011), while she also executive produced Olivia Wilde's Don't Worry Darling (2022). Other Stephenie Meyer works were adapted to the screen with the science-fiction film The Host (2013) about a body-snatching alien. Meyer also acted as producer on Austenland (2012) and the Young Adult horror Down a Dark Hall (2018).
(Winner for Best Actress (Kristen Stewart), Nominee for Best Actor (Robert Pattinson) at this site's Best of 2008 Awards).
---
---