aka Twilight Saga: Mew Moon; The Twilight Saga: New Moon
---
Crew
Director – Chris Weitz, Screenplay – Melissa Rosenberg, Based on the Novel by Stephenie Meyer, Producers – Wyck Godfrey & Karen Rosenfelt, Photography – Javier Aguirresarobe, Music – Alexandre Desplat, Music Supervisor – Alexandra Patsavas, Visual Effects Supervisor – Susan MacLeod, Visual Effects – Prime Focus, LLC (Supervisor – Eric Pascarelli) & Wildfire Inc (Supervisor – Dottie Starling), Wolf Effects – Tippett Studio (Supervisors – Matt Jacobs & Phil Tippett), Special Effects Supervisor – Cam Waldbauer, Production Design – David Brisbin. Production Company – Temple Hill Entertainment/Sunswept Entertainment/Imprint Entertainment.
Cast
Kristen Stewart (Bella Swan), Robert Pattinson (Edward Cullen), Taylor Lautner (Jacob Black), Ashley Greene (Alice Cullen), Billy Burke (Charlie Swan), Michael Sheen (Aro), Michael Welch (Mike Newton), Peter Facinelli (Dr Carlisle Cullen), Anna Kendrick (Jessica Stanley), Edi Gathegi (Laurent), Rachelle Lefevre (Victoria), Chaske Spencer (Sam Uley), Graham Greene (Harry Clearwater), Jackson Rathbone (Jasper Whitlock), Dakota Fanning (Jane), Alex Meraz (Paul), Bronson Pelletier (Jared), Tinsel Korey (Emily), Elizabeth Reaser (Esme Cullen), Kiowa Gordon (Embry Call), Tyson Houseman (Quil Ateara), Daniel Cudmore (Felix), Christian Serrantos (Angela Weber), Justin Chon (Eric Yorkie), Kellan Lutz (Emmett Cullen), Gil Birmingham (Billy Black)
---
Plot
It is Bella Swan's eighteenth birthday. The Cullens invite her to a birthday party, only for Jasper to become ravenous when she spills blood from a paper cut. A fight erupts as Edward steps into protect her. Afterwards, Edward announces to Bella that the Cullens are leaving town and that their relationship is over because he does not want her anymore. Bella falls into a deep depression where life no longer seems to have any meaning. Some months later, she emerges and becomes an adrenalin junkie after she finds that Edward's image keeps appearing to warn her every time she enters a situation of danger. She becomes addicted to this, it being the only way she can have his likeness near again. At the same time, she becomes good friends with fellow student Jacob Black. As their friendship grows closer, he expresses feelings for her. She then discovers the big secret Jacob is keeping from her – that he belongs to a tribe of werewolves. Moreover, werewolves are the natural enemies of vampires. As Victoria and her associates come hunting Bella now that the Cullens are gone, Jacob and the werewolves step into protect her. Alice Cullen returns because she has had a vision of Bella's death. They must race to Italy to prevent a despairing Edward who, believing Bella to be dead, has made the decision to provoke the powerful Volturi clan so that they will kill him.
---
Ever since the mega-success of the Harry Potter films and The Lord of the Rings, studios have been looking for the next big franchise – that is to say a film popular enough that it can create an enthusiastic fanbase that are happy to see a pre-planned story (as opposed to series of sequels) played out over several instalments. The biggest of these new franchises came with Twilight (2008), adapted from Stephenie Meyer's popular series of vampire books. Twilight the film was a weepy and surprisingly well-made vampire romance that struck a major chord with teenage girl audiences in particular who turned dreamily sensitive vampire hero Robert Pattinson into one of the most lusted-over men on the planet. Twilight was a massive success and exactly the sort of franchise generator that studios are looking for. This success inevitably begat New Moon here.
Before I began, there may be some debate over what exactly the film is called that needs to be cleared up – in pre-promotion, it was referred to The Twilight Saga: New Moon and most have slavishly followed suit after this was promulgated by the IMBD. Stephenie Meyer's book is simply called New Moon and this title appears on the opening credits. The end credits however refer to the film as Twilight Saga: New Moon (although not prefixed by 'the'). The naming convention used on this site is to go with the one first given on the credits of the film itself upon its initial release, not the one used by the publicity, that appears on the posters, dvd cover or the end credits, thus making the film's correct title simply New Moon.
All of the personnel from Twilight have been brought back with the noticeable exception of director Catherine Hardwicke. There were rumours at the time of Twilight that Hardwicke had proven difficult to work with, although by the time of New Moon these have been more euphemistically put down to 'scheduling conflicts'. Whatever the reason, she has been replaced by Chris Weitz. Chris Weitz first appeared as co-writer with his older brother Paul of Antz (1998) and The Nutty Professor II: The Klumps (2000) and the two of them then made the hit teen comedy American Pie (1999) with Paul directing. Chris was first credited as co-director with Paul of the afterlife comedy Down to Earth (2001) and the two went onto together to make About a Boy (2002). Chris's solo career subsequently took off after he was handed the creative helm of The Golden Compass (2007), which New Line Cinema were hoping would be the next big franchise (but instead ended up bankrupting the studio). Subsequent to New Moon, Chris Weitz directed the non-genre illegal immigrant drama A Better Life (2011) and Operation Finale (2018) about the hunt for Adolf Eichmann, as well as wrote the screenplays for Cinderella (2015), Rogue One (2016), The Mountain Between Us (2017) and Pinocchio (2022) and produced the SF film Prospect (2018).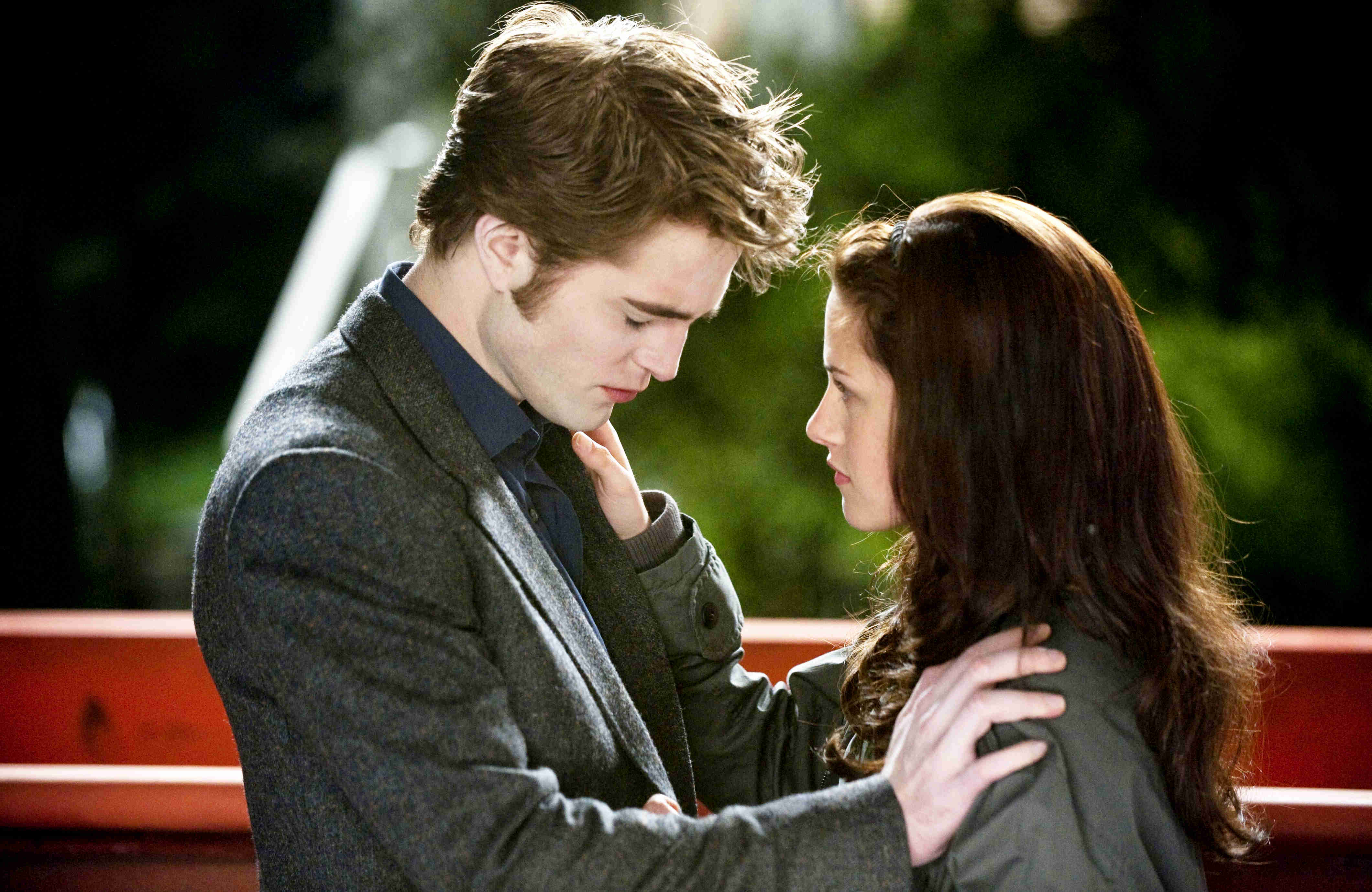 The change of directors is a large part of the problem with New Moon. Catherine Hardwicke had come from making edgy teen-focused dramas like Thirteen (2003) and Lords of Dogtown (2005). What one appreciated about Hardwicke's approach was her effort to make Twilight seem like it inhabited an ordinary world – Kristen Stewart drove a beat-up pickup truck, lived with her father in a drearily ordinary smalltown house and dressed in tomboyish street clothes rather than as a glamour queen. Catherine Hardwicke's approach was so insistently down to earth that she gave the appearance of eschewing special and visual effects for the most part – certainly, there are several effects companies listed on the credits of Twilight but their efforts are mostly unobtrusive.
And behind Door B there is Chris Weitz. Up until The Golden Compass, Chris Weitz's entire screen experience had been in comedy. Where Catherine Hardwicke emphasises earthy and edgily raw depictions of teenage life, Chris Weitz's sole depiction of teenage life was American Pie (which he is purported to have uncreditedly co-directed), a comedy about a group of teenage guys trying to get laid. This horny frat boy attitude also permeated works like About a Boy, centred around the idea of Hugh Grant trying to pick up women by hanging out at parenting groups, while the Weitz brothers have also created the tv series Off Centre (2001-2) and are producing the film version of the cult book The Game (2003), all premised around guys trying to pick up girls. Chris seemed to be aiming higher in taking on The Golden Compass but even there he found himself overcome with the process of making a mega-budgeted movie to the extent that he quit the production at one point. He also confessed to having had no experience dealing with visual effects and had to head down to New Zealand for a crash course in how from Peter Jackson.
To give him credit, Chris Weitz tries hard with New Moon. Crucially though, he is not Catherine Hardwicke and has little instinct for locating the story in the same everyday naturalism that she did. While Catherine Hardwicke eschewed visual trickery, Chris Weitz is constantly engaging in gimmicky shots that signal their style to the audience – ones that dissolve from a painting to characters in live-action; a shot that conducts a 360 degree spin around Kristen Stewart's bedroom while the seasons pass outside the window as she sits slumped in depression in a chair (apparently without moving for three months!). The worst of these is the effect of the phantom Robert Pattinson that pops up with a warning every time Kristen Stewart does something moderately dangerous. Unfortunately, these are mostly the amateur gimmicks that directors usually try out in their novice films. They have become such cliche effects that all they signal in a high-profile film like this is an director awkwardly trying to show off and signal that he has style – but without any original ideas of his own.
The result has been to transform the Twilight saga from a vampire romance that took place in a naturalistic setting to one that seems self-consciously posed. Chris Weitz abandons Catherine Hardwicke's unobtrusive lack of visual effects. In their daylight appearances, the vampires are now tricked out with nifty effects where they seem to stream wisps of particulate matter off their bodies. Despite having survived The Golden Compass, Weitz gives the impression of still not being comfortable with visual effects – notably the scenes with people transforming into CGI-generated werewolves (which are surprisingly unconvincing for a big-budget film).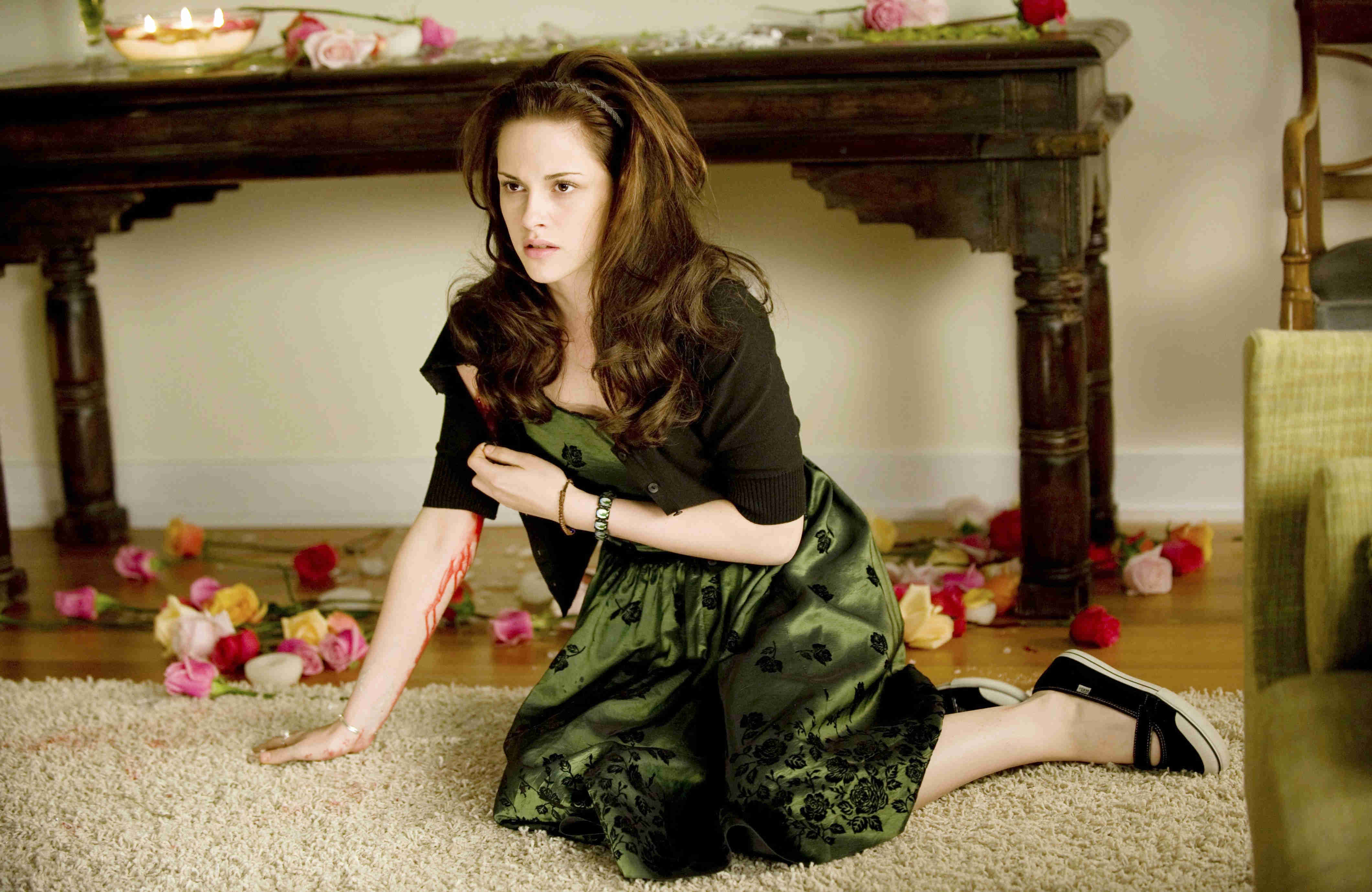 During the last quarter, the small working class Washington town setting is abandoned for a visit to Italy, which becomes an opportunity for the production team to start spending money lavishly – the vampires inhabit classic architecture, wear the natty flowing costumes that they usually do in well-budgeted vampire films and drive expensive sports cars, while the streets of the town are filled with crowds outfitted in red robes. Whenever we are back in Forks and see Taylor Lautner or various of the prettified vampires driving Kristen Stewart about in her beat-up pickup truck (more often than she does herself), the effect is less a contrast to realism than feeling that the production design team had slipped up in their determination to impress elsewhere.
The other thing that is noticeable is that New Moon is made after a point that the Twilight franchise became a phenomenon and Robert Pattinson a major teen heartthrob. Having been made prior to all of this, Twilight comes without any awareness that the film would find such an audience, whereas New Moon is constantly playing to the fanbase. New Moon spends a substantial part of its running time pausing to allow either of its two male leads to pose or to highlight them in ways designed to make the teen audience swoon. Whenever a male lead enters a scene, he is always strutting towards the camera in slow-motion. Both Robert Pattinson and Taylor Lautner are constantly finding reasons to take their shirts off and pose in bare or quasi-bared chest and show off their perfectly buffed abs – Kristen Stewart falls off a motorcycle and gets a minor cut to the forehead, whereupon it seems natural for Taylor Lautner to run up and whip his T-shirt off to dab her forehead; Robert Pattinson decides to walk out among the humans and naturally this entails him doing so with his shirt open and he naked almost to the pubic bone; while it seems like mandatory attire for the werewolves to run around the forest, even invade Kristen Stewart's bedroom, wearing only sneakers and cut-off shorts.
The problem with this is that New Moon is exactly the wrong story to be doing the sexy male fashion model pose due to the fact that lead heartthrob Robert Pattinson breaks up with Kristen Stewart in the first few scenes and is off centre-stage almost entirely up until the end. The film tries to compensate by heating up things with Taylor Lautner (even though what goes on there is less a romance than an unrequited infatuation on his part and certainly not something that Kristen Stewart ever responds to).
Unfortunately, Taylor Lautner proves to be no Robert Pattinson. Where Pattinson suggested something of a James Dean, Lautner is all Neanderthal sensitivity. Expectedly, New Moon propelled Taylor Lautner to the sexiest men in Hollywood name lists among those whom such things are life and death matters. What one predicts is that Taylor Lautner's five minutes in the spotlight is going to amount to nothing more than that. One finds it hard to think of him in a serious acting role outside of this – one predicts he will either next turn up in something dreadful that is tailored to his heartthrob status and be laughed off screens, otherwise be forgotten the moment the Twilight franchise is over.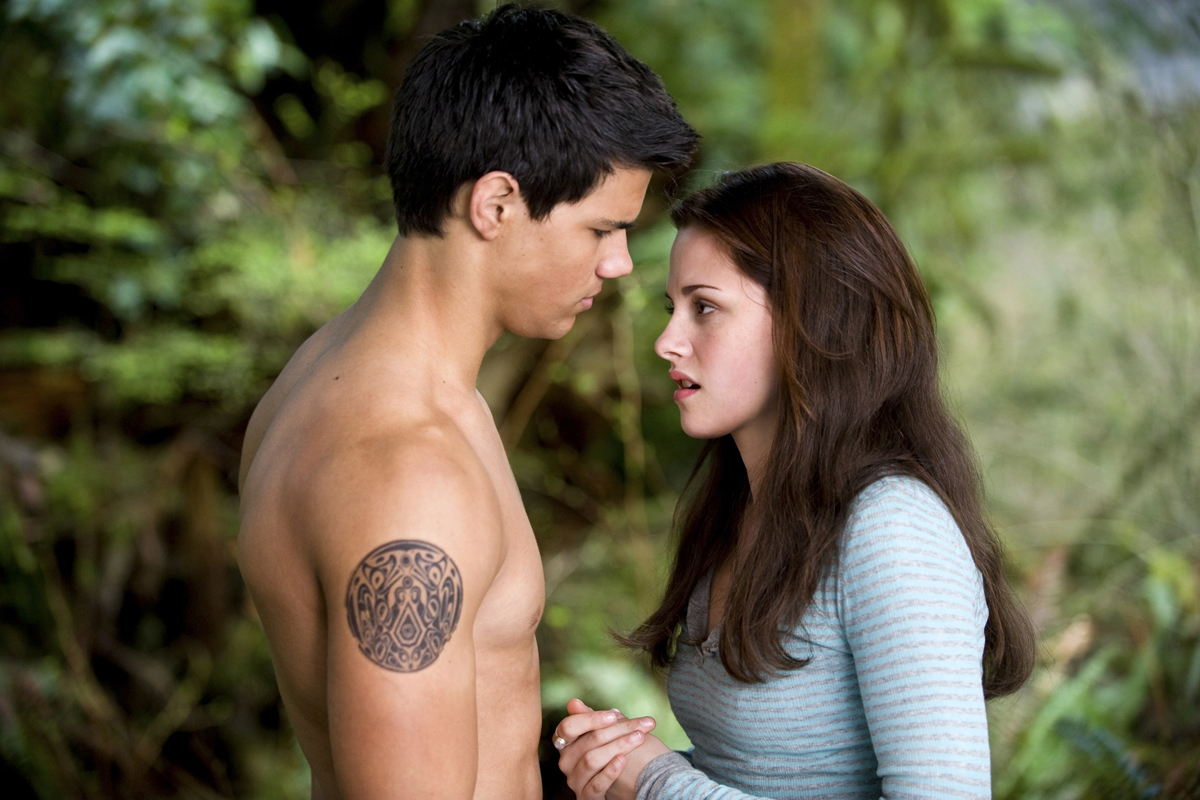 For all of that, one wishes that New Moon had a story worth being inflated to the level that Chris Weitz seems to think it should be. Part of the problem is that Weitz doesn't seem able to convey psychological depth in his characters worth a damn. Kristen Stewart shone in Twilight; here she is just another actress of no distinction, even though the character she is playing is written with a much wider emotional range. There seems almost no distinction between Bella in love, Bella depressed and Bella as a crazed adrenalin junkie. Indeed, her transformation into adrenalin junkie – as a way of seeing the phantom Edward (the script never deigns to let us know if these manifestations are only in her head or something more than that, although surely the idea of someone constantly risking their life in order to have hallucinations seems indicative of a lot more emotional trouble than simple relationship break-up depression) – is a particularly poor piece of motivation. The other laughable piece is surely the scene where she goes on a movie date with Michael Welch and he proves so sensitive that he throws up because of an action movie, making him surely the biggest ever pussy to ever disgrace the on-screen annals of heterosexual blokedom.
Robert Pattinson survives the ridiculous posing he is put through because he has natural acting ability and screen presence and manages to animate the weepy romantic longeurs with feeling. On the other hand, Chris Weitz brings two talented actors, Michael Sheen and Dakota Fanning, aboard as members of the Volturi but their characters are no more than posturing vampire villains that might as well be wearing red-lined capes, plastic fangs and talking with fake East European accents for all the presence and depth they have.
The other part of the problem with New Moon is that its source work comes from a mediocre writer like Stephenie Meyer. The story hangs on a faux drama – that Edward is going to permanently walk out of Bella's life. Does anybody watching truly think that he was never going to come back by the end? All the anguish and separation that constitutes the story seems like a non-drama where we already know the outcome. This makes New Moon into one of the fantasy stories that Michael Moorcock criticises as being Epic Pooh – where people go on a great adventure, suffer terrible things and then return home and everything is back just the way it was at the start. Even the big secret – that Taylor Lautner belongs to a native tribe that turn into werewolves – is given away by the film's trailer. Almost all that transpires in New Moon – the non-romance with Taylor Lautner, the trip to Europe, all the mutual suffering – is wiped away in an ending where the story hits the reset button and returns to a point where it is almost as though nothing had happened. Almost. The film's most interesting dramatic point comes right at the end, where Bella finds herself caught between her greatest desire – of letting Edward put the bite on her – and the knowledge that this would break the truce with the werewolves and bring about the onset of war.
Of course, the ending of the film also gets sidetracked into much angst-ridden debate about Bella wanting to be bitten and Edward not wanting to do so. For Stephenie Meyer, vampirism is clearly a metaphor for sex (as it often is in vampire cinema). Meyer is a practicing Mormon and the film's constant wangling over waiting until the 'right time' for Edward to bite her surely makes the film an all-but-overt piece of flag-waving in favour of the abstinence movement. As certain proof of this, the last words of the film are Edward announcing "Bella, marry me." (A line that for some reason brought laughter amongst some the audience I was with).
The Twilight saga was continued with Eclipse/The Twilight Saga: Eclipse (2010), Breaking Dawn Part 1 (2011) and Breaking Dawn Part Two (2012). New Moon was also parodied in Vampires Suck (2010).
---
---