---
USA. 2009.
Crew
Director – Paul Weitz, Screenplay – Brian Helgeland & Paul Weitz, Based on the Novels Cirque du Freak, The Vampire's Assistant & Tunnels of Blood by Darren Shan [Darren O'Shaughnessy], Producers – Lauren Shuler-Donner, Ewan Leslie, Andrew Miano & Paul Weitz, Photography – J. Michael Muro, Music – Stephen Trask, Music Supervisor – Kathy Nelson, Visual Effects Supervisor – Todd Shifflett, Visual Effects – Rhythm and Hues Studio (Supervisor – Will Telford), Special Effects Supervisor – Darrell Pritchett, Makeup Effects – Amalgamated Dynamics (Supervisors – Alec Gillis & Tom Woodruff Jr), Production Design – William Arnold. Production Company – Universal/Relativity Media/Donners Company/Depth of Field.
Cast
Chris Massoglia (Darren Shan), John C. Reilly (Larten Crepsley), Josh Hutcherson (Steve Leonard), Jessica Carlson (Rebecca), Michael Cerveris (Mr Tiny), Ray Stevenson (Murlaugh), Ken Watanabe (Mr Tall), Salma Hayek (Madame Truska), Patrick Fugit (Evra Von), Willem Dafoe (Gavner Purl), Orlando Jones (Alexander Ribs), Kristen Schaal (Gertha Teeth), Frankie Faison (Rhamus Twobellies), Jane Krakowski (Corma Limbs), Patrick Breen (Mr Kersey), Tom Woodruff Jr (The Wolfman), Drew Van Varick (Loaf Head), Don McManus (Mr Shan), Colleen Camp (Mrs Shan), Morgan Saylor (Annie Shan)
---
Plot
Teenager Darren Shan is a good kid at school who never gets in trouble. Darren's troublemaking friend Steve Leonard persuades him to sneak out to attend the visiting Cirque du Freak freakshow. They sit through the performance, amazing at the various human deformities on show. Steve, who is obsessed with vampires, is certain that one of the performers, Larten Crepsley, is a vampire whose likeness he has seen in a book. Fascinated by Crepsley's performing spider Madame Octa, Darren sneaks backstage to 'borrow' it. He is forced to hide as Steve comes in and confronts Crepsley, begging to be made a vampire – but Crepsley rejects him as unsuitable. Discovered, Darren flees with the spider. However, when he takes the spider to school the next day, Steve accidentally releases it and is bitten, falling into a coma. Darren is forced to return to Crepsley and beg for the antidote to save Steve. Crepsley agrees on the condition that Darren becomes his assistant, which requires him being made half vampire. Crepsley fakes Darren's death and takes him away to the Cirque du Freak. Darren tries to fit in among the other freaks, becoming friends with Rebecca, a girl his own age who has a monkey tail. The bearded lady Madame Truska is a seer who glimpses a forbidding fate ahead of Darren. The sinister Mr Tiny also sees this future and develops an interest in Darren, before trying to snatch him from the circus. Mr Tiny also allows the vampire Murlaugh to put the bite on Steve. Where Crepsley's people have foresworn drinking blood, Mr Tiny and Murlaugh draw Steve into the world of the vampaneze who relish blood drinking. A showdown is looming between the two sides but this requires Darren to accept his vampiric nature.
---
Cirque du Freak: The Vampire's Assistant comes from Paul Weitz who is better known for co-directing and producing with his younger brother Chris. The two had a substantial hit with the teen comedy American Pie (1999), directed by Paul. Thereafter the two of them went onto co-direct Down to Earth (2001) and About a Boy (2002), in between writing the scripts for Antz (1998) and The Nutty Professor II: The Klumps (2000). They subsequently went their own separate ways with Chris going onto solo direct high-profile efforts like The Golden Compass (2007) and New Moon (2009).
Amid Chris's ascendency, Paul Weitz was left behind and struggled on as solo director with two none-too-memorable comedies In Good Company (2004) and American Dreamz (2006) and the subsequent Little Fockers (2010), Admission (2013), Grandma (2015), Bel Canto (2018) and Fatherhood (2021). Cirque du Freak at least appears to be Paul's attempting to play catch-up with Chris in signing onto a would-be franchise generating film – although given Cirque du Freak's largely indifferent box-office response, it would appear to be going the same way as The Golden Compass – an intended franchise starter that instead ended up like a building site where construction has begun and the results abandoned before completion.
Cirque du Freak: The Vampire's Assistant is based on a series of young adult books by Irish writer Darren O'Shaughnessy who writes under the penname of Darren Shan (the same character as the hero of the books). The Saga of Darren Shan series runs to twelve books consisting of four trilogies, all of which were published between 2000 and 2004, as well as a prequel tetraology set around Larten Crepsley that was published subsequent to the film.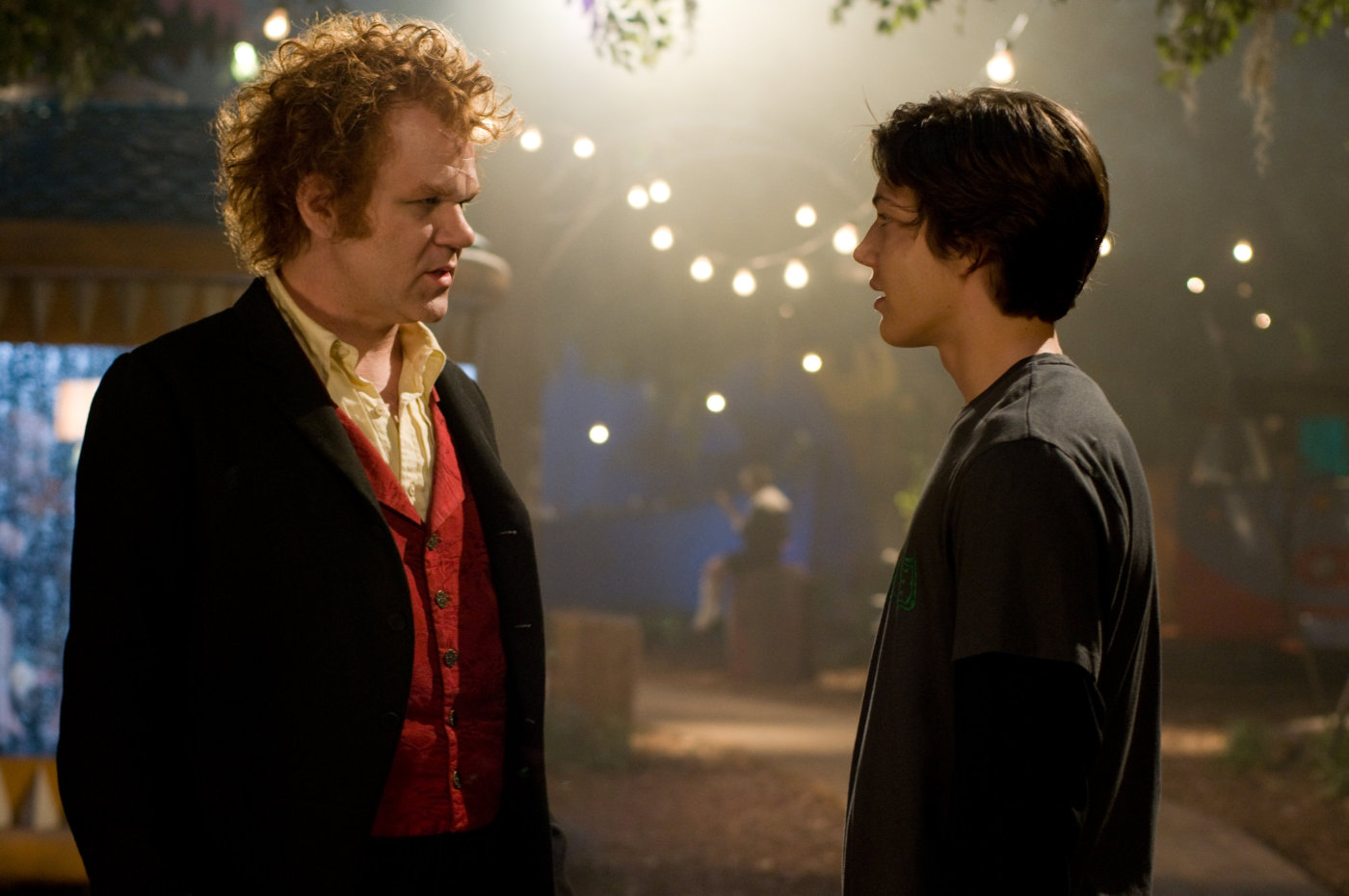 The film here adapts no less than the entire first trilogy. Most of the film is based on the first two books – Cirque du Freak (2000) and The Vampire's Assistant (2000), while other elements like the love-interest character of Debbie have been taken from the third book Tunnels of Blood (2000) (although in the book she is a human rather than a freak). Co-writing with Oscar-winning screenwriter Brian Helgeland (see below), Paul Weitz has condensed and eliminated the events of the books, not to mention transferred the locale from Europe to generic smalltown America, as well as added a big battle at the end to set the stage for the coming vampire/vampaneze war that would occupy the presumed subsequent films.
On screen, Cirque du Freak remains a peculiarly unsatisfying effort. It aims for an akilter grotesquerie but Paul Weitz's handling is far too middle-of-the-road for it to ever find such a tone. What Weitz seems to be have been wanting to make is a Tim Burton film – something that has the wacky bizarreness of a Beetlejuice (1988), an Edward Scissorhands (1990) or The Nightmare Before Christmas (1993). However, he shows surprisingly little affinity for the array of circus freaks. Tim Burton would have placed them centre stage and given each a charmingly banal series of quirks that made them more endearing than the humans. Weitz introduces the freaks in the stage performance at the start, which does hit in with some of the right sense of PG-rated grotesquerie (albeit far too brief), but thereafter relegates them to only minor background appearances. Despite the makeup being inhabited by names like Orlando Jones, Jane Krakowski and Kristen Schaal, it is only Salma Hayek doing her 165th sultry sexpot role – as a seer who grows a beard when aroused – that in any way stands out.
If you compare Cirque du Freak to the series that is obviously trying to emulate – the Harry Potter films – there seems an essential lack of depth and emotional resonance to its world. The Harry Potter films, for instance, would have placed much more emphasis on Darren's reactions to his 'death' and loss of his family, his curiosity or revulsion at joining the circus and the moral choice he makes at the end to embrace his vampire nature. For Paul Weitz however, these are just flicks of the plotting pen, not issues that he ever deigns to connect with. The dramatic highs of the film become effects set-pieces like the introduction of the freaks, the spider getting loose at school or the climactic vampire showdowns. Even there Weitz does not seem to care too much whether his CGI effects are passable or obvious and there is never much magic generated from that quarter.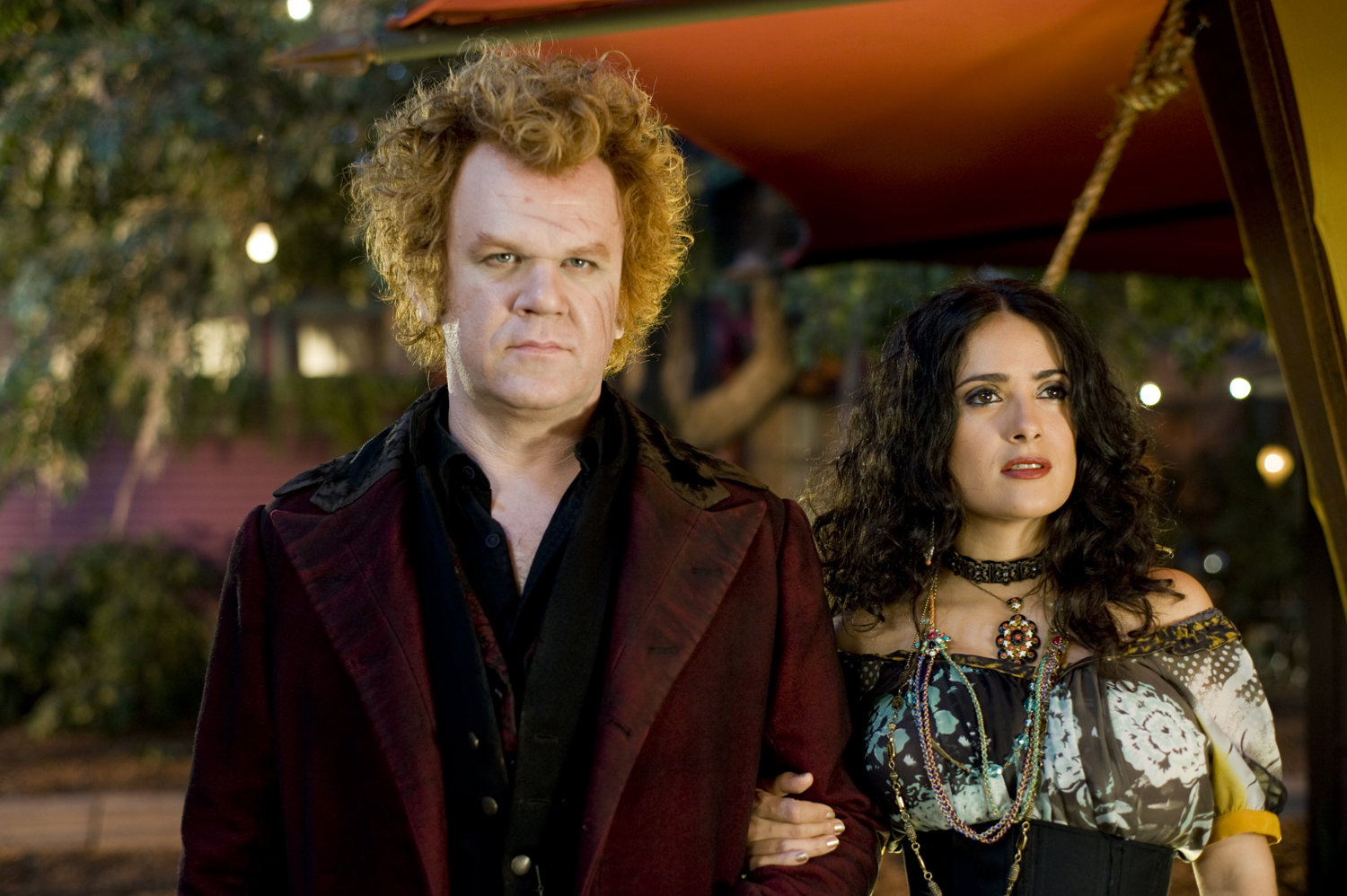 The intention seems to have been to conduct a version of Hammer's Vampire Circus (1972) as filtered through the sensibilities of Tim Burton but the result comes out more like The Little Vampire (2000) Goes to the Circus. The major killer here has been in casting the vampire role with John C. Reilly. I don't want to be seen to be coming down on Reilly as he has done some solid and worthwhile dramatic work in films like The Thin Red Line (1998), Magnolia (1999) and Chicago (2002). However, in the last few years, Reilly has been discovered by mainstream comedy and frequently cast as the poor man's Will Ferrell or a Ferrell sidekick in films like Talladega Nights: The Ballad of Ricky Bobby (2006), Walk Hard: The Dewey Cox Story (2007) and Step Brothers (2008). When you think of the great cinematic lineage of dark and sinister, sometimes melancholy, other times charismatic and sexy male vampires – Max Schreck, Bela Lugosi, Christopher Lee, Klaus Kinski, Frank Langella, Robert Pattinson, Stephen Moyer – cuddly faced, mop-topped John C. Reilly is not exactly the natural name that springs to mind for inhabiting the cape. Not to mention that someone here seems to have the peculiar idea of outfitting and making Reilly up to look like the taciturn twin brother of the Colin Baker incarnation of Doctor Who (1963-89, 2005– ).
The rest of the performances are variable. The second-billed Josh Hutcherson gets just the right tone of anger and resentment in his performance as the best friend Steve. Michael Cerveris campily overplays as Mr Tiny. Willem Dafoe makes a bizarre cameo, seemingly decked out as vampire equivalent of the sort of roles that Peter O'Toole has been getting in the twilight of his career, but equally you are not sure what he is supposed to be doing in the film. The most disappointing performance comes from Chris Massoglia who, though he plays the central character, has been relegated to third on the cast list, perhaps due to the fact that he is probably unlikely to go onto much of a career elsewhere. Outfitted with an unflatteringly square bowl haircut, Massoglia should have been the presence that carried the film but seems oddly detached from proceedings.
Brian Helgeland's other films include high-profile works like Assassins (1995), L.A. Confidential (1997), Mystic River (2003), Man on Fire (2004), The Taking of Pelham 1 2 3 (2009) and Ridley Scott's Robin Hood (2010). Helgeland's genre scripts include A Nightmare on Elm Street Part IV: The Dream Master (1988), 976-Evil (1988), Highway to Hell (1991), Conspiracy Theory (1997), Kevin Costner's The Postman (1997) and Clint Eastwood's Blood Work (2002). Helgeland has also directed Payback (1999), A Knight's Tale (2001), the fascinating Catholic horror film The Sin Eater/The Order (2003), the true-life 42 (2013) about the first Black baseball player and Legend (2015) about the Kray Twins.
---
---