aka The Twilight Saga: Eclipse
---
USA. 2010.
Crew
Director – David Slade, Screenplay – Melissa Rosenberg, Based on the Novel by Stephenie Meyer, Producers – Wyck Godfrey & Karen Rosenfelt, Photography – Javier Aguirresarobe, Music – Howard Shore, Visual Effects Supervisors – Nicholas Brook & Kevin Tod Haug, Visual Effects – CIS Hollywood, Hammerhead Productions (Supervisor – Dan Levitan), Hatch, Image Engine (Supervisor – Jon Cowley), Lola VFX (Supervisor – Edson Williams), Prime Focus (Supervisor – Chad Wiebe), Rodeo FX, Savage Visual Effects, Tippett Studio (Supervisors – Matt Jacobs & Eric Leven) & Wildfire Visual Effects (Supervisor – Dottie Starling), Special Effects Supervisor – Alex Burdett, Prosthetics – WCT Productions, Production Design – Paul D. Austerberry. Production Company – Summit Entertainment/Temple Hill/Maverick/Imprint Entertainment.
Cast
Kristen Stewart (Bella Swan), Robert Pattinson (Edward Cullen), Taylor Lautner (Jacob Black), Billy Burke (Charlie Swan), Peter Facinelli (Dr Carlisle Cullen), Ashley Greene (Alice Cullen), Bryce Dallas Howard (Victoria), Nikki Reed (Rosalie Hale), Xavier Samuels (Riley Biers), Dakota Fanning (Jane), Jackson Rathbone (Jasper Whitlock), Anna Kendrick (Jessica Stanley), Elizabeth Reaser (Esme Cullen), Kellan Lutz (Emmett Cullen), Gil Birmingham (Billy Black), Jodelle Ferland (Bree), Sarah Clarke (Renee), Michael Welch (Mike Newton), Christian Serrantos (Angela Weber), Justin Chon (Eric Yorkie), Julia Jones (Leah Clearwater), BooBoo Stewart (Seth Clearwater)
---
Plot
Bella Swan is unable to make her mind up about Edward Cullen's proposal of marriage. She meets up with Jacob Black again and he is insistent that he loves her and that she loves him too without knowing it yet. He and Edward are at one another's throats after Jacob tries to steal a kiss from her. At the same time, the Cullens become aware of the growing threat of an army of newborn vampires created by the vengeful Victoria that are wreaking havoc in Seattle. Newborns are much stronger and more difficult to kill than older vampires. Alice detects that the newborns are heading towards Forks. Realising that they are coming after Bella, the Cullens agree to put their traditional enmity with the werewolves aside so that they can protect her. Being thrust into the midst of this only serves to leave Bella torn between Edward and Jacob.
---
Eclipse was the third of the Twilight Saga films, following Twilight (2008) and New Moon (2009). All of these were adapted from writer Stephenie Meyer's phenomenally best-selling tetraology of novels that pitch vampire romance to the teenage market, albeit with a heavy chastity movement spin. The Twilight Saga is the only film franchise over the last few years that has come anywhere near the popularity won by the Harry Potter and Lord of the Rings films.
I liked the first Twilight film, which was conducted with a modest realism that allowed one to be swept into its romance. However, by the time of the second, New Moon, the saga became over-inflated into pretty pin-up idol posturing that held little substance. Eclipse has a new director in David Slade who promisingly made the excellent Hard Candy (2005), a film that travels into dark and disturbing teenage sexuality territory that stands at the total opposite of Eclipse's vows of chastity. David Slade had previously also made one reasonable vampire film with 30 Days of Night (2007), which notedly stands at 180 degrees remove from Eclipse – there the vampires are not romantic teen idols but ravening animals that are decidedly on the non-human side.
With Eclipse, David Slade welcomely strips out the posturing visual tricks that New Moon's Chris Weitz threw in, not to mention stops trying to film every second shot of Robert Pattinson in slow-motion. The downside of this is that Eclipse seems visually bare and all that that leaves it to fall back on is Stephenie Meyer's story and its mawkish teen romance. The dialogue seems stilted and, at least up until the action kicks in in the middle of the film, the drama flat.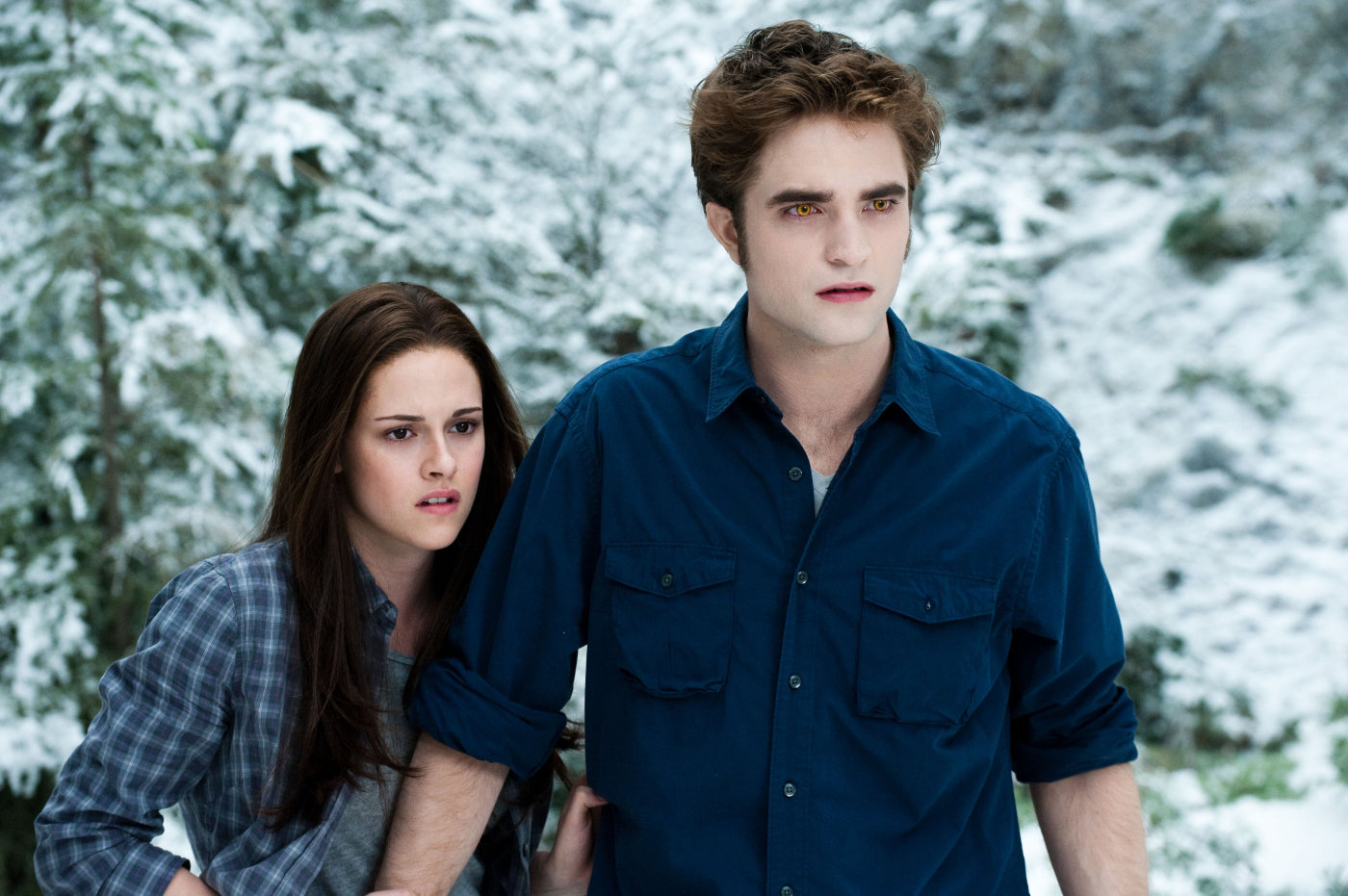 The problem is also that Eclipse feels like an over-extruded drama that would have been far better off taking place as a one-hour tv episode. You feel that the Twilight Saga hit its dramatic high point with the proposal at the end of New Moon – everything here seems to be figuring out how to top that without changing anything too much. Thus the dramatic highs of the previous film are extruded to miniscule degrees while everything is only ever postponed, not brought to a dramatic conclusion. Bella spends half the film trying to decide whether to accept Edward's proposal of marriage, the rest whether she has feelings for Jacob, which is marginally one step beyond what she was doing in the previous film. Edward, having proposed to her at the end of New Moon, seems to have nowhere to go and so all the film has him do is propose to her again in more detail and with a ring this time. Similarly, Jacob does not have anywhere to go so just keeps repeating that he loves Bella more intensely.
The story keeps winding the dramas around these up with monumentally over-inflated importance – should they have sex before they get married? Should Bella go with Jacob who is alive and wants her the way she is or with Edward who loves her but she has to die for? Should they let Jacob know they are engaged? In all the epic angst concerned with such, not to mention constant irresolution, the story arrives at a point of trivial indifference. One suspects that a large part of the reason that Stephenie Meyer has introduced the newborns here is to give the plot some dramatic momentum. As it is, pieces of drama in the story feels clunky and obvious – Bella has to be moved up on the mountainside for her protection from the newborns, the place they chose is exposed and she is in danger of freezing to death, whereupon the obvious solution is for Taylor Lautner to jump into bed (shirtless naturally!) to keep her warm.
David Slade also fails to animate the characters. I was hugely impressed with Robert Pattinson in the first film. He even did well in the second, despite the constant attempts to model him like a pin-up. Here Pattinson's wild buzz hairstyle and ferocious eyebrows seems to turn him into an alien version of a troll toy and he plays the early scenes with little that goes beyond a sullen pout. He does eventually survive in a couple of dramatic scenes – more on that below – but Eclipse is surely his weakest outing in the Twilight franchise so far.
Taylor Lautner, having suddenly been acclaimed as the hottest new sensation of the last five minutes the previous year, does marginally better than in New Moon, mainly because the script gives him more of a range to work with. However, the non-acting Lautner is still limited to furrowing his brow and throwing things to denote intensity, while he covers the rest by taking his shirt off repeatedly.
Kristen Stewart, while I was impressed with her in the first film, has slipped back to almost a passive role in the saga. That is a problem more of Stephenie Meyer's writing where Bella seems little more than a Mary Sue character – a thoroughly ordinary person about whom there is nothing amazing, yet has some innate quality that has her lusted over by two supernatural men, not to mention personally hunted by an entire vampire army.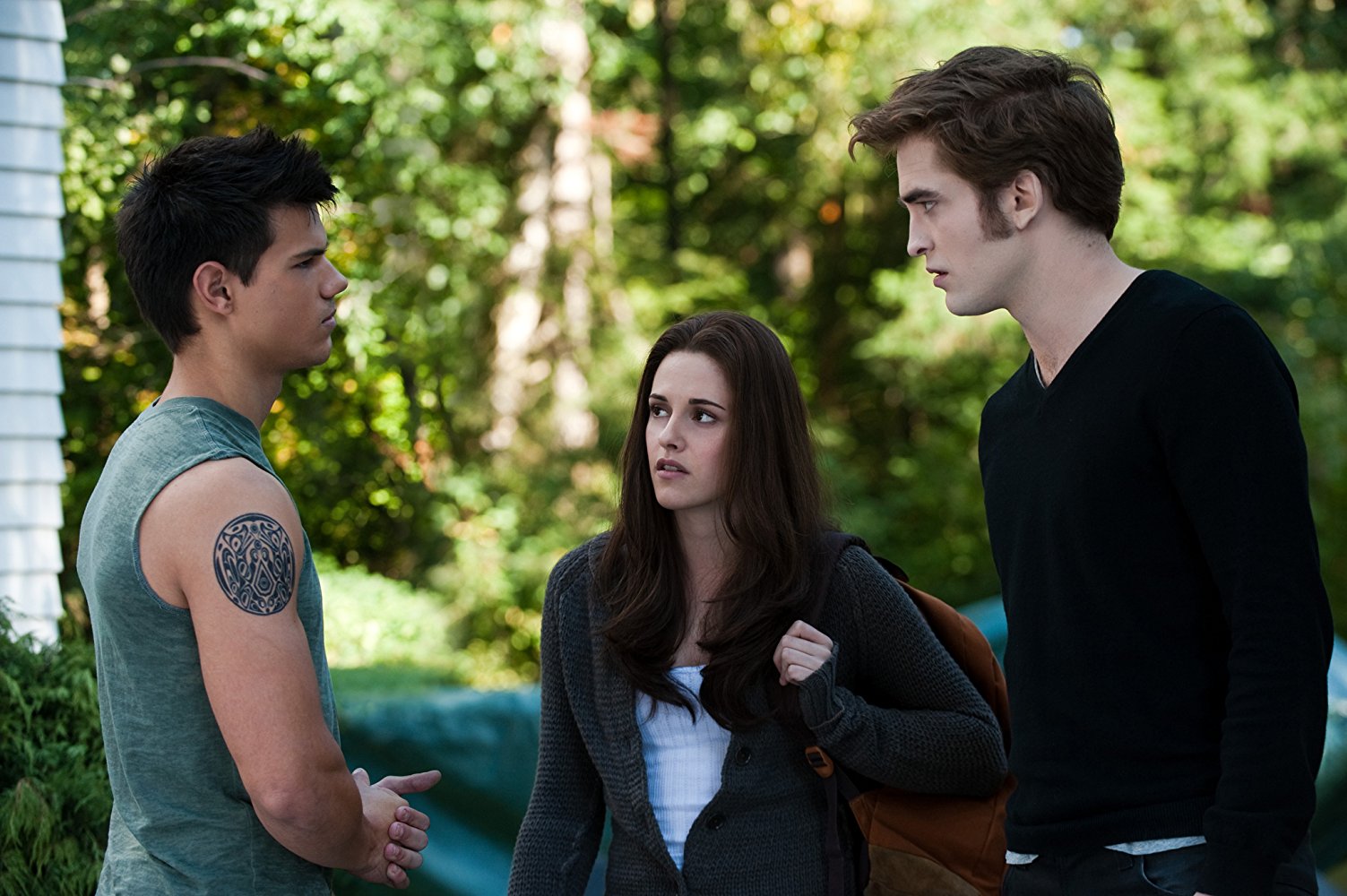 The main sticking point of the story for me is when it comes to the point of articulating Stephenie Meyer's Mormon beliefs in the sanctity of marriage as an institution. Apart from the equally absurd teen-pitched 17 Again (2009), the Twilight series is one of the first films to take up advocating the teen chastity movement that swept American schools in the 00s. The big scene that Eclipse leads up to is the one where Kristen Stewart tries to get Robert Pattinson to sleep with her and he holds off saying: "Believe me, I want to be married to you first … It's one rule I want to leave unbroken … I know it's not a modern notion."
It is hard to believe that today's audience would so willingly buy into such a quaintly old-fashioned idea – this is a film series that, despite trying to pump its leading men up into teenage sex gods, has moral values that exist somewhere back in the 1950s. For all that the film throws in a valedictorian speech where it advocates its teenagers going out there and making mistakes in order to learn, it does precisely the opposite for its heroine and advocates a life of closeted safety where she is protected at every turn and accepts a view of relationships that closes off any opportunity for her to make mistakes for herself and learn if what she wants is the right thing.
At the same time as we have Robert Pattinson proposing, we also have Taylor Lautner professing his love for her and asserting that she loves him but doesn't know it. When he starts going on about how it is possible to love multiple people at once, you wonder if maybe Stephenie Meyer is not trying to throw in some subtly coded message standing up in favour of Mormon polygamy.
That said, the scenes where Robert Pattinson makes his old-fashioned proposal and explains his reasoning make for some of the more emotionally authentic moments of Eclipse. The other nice piece of writing is where Robert Pattinson and Taylor Lautner admit their mutual differences, admirations for one another and love for Kristen Stewart while she sleeps between them in a tent. It is in these scenes that David Slade finds something that makes Eclipse work. There are also times that Slade adds a much-needed sense of humour to the series. "Does he ever wear a shirt," Robert Pattinson mutters of Taylor Lautner. Or the amusing scene where Lautner taunts "I'm much hotter than you," in passing Pattinson to get into bed with Kristen Stewart. Both get a big laugh from the audience. The rest of the time however, Eclipse is bland, tepid drama. The wolf effects fail to work convincingly and disappointingly the big climactic showdown happens in a field and is quickly over and done with.
David Slade subsequently directed the The Way to Egress episode of the horror anthology Nightmare Cinema (2018) and produced and directed produced and directed episodes of the tv series' Hannibal (2013-5) and American Gods (2017-21), as well as directing the groundbreaking interactive Black Mirror episode Bandersnatch (2018).
Next up in the Twilight saga was Breaking Dawn Part 1 (2011) and Breaking Dawn Part Two (2012).
---
---