aka The Twilight Saga: Breaking Dawn Part 1
---
Crew
Director – Bill Condon, Screenplay – Melissa Rosenberg, Based on the Novel Breaking Dawn by Stephenie Meyer, Producers – Wyck Godfrey, Stephenie Meyer & Karen Rosenfelt, Photography – Guillermo Navarro, Music – Carter Burwell, Visual Effects Supervisor – Terry Windell, Visual Effects – Comen VFX, Engine Room, Hydraulx, Image Engine (Supervisor – Robin Hackel), Lola VFX (Supervisor – Edson Williams), Metro (CIS) Canada, Modus FX, Mr. X Inc, Pixel Magic (Supervisor – Ray McIntyre Jr), Prologue, Soho VFX, Spin VFX (Supervisor – Jeff Campbell), Tippett Studio (Supervisor – Eric Lever) & Wildfire Visual Effects, Special Effects Supervisors – Alex Burdett & David A. Poole, Animatronic Effects – Legacy Effects (Supervisor – Jim Rosengrant), Production Design – Richard Sherman. Production Company – Temple Hill Entertainment/Sunswept Entertainment.
Cast
Kristen Stewart (Bella Swan), Robert Pattinson (Edward Cullen), Taylor Lautner (Jacob Black), Billy Burke (Charlie Swan), Peter Facinelli (Dr Carlisle Cullen), Ashley Greene (Alice Cullen), Booboo Stewart (Seth Clearwater), Julia Jones (Leah Clearwater), Sarah Clarke (Renee Dwyer), Chaske Spencer (Sam Uley), Elizabeth Reaser (Esme Cullen), Nikki Reed (Rosalie Hale), Kellan Lutz (Emmett Cullen), Gil Birmingham (Billy), Jackson Rathbone (Jasper Hale), Michael Sheen (Aro), Caroline Virguez (Kaure), Alex Rice (Sue Clearwater), Christian Carmago (Eleazar Denali), Mia Maestro (Carmen Denali), Maggie Grace (Irina Denali), MyAnna Buring (Tanya Denali), Christopher Heyerdahl (Marcus), Jamie Campbell Bower (Caius)
---
Plot
It is the wedding of Edward Cullen and Bella Swan. Everything goes perfectly. They head off to Rio on their honeymoon where they have sex for the first time. Not long after, Bella discovers that she is pregnant. Edward and the Cullens are horrified at this, calling the vampire-human embryo an abomination. Bella is rushed back to Forks where the hybrid embryo proves so strong that it starts to drain her. She refuses to abort the foetus even though she knows it may kill her. This news and the potential death of Bella has the werewolves ready to declare war on the Cullens. However, Jacob goes out on a limb, splitting from the rest of the clan for the sake of protecting Bella and the baby.
---
Breaking Dawn Part 1 was the fourth of the Twilight films. The series began with Twilight (2008) and continued through New Moon (2009) and Eclipse (2010), which all became a mega-successful hits around the world. On the publishing shelves, Stephenie Meyer only wrote four Twilight novels and Breaking Dawn (2008) the last of them was. In recent years however, filmmakers have discovered that they are able to extend lucrative series by splitting books in half and we are now getting film series that suddenly find they want to spin the last book out into two chapters on the excuse of wrapping up all story threads (oh, and raking in a few more hundreds of millions at the box-office) – thus we have Harry Potter and the Deathly Hallows Part 1 (2010) and Harry Potter and the Deathly Hallows Part 2 (2011); and the Lord of the Rings prequels The Hobbit: An Unexpected Journey (2012), The Hobbit: The Desolation of Smaug (2013) and The Hobbit: The Battle of the Five Armies (2014), which spin a single book out into three films. By the time of the various The Hunger Games and Insurgent Young Adult series only as couple of years later, splitting the last book into two parts had become the norm.
The Twilight saga started well with Twilight, where the two stars seemed perfectly cast and the film yearned with a romantic sincerity. Unfortunately, after that point the pin-up idol phenomenon started in and the series went from a quiet simplicity to posturing for the teenage girl audience amid much shirt removal. Equally, Stephenie Meyer's strictly amateurish writing and plotting failed to sustain the romantic sincerity of the first film. A mawkish love triangle that should barely have amounted to enough material for a single novel became extruded over lengthily drawn-out plotlines as Bella Swan, the perpetual Mary Sue, wavered between Edward and Jacob, becoming the centre of a war between vampire and werewolf clans. Moreover, all of the shirtless posing was constantly undercut by Stephenie Meyer's Mormon preachings in favour of no sex before marriage and (here) in favour of the Right to Life side of the abortion debate.
I stayed with the previous two Twilight sequels for completism's sake where the overblown silliness of the plotting had its minor amusements. However, Breaking Dawn Part 1 is about the point that all of this collapses into ridiculousness. I thought Breaking Dawn Part 1 may have actually worked the best of the sequels due to the director assigned to it – Bill Condon. In comparison to the three directors assigned to the other films – Catherine Hardwicke, who had previously made a name with edgy realistic works about teenage life; Chris Weitz who started on American Pie (1999) and made one big-budget fantasy film The Golden Compass (2007); and David Slade, a British director who had made a couple of good genre films with the excellent Hard Candy (2005) and the decidedly non-romantic, non-sparkly vampire film 30 Days of Night (2007) – Bill Condon is the one who has the most impressive curriculum vitae.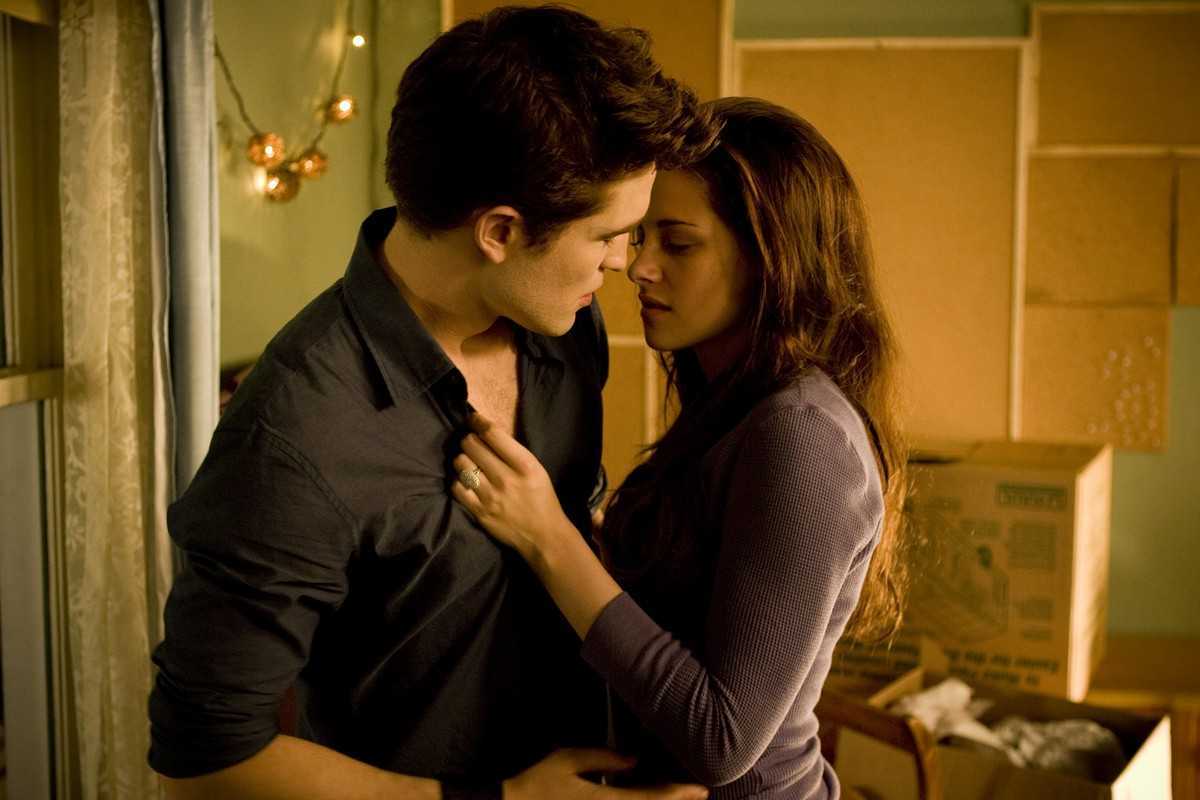 Director Bill Condon broke into the industry as the screenwriter of Michael Laughlin's duo of genre films Dead Kids/Strange Behavior (1981) and Strange Invaders (1983). As a screenwriter, Condon went onto the likes of FX 2 (1991) and Alec Baldwin's problem-ridden Shortcut to Happiness (2003). Condon started directing with the horror film Sister Sister (1987) and went onto Candyman: Farewell to the Flesh (1995). He found his calling with Gods and Monsters (1998) about the life of director James Whale – Whale's key film Bride of Frankenstein (1935) is incidentally the one that Robert Pattinson is watching during the 1930s flashback – and went onto Kinsey (2004), Dreamgirls (2006) and the subsequent The Fifth Estate (2013), Mr. Holmes (2015) and the live-action remake of Beauty and the Beast (2017), as well as wrote the screenplay for Chicago (2002). All of these films were celebrated by the awards crowd and show an interest on Condon's part in musicals or true-life biopics. Moreover, Condon's work demonstrates a predilection for free and frank discussions of sexuality, while Condon himself is an openly gay filmmaker – which certainly makes him either an odd or potentially subversive choice for a work like Breaking Dawn Part 1 that is centred in very conservative and old-fashioned notions of heterosexual marriage.
All of that said, Bill Condon delivers Breaking Dawn Part 1 as the dullest entry in the Twilight saga so far. Indeed, this is the point that the slightly loopy deadpan seriousness of the series collapses under its own deadening pomposity. The wedding scene and honeymoon is delivered with ponderous weight and reverence. The film drags on through Bella trying on her shoes, getting her hair and makeup done, she and Robert Pattinson delivering their vows, the speeches (from just about every invitee it appears), the dance, a montage of picture postcard shots as they honeymoon in Brazil and so on that takes up nearly the entire first hour of the film's running time. Towards the end, we even get scenes choosing baby names.
That brings us to the big sex scene that the series has managed to take three films to build up to. Before Breaking Dawn Part 1's release, shots and clips were leaked online and garnered controversy about a possible R-rating. When seen however, this is so absurdly tame that it makes any hint of controversy a storm in a teacup about precisely nothing. You see Robert Pattinson and Kristen Stewart standing naked in the water with their backs to us in wide angle, you see Pattinson's naked back on top of her in bed, and head and shoulders shots of them during intercourse – and that is it.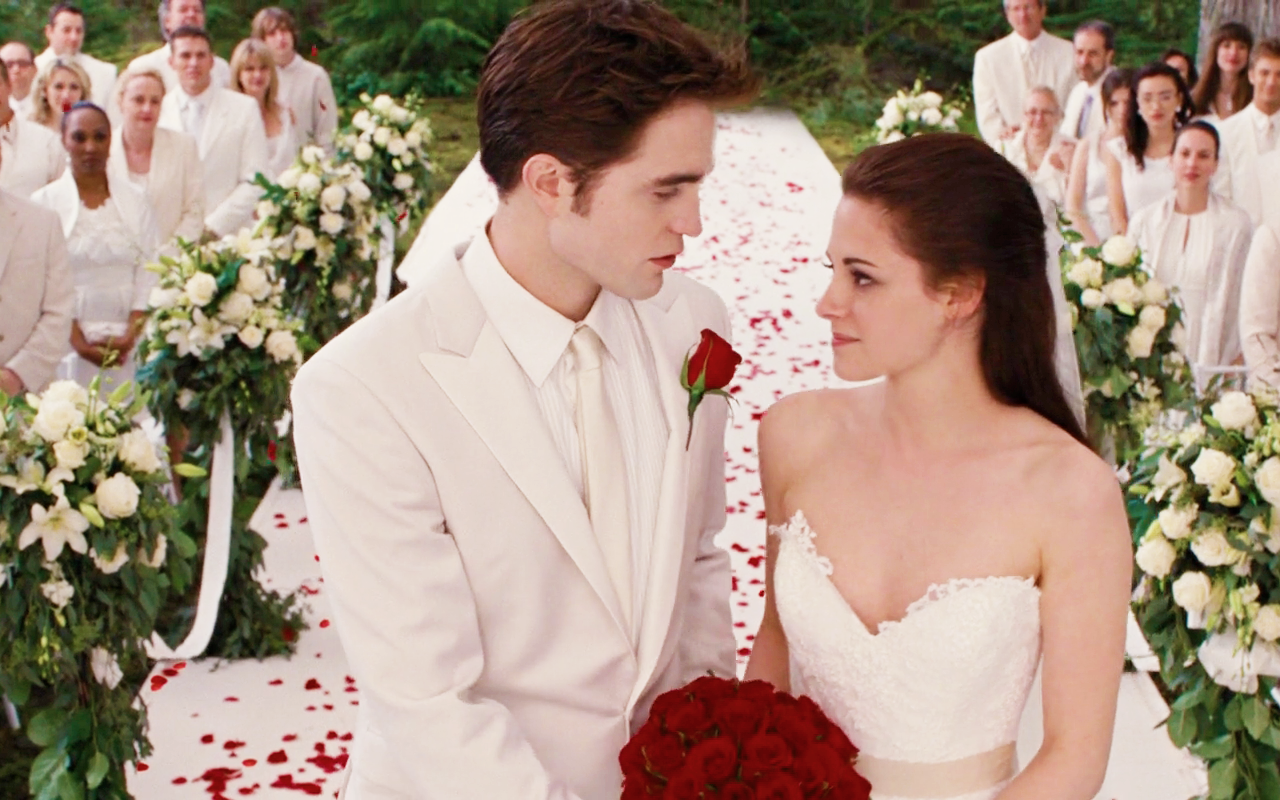 In fact, the fulfilment of the romance seems like one where all possible passion has been ironed out of it by the makeup and lighting people until it is simply two people posing in a series of pretty fashion shots – in the water against the moonlight, kissing after having jumped off a waterfall, Kristen Stewart lying asleep as feathers drift down onto her face and so on. For all that the rest of the series builds up to the necessity of a ring on the finger to find sexual fulfilment and keeps teasing audiences with shirtless guys, it is a film that in the delivery of its promise has become more about the look and making everything acceptable to the PG-13 crowd – everything except portraying the passion and desire for one another that the two characters supposedly feel.
What we have feels like a teenage girl's naive fantasy of the perfect wedding, of finding bliss and sexual fulfilment after having tied the knot, of having the perfect man who is always at her side and could not bear living without her. All of this is presented in tones that grate on the nerves in their po-facedness. Robert Pattinson's "I would do anything for you", "You are my whole world" utterances becomes so painedly sincere that they verge on self-parody.
What becomes even more objectionable is the film's latter half, which seems to be no more than a simplistically enacted argument in favour of the Right to Life cause – that a woman should want to love and give birth to a child she is pregnant with no matter the cost, even when this is something that might endanger her life. (Breaking Dawn Part 1 makes interesting contrast to the portrayal of vampire-human impregnation that was dealt with far more challengingly in the Sub Judice episode of the Ultraviolet (1998) tv mini-series).
During the pregnancy section of the film, the nature of the series also appears to undergone a fundamental shift. The Twilight series has made its increasing appeal to the teenage girl market, the ones that go cross-eyed whenever Robert Pattinson looks at Kristen Stewart with longing in his eyes and squirm in their panties whenever Taylor Lautner takes his shirt off (he manages to do so here in record time of about ten seconds into the film). However, the Twilight series seems to send out mixed messages – on one hand, it wants to promote its stars as the sexiest young men on the planet and appeal directly to the people that get turned on by seeing them flex their pecs; on the other hand, it promotes an overriding theme of chastity and the claim that true sexual fulfilment comes from a woman retaining her virginity until after marriage.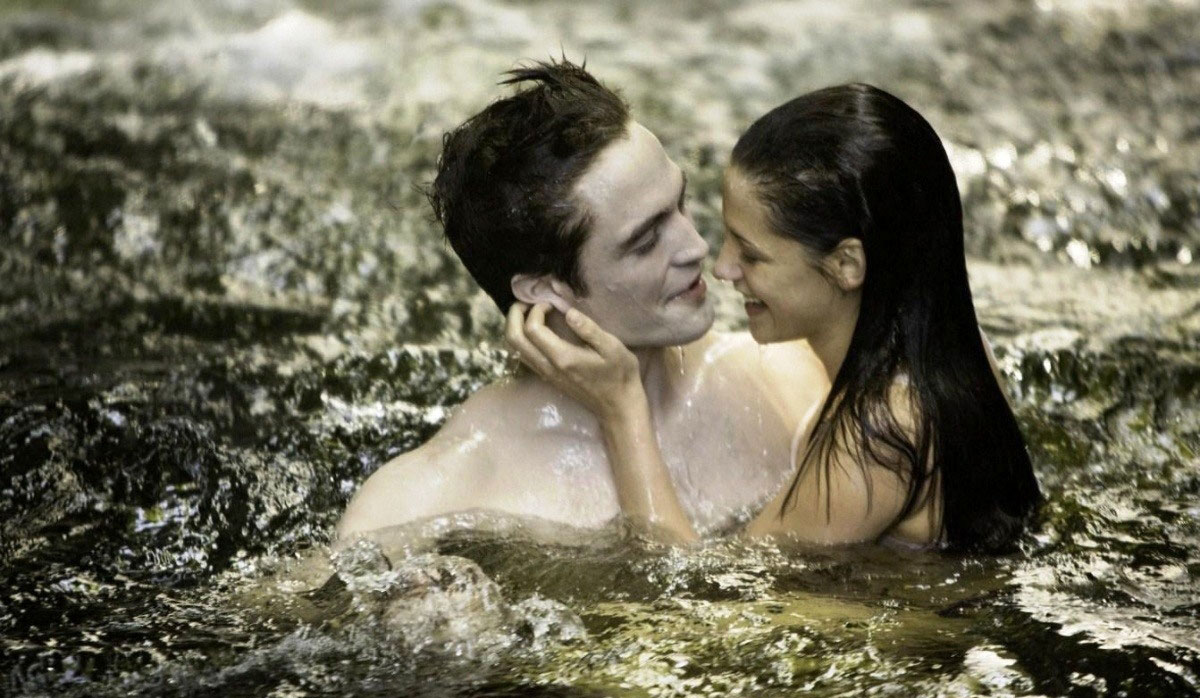 Moreover, here it seems to add to that that a woman's lot after winning true love is to be pregnant and suffering for the sake of her unborn child to the point where she is prepared to give up her own life. Indeed, for any teenage girls who came to view Breaking Dawn Part 1 with the intent of drifting off into a sexual fantasy about their favourite screen hunk, the state that the audience identification figure of Bella is reduced to throughout the course of the film – knocked up before the honeymoon has even ended, suffering like she is an advanced stage of consumption and eventually dying is surely guaranteed to give the impression that you should avoid sex and marriage altogether. Even after they tie the knot, poor Bella has the ignominy of a husband who leaves bruises all over her body in the heat of passion and then after their first night together turns cold at what he has done and never wants to touch her again. If anything, you could say this is an argument in favour of the try-before-you-buy outlook on marriage, which you cannot help but think would have ironed such problems out before the foreswearance of all the forever and evers.
I'm a typical guy. I have a built-in anathema to all this endless mooning over wedding shoes, the perfect ceremony, baby names and so on. It is one of those things that you do as part and parcel of settling down – there are not many guys I know who have not gone into this sort of thing without protest. The obsessive focus on such matters makes Breaking Dawn Part 1 almost exclusively a Chick Flick – even then, it is a film that seems pitched to the hardcore subscribers that buy every issue of Modern Bride.
Moreover, the portrayal of the vampire as a nice guy pleading with the teenage heroine that he cannot live without her, going on honeymoons in Rio, refusing to touch her until he marries her and even afterwards in fear of hurting her, seems a sad emasculation of the vampire. The vampire was always about metaphorical eruption of repressed sexuality but Stephenie Meyer has succeeded in putting a ring on the vampire's finger and confining it to being a provider dad raising a kid in picket fence suburbia. It is time for someone to cry "enough" and bring back the raw animal sexuality of Christopher Lee's Dracula, even the European hauteur of Bela Lugosi or the melancholic angst of Anne Rice's sexy bad boys.
The Twilight saga was completed with the subsequent Breaking Dawn Part Two (2012).
---
---