(Spiral)
---
Crew
Director – Higunchinsky, Screenplay – Kengo Kaji, Takao Nitta & Chikka Yasuo, Based on the Comic Book Created by Ito Junji, Producers – Man Kurosawa, Dai Miyazaki & Toyoyuki Yokohama, Photography – Gen Kobayashi, Music – Tetsuro Kashibuchi & Keiichi Suzuki, Visual Effects – Kenichi Kobayashi & Issei Oda, Makeup Effects – Tomoo Haraguchi.
Cast
Erko Hatsune (Kirie Goshima), Fhi Fan (Shuichi Saito), Ren Osugi (Toshio Saito), Keiko Takahashi (Yukie Saito), Taro Suwa (Yasuo Goshima), Masama Horiuchi (Ichiro Tamura)
---
Plot
Kirie Goshima, a schoolgirl in the town of Kurouzucho, becomes concerned with her best friend Shuichi Saito's father. Shuichi's father has become obsessed with collecting and staring at spiral patterns to the ignorance of all else. After Shuichi's father kills himself inside a washing machine, his cremated remains hang over the town in a giant cloud. The obsessive behaviour starts to spread to Kirie's father and others. Soon people all around the town start bodily mutating into spiral creatures.
---
Uzumaki was part of the big boom in Japanese horror that began with the massive success of Ring (1998). The new Japanese horror revival aggressively pillaged imagery from manga, hentai and traditional Japanese kaidan for an innovative new fusion. Uzumaki is based on a manga by Junji Ito that ran from 1998 to 2004.
The film starts low key with an almost cliched virtuous teenage schoolgirl heroine encountering strange goings-on. It is a film where the plot (divided into four chapters) is not so much an arc as it is a line that progresses through an atmosphere of steadily accumulating weirdness from the normal and everyday to the bizarrely apocalyptic.
In a feature taken from the visual design of the original manga, the film is permeated with spiral patterns – snail shells, tunnels, closeups on bicycle wheels, people opening patterned umbrellas into the camera, the seaweed floating in bowls of miso soup, the cracked windshield of a car after an accident, while everywhere else spiral patterns have been subtly optically added rippling away in the clouds in the sky, even the walls and sidewalks in the backgrounds of shots.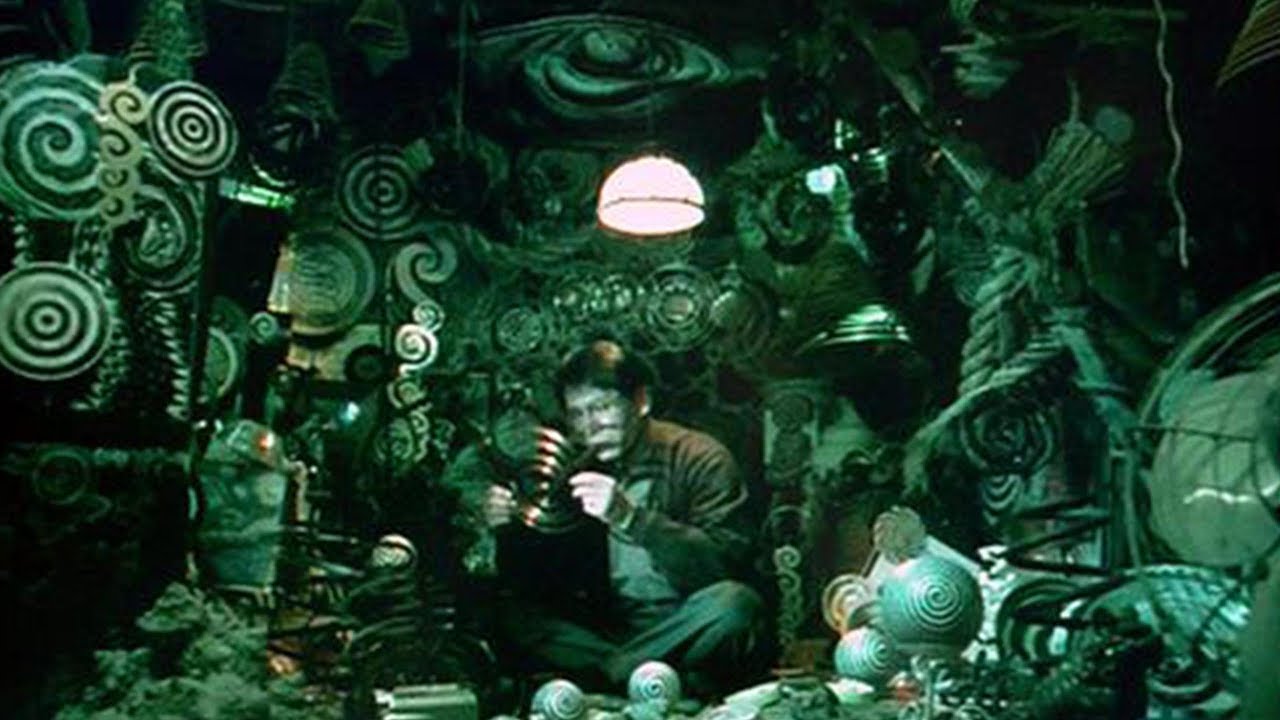 This erupts into a series of images of considerable weirdness, aided by cartoonish Evil Dead (1981)-styled popcorn gore effects – humans mutated into giant snails, millipedes crawling into people's ears, a girl with a giant twelve-foot spiral hairdo growing like a tree over her head, people's torsos twisted into giant knots.
Part of the film's trippy weirdness is that it never offers any particular explanation as to why spiral patterns are affecting such bizarrely obsessive behaviour and mutations. Indeed, the more one thinks about it, the more Uzumaki seems to be actively constructed as the visual equivalent of a mushroom trip.
Director Higunchinsky has only made two other films, Long Dream (2000), which was also adapted from a Junji Ito manga and concerns a man whose dreams last for years, and Tokyo 10+01 (2003) about people in a human hunting game.
---
---