(Ekusute)
---
Crew
Director/Story – Shion Sono, Screenplay – Masaki Adachi, Makoto Sanada & Shion Sono, Producers – Tsugio Hattori & Makoto Osada, Photography – Hiroo Yanagida, Music – Tomoki Hasegawa & Shion Sono, Special Effects – Yoshihiro Nishimura, Production Design – Katsuhiro Fukuzawa. Production Company – Toei.
Cast
Chiaki Kuriyama (Yuko Mizushima), Ren Osugi (Genji Yamazaki), Miku Sato (Mami Mizushima), Megumi Sato (Yuki Morita), Tsugumi (Kiyomi Mizushima), Ken Mitsuishi (Detective Sugawara), Hiroshi Yamamoto (Detective Tamura), Yuna Natsuo (Kondo), Mirai Yamamoto (Kayo Sugimura)
---
Plot
Police discover a shipping container filled with hair and a human body in the midst of it. The body is taken to the morgue but is stolen by the creepy attendant Genji Yamazaki, who has a fetish with hair. Back at his place, Yamazaki is startled to find that the hair is still growing and has taken over the insides of the body. Yuko Mizushima is a trainee hairdresser. Her troubled sister Kiyomi leaves her young daughter Mami at Yuko's place. Yuko and her roommate Yuki discover that Mami is covered with bruises and refuse to hand her back when Kiyomi returns. Yamazaki comes to the hair salon and offers them free samples of hair extensions, which he has cut from the body. However, once they are threaded into someone's hair, the extensions come to life and take over their host's body.
---
Japanese director Shion Sono has become an increasingly interesting name on cinema screens in the last decade, with many of his films having received festival acclaim. Sono first gained attention with the modest hit of Suicide Club (2002) and went onto its sequel Noriko's Dinner Table (2005). Over the next few years, Sono has made a number of other genre films, including the perversely disturbed Strange Circus (2005); Cold Fish (2010) about serial killings, tropical fish salesman and the reclamation of male pride; Guilty of Romance (2011) about sexual fulfilment and murder; Himizu (2011) about murderous children; and The Land of Hope (2012) set in an alternate world, as well as non-genre items such as the gangster film Hazard (2005) and the sexual drama Love Exposure (2008). The two films that have gained the widest acclaim to date have been Why Don't You Play in Hell? (2013), a side-splittingly gore-drenched comedy about gangsters and filmmakers, and Tokyo Tribe (2014), a near-future film about gangland wars where much of the dialogue is delivered in rap. In genre material, Sono has also made Love and Peace (2015), an awkward romance involving talking animals; the reality blurring Tag (2015); the comedy The Virgin Psychics (2015); The Whispering Star (2015) about an intergalactic delivery android; Tokyo Vampire Hotel (2017), The Forest of Love (2019) and the post-apocalyptic English language Prisoners of the Ghostland (2021).
Exte: Hair Extensions was made at the point when Sono's name was still a growing one and hadn't quite hit the critical heights enjoyed by later works. As such, it feels as though Exte is less a personal project on Sono's part, less imprinted with his distinctive quirks and style – as most of the rest of his subsequent films do – than one in which he was just making a commercial film.
It feels like a stab in the direction of the J-horror film, which was all the rage at the time as a result of international hits such as Ring (1998), Ju-on: The Grudge (2003) and various sequels and imitators to these. If you had to liken Exte to anything in the J-horror fad, you could probably pick something like the equally offbeat Uzumaki (2000). Outside of the outlandish set-pieces with hair taking over people, Exte plays as a fairly straight-forward horror film. Chiaki Kuriyama – the Japanese assassin from the Kill Bill films – is a standard J-horror heroine and there are not the bizarre dashes of black humour or strange characters that feature in most of Sono's other films.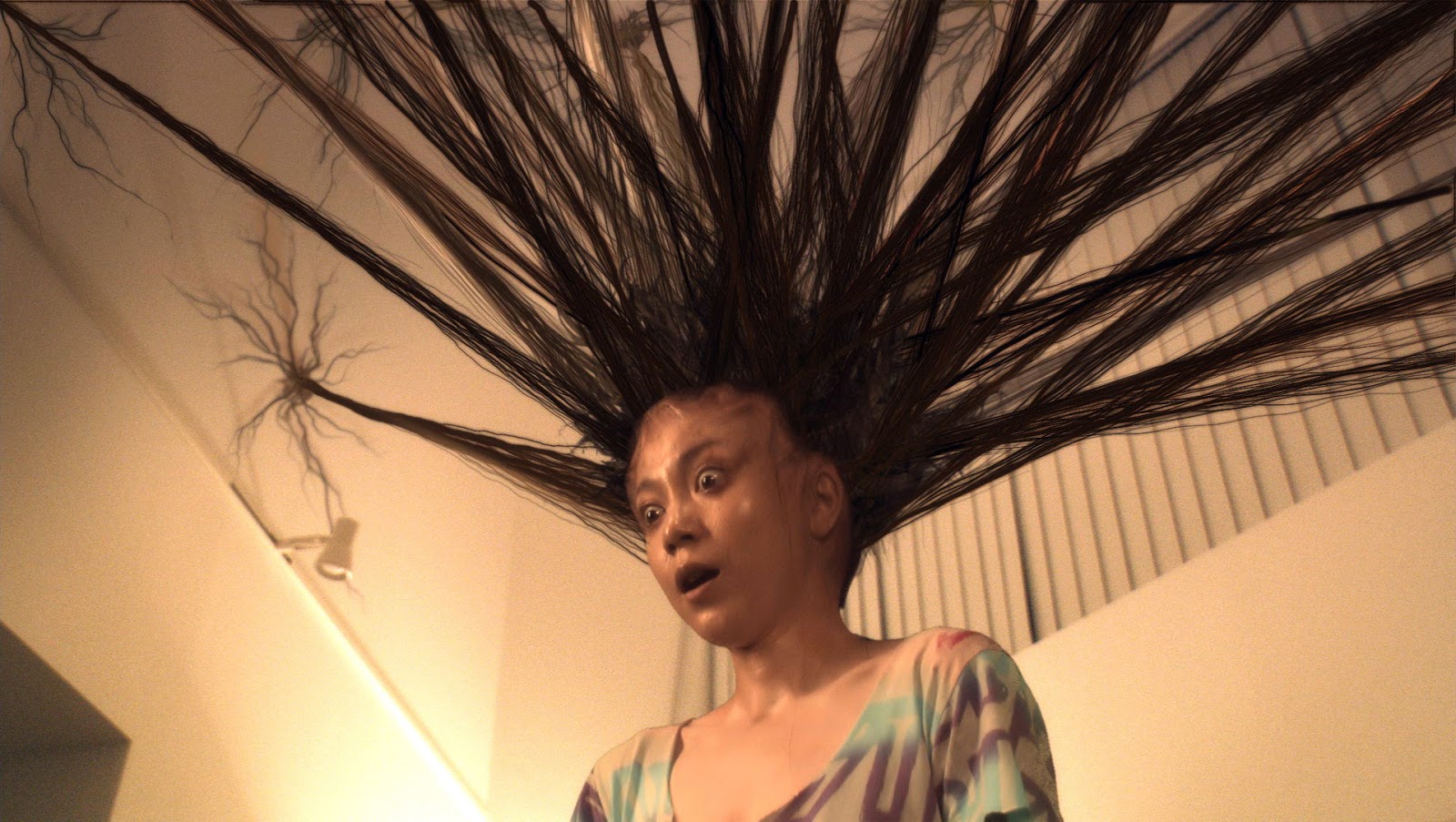 The premise of hair extensions taking over their host feels like a horror version of the Canadian children's film The Peanut Butter Solution (1985) or perhaps even more so a feature-length version of the Hair segment of Body Bags (1993) in which Stacy Keach receives an experimental hair transplant, only to be taken over by hair that will not stop growing. The plot is a fairly ordinary one – the proliferation of a cursed object that infects everybody it comes in contact with, which has been a staple of almost every J-horror film.
Where the film does work are in the bizarre manifestations of the hair extensions. There is the rather icky scene where Chiaki Kuriyama's co-worker Yuna Natsuo pulls a very long hair out of her eyeball that keeps going for at least a metre, and then finds hair growing on her tongue and the inside of her eyeball. This is before the hair explodes from her skull like an insane mohawk and giant spikes of it attach themselves to the roof, lifting her off the ground by the skin of her scalp. There are other outlandish scenes with Miku Sato hiding in a closet as the extensions tear apart the room outside. Or scenes with closets being opened to reveal writhing masses of hair and then an entire apartment exploding with hair.
The effects in these scenes come from Yoshihiro Nishimura, the makeup effects artist who did prominent work for a host of films in the madcap gonzo Japanese splatter cycle and also directed Tokyo Gore Police (2008), Vampire Girl vs Frankenstein Girl (2009) and Mutant Girls Squad (2010). Without these scenes, Exte would be a rather ordinary film but the outlandishness of the effects make the film highly watchable.
---
---