(Chimamire Sukeban Chenso)
---
Crew
Director – Hiroki Yamaguchi, Screenplay – Mitsunori Fukuhara, Based on the Manga by Rei Mikamoto, Producer – Ryo Yukizane, Photography – Tsuyoshi Sone, Music – Masahiko Horikura, Visual Effects Supervisor – Adam Nishida, Makeup Effects – Kazuhide Shimohata, Art Direction – Tadaya Miyashita. Production Company – Vap Inc./Dub Inc.
Cast
Rio Uchida (Giko Nokomura), Mari Yamachi (Nero Aoi), Seira Sato (Sayuri Bakutani), Yuki Tamaki (Hanzo)
---
Plot
As she goes off to her day at Uguisu High School, Giko Nokomura must fight off her fellow students who have been transformed into mutant cyborgs. The one responsible for this is fellow classmate Nero Aoi who is seething with revenge for the humiliations the other students inflicted on her. Giko eliminates her way through the mutant cyborgs with the chainsaw she carries and reaches class to take her test. Her chainsaw is rebuilt with a variety of attachments by Sayuri Bakutani, the sole survivor of the Machine Shop Club. Nero is insistent that she wants a showdown with Giko even though Giko protests that she has no quarrel with her. However, the continued cyborg attacks force Nero to a confrontation with Giko on the school roof.
---
Bloody Chainsaw Girl comes from Hiroki Yamaguchi who has made about a dozen other films, none of which seem that well known. His previous best known film (and the only one that seems to have received an English-subbed release) was Hellevator (2004). Bloody Chainsaw Girl is based on a manga created in 2009 by Rei Makamoto who also created the manga that became the basis of Big Tits Zombie (2010).
Since the late 2000s, Japan has created a genre of ridiculously over-the-top splatter comedies with the likes of Meatball Machine (2005), Attack Girls' Swim Team vs. the Undead (2007), Hard Revenge, Milly (2008), Tokyo Gore Police (2008), Samurai Princess (2009), Vampire Girl vs Frankenstein Girl (2009), Big Tits Zombie, Gothic & Lolita Psycho (2010), Helldriver (2010), Mutant Girls Squad (2010), Zombie Ass: The Toilet of the Dead (2011) and Dead Sushi (2012), which all seem to centre around wilfully ridiculous gore, surreal action/martial arts moves, biomechanoid transformations and a fetishistic obsession with schoolgirls in panties.
The tone of Bloody Chainsaw Girl is set from the opening scene where Rio Uchida wades into action in schoolgirl uniform and chainsaw, chopping the heads and arms off her cyborg attackers. Her principal opponent in the scene is one girl who shoots bullets from her fingertips and then sits down and spreads her legs to fire missiles from her panty-clad crotch, before having to kneel bent over so that her cheerleader acolytes can reload her from behind. Not to mention assorted decapitated cyborgs heads crawling around like something out of The Thing (1982).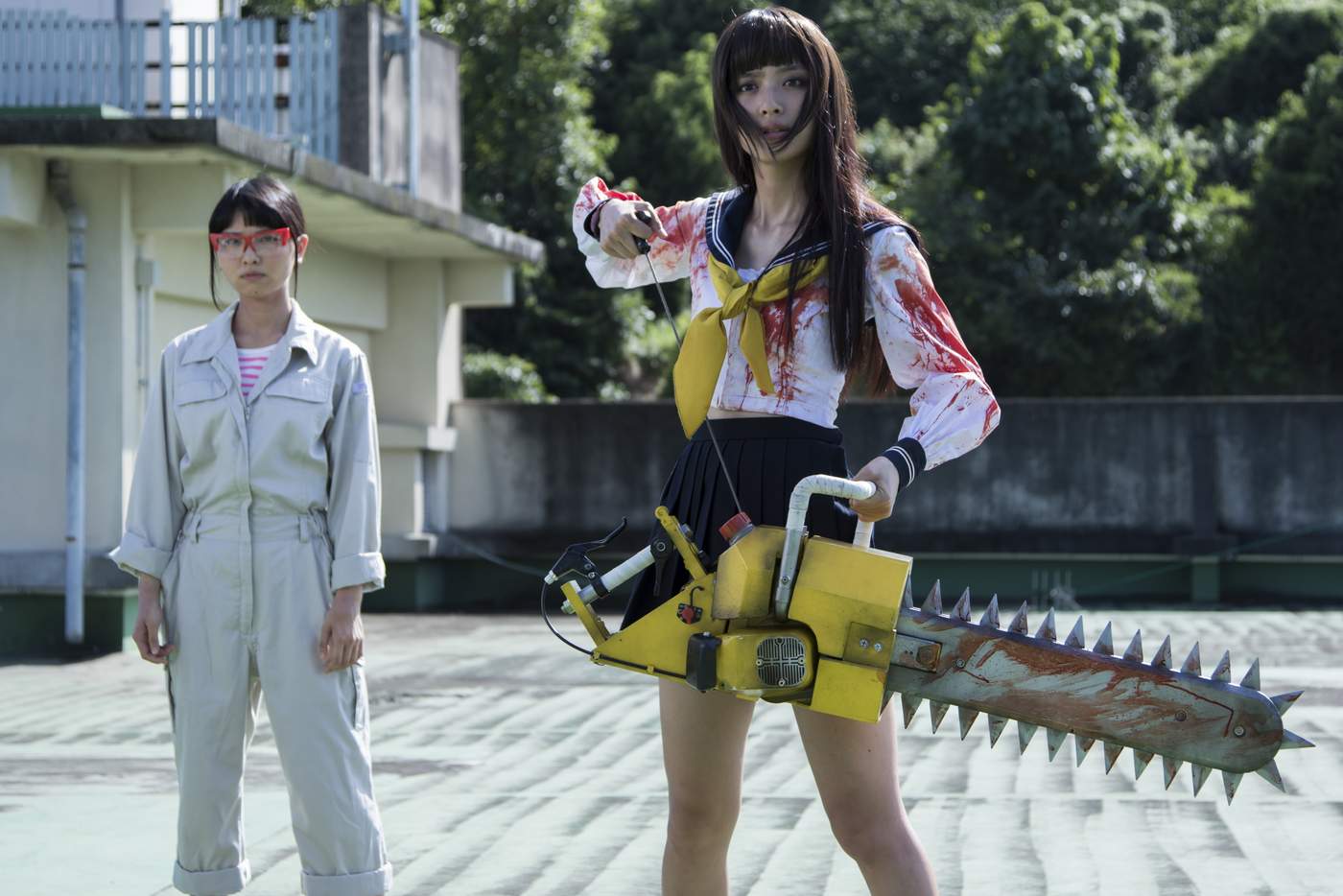 Later Rio Uchida must deal with a cross-dressing cyborg ninja in the hallways of the school, which she fights off with her chainsaw attachments that include guns and slider arms that send the blade across the room like something out of a Warner Brothers cartoon. The climactic scene involves Rio Uchida taking on Mari Yamachi who wields a chainsaw that looks like it was designed by H.R. Giger and writhes with the souls of her victims.
The film has been made on a low-budget and seems to only take place around a disused school. This becomes a wholly surreal environment where it seems natural for Rio Uchida to wear a schoolgirl uniform while wielding a chainsaw or the teacher to hide in a barricaded-up office and fearfully throw Rio's test out through the transom above the door.
It seems equally natural for Mari Yamachi to respond to schoolyard humiliations – fellow pupils having destroyed her uniform and forced her to go to class in her swimsuit – by becoming a super-villain, replete with a secret lair beneath the school where she transforms those who humiliated her into mutant cyborgs.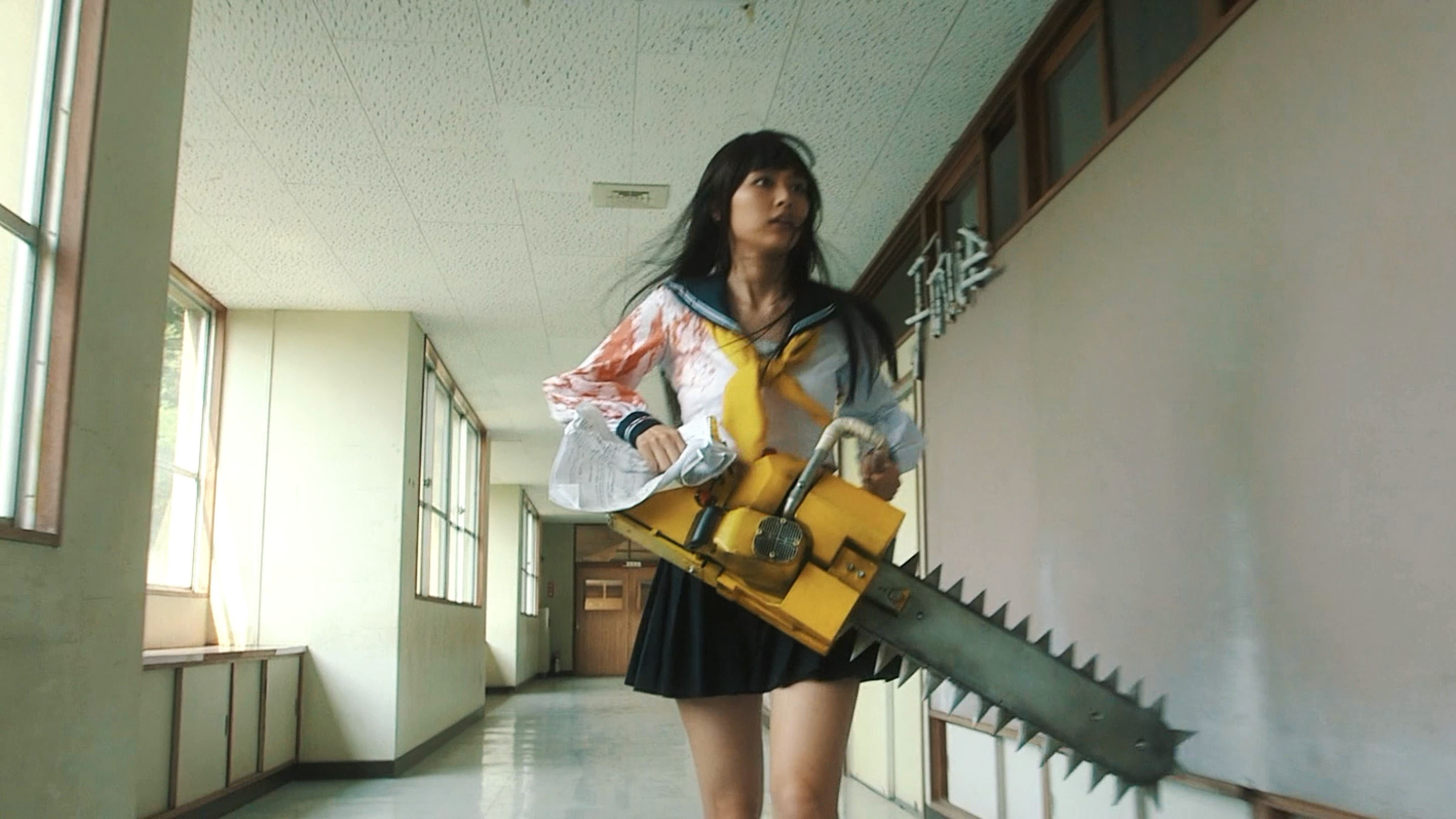 It is really quite a funny film in that it is also wittily deflates the expectations of the genre. At one point, the cross-dressing cyborg ninja's dying regret is that with her dead, the ninja club will no longer have the three members it needs to be registered by the student council.
The funniest scene comes at the climax – throughout Rio Uchida keeps saying she doesn't want to fight Mari Yamachi because she doesn't hate her and we finally find the reason that Mari wants to kill Rio is because Rio was the only person who was nice to her and this upsets her belief that everyone hates her and therefore her reasons for wanting to take revenge against the whole school.
---
---