(Yotsuya Kaidan)
---
Japan. 1959.
Crew
Director – Nobuo Nakagawa, Screenplay – Yoshihiro Ishikawa & Masayoshi Onuki, Based on the Play by Nanboku Tsuruya, Producer – Mitsugu Okura, Photography – Tadashi Nishimoto, Music – Michiaki Watanabe, Production Design – Haruyasu Kurosawa. Production Company – Shinotoho Film Distribution Company.
Cast
Shigeru Amachi (Iemon Tamiya), Katsuko Wakasugi (Oiwa), Shuntaro Emi (Naosuke), Noriko Kitazawa (Osode), Jun Otomo (Takuetsu), Junko Ikeuchi (Oume), Ryuzaburo Nakamura (Yomoshichi)
---
Plot
Iemon Tamiya, a poor samurai without a master, is ridiculed when he ambushes Samon on the road and demands permission to marry his daughter Oiwa. In anger at being rejected, Iemon turns and kills Samon. His associate Naosuke persuades him to cover this up by blaming it on another. The two of them agree to set out with Oiwa and her sister Osode to find the supposed killer. Together they push Yomoshichi, who is engaged to Osode, over a falls so that Naosuke can be with her. Iemon marries Oiwa but their life together is beset by constant poverty. Iemon is then attracted by Oume, the daughter of a wealthy man. Naosuke suggests that he poison Oiwa so that he can be free to marry Oume. They concoct a scheme where Iemon gets the masseur Takuetse to come to Oiwa so he can use the pretext of finding them in adultery to kill them. While Takuetsu is there, the poison affects Oiwa, causing her face to become hideous, and she slashes her throat. Iemon kills Takuetsu and then nails his and Oiwa's bodies to a door and throws it in the swamp. He then goes on to marry Oume. However, on his wedding night, the ghosts of Oiwa and Takuetsu return seeking vengeance.
---
Yotsuya Kaidan (1825), which variously translates as Yotsuya Ghost Story or Ghost Story of Yotsuya, is the most famous Japanese ghost story. Performed as a kabuki play, Yotsuya Kaidan was very loosely based on a real-life story about a samurai who nailed his adulterous wife and lover to a door and threw their bodies in a river. The play enjoyed enormous popularity. Into the 20th Century, it has undergone an enormous number of film adaptations, including the silent Yotsuya Kaidan (1925) and New Version of the Ghost Story of Yotsuya (1928), as well as other lost silent versions in 1918, 1921, 1923 and 1928, and sound versions such as The Yotsuya Phantom (1949), Yotsuya Kaidan (1956), an earlier version from Shintoho, Ghost of Oiwa (1961), Illusion of Blood/The Yotsuya Ghost Story (1965), The Ghost of Oiwa/The Ghost of Yotsuya (1969), a 1981 television adaptation and Crest of Betrayal (1994). Takashi Miike's Over Your Dead Body (2014) is a horror film set backstage of the staging of the play version of Yotsuya Kaidan.
This version is from Shintoho, a Japanese production company of the 1950s who specialised primarily in lurid crime thrillers. There had been a great interest in period ghost stories following the international acclaim of Ugetsu Monogatari (1953) and Shintoho quickly jumped aboard this turning out a series of traditional kaidan eiga (Japanese ghost story films). One of Shintoho's primary directors was Nobuo Nakagawa who made other horror films such as The Vampire Moth (1956), The Ghosts of Kasane Swamp (1957), Black Cat Mansion (1958), M.P. and the Ghost (1958) and Jigoku (1960).
It is interesting seeing Ghost Story of Yotsuya on the big screen (at a retrospective of Shintoho films at Vancouver's Pacific Cinematheque). Alas, what we get is a digital print and one suspects that this is not the best means to watch it, as the digital projection tends to blur the richness of the colours.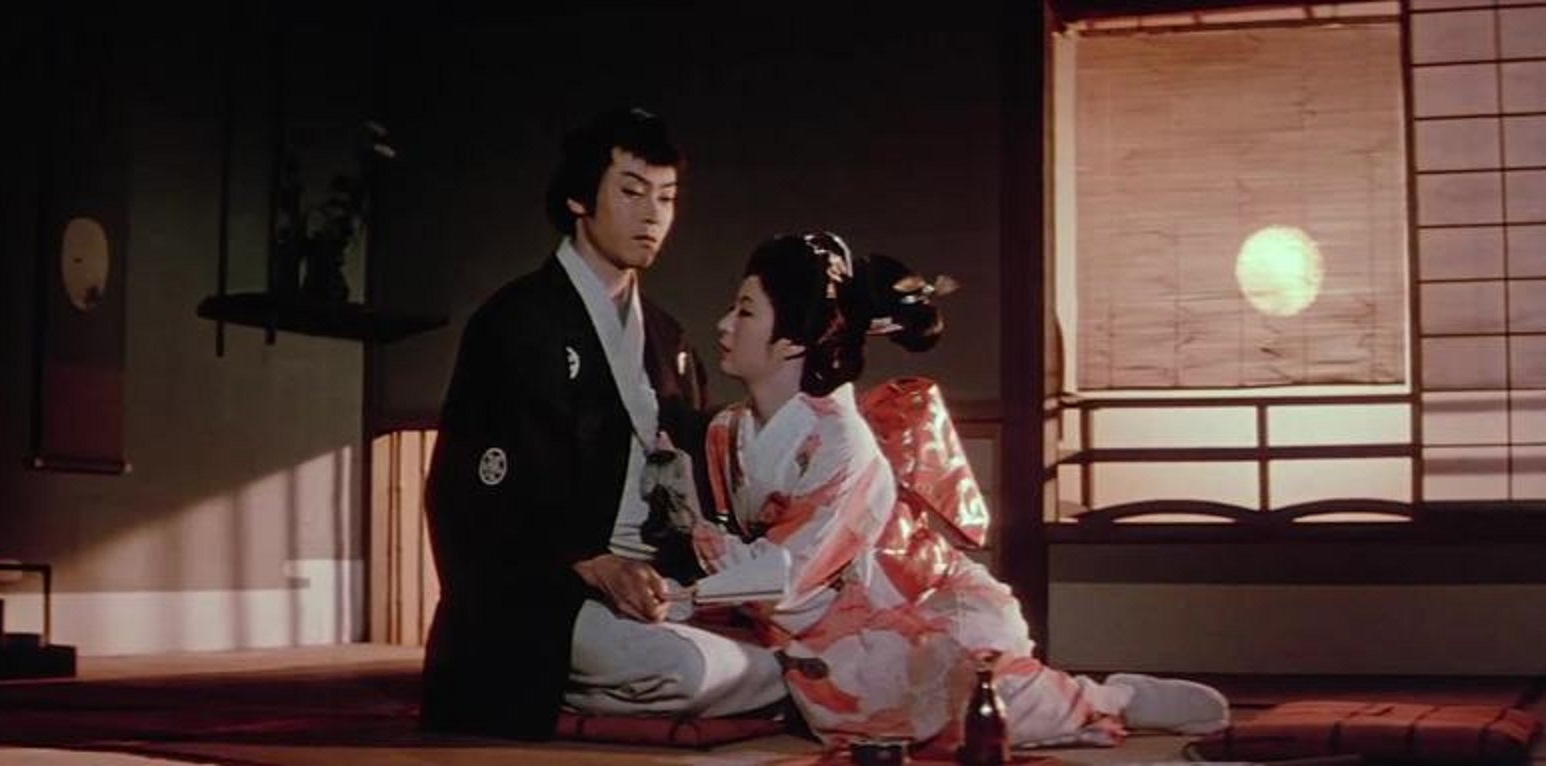 The film also has the problem in that it was originally shot for widescreen in Eastmancolor. You get the impression that Nobuo Nakagawa was not a director who had had much experience with widescreen. It is a film that you expect would get a good deal more effect out of being shot in black-and-white like one of Akira Kurosawa's neo-realist classics from earlier in the decade. The latter scenes are dependent on intimacy and tension, which is not something best suited to widescreen shooting. Although some plot aspects have been dropped, the film keeps closely to the play – you can almost see when the scene changes occur – and Nakagawa's efforts to open the film up and take it outdoors feel awkward. He gives the impression of a director who is far more used to shooting on soundstages – the backgrounds during the journey through the countryside and the venture to the falls feel as though you keep expecting them to be painted cycloramas.
Ghost Story of Yotsuya is very different to the type of kaidan eiga we have come to expect of modern Japanese horror post Ring (1998). The modern Japanese ghost story, in particular works like Ju-on: The Grudge (2003), is dependent on a constant series of eerie intrusions, jumps and pop-up shocks. By contrast, Ghost Story of Yotsuya is based on a play. Plays don't have such an easy opportunity for making audiences jump via editing, lighting schemes and so on that films do and are far more story and actor driven. Thus fully three-quarters of the film here plays out as a mundane historical character drama centred around the samurai, his becoming wound into various murder schemes, before making the decision to kill his wife, and it is only towards the very end that the supernatural element emerges. As a character driven piece, it becomes very much a work of economic horror about how circumstances force a man of honour to extremes.
In these latter scenes, Nobuo Nakagawa, despite being a somewhat pedestrian director, does make the film work. The scenes on the wedding night where the ghosts appear and cause Iemon to eliminate his wife and father-in-law are well achieved. Although the spookiest moments are not in fact the appearances of the ghosts but rather the bared tension of Iemon's complicities and in particular the scenes where Jun Otomo comes to Katsuko Wakasugi and her face becomes disfigured due to the poison. When her mutilated face is finally shown, this holds an undeniable shock. The entire scene works, as does the subsequent supernatural retribution scene, because the film has taken the time to build its story and lead toward the consequences with grim effect.
---
---