---
Crew
Director – Richard Chasen [David DeCoteau], Screenplay – Eric Black, Producer – Kirk Edward Hausen, Photography – Howard Wexler, Visual Effects – David Lange, Makeup Effects – Christopher Bergschneider, Prosthetic/Puppet Effects – Christopher Bergschneider & Jeffrey C. Farley, Production Design – Peggy Paola. Production Company – Full Moon Entertainment.
Cast
Riley Smith (Christopher Sawyer), Debra Mayer (Mrs Bouvier), Chad Burris (Reverend Hollis Carmichael), Kevin Callisher (Billy Parker), Huntley Ritter (Rusty Sankovich), Ben Indra (Mike McCreedy), Drew Fuller (Paul St Clair), Travis Sher (Sam Bolero)
---
Plot
Christopher Sawyer becomes a student at the exclusive Carmichael Bible College whose founder Reverend Hollis Carmichael offers a revolutionary brand of Christianity. However, Christopher soon finds that he and the five other boys have been brought there for a sinister purpose – that Carmichael and the alluring Mrs Bouvier have chosen each of them for their virgin innocence and intend to conduct a ceremony that will turn them into voodoo dolls.
---
Voodoo Academy is one of those films whose badness exerts a peculiar fascination that makes for compulsive viewing. Plan 9 from Outer Space (1959) and all the classically bad 1950s films have the same sort of compulsive watchability. Voodoo Academy comes from Full Moon Productions who are B-budget specialists and have churned out their share of bad films, and from director Richard Chasen (a pseudonym for David DeCoteau) who previously made a whole heap of other trashy films including Creepozoids (1987), Beach Babes from Beyond (1993), Test Tube Teens from the Year 2000 (1994), Frankenstein and the Wolfman Reborn (2000), The Wolves of Wall Street (2002) and Witches of the Caribbean (2005). (See below for a list of David DeCoteau's other genre films).
The basic plot – a group of teenage guys in a college house being used as sacrificial victims in a voodoo ceremony – is not dissimilar to the mediocre Voodoo (1995). The awfulness of the exercise comes in the bizarreness of Voodoo Academy's pretensions. The film gives the impression that it is funded by some Baptist church group. It is set in a Bible college and earnestly debates Christian theology – in between various theological arguments, it discusses whether it is appropriate to use the word 'bullshit' and whether one should drink wine with dinner or not. In an interesting piece of symbolism that is perhaps reflective of the film's Baptist background, when the teens become possessed (after drinking wine – the hero who abstains, of course, survives) they go from being uncorrupted good kids dressed in black suits, white shirts and ties (exactly like Mormons) to, once possessed, dressing casual and cool and appearing to enjoy life.
In outlandish contrast to the Christian elements is the film's bizarre homoerotic undertone. It is as though Richard Chasen/David DeCoteau was more interested in conducting a poster shoot with pretty boy models than directing a film. (The same homoerotic elements appear through most of DeCoteau's other films). All the teenage boys have been chosen for their pretty looks – piercing eyes and blonde hair. None of them are believable teen innocents, none of them are even actors – they seem barely able to keep surly, insolent smirks off their faces throughout. The film is filled with languorous scenes of them lying in bed in dreamy trances, caressing their bared chests.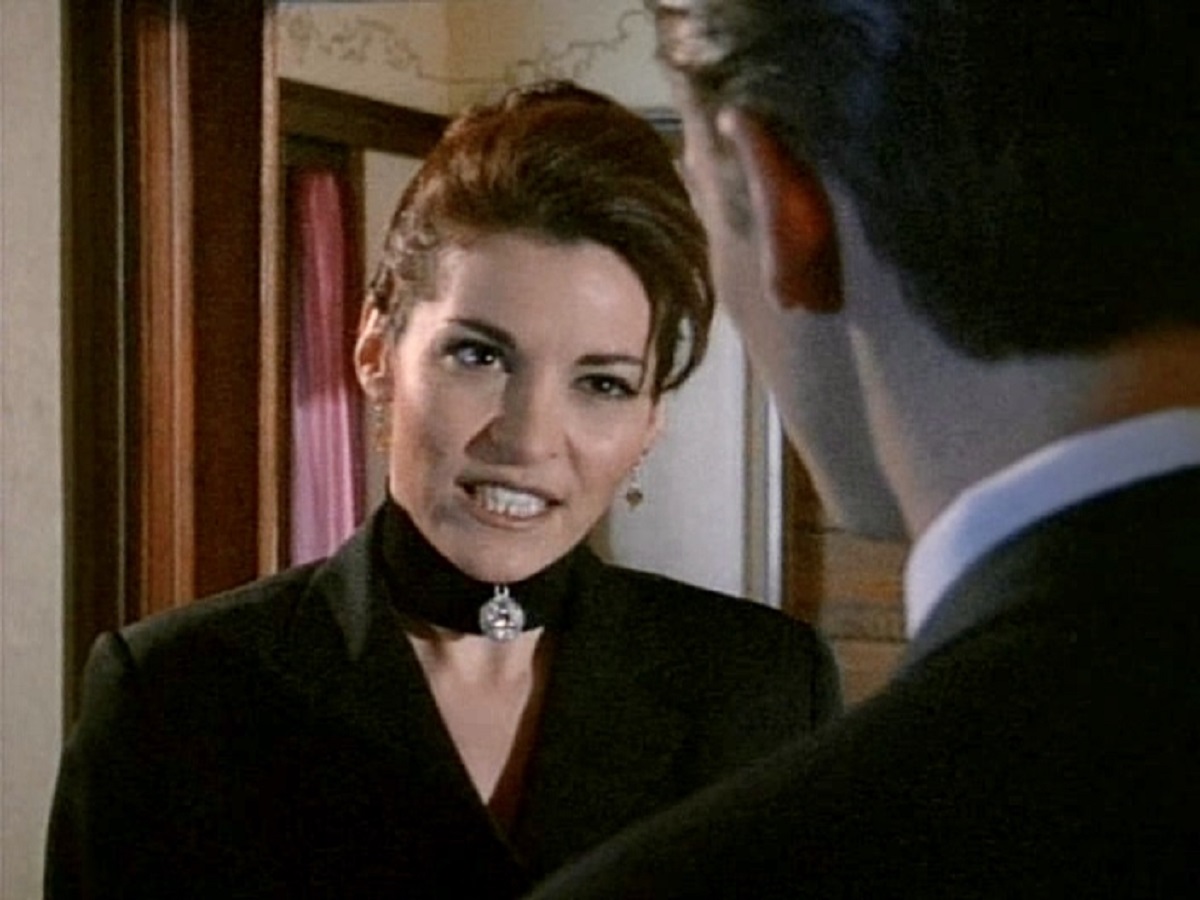 If this bizarre combination of Christian morality and homoerotic subtext didn't make Voodoo Academy fascinating on its own, then the outright laughability of the horror scenes would. There is the hysterical scene where we undergo the voodoo ceremony where the victim is tied up, wine dripped on him and then his head suddenly reappears … attached to the top of a patchwork voodoo doll. Both the effect and the punchline of the build-up is such a flop that one collapses into hysterics.
There is an equally ridiculous moment towards the end where the film's sultry seductress (and sole woman) Debra Mayer is seen strutting around in black lingerie and then suddenly sprouts horns, six-inch long black fingernails and starts talking in a deep voice. The incongruity of the intended effect and thorough banality of the result is utterly hysterical. Appropriately shamed, production company Full Moon have discreetly hidden their involvement until the end credits.
David DeCoteau subsequently made a sequel 2: Voodoo Academy (2012).
David DeCoteau's other films of genre interest are:– Dreamaniac (1986), Nightmare Sisters (1987), Creepozoids (1987), Sorority Babes at the Slimeball Bowl-O-Rama (1987), Dr Alien/I Was a Teenage Sex Maniac (1988), Murder Weapon (1990), Puppetmaster III: Toulon's Revenge (1991), Beach Babes from Beyond (1993), Test Tube Teens from the Year 2000 (1994), Blonde Heaven (1995), Prehysteria! 3 (1995), Beach Babes 2: Cave Girl Island (1996), Bikini Goddesses (1996), Lurid Tales: The Castle Queen (1996), Petticoat Planet (1996), Prey of the Jaguar (1996), The Journey: Absolution (1997), Shrieker (1997), Skeletons (1997), Beach Babes from Beyond 2 (1998), Curse of the Puppet Master (1998), Frankenstein Reborn (1998), The Killer Eye (1998), Talisman (1998), Alien Arsenal (1999), Ancient Evil: Scream of the Mummy (1999), Witchhouse (1999), The Brotherhood (2000), Frankenstein and the Wolfman Reborn (2000), Prison of the Dead (2000), Final Stab/Final Scream/Scream 4 (2001), The Frightening (2001), The Brotherhood 2: Young Warlocks (2001), The Brotherhood 3: Young Demons (2002), The Wolves of Wall Street (2002), Leeches (2003), Speed Demon (2003), Ring of Darkness (2004), The Sisterhood (2004), Brotherhood IV: The Complex (2005), Killer Bash (2005), Witches of the Caribbean (2005), Beastly Boyz (2006), Grizzly Rage (2007), The Raven (2007), House of Usher (2008), Alien Presence (2009), The Brotherhood V: Alumni (2009), The Brotherhood VI: Initiation (2009), Nightfall (2009), The Pit & the Pendulum (2009), Son of a Witch (2009), Stem Cell (2009), 1313: Giant Killer Bees (2010), Puppet Master: Axis of Evil (2010), A Dream Within a Dream (2011), 1313: Haunted Frat (2011), 1313: Actor Slash Model (2011), 1313: Boy Crazies (2011), 1313: Wicked Stepbrother (2011), 1313: Bermuda Triangle (2012), 1313: Bigfoot Island (2012), 1313: Cougar Cult (2012), 1313: Frankenqueen (2012), 1313: Hercules Unbound (2012), 1313: Night of the Widow (2012), 1313: UFO Invasion (2012), A Halloween Puppy (2012), Immortal Kiss: Queen of the Night (2012), Santa's Summer House (2012), Snow White: A Deadly Summer (2012), 2: Voodoo Academy (2012), Hansel & Gretel: Warriors of Witchcraft (2013), My Stepbrother is a Vampire (2013), A Talking Cat (2013), A Talking Pony (2013), 3 Scream Queens (2014), 3 Wicked Witches (2014), 666: Devilish Charm (2014), 666: Kreepy Kerry (2014), 90210 Shark Attack (2014), Bigfoot vs D.B. Cooper (2014), Knock 'Em Dead (2014), Asian Ghost Story (2016), Bloody Blacksmith (2016), Evil Exhumed (2016), Sorority Slaughterhouse (2016), 666: Teen Warlock (2016), The Wrong Child (2016), The Wrong Roommate (2016), Swamp Freak (2017), The Wrong Crush (2017), The Wrong Man (2017), The Wrong Student (2017), The Wrong Cruise (2018), The Wrong Friend (2018) and The Wrong Teacher (2018). DeCoteau has made films under a variety of pseudonyms, including Ellen Cabot, Richard Chasen, Julian Breen and Victoria Sloan.
(Winner in this site's Worst Films of 2000 list).
---
---