---
Crew
Director – Antti J. Jokinen, Screenplay – Antti J. Jokinen & Robert Orr, Producers – Tobin Armbrust, Cary Brokaw, Guy East & Simon Oakes, Photography – Guillermo Navarro, Music – John Ottman, Visual Effects Supervisor – David Stump, Visual Effects – Kroma & Spy. A Fotokem Company (Supervisor – Darren Orr), Special Effects Supervisor – Werner Hahnlein, Prosthetic Makeup – Scott Wheeler & WM Creations, Production Design – Dennis Washington. Production Company – Hammer Films/Constantin Film.
Cast
Hilary Swank (Dr Juliet Devereau), Jeffrey Dean Morgan (Max), Lee Pace (Jack), Christopher Lee (August), Aunjanue Ellis (Sydney)
---
Plot
Juliet Devereau is a busy ER doctor in New York City. Following a relationship break-up, she looks for a new apartment. She finds one with an amazing view being rented very cheaply by the friendly Max and takes it. She and Max become close and she gives him a kiss but later breaks away when they go to make out, unable to get Jack, the guy she has just broken up with, out of her head. What she does not know is that Max has carefully manipulated the situation to get her to move in ever since he saw her by chance at the hospital. Max secretly observes her through peepholes and sneaks in through hidden doorways to drug and then molest her while she sleeps. As she starts to reconcile with Jack, Max's attentions become more obsessive and dangerous.
---
The Resident was the second film from the revived Hammer Films. Hammer suddenly reappeared in 2008 with the web-released serial Beyond the Rave (2008) and a full theatrical release with Let Me In (2010), which attained some great reviews if not exactly box-office. This was followed by Wake Wood (2011), The Woman in Black (2012), The Quiet Ones (2014) and The Lodge (2019). Those of us who enjoyed classic greats like The Curse of Frankenstein (1957), Dracula/The Horror of Dracula (1958) and the Hammer legacy between the 1950s and 70s quietly observed that it was not the real Hammer. None of the principal talents from the Hammer heyday were involved any more (not that many still being alive) and Hammer Films was no more than a brand name that had been purchased by a Dutch producer and used as a banner to make modern horror films.
There is precious little to The Resident that resembles a classical Hammer Film. While Hammer Films made a virtue of their Britishness and English locations, The Resident is located in New York City and is cast with American actors. Moreover, the director was someone new to the horror genre with the Finnish Antti J. Jokinen who made his feature film debut here after coming from the MTV training ground where he made music clips for artists like Kelly Clarkson, Celine Dion, Will Smith, Shania Twain and Westlife.
The only name behind the camera to have worked in the horror genre before is executive producer and fellow Finn Renny Harlin, known for loud and noisy action fare such as Die Hard 2 (1990), Cliffhanger (1993), CutThroat Island (1995) and The Long Kiss Goodnight (1996). Harlin's ventures into the horror genre has been universally ridiculed works like Deep Blue Sea (1999), Exorcist: The Beginning (2004), Mindhunters (2004), The Covenant (2006) and The Legend of Hercules (2014) or the earlier B-budget likes of Prison (1987) and A Nightmare on Elm Street Part IV: The Dream Master (1988). Most of these have a loud and noisy lack of subtlety to them that are at completely opposite remove from the closeted Victorian repressions and subtle atmosphere that was the Hammer staple.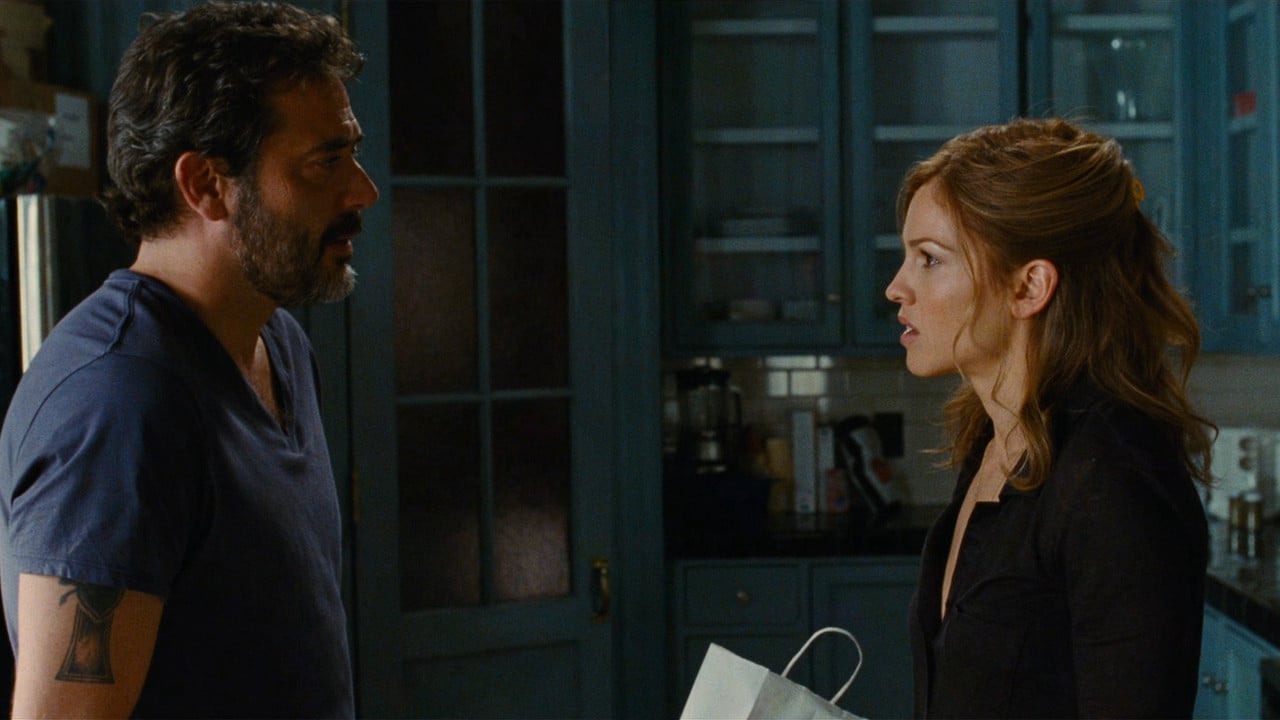 In its favour, The Resident could easily have been one of the Hammer psycho-thrillers from the 1960s such as A Taste of Fear (1961), Maniac (1963), Nightmare (1964), Paranoiac (1963), Hysteria (1964), The Fanatic/Die Die My Darling (1965), The Nanny (1965), Crescendo (1970) and Fear in the Night (1972), all of which abandoned Hammer's usual Victorian era for contemporary surroundings and psychological menaces. The Resident does make somewhat of a move towards classic Hammer in that it brings back Christopher Lee, one of the lynchpins of Hammer's success who gained the fame he founded his career on as their Count Dracula. That said, the 89-year-old Christopher Lee is looking old and a long way from the days when he imprinted his darkly magnetic intensity across every second Hammer film (and in so doing became a sex symbol). The film makes disappointingly little use of him, bumping him off before he gets to do anything.
The Resident received mixed reviews. (Maybe people were mistaking it for another entry in the increasingly tiresome Resident Evil series). It starts slowly and one expects nothing special of it as we are introduced to Hilary Swank, as she moves into her apartment, befriends bearish Jeffrey Dean Morgan who seems to spend much of this half of the film in Nice Guy mode beaming from ear to ear. There are noises and movements in the walls of the apartment that suggest that The Resident is going to be no more than a blandly middle-of-the-road ghost story, albeit a nicely photographed one. Here everything seems to be shaping up to fall into an eminently predictable pattern.
However, this proves to be anything but the case. After about 30 minutes, just as Hilary Swank and Jeffrey Dean Morgan start making out, Antti J. Jokinen turns everything on its head and replays the film to show an alternate version of the events so far where everything from Hilary Swank's finding the apartment and bumping into Jeffrey Dean Morgan at the party is revealed to have been staged by him. Thereafter there is a considerable creepiness to the film – the way that he keeps observing her through peepholes or sneaking into the apartment through secret doors; of him coming in while she is away and using her electric toothbrush, jerking off where she has lain in the bath, cuddling her negligee on the bed. Things become decidedly disturbed as we watch him sneaking into her bedroom while she sleeps, brushing his hands along her body and almost touching her, hiding underneath the bed, licking her fingers and then sinisterly injecting a drug into her bottle of wine.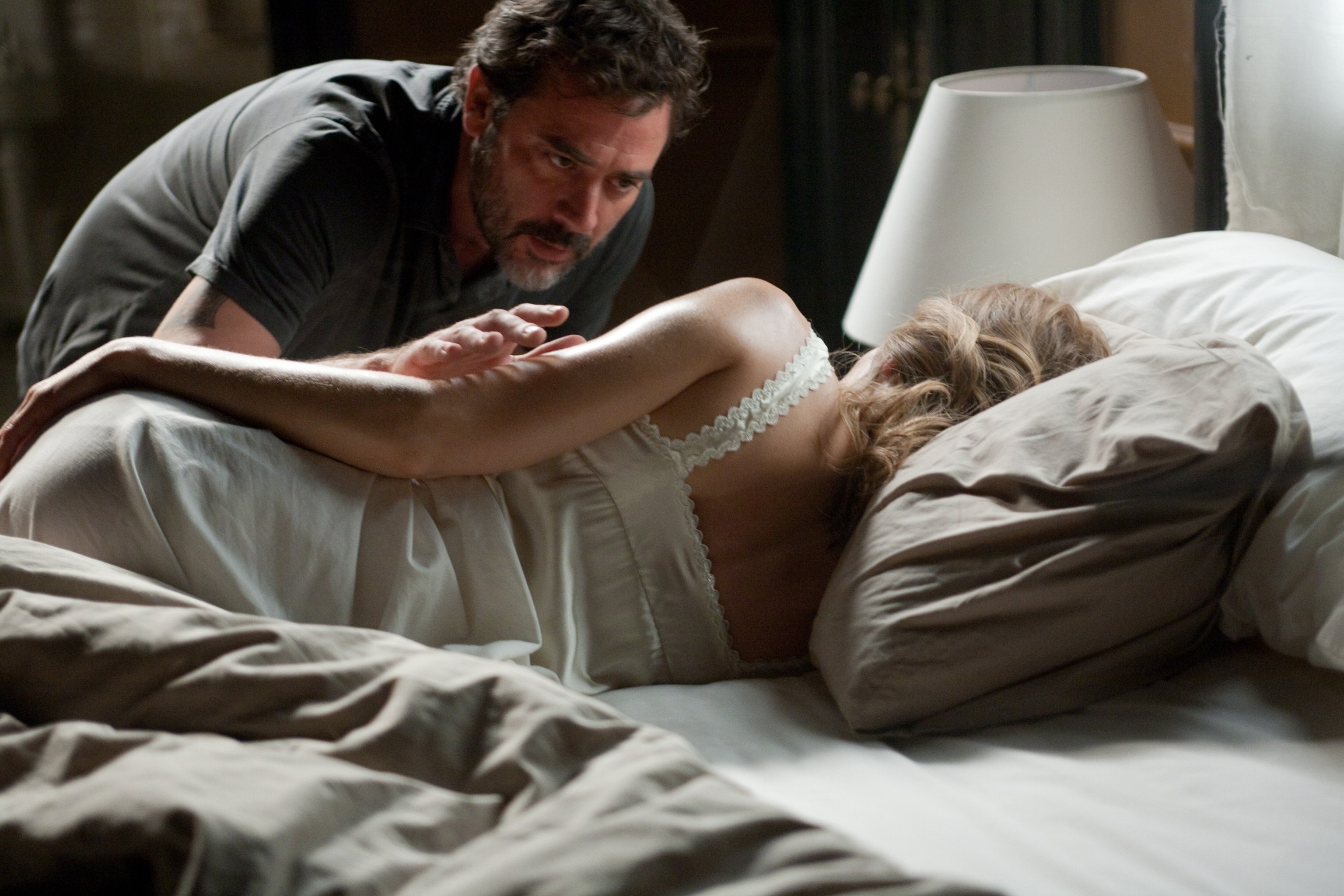 The film starts to get into an area of edgy suspense when Hilary Swank puts security cameras in the apartment and we wonder what is going to happen next, before the jolt scene when Jeffrey Dean Morgan starts undressing her and she wakes up in the midst of it. The film becomes less interesting during the climactic scenes with Hilary Swank defending herself against him, which are all played standard for the genre, involving him making cliched multiple returns from the dead after seemingly being stabbed.
I have never hugely warmed to Hilary Swank as an actress. She stood up and made everybody pay attention with Boys Don't Cry (1999) and was not too bad in Million Dollar Baby (2004) but elsewhere her choice in material leaves much to be desired – see genre outings such as The Core (2003) and The Reaping (2007), even if one wants to embarrass her, Sometimes They Come Back … Again (1995). She seems less like a great actress than a teenage girl who is trying to play grown-up and slot into what she believes are serious roles, where her choices in parts seem less like ones that come with a genuine passion for the craft than ones other people have suggested it was a good idea for her to do. Her list of credits resemble something like a string of films that people had elevated impressions that they were going to be class productions – The Affair of the Necklace (2001), Freedom Writers (2007), P.S. I Love You (2007), Birds of America (2008). Here she passes through a role that could fairly much have been cast with any actress. Jeffrey Dean Morgan acquits himself well.
(Nominee for Best Cinematography at this site's Best of 2011 Awards).
---
---