---
USA. 1956.
Crew
Director – Fred F. Sears, Screenplay – James B. Gordon & Robert E. Kent, Producer – Sam Katzman, Photography (b&w) – Edward Linden, Music – Mischa Bakaleinikoff, Art Direction – Paul Palmentola. Production Company – Clover/Columbia.
Cast
Don Megowan (Sheriff Jack Haines), Steven Ritch (Duncan Marsh), Joyce Holden (Amy Standish), George Lynn (Dr Morgan Chambers), S. John Launer (Dr Emery Forrest), Eleanore Tanin (Helen Marsh), Ken Christy (Dr Jonas Gilchrist), Harry Lauter (Clovey), Kim Charney (Chris Marsh)
---
Plot
In the small town of Mountaincrest, a manhunt is mounted by the police after a man suffering from amnesia attacks another man in the street. The police are not sure if they are hunting a man or a wild animal. As the manhunt continues, two scientists arrive, trying to hide the fact that they injected a man who had been rendered amnesiac after a car crash with irradiated wolf's blood, which has caused him to become a werewolf.
---
The Werewolf is a modestly interesting little film. It comes from Sam Katzman who produced a number of low-budget monster movies in the 1940s, and directed by Fred F. Sears, a director of some thirty Westerns and the science-fiction films Earth Vs.the Flying Saucers (1956), a classic of the alien invader genre, The Giant Claw (1957) and The Night the World Exploded (1957).
The film has an unusual location – of a small wintertime Montana mountain location (although it has in fact been shot around the California resort town of Big Bear Lake). This is unique alone due to the fact that the film has taken the werewolf genre out of doors. Previous werewolf films – WereWolf of London (1935) and The Wolf Man (1941) – had been set out of doors but the outdoors were represented by studio sets. This takes place all in natural locations where the wintry white-on-white snow landscapes add a definite ambiance to the film, especially under the b/w photography.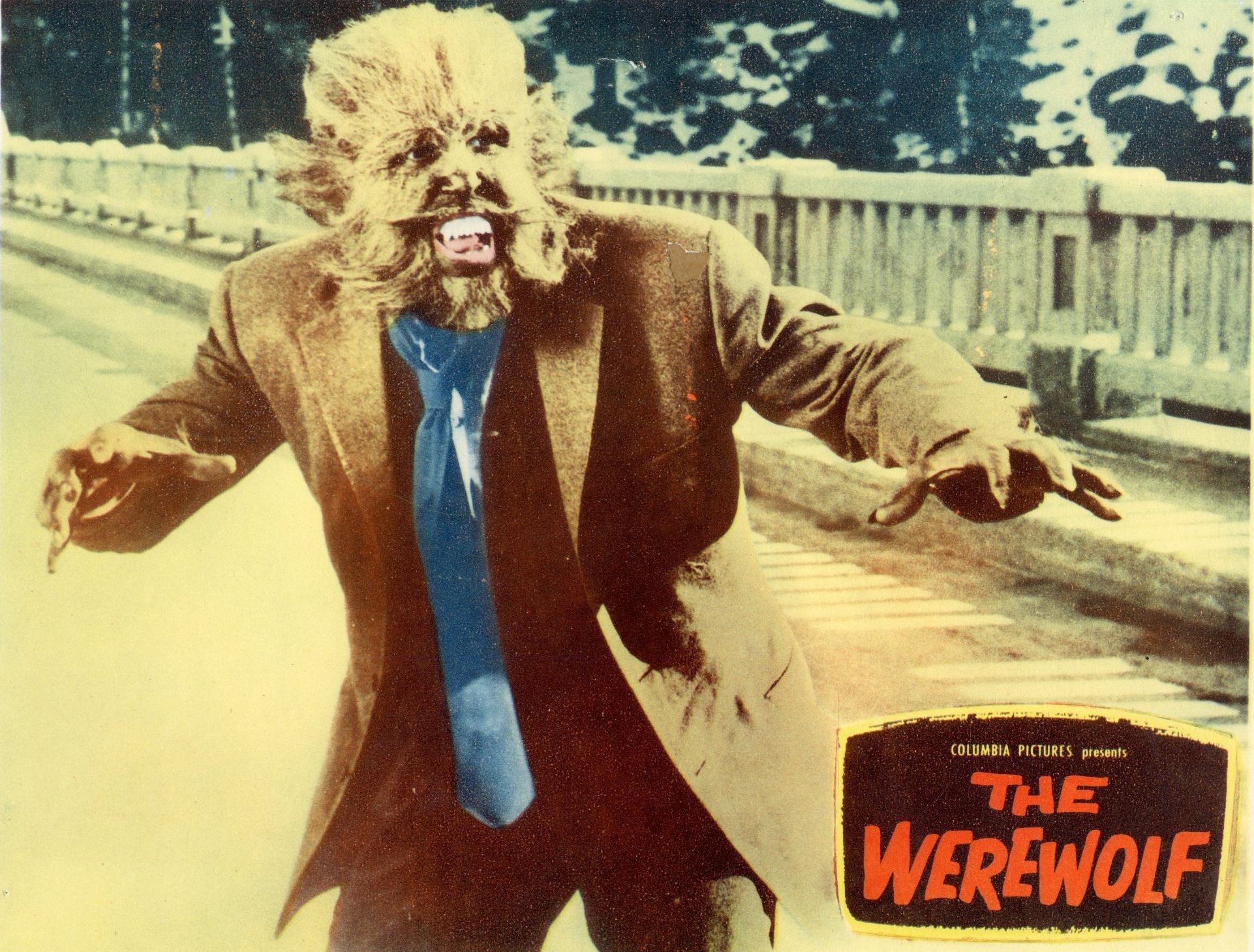 There is an attention-arresting opening with a man who has no memory of his identity turning up in a small town, attacking a redneck local that he walks home with in an alley, followed by a police manhunt where the footmarks have the hunters uncertain if they are tracking man or beast. The rest of the story is more pedestrian by comparison. Perhaps if the film had had a better director – maybe a contemporary such as Jack Arnold – it could have been a minor classic.
The Werewolf was also made at a time when werewolf films were dying out (although they were briefly redefined by I Was a Teenage Werewolf (1957) a year later). The most famous of wolf men, Lon Chaney Jr's Larry Talbot in The Wolf Man, had become a staple figure in Universal's Famous Monsters line-up in the 1940s, which had quickly reduced the character to a cardboard threat.
In the 1950s, the pantheon of Universal monster movies and poverty row mad scientists were becoming replaced by alien invaders and atomic monsters. The Werewolf seems an odd hybrid of both eras. It is the bizarre oddity of a werewolf film trying to be an atomic monster movie with some hokey nonsense trying explain it involving injections of irradiated wolf's blood. At the same time, this also makes it fall into the mad scientist genre, a genre that had become relatively outmoded by the 1950s. It is a film that seems rather unwieldily caught between the passing of one form of horror and the emergence of the new.
---
Trailer here
---