aka Night Shadows
USA. 1984.
Crew
Director – John "Bud" Cardos, Screenplay – Michael Jones, John C. Kruize & Peter Z. Orton, Story – Michael Jones & John C. Kruize, Producer – Igo Kantor, Photography – Al Taylor, Music – Richard Band, Special Effects – Paul Stewart, Prosthetics – Dave Miller, Art Direction – Tony Kupersmith. Production Company – Laurelwood Productions, Inc.
Cast
Wings Hauser (Josh Cameron), Bo Hopkins (Sheriff Will Stewart), Jody Medford (Holly Pierce), Lee Montgomery (Mike Cameron), Jennifer Warren (Dr Myra Tate), Marc Clement (Albert), Mary Nell Santacroce (Mrs Mapes), Cary Guffey (Billy), Stuart Culpepper (Mel)
---
Plot
Josh Cameron and his younger brother Mike decide to get away from it all with a drive through the countryside. However, their car is run off the road by rednecks and they are forced to hike into the nearby town of Goodland. Mike discovers a dead body in an alleyway but this is gone when they return with the sheriff. They spend the night at a boarding house only for something to snatch Mike from underneath his bed. The next day, Josh goes searching for Mike. He and others realise that something strange is happening around the town. They discover that toxic waste dumped nearby by the New Era Corporation is infecting the bloodstream of locals and turning them into zombies driven by a need to devour blood.
---
John 'Bud' Cardos is one of the forgotten genre directors of the 1970s and 80s. A former Al Adamson associate, Cardos began directing with the Blaxploitation Western The Red, The White and the Black (1970). Cardos found his stride a couple of films later with the modest hit of Kingdom of the Spiders (1977) and went onto a handful of other genre films including The Dark (1979), The Day Time Ended (1980) and Outlaw of Gor (1989), as well several non-genre items, but appears to have faded away altogether by the 1990s. Certainly on the basis of works like Kingdom of the Spiders and Mutant, Cardos should have become more well known than he is.
Mutant/Night Shadows is a film with a small reputation, although it has not been widely seen. Part of the problem was Edward L. Montoro, an exploitation producer who ran Film Ventures International. Montoro had made a number of films including Grizzly (1976), Day of the Animals (1977), Don't Go in the House (1979) and the US versions of several Italian films such as Beyond the Door (1974), Anthropophagus (1980) and Shark (1982). At the time Mutant came out, Montoro was caught up in a host of lawsuits and a divorce settlement, which would have entitled his wife to half the ownership of Film Ventures, whereupon he vanished with several million dollars of profit. Intriguingly, he has never been heard from since, believed to have fled to South America.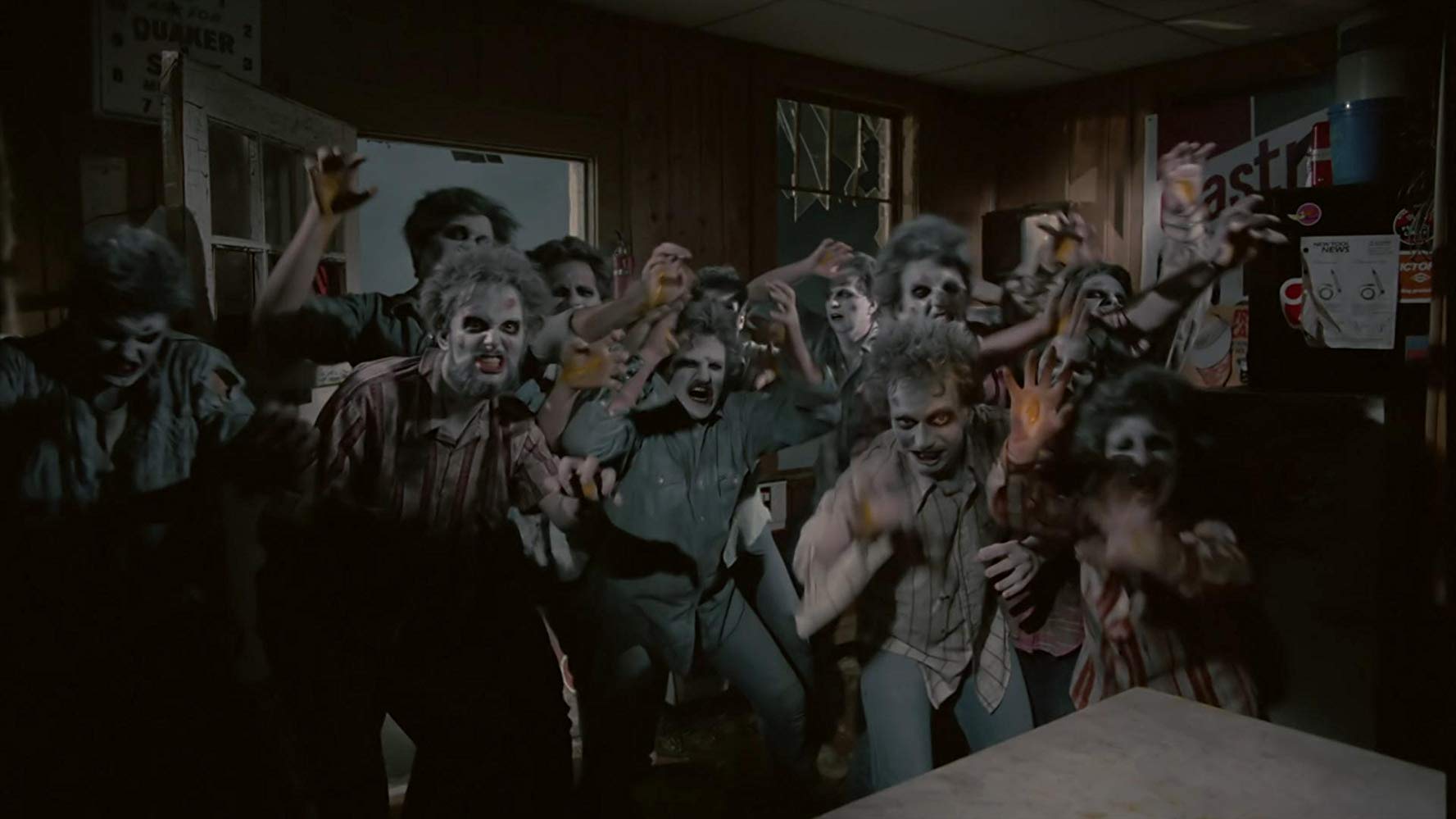 Mutant is an interesting and worthwhile genre item, even if it is not fully successful at what it does. John 'Bud' Cardos creates an effective atmosphere of Southern smalltown bigotry bristling at the intrusion of outsiders – the film's redneck tensions and prejudice that stand only a few steps up the civilised ladder from Deliverance (1972). Cardos generates some out of the blue scares – particularly good is one scene where Lee Montgomery settles into his room at the boarding house for the night, hears scraping noises and looks under the bed to see what is there, only to be grabbed and dragged under by something unseen.
The film works particularly well in its build-up with the mix that Cardos creates of redneck tensions, the mystery about what is happening and constant strangeness of things in the town. In fact, it is not until the 57-minute mark that we actually see any zombies at all. Clearly, the film has been inspired by and intended to play into the 1980s fad for zombie movies that came out after the success of Dawn of the Dead (1978). When it eventually arrives at such, Mutant throws nothing of any particular originality or distinction into the pot. The gore effects expected of the genre have been tamed way down. The zombies are run of the mill – certainly their emergence is nowhere as interesting as the build-up that Cardos generates. (Part of the problem with this is that the film has a script that started out as a plague outbreak drama that was retooled to turn into a toxic waste zombie film). The film arrives at an okay apocalyptic eruption around the town with Wings Hauser locked into a cellar with Mary Nell Santacroce's zombie daughter, Jody Medford surrounded in a car, she venturing into the school to rescue Cary Guffey, and her and Wings Hauser running through the streets.
The film is also well served by an interesting cast. Having known Wings Hauser for the numerous bad guy and psycho roles he played throughout the 1980s and 90s, it is unusual seeing him here, much younger and playing the heroic lead. Bo Hopkins does well, giving a wry flinty performance as the sheriff – the sort of role that Wings Hauser would specialise in himself a few years later. As the kid brother who disappears early in the show, is Lee [Harcourt] Montgomery who had a minor genre career as a child actor in films like Ben (1972), Burnt Offerings (1976) and Dead of Night (1977), and by this time is all grown up and making for an incredibly handsome lead. Unfortunately for Montgomery, he disappeared from acting not longer after Mutant was released and these days apparently works as a musician. Another child actor of interest is Cary Guffey who played the abducted kid in Steven Spielberg's Close Encounters of the Third Kind (1977), did less than half-a-dozen roles and likewise has never been heard from again.
---
Trailer here
---