---
Crew
Director/Screenplay – Lowell Dean, Producers – Bernie Hernado, Deborah Marks, Danielle Masters & Hugh Patterson, Photography – Peter Laroque, Music – Shooting Guns, Visual Effects – Invisible Pictures (Supervisor – Neil Williamson), Special Effects Supervisor – Casey Markus, Makeup Effects Design – Emersen Ziffle, Production Design – Justin Ludwig. Production Company – Vortex Words + Pictures/Echolands Creative.
Cast
Leo Fafard (Sergeant Lou Garou), Amy Matysio (Sergeant Tina Wash), Sarah Lind (Jessica), Jonathan Cherry (Willie Higgins), Aidan Devine (Chief), Corinne Conley (Mayor Bradley), Jesse Moss (Gang Leader), James Whittingham (Coroner)
---
Plot
Lou Garou is a deputy on the police force in the tiny Canadian town of Woodhaven and has a drinking problem. Sent into the woods to investigate happenings there, he is attacked by hooded figures. He comes around at home in bed his memory a blank as to what happened but now finds that he has heightened senses. He tries to deal with things as he starts turning into a werewolf. He is able to harness his werewolf abilities towards a newfound dedication to policing duties. He then finds that his transformation is tied to a series of ritual killings that have been occurring in the town for several decades.
---
WolfCop was the second film from Canadian director Lowell Dean. Dean had previously made a segment of the multi-director anthology I Heart Regina (2010) and then the zombie film 13 Eerie (2013). Dean shot WolfCop on a low budget in Regina, Saskatchewan. However, the film gained enough reputation that it was given a Canadian-wide theatrical release and played at various international festivals.
WolfCop immediately has the feel of lost 1980s/early 90s direct-to-video film. This was the period, directly after the huge hit of Lethal Weapon (1987), where the buddy cop film was delving into genre material and experimenting with all manner of wacky combinations such as a cop and alien partner in the film Alien Nation (1988), a zombie cop in Dead Heat (1988), a vampire cop in Vampire Cop (1990) and the tv series Forever Knight (1992-6), even the bizarreness of a cop with a gnome partner in Upworld/A Gnome Named Gnorm (1991) and a cop and dinosaur partner in Theodore Rex (1995). The retro feel is enhanced to by the film's determined reliance on physical makeup effects rather than CGI to represent the wolf transformation. Not to mention the inclusion of gratuitously cheesy sex scenes.
Added to this, WolfCop hits in with a modern sense of sarcastic humour. It comes from the same place that many of the entries in the zombie genre in particular have been in recent years – you maybe even wonder if it is going to hit the sarcastic heights of exploitation homage that the also Canadian-made Hobo with a Shotgun (2011) did. The opening scenes where we are introduced to the lazily drunken Leo Fafard seem to hit in with something of this.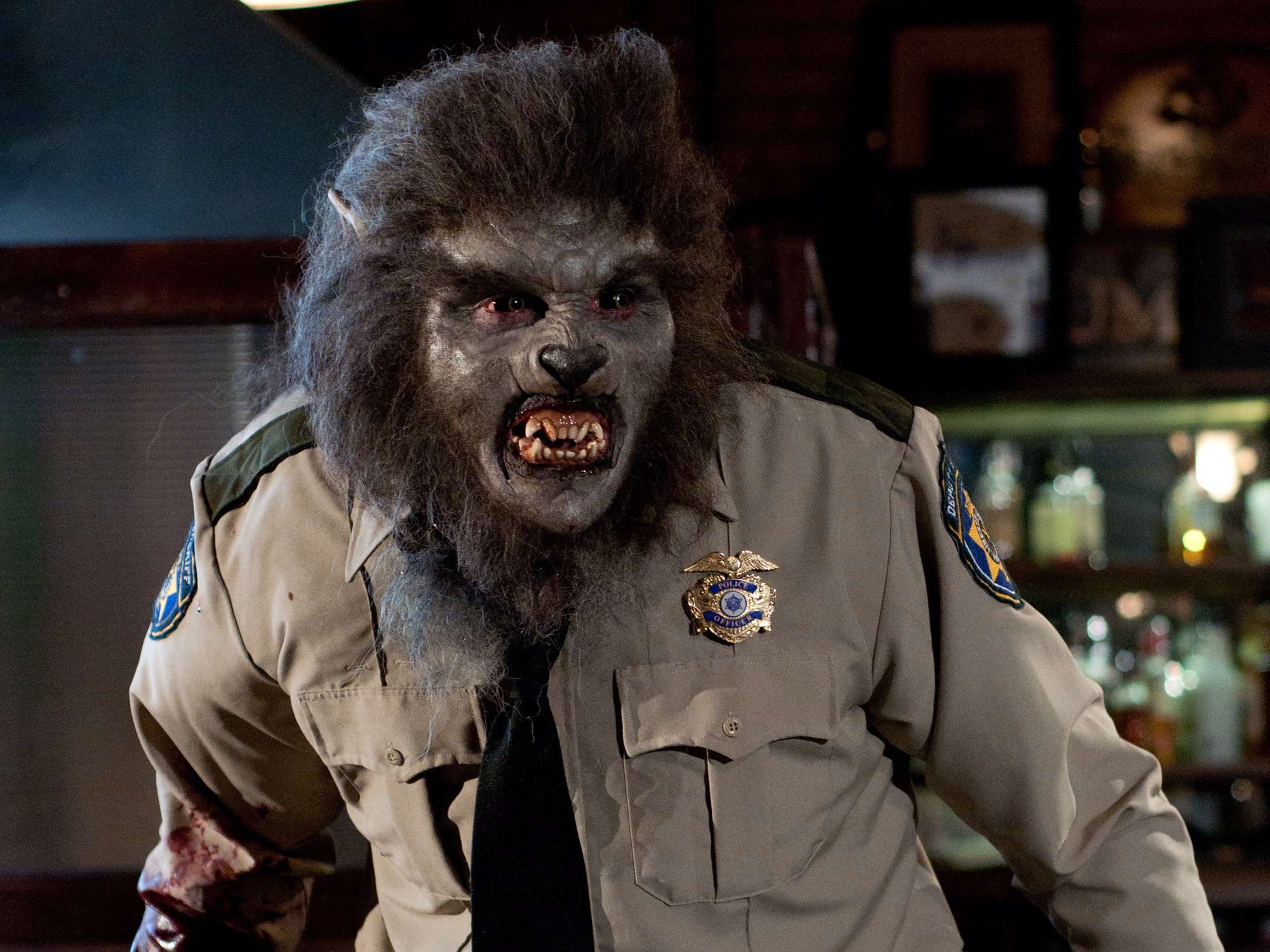 About the point where Lou Fafard undergoes his werewolf transformation while pissing in a men's room urinal – spoofing the air-bladder transformations we saw in the likes of The Howling (1980) and An American Werewolf in London (1981), the transformation begins with his dick – we get the impression that we are in for a sarcastic take on the werewolf film. The film gets rather funny during some of the scenes with the WolfCop in action as a police officer, even customising a police car to his needs. The film's most amusing scene though is the werewolf-human sex scene, which takes place inside a jail cell.
On the other hand, WolfCop is never quite as funny as it lets you think it is going to be. Aside from the aforementioned transformation scene and some of the scenes with the WolfCop in action, you keep waiting for the film to hit the comedic or satiric heights it suggests it is going to. In particular, the third act starts to fall apart where the plotting that involves Leo Fafard up against a bunch of the townspeople who are revealed to be a centuries old coven (possibly even evil creatures of some type) who have (in a poorly explained plot development) engineered his transformation because his werewolf blood is required for some obscure ritual purpose becomes absurdly silly and thinly rationalised. Moreover, the extended scenes that involve various of the coven shapechanging into different townspeople becomes confusing and increasingly hard to keep track in terms of which townsperson is real and which is a disguise. I would much rather have seen more of the WolfCop in action as that is where the heart of the film's good idea lies.
Lowell Dean and the principal cast returned with a sequel Another WolfCop (2017). Dean subsequently went on to make the SF film Supergrid (2018).
---
---