---
Crew
Director – Stuart Walker, Screenplay – John Colton, Story – Robert Harris, Photography (b&w) – Charles Stumar, Music – Karl Hajos, Music Supervisor – Gilbert Kurland, Special Effects – John P. Fulton, Art Direction – Albert S. D'Agostino. Production Company – Universal.
Cast
Henry Hull (Dr Wilfred Glendon), Warner Oland (Dr Yogami), Valerie Hobson (Lisa Glendon), Lester Matthews (Paul Ames), Zeffie Tilbury (Mrs Moncaster), Ethel Griffies (Mrs Whack), J.M. Kerrigan (Hawkins), Lawrence Grant (Sir Thomas Forsythe), Spring Byinton (Ettie Coombes), Charlotte Granville (Lady Forsythe)
---
Plot
Botanist Dr Wilfred Glendon goes on an expedition into the Himalayas in search of the marifisa lupina lumina, a rare orchid that only blooms by moonlight. He finds the marifisa in a remote valley but is attacked and his arm gored by a wolf creature. Back in England, he meets Dr Yogami who implores him to give him the marifisa clipping, the only known cure for lycanthropy. As the moon rises, Glendon finds himself turning into a werewolf creature, rampaging through the streets of London and driven to attack people.
---
WereWolf of London was one of the films to emerge from Universal during the classic era of horror movies between 1931-9. Oddly, when it comes to what people consider the classic horror films of that era – films like Dracula (1931), Frankenstein (1931), Dr Jekyll and Mr Hyde (1931), The Mummy (1932), The Old Dark House (1932), Doctor X (1932), The Invisible Man (1933), Bride of Frankenstein (1935), Mad Love (1935) and Mark of the Vampire (1935) – WereWolf of London is rarely a title that gets mentioned. At most, its footnote is that it was the first Hollywood film to deal with Werewolves. People instead regard the Lon Chaney Jr The Wolf Man (1941) as the definitive werewolf film of the Golden Age, even if it is probably a lesser film.
Why does WereWolf of London lack any such stature? It is hard to guess. Possibly it is something as simple as the fact that it never stars any names like Boris Karloff or Bela Lugosi and as a result was never hoisted up there along with the other entries in the pantheon of Famous Monsters of Filmland (1958-82) sycophancy. It also could be that the film's werewolf is a relatively unthreatening character. He seems too civilised and never particularly bestial. (Part of this is due to Universal who requested that the wolf makeup be toned down so as to make the werewolf not too frightening a creature for audiences).
On the plus side, WereWolf of London is not that bad a film. Like The Wolf Man, it locates the werewolf story in England (or at least a Hollywood soundstage version of England). Unlike The Wolf Man, it is clearly made by a Brit or someone who has spent time living in the UK – there is some amusing parody of upper-class society types and some especially funny moments with two drunken landladies, who seem like characters taken straight out of James Whale's The Invisible Man.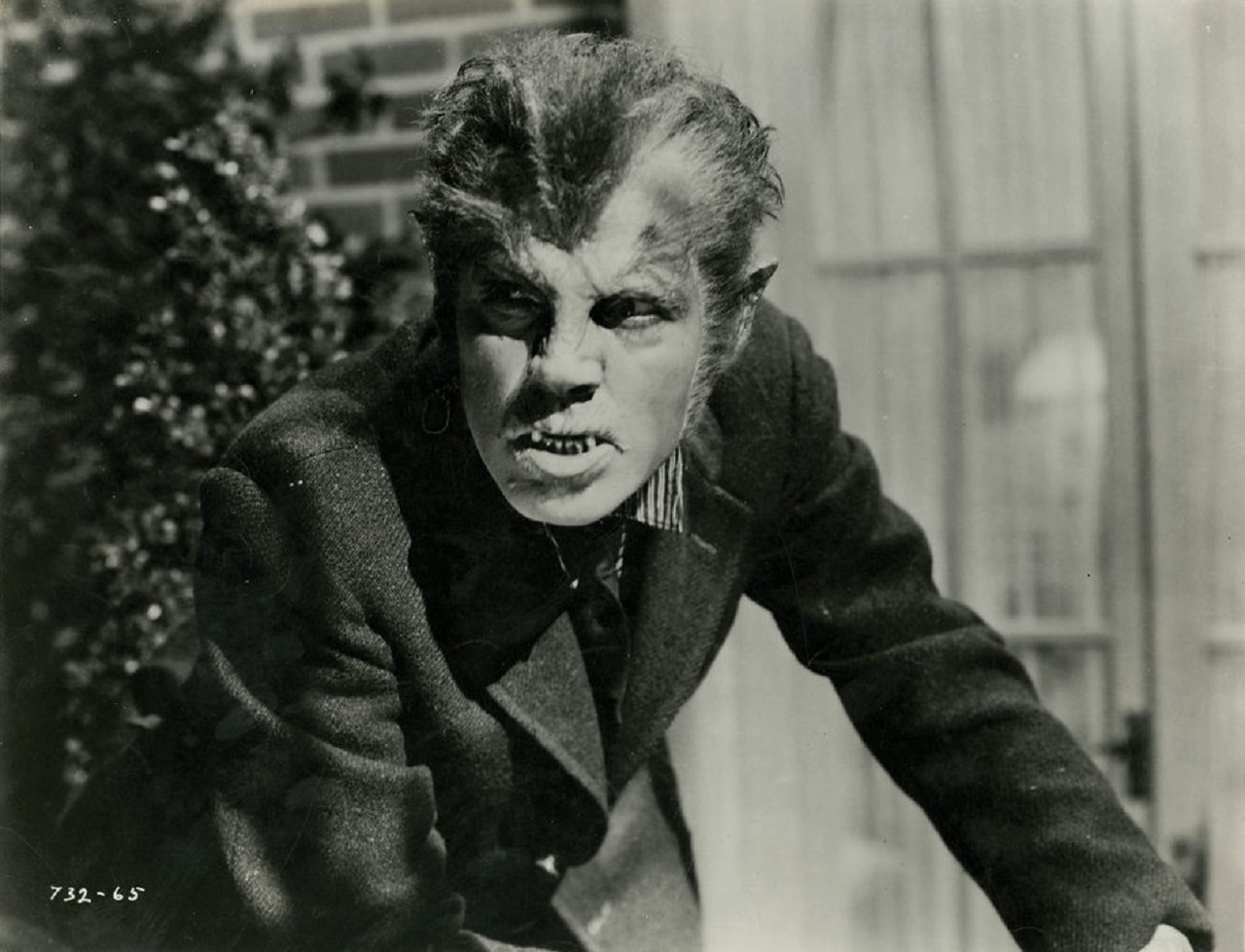 Director Stuart Walker also creates an effectively sinister undertow, especially in the scenes in the conservatory that is filled with Venus Flytraps, tentacled plants and flora that devours frogs whole. The scenes with Henry Hull transforming are also well directed – like his inadvertent transformation under the lamp, trying to hide it from his servant and with his cat hissing at him. There is a particularly cool transformation sequence where Henry Hull runs behind a pillar and emerges on the other side as a wolfman. The latter half of the film with the werewolf loose is less interesting – the attack scenes never amount to much and are certainly not milked by Stuart Walker for any of the menace promised in the build-up.
WereWolf of London is also one of the few 1930s monster movies that features a supernatural rather than a scientific menace. Although when you see it, you realise it is not that different from a mad scientist film after all. Henry Hull is still a mad scientist – albeit a botanist rather than a medical researcher – and the werewolf he becomes is the same society-threatening monster of science amok as the Frankenstein monster and all the abominable creations of the 1930s. The film even comes with a pure mad science line in the opening moments (in reference to the search for the orchid): "There are some things it is better not to bother with."
---
---