---
USA. 1943.
Crew
Director – Edward Dmytryk, Screenplay – Griffin Jay & Henry Sucher, Story – Ted Fithian & Neil P. Varnick, Photography (b&w) – George Robinson, Music Director – H.J. Salter, Art Direction – Ralph DeLacy & John B. Goodman. Production Company – Universal.
Cast
John Carradine (Dr Sigmund Walters), Milburn Stone (Fred Mason), Evelyn Ankers (Beth Colman), Acquanetta (Paula Dupree), Lloyd Corrigan (Fred Whipple), Fay Helm (Nurse Strand), Martha MacVicar (Dorothy Colman), Vince Barnett (Curley), Paul Fix (Gruen)
---
Plot
Big game hunter Fred Mason returns from Africa to the US with a haul of big cats and the female gorilla Cheela, which he has captured to stock the Whipple Circus. He happily reunites with his fiancee Beth Colman. Beth has just placed her sister Dorothy into the Crestview Sanatorium run by the esteemed endocrinologist Dr Sigmund Walters. Beth brings Walters to the circus and introduces him to Fred. Walters wants to use Cheela for his experiments but Fred refuses to sell her. Walters then gets a disgruntled circus employee to break in and steal her. In his laboratory, Walters transplants glands from Dorothy into Cheela, along with the cerebellum of his nurse after she protests against what he is doing. This turns the ape into a beautiful human woman. Walters introducers her as his patient Paula Dupree. When he takes Paula to visit the circus, she demonstrates the ability to calm down the big cats after they get loose. Fred decides to hire Paula as he tries to perfect a lion tamer act. However, Paula becomes emotionally attached to him. After seeing Fred with Beth, Paula becomes jealous, causing her to revert to her gorilla nature.
---
Universal Studios had had great success throughout the 1930s and 40s with their Famous Monsters – Dracula, the Frankenstein Monster, The Invisible Man, The Wolf Man and The Mummy – all of whom they spun out into multiple sequels and team-ups. Among the discussion of Universal's Famous Monsters, the Jungle Woman is the forgotten bastard daughter who is almost always overlooked. Nevertheless, beginning with Captive Wild Woman here, Universal managed to spring out a trilogy of films – the last monster series the studio ever made during this so-called Golden Age.
Captive Wild Woman was made not long after Universal's The Wolf Man (1941) in which Lon Chaney, Jr became a werewolf. More crucially, it came only six months after Cat People (1942), which featured Simone Simon as a woman who is fearful she might turn into a black panther at the thought of sex. Cat People was a hit but all its effect lay in its psychological ambiguity where we could not be sure if Simon was turning into a panther or merely imagined she was. Here Universal have no time for such subtleties and simply have Acquanetta becoming an ape woman (actually, vice versa). Nothing is in her imagination – indeed, Acquanetta has no dialogue throughout – and everything is down to the machinations of mad scientist de jour John Carradine.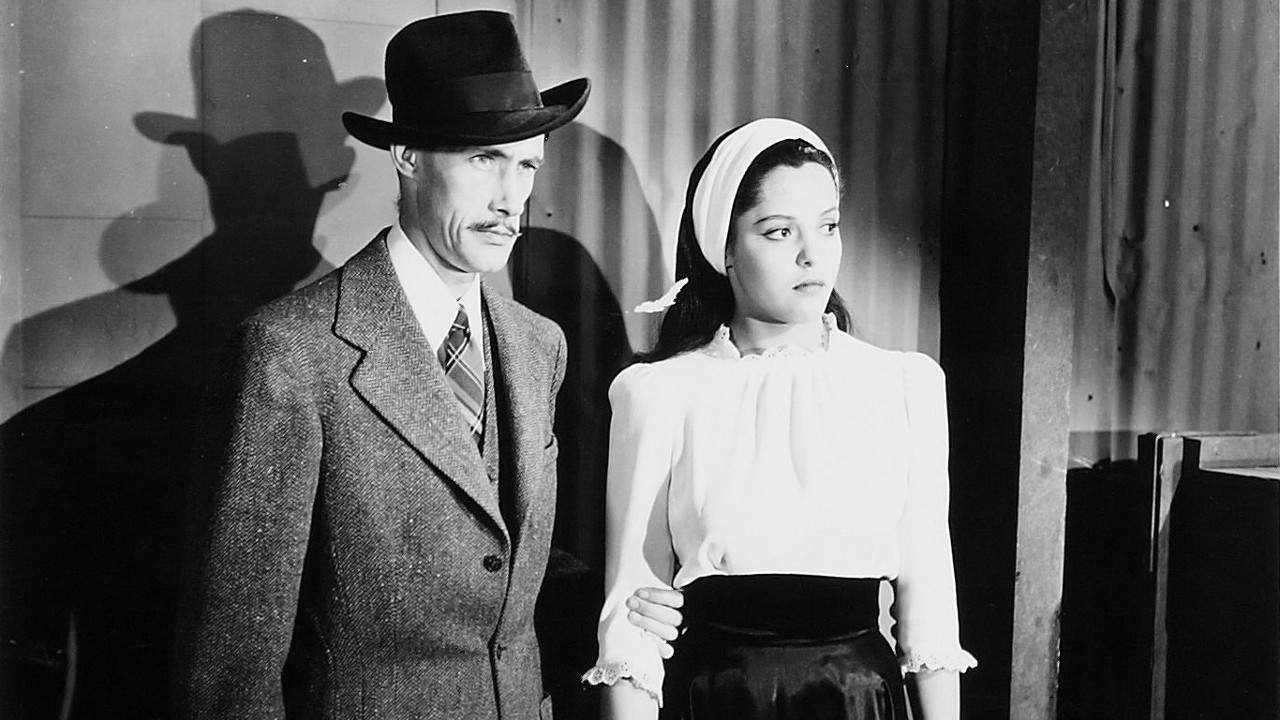 Captive Wild Woman was produced on a B budget. Universal ingeniously managed to cut corners that make it look a whole lot more expensive than it was by substantially reusing footage from the film The Big Cage (1933) starring Clyde Beatty. Beatty was celebrity lion tamer of the 1930s-50s and became regarded as a boy's hero due to a canny ability to publicise his image and bravery in several films, a popular radio series and on tv. The editing that mixes the footage of Beatty in his cage with the film here is excellent – no more so than during the opening scenes where Edward Dmytryk manages to convince us that a lion is running loose at the docks.
The most vivid scenes are those of Beatty in the cage with the lions and tigers where we see him taming them with a chair, whip and pistol. There is an undeniable ferocity to these scenes that leave you in fear of his life at times, especially when he has over a dozen big cats in the cage at once, commanding them up onto stools while he plays games, teasing a tiger with the end of his whip, then getting a lion to lie down and roll over. The most ferocious of the scenes are those where a lion and a tiger get loose and start mauling one another before they are driven apart with blasts from firehoses.
Captive Wild Woman was the first starring role of the exotically beautiful Acquanetta who had only appeared in two films before this. The Universal publicity department tried to bill her as 'The Venezuelan Volcano', although she was in fact more mundanely born as Mildred Davenport in Wyoming of a white mother and Arapaho Indian father. Acquanetta appeared in eleven films roles altogether (three of which are uncredited bit parts), including other genre efforts such as Dead Man's Eyes (1944), Tarzan and the Leopard Woman (1946) and Lost Continent (1951). After 1951, she abandoned a film career for marriage and children up until her death in 2004. Certainly, in the roles she did appear in she has an exotic beauty that commands the screen. The one question you do come away with here though is where the 300-400 pounds of body weight of the average gorilla goes to after her operation and how it manages to suddenly return when she reverts.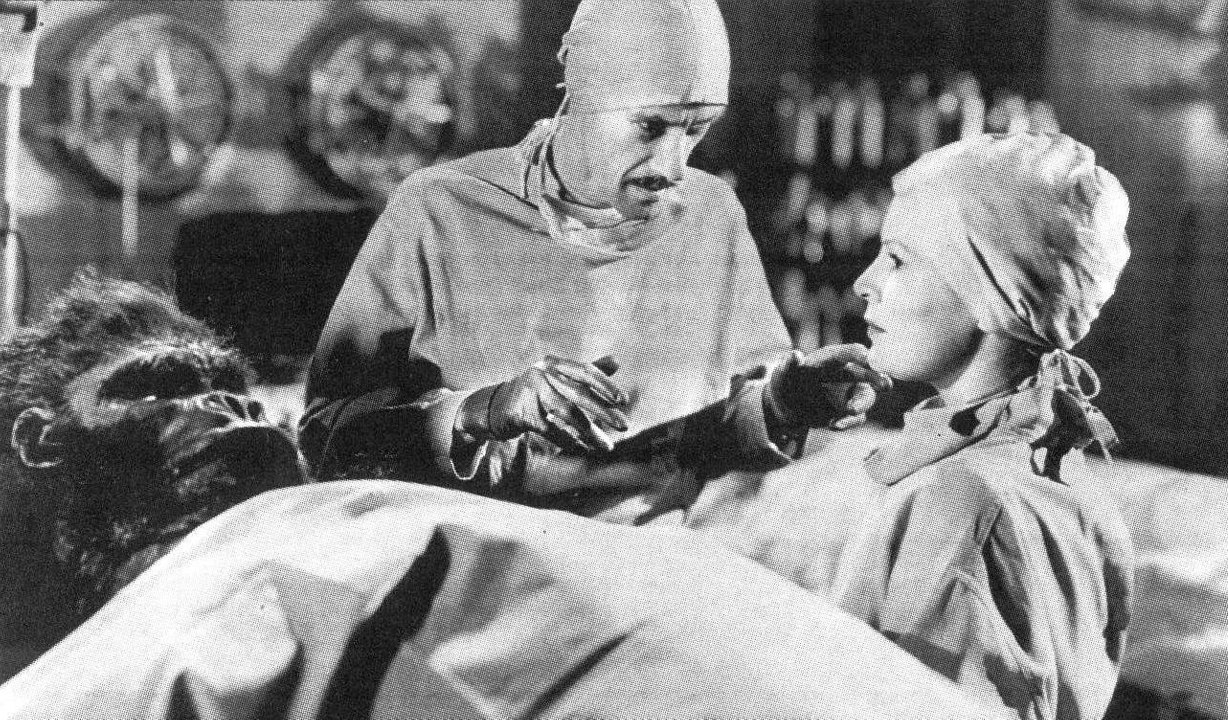 The film also features the first starring performance from John Carradine who went on to long genre association. Carradine had been in bit parts since 1930 but hereafter became associated with horror roles including playing Count Dracula in Universal's House of Frankenstein (1944) and House of Dracula (1945), plus parts in various of their Mummy and Invisible Man films. Carradine appeared in over 350 films, including some of the cruddiest Z-films of the 1960s, 70 and 80s. He is also the father of David and Robert Carradine. Here Carradine plays with a wonderfully steely coldness, particularly in the way he allows a disgruntled circus worker to be killed by the ape rather than pay him or kills his lab nurse for her cerebellum once she starts protesting the morality of his experiments.
There were two sequels with Jungle Woman (1944) and Jungle Captive (1945), both of which rehashed substantial footage from this film. Milburn Stone and Acquanetta reappear in Jungle Woman, while she was replaced by Vicky Lane in the third film.
Edward Dmytryk was a director who had a career between the 1930s and 1970s in which he made a number of classic films such as The Caine Mutiny (1954), Warlock (1959), Walk on the Wild Side (1962) and The Carpetbaggers (1964). He delivered other genre entries such as the mad scientist film The Devil Commands (1941), the psycho film The Sniper (1952) and Bluebeard (1972) with Richard Burton as a multiple wife murderer.
---