---
Crew
Director – Geoffrey Sax, Screenplay – Niall Johnson, Producers – Paul Brooks & Shawn Williamson, Photography – Chris Seager, Music – Claude Foisy, Visual Effects – Stargate Digital London (Supervisors – Simon Giles & Jennifer McEachin), Special Effects Supervisor – Tim Storvick, Makeup Effects – Bill Terzakis, Production Design – Michael S. Bolton. Production Company – Gold Circle Films/Brightlight Pictures/White Noise UK/Endgame Entertainment/CHUM Television/Corus Entertainment Corporation.
Cast
Michael Keaton (Jonathan Rivers), Deborah Kara Unger (Sarah Tate), Ian McNeice (Raymond Price), Chandra West (Anna Rivers), Sarah Strange (Jane), Nicholas Elia (Mike Rivers), Connor Tracy (Mirabelle Keegan), Amber Rothwell (Susie Tomlinson), Mike Dopud (Detective Smits), Aaron Douglas (Frank Black)
---
Plot
Architect Jonathan Rivers is traumatised when his wife Anna, a best-selling novelist, disappears and is later found dead. Even before the body is found, Jonathan is contacted by Raymond Price, a man who claims to have messages from Anna on the other side. Jonathan dismisses Price but goes to see him after receiving mysterious calls from Anna's cellphone. Price shows him the set-up he has for recording so-called Electronic Voice Phenomenon – messages from the dead that are picked up in the white noise static of tvs, radios and tape recorders. They obtain hazy indistinct messages that seem to indicate that Anna is trying to say something to Jonathan – but it also becomes apparent that there are sinister forces surrounding her on the other side. Price is then found murdered. Afterwards, Jonathan becomes obsessed and sets up his own EVP equipment. He soon discovers that Anna is trying to alert him to events before they happen. At the same time, this also places Jonathan in danger from the sinister forces that surround Anna in the afterlife.
---
White Noise is an entry in the ghost story genre that has emerged in the last few years with successes like The Sixth Sense (1999), The Others (2001) and The Ring (2002). White Noise was a British-Canadian production. Director Geoffrey Sax has had a career in British tv that goes back to the 1970s, covering everything from classic British comedy to shows like Bergerac (1981-91) and Lovejoy (1986-94) and arts dramas like Tipping the Velvet (2002). Geoffrey Sax's only other ventures into genre material was the tv movie revival of Doctor Who (1996) with Paul McGann and the teenage spy movie Stormbreaker (2006).
The pre-publicity for White Noise made much effort to let the audience know that Electronic Voice Phenomenon was a real occurrence. Setting aside one's natural scepticism as to whether electronic static contains spiritual manifestations, one has no doubt that the film has done its research as to what (supposedly) happens with EVP. Films like this based on the exploration of one gimmick have a tendency to become dull expositions. White Noise starts out this way but soon segues into something genuinely spooky.
In very short time, the film absorbs one in an eldritch uncanniness – the sense of there being something beyond this ken, moreover something malevolent in intent. The film is filled with intimidating moments of shadowy things jumping out at or coming into focus on tv screens. Geoffrey Sax creates some unnervingly eerie moments – the first appearance of the indistinct phantom shapes as Michael Keaton listens to the recordings and the audio track starts screaming is a considerable jolt. So too are the scenes where Keaton starts to pick up premonitions in advance and especially the scene where he goes to visit psychic Connor Tracy and is given a stern warning. The mood of the film is superb – this is one of the few ghost stories of the recent period that left one feeling spooked.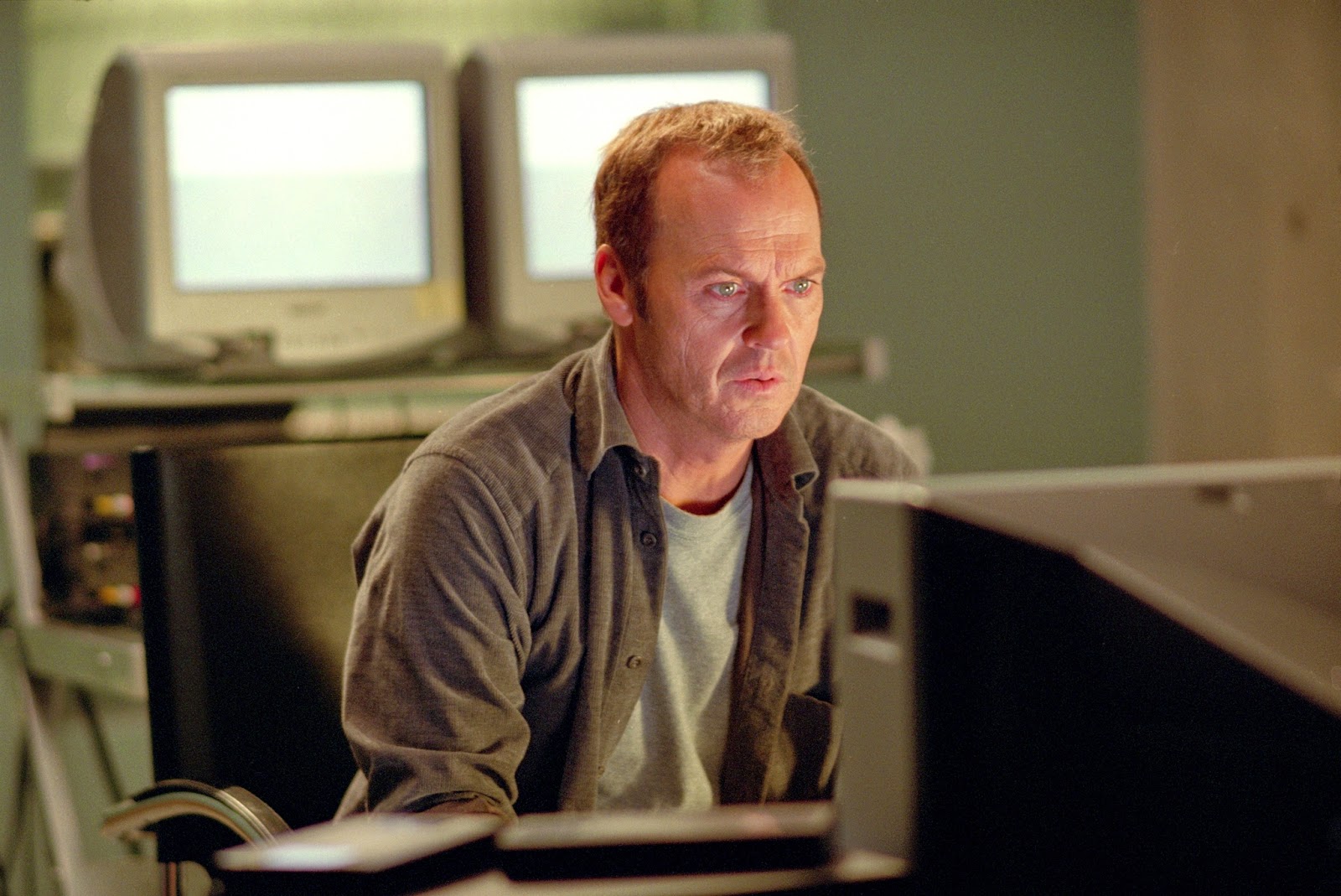 On the minus side, the film suffers from weak scripting. The characters are slackly developed. Despite having a good cast line-up – Michael Keaton, Ian McNeice and the underrated Canadian actresses Deborah Kara Unger and Sarah Strange – these are roles that could have been played by anybody.
The least satisfying aspect is the ending. While Geoffrey Sax creates a mood that suggests a genuinely threatening menace lying beyond the known horizon, nothing about the figures in the afterlife is ever explained and all that the film eventually telescopes down to is a mundane story about the creatures aiding a serial killer. The wrap-up feels perfunctory, as though it were inserted more to bring the story to a resolution than anything that comes with aforethought. This is something that makes White Noise into little more than another clairvoyant murder mystery along the lines of films like Eyes of Laura Mars (1978), In Dreams (1999) and Stir of Echoes (1999). The film also goes out on a decided downer. A pity, as the rest of it creates a genuine sense of atmosphere.
White Noise: The Light (2007) was a disappointing sequel, which abandoned all connection to this film and even mention of Electronic Voice Phenomenon.
---
---