---
Crew
Director – Christophe Gans, Screenplay – Roger Avary, Based on the Videogame by Konami, Producers – Don Carmody & Samuel Hadida, Photography – Dan Laustsen, Music – Jeff Danna, Visual Effects – Buf Compagnie, C.O.R.E. Digital Pictures (Supervisor – Bret Culp & Kyle Menzies), Frantic Films, Intelligent Creatures (Supervisor – Lon Molnar), Invisible Pictures, Mokko & Mr X. Inc (Supervisor – Colin Withers), Special Effects – Laird McMurray Film Services, Creature/Makeup Effects – Patrick Tatopolous Designs (Supervisor – Paul Jones), Production Design – Carol Spier. Production Company – Silent Hill DCP/Davis Films/Konami.
Cast
Radha Mitchell (Rose Da Silva), Laurie Holden (Office Cybil Bennett), Sean Bean (Christopher Da Silva), Alice Krige (Christabella), Kim Coates (Inspector Thomas Gucci), Jodelle Ferland (Sharon Da Silva/Alessa Gillespie), Deborah Kara Unger (Dahlia Gillespie), Tanya Allen (Anna), Eve Crawford (Sister Margaret)
---
Plot
Rose Da Silva's daughter Sharon is troubled by sleepwalking problems. Each time she wakes, Sharon mentions the phrase 'Silent Hill'. Hoping to find answers and get help Sharon, Rose drives with her to the town of Silent Hill in West Virginia. From the locals in the area, Rose learns that Silent Hill is a ghost town after burning to the ground in a mining fire in the 1970s. Pursued by motorcycle officer Cybil Bennett, Rose goes to enter the town but crashes. When she comes around, she finds Sharon missing. Rose and Cybil search the town where they are pursued by various creatures and monstrosities and then encounter a strange cult that lives there. At the same time, Rose's husband Christopher arrives, attempting to get into the town from outside. On the other side, Rose and Cybil try to confront the evil that is at the heart of the mystery concerning the fire thirty years earlier, a secret that relates to Sharon's past.
---
Silent Hill is a film adaptation of the popular survival horror computer game. Created by the Japanese company Konami, the first Silent Hill game was released in 1999. The game enjoyed huge popularity and there have been eight follow-up sequels, as well as a host of spin-off graphic novels. The game's setting is the titular town of Silent Hill, which sits on an other-dimensional netherworld located somewhere in New England. In the games, players are drawn into the town where they encounter baffling and horrific creatures and must rescue the innocents that are trapped there through a mixture of action and puzzle-solving. The Silent Hill games are noted for their unusual haunted and foreboding atmosphere and have attained a cult-like following.
This Silent Hill film is a Franco-Canadian co-production mounted by French director Christophe Gans. Christophe Gans first appeared with The Drowned segment of the H.P. Lovecraft anthology Necronomicon (1993) and then went onto the underrated manga adaptation Crying Freeman (1995), the silly historical monster movie Brotherhood of the Wolf (2001) and subsequently a beautifully dreamy adaptation of Beauty and the Beast (2014), as well as produced the confusing ghost story Saint Ange (2004) for his assistant, the then unknown Pascal Laugier. The script for Silent Hill comes from Roger Avary who gained fame as Quentin Tarantino's co-writer on Pulp Fiction (1994). Avary made his directorial debut with the French-set Tarantino copy Killing Zoe (1994) and went onto the interesting Frankenstein modernization Mr. Stitch (1995), as well as The Rules of Attraction (2002) and Glitterati (2004) and the script for Robert Zemeckis's Beowulf (2007).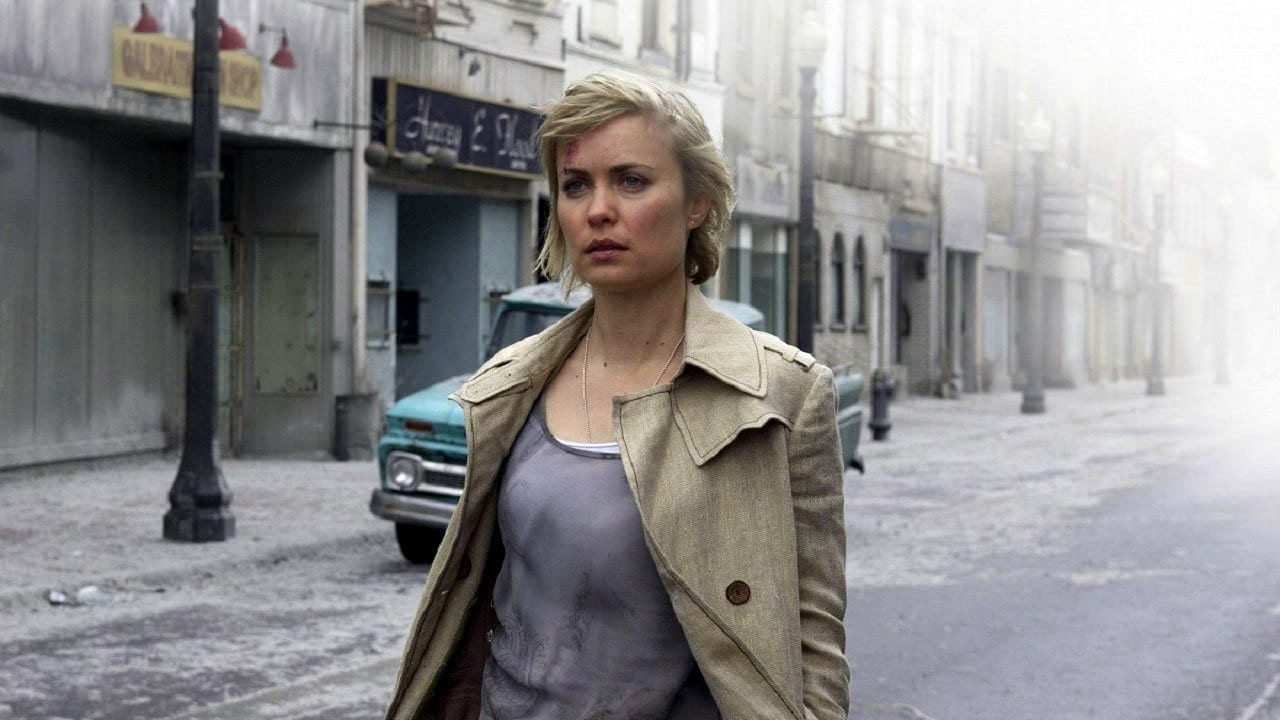 Christophe Gans was reportedly a big fan of the Silent Hill games and not unexpectedly Silent Hill the movie is very faithful to the games. Gans and Avary change the sex of the protagonist but the opening half-hour of the film that follows Radha Mitchell as she enters the town with the pursuit by the motorcycle cop and the appearances of the mysterious creatures in the fog and basements could almost all be shot-for-screen capture copies of the original game. The creatures of the mutant nurses, the burning children and thing known as Pyramid Head have all been faithfully replicated. The latter half of the film with the emergence of the cultists and the young child who was burned in a fire and has split her personality into good and bad halves have been taken from the first game and Silent Hill 3 (2003), albeit changed somewhat. Elsewhere, Gans and Avary use some of the dialogue of the game, replicate the town map (which has streets named after various horror writers), even naming some of the shops the same as they are in the game, as well as visiting game locations like the hospital and Midwich Elementary School.
Christophe Gans creates considerably creepy foreboding atmosphere. The film is filled with some completely outlandish and unearthly creatures. Radha Mitchell is attacked by a horde of grey-skinned mutant children with glowing orange wounds on their skin that look as though they are burning inside. Radha Mitchell and Laurie Holden are approached by a bizarre grey character with no face or arms, which moves as though its bones are misshapen and spews acidic ash all over Holden. There is another creation that crawls on its stomach with its feet bound in an arch over its back, whose blood causes veins to start creeping through the walls. There is the Pyramid Head creature with a giant metallic wedge of a cage covering its head and massive blades for hands, which it punches through the doors of an elevator trying to kill Radha and Laurie. Gans creates some jolting scenes – a nasty and sadistic one where we see Laurie Holden lowered over a flame and the skin burned off her face in closeup; a scene where the Pyramid Head appears and tears a woman's skin off; the climax where Jodelle Ferland rises up from the pit on a hospital bed of writhing wires, which start penetrating and tearing the cultists apart wholesale; and a marvellously creepy scene where Radha Mitchell must squeeze her way through a corridor-ful of mutant nurses who end up slashing one another's throats.
It is part way through that one realizes that Silent Hill with its tormented otherworldly creations, is really a Clive Barker film. You could even call it Hellraiser (1987) the videogame. One could even be as heretical as to say that Silent Hill feels a much more authentically Barker-esque film in terms of its atmosphere than either of Clive Barker's last two cinematic outings – Nightbreed (1990), which this film has many similarities to Silent Hill in its story of a town of twisted creatures, and Lord of Illusions (1995).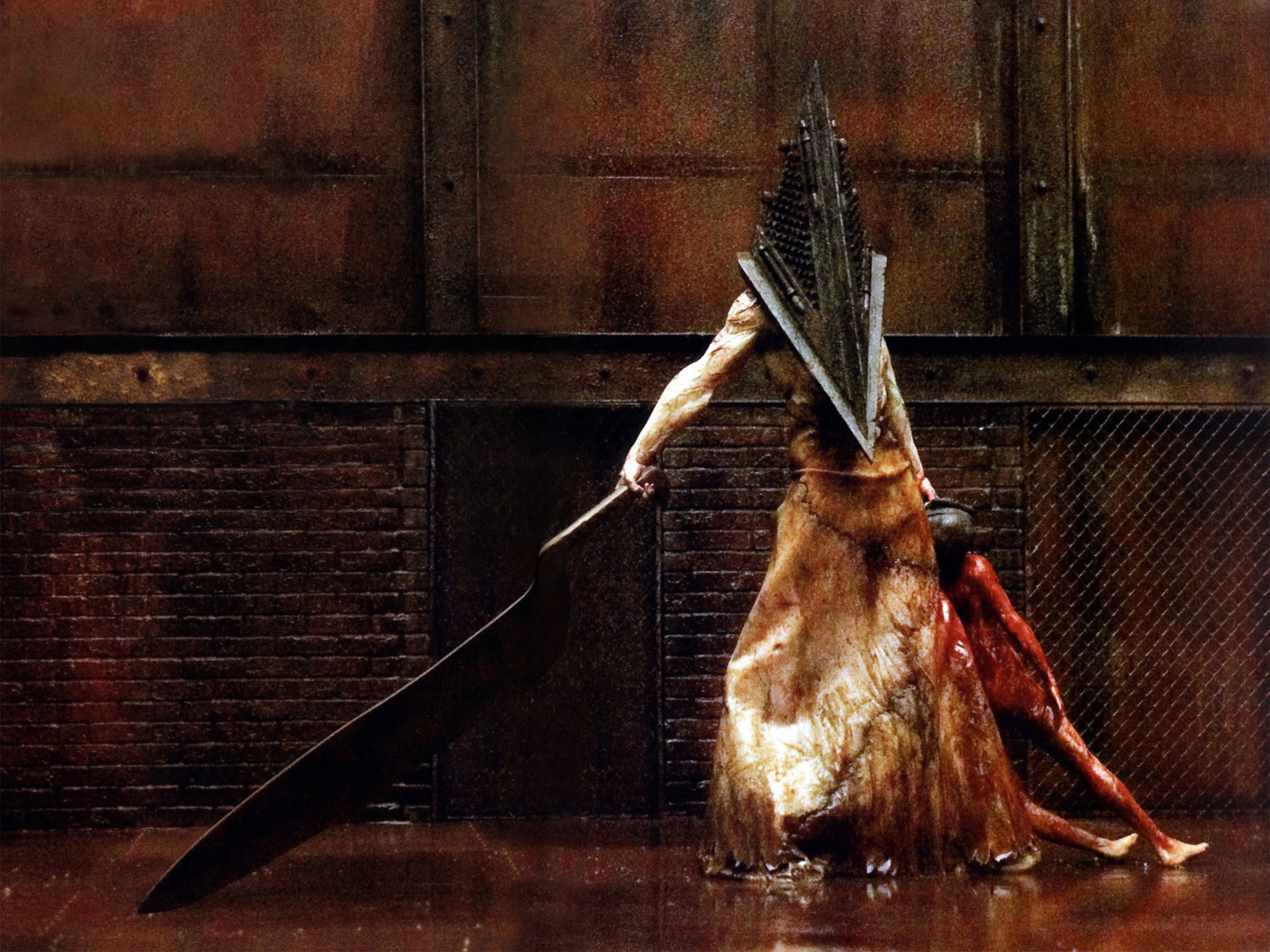 Where Silent Hill varies from comparisons to Clive Barker is the final explanation of what is going on concerning a psychic revenant child. This is a more mundane plot than probably anything Clive Barker would have settled for in his love of rich, arcane imagery. It is on the scripting side that Silent Hill is somewhat the weaker. Christophe Gans spends much time developing the creepy foreboding and it is only in the last quarter that Silent Hill's plot kicks in. Furthermore, it is not always easy following the explanations that Roger Avary offers up regarding the cultists, the fire and the contorted history involving Alessa splitting herself into two people. (Although, to Avary's credit, much of this is following on from what was established in the games). The film reaches a baffling ending where Radha Mitchell and Sharon appear to return home but husband Sean Bean then gets up and discovers that the house empty, suggesting that they have returned into a house that exists on another dimensional plane as the town does. A number of reviewers slammed Silent Hill on the basis of this enigmatic and inconclusive ending.
Australian actress Radha Mitchell gives a professional performance, although the character of Rose is somewhat blank. Second-billed Sean Bean is written in a forgettable role in a secondary plot about him investigating the mystery of the town from the outside. Far better than Radha Mitchell or Sean Bean's headlined performances is Canadian actress Laurie Holden, best known as Maria Covarrubias in tv's The X Files (1993-2002, 2016-8) and as Ben Grimm's wife in Fantastic Four (2005), who gives a performance that is both tough and sexy.
Silent Hill: Revelation (2012) was a heavily disappointing sequel, which concentrates on Sharon as a teenager and features return performances from Radha Mitchell and Sean Bean.
Other films adapted from videogames include Super Mario Bros. (1993), Double Dragon (1994), Street Fighter (1994), Mortal Kombat (1995), Wing Commander (1999), Final Fantasy: The Spirits Within (2001), Lara Croft, Tomb Raider (2001), Resident Evil (2002), House of the Dead (2003), Alone in the Dark (2005), BloodRayne (2005), Doom (2005), DOA: Dead or Alive (2006), Hitman (2007), In the Name of the King: A Dungeon Siege Tale (2007), Postal (2007), Far Cry (2008), Max Payne (2008), Prince of Persia: The Sands of Time (2010), Tekken (2010), Dead Rising: Watchtower (2015), Angry Birds (2016), Assassin's Creed (2016), Warcraft (2016), Rampage (2018), Pokemon Detective Pikachu (2019), Monster Hunter (2020), Sonic the Hedgehog (2020), Werewolves Within (2021), the tv series Halo (2022- ), Uncharted (2022) and the tv series The Last of Us (2023- ).
(Nominee for Best Supporting Actress (Laurie Holden) and Best Makeup Effects at this site's Best of 2006 Awards).
---
---