---
Crew
Director/Screenplay – Dave Gebroe, Producers – Dave Gebroe & Christina Reilly, Photography – Ken Seng, Music – Michael Tremante, Makeup Effects – Joe Macchia & Tate Steinsiek, Production Design – Barbara Pietsch. Production Company – Hooligan Pictures/Glass Eye Pix.
Cast
Tracy Coogan (Denise Zanders), Graham Sibley (Danny Zanders), Tonya Cornelisse (Nikki Boudreaux), David M. Wallace (Buddy Cooper), Neal Jones (Officer Frank Carp), Maria Iadonisi (Phyllis Catalano)
---
Plot
Danny and Denise are married and go away to spend their honeymoon at his uncle's house on the New Jersey shore. While they are on the beach, a man staggers up out of the surf and collapses on top of Danny, spilling ichor all over him and into his mouth. Danny is rushed to hospital and pronounced dead but then makes a miraculous recovery. Everything seems perfectly normal and Danny returns home where he and Denise set about making plans for their future, on sudden inspiration deciding to quit their jobs and go to live in Portugal. Denise then comes back into the house to find Danny devouring the flesh of a jogger he has just killed. He persuades her not to run away and they continue to plan their lives together while she tries to deal with Danny's increasing need to devour the flesh of the living.
---
Glass Eye Pix was a company set up by Larry Fessenden, the director of Habit (1997), Wendigo (2001), The Last Winter (2006), Beneath (2013) and Depraved (2019). Fessenden had made all of his earlier films under the Glass Eye banner but Zombie Honeymoon was the first occasion when Glass Eye expanded operations to produce someone else's film. This proved a promising new direction and Glass Eye went onto put out a series of B+-budgeted films for other directors with the likes of The Off Season (2004), I Can See You (2008), I Sell the Dead (2008), Satan Hates You (2009), Bitter Feast (2010), Stake Land (2010), Hypothermia (2011), Late Phases (2014), Darling (2015), Most Beautiful Island (2017), Psychopaths (2017), The Ranger (2018) and, in particular, launching the career of Ti West with The Roost (2005), Automatons (2006), Trigger Man (2007) and then the breakout successes of The House of the Devil (2009) and The Innkeepers (2011).
It is difficult looking back at Zombie Honeymoon ten years on, after seeing the horde of gonzo mashups and wacky title collusions that the zombie genre has spawned, and not automatically assume from the title that it is going to be another of these. You expected it to be more something in the same vein as the not dissimilar A Little Bit Zombie (2012) but the great surprise is that Zombie Honeymoon plays itself seriously. You have to jolt yourself to remember that it is a work that comes at the outset of the zombie revival of the mid-2000s where it was one of the first imitators following on from the likes of Resident Evil (2002), 28 Days Later (2002), House of the Dead (2003), the remake of Dawn of the Dead (2004), Shaun of the Dead (2004) et al and was a contemporary of these rather than one of the vast mountain of imitators.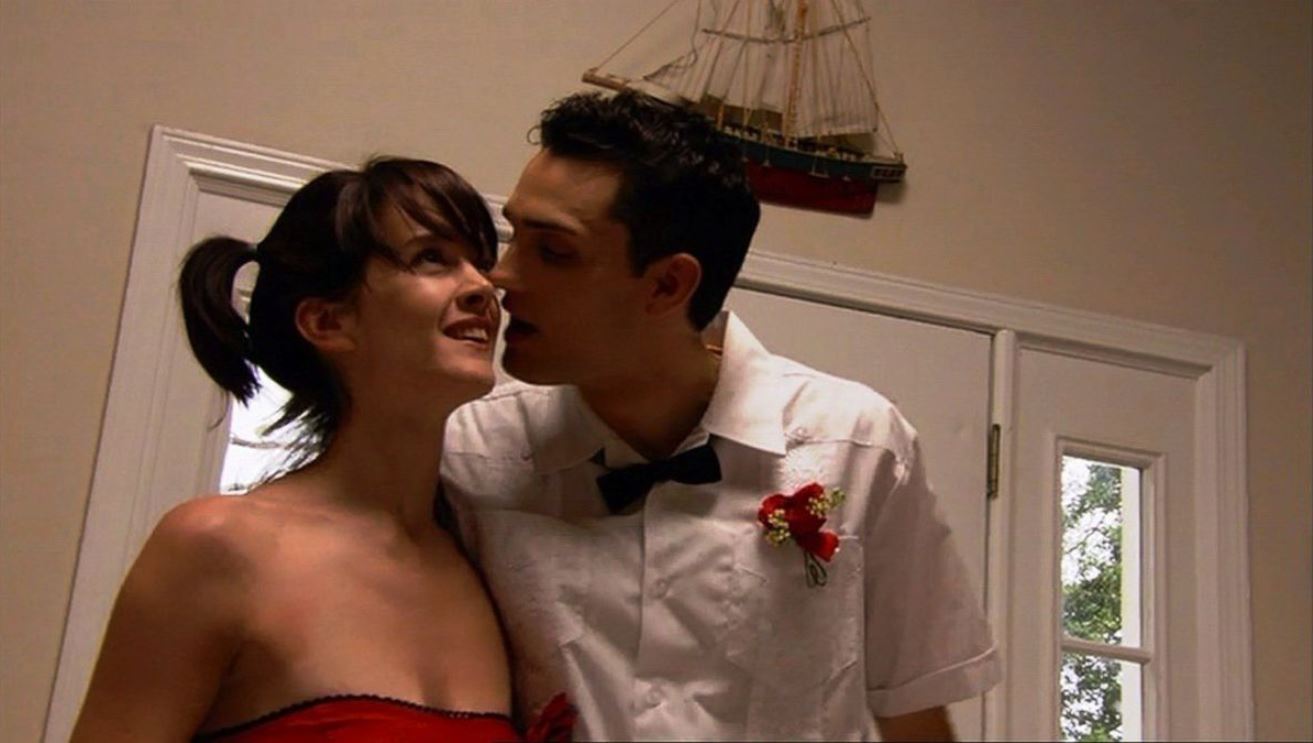 In actuality, Zombie Honeymoon emerges as a variant on the zombie relationship drama we have seen in comedic takes such as My Boyfriend's Back (1993), A Little Bit Zombie, Warm Bodies (2013), Burying the Ex (2014) and Life After Beth (2014), as well as the more serious Make-Out With Violence (2008). Certainly, the idea of essentially a two-person drama where the wife tries to deal with the husband as he is turning into a ravening flesh-eating zombie is a good one. It is however one that Zombie Honeymoon does a none particularly outstanding way of telling.
There are several approaches that Dave Gebroe could have been taken to the material – drawing us into the heartache of a relationship as it swiftly goes pear-shaped, focusing on the gore-drenched grimness or, as seems to be preferred to by most of the aforementioned, planting tongue in cheek as the couple try to maintain a semblance of normalcy.
At most, Gebroe seems to head in the general direction of the first approach but Zombie Honeymoon is unwound by a very middle of the road handling. Certainly, you cannot help but think that the comedic approach might have helped some of the scenes where Graham Sibley starts munching on travel agents, annoying videostore customers and their two best friends, a phone-line psychic and her loudmouth boyfriend.
---
---