USA. 1985.
Crew
Director/Screenplay/Producer – Donald P. Bellisario, Photography – Howard Schwartz, Music – Sylvester Levay, Production Design – Charles R. Davis. Production Company – Belisarius Productions.
Cast
Jan-Michael Vincent (Stringfellow Hawke), Belinda Bauer (Gabrielle), David Hemmings (Colonel Moffat), Ernest Borgnine (Dominic Santini), Alex Cord (Michael Archangel)
---
Plot
After the trial flight of the Mach-speed super-helicopter Airwolf, its creator Colonel Moffat turns it on the watching defence personnel, shoots them up and then flies off, taking the Airwolf into the service of the Qadaffi of Libya. Michael Archangel, head of the secret government agency The Firm approaches former employee, crack helicopter pilot Stringfellow Hawke, now in reclusive retirement, to persuade him into going and bringing the Airwolf back. When Hawke refuses to go back into action because all those close to him have been killed, Archangel blackmails Hawke into taking the assignment by stealing his collection of priceless artwork and refusing to return it.
---
This was the pilot for the tv series Airwolf (1984-6), which lasted on air for two seasons. In 1985, the pilot episode (entitled Shadow of the Hawke on the air) was foisted onto international audiences in cinematic release. Airwolf was a shameless ripoff of the successful hi-tech helicopter action film Blue Thunder (1983). (The same season that Airwolf premiered on tv also saw the airing of a tv series based on Blue Thunder (1984), although this lasted on air far shorter a time than Airwolf did – only eleven episodes). Producer Donald P. Bellisario defended the distinction between the two on the grounds that their helicopter was different.
The cinematic release is only something that makes the film's tv origins even more evident, particularly when the grainy stock footage of ships and wildlife is blown up into unflattering perspective that fails to match the rest of the film. There is some adult language, which tends to suggest that different scenes may have been shot for cinematic release. The story drags – three-quarters of it is taken by a banal love story between Jan-Michael Vincent and Belinda Bauer, interspersed with scenes that cut back to show us that Moffat is still the prime menace.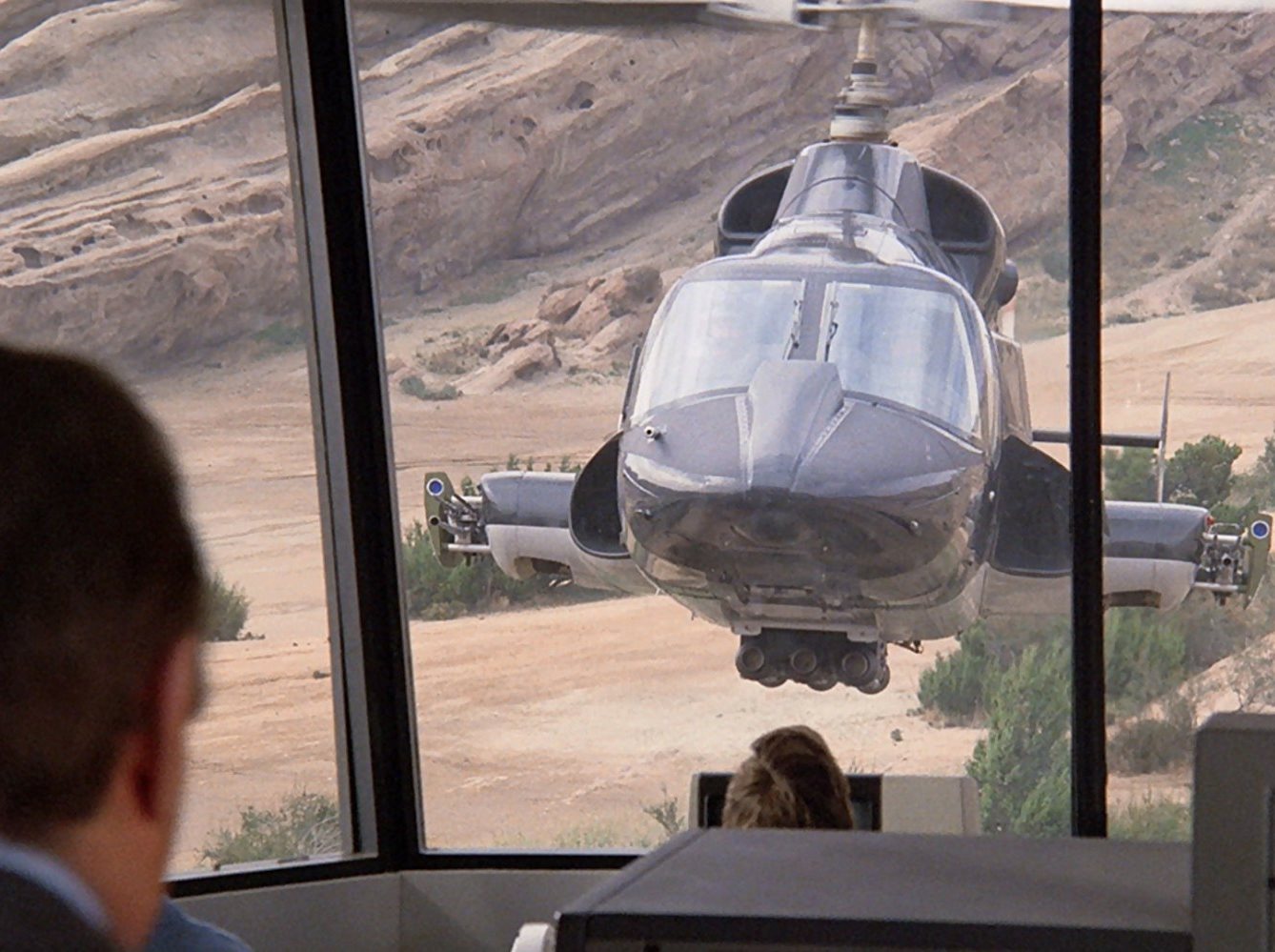 The film's characterisation – paperback psychology someone very aptly calls it at one point – becomes a joke. Motivation is offered up in such priceless observations as – "Hawke is a recluse because everyone he cares about is killed." Screenwriter Donald P. Bellisario's idea of a sensitive hero is having Jan-Michael Vincent sit and play a cello to stock footage of an eagle. It is hard to take the film seriously – with names like Stringfellow Hawke and Michael Archangel, the characters seem to be drawn out of comic-books. Ernest Borgnine is cast in his familiar persona of what seems like somebody's idea of casting Jake La Motta as a soft-headed kindly grandfather. David Hemmings overacts badly as the villain of the show. What does impress about the film are the crisp, powerful scenes of the Airwolf in operation but otherwise there is almost nothing of interest.
Producer Donald P. Bellisario had better success with the other tv series he created/produced – Magnum P.I. (1980-88), Quantum Leap (1989-93), JAG (1995-2005) and NCIS: Naval Criminal Investigative Service (2003– ). Bellisario had earlier worked as a producer/writer on Battlestar Galactica (1978-9). Airwolf was later revived without Bellisario's involvement in a second tv series, Airwolf II (1987), which was reportedly even worse than the first and lasted only one season.
---
---