---
Crew
Director – Jack Regas, Teleplay – Romeo Muller, Based on the Libretto by Robert Benton & David Newman, Producer – Norma Twain, Music/Lyrics – Lee Adams & Charles Strouse, Production Design – Ken Johnson, Choreography – Alex Plasschaert. Production Company – Norman Twain Productions.
Cast
David Wilson (Superman/Clark Kent), Lesley Warren (Lois Lane), David Wayne (Dr Abner Sedgwick), Kenneth Mars (Max Mencken), Lorreta Swit (Sydney), Allen Ludden (Perry White), Malachi Thorne (Boss Gangster), George Chandler (Jonathan Kent), Irene Tedrow (Martha Kent), Stuart Getz (Jerry), Michael Lembeck (Joe)
---
Plot
In Metropolis, Superman, an orphan from the planet Krypton who has great superpowers on Earth, maintains an everyday guise as Clark Kent, a reporter at the Daily Planet. Fellow reporter Lois Lane loves Superman but constantly forgets the name of Clark even though he sits at the desk opposite her. The mob decide they need to get rid of Superman as he is bad for business. At the same time, Dr Abner Sedgwick, a scientist at the Metropolis Institute of Technology, seeks to conquer the world. This is part of his plan to eliminate Sweden on the grounds that he has been nominated for a Nobel Prize ten times but has never won. However, Superman is in the way of his plans and so Sedgwick hatches a plan to kill Superman, with the aid of the mob and pompous Daily Planet reporter Max Mencken, by turning Superman against himself
---
Superman has a long history on the comic-book page and adapted to various films and tv series – see below for a listing of these. The strangest production amid these was It's a Bird … It's a Plane … It's Superman. This started out as a Broadway musical that was first staged in 1966. It was made with a $600,000 budget, which was quite a sum for its day, most of which was apparently used to produce the flying effects. However, the show closed after three months and was considered a flop. There have been occasional revivals of the play during the 2000s/2010s.
This was a TV Movie adapted from the Broadway musical. It was a flop, just like the stage version was. Although in retrospect it did serve to get Robert Benton and David Newman, writers of the original story for the stage version, hired to work on the first two Christopher Reeve Superman films Superman (1978) and Superman II (1980), while screenwriter Romeo Muller was next signed to write The Hobbit (1977) and a good deal of other animation work.
It is worth remembering at this point that the point that It's a Bird … It's a Plane … It's Superman aired, all that we had seen of Superman on screens was Kirk Alyn serials Superman (1948) and Atom Man vs Superman (1950) and the George Reeves-starring film Superman and the Mole Men (1951) and the resulting tv series The Adventures of Superman (1953-8). These were the better part of two decades old at the time, although the Reeves series would have been playing in tv reruns. We were still three years away from the first of the Christopher Reeve films. The predominating view of Superheroes at the time of both the play and this film would have been informed by tv's Batman (1966-8) and its giddy camp exploits, which treated the comic-book in an unserious manner. The influence of the tv Batman is clearly evident here in the appearance of comic-book onomatopoeia on screen – various balloons saying 'Bam!" and the like.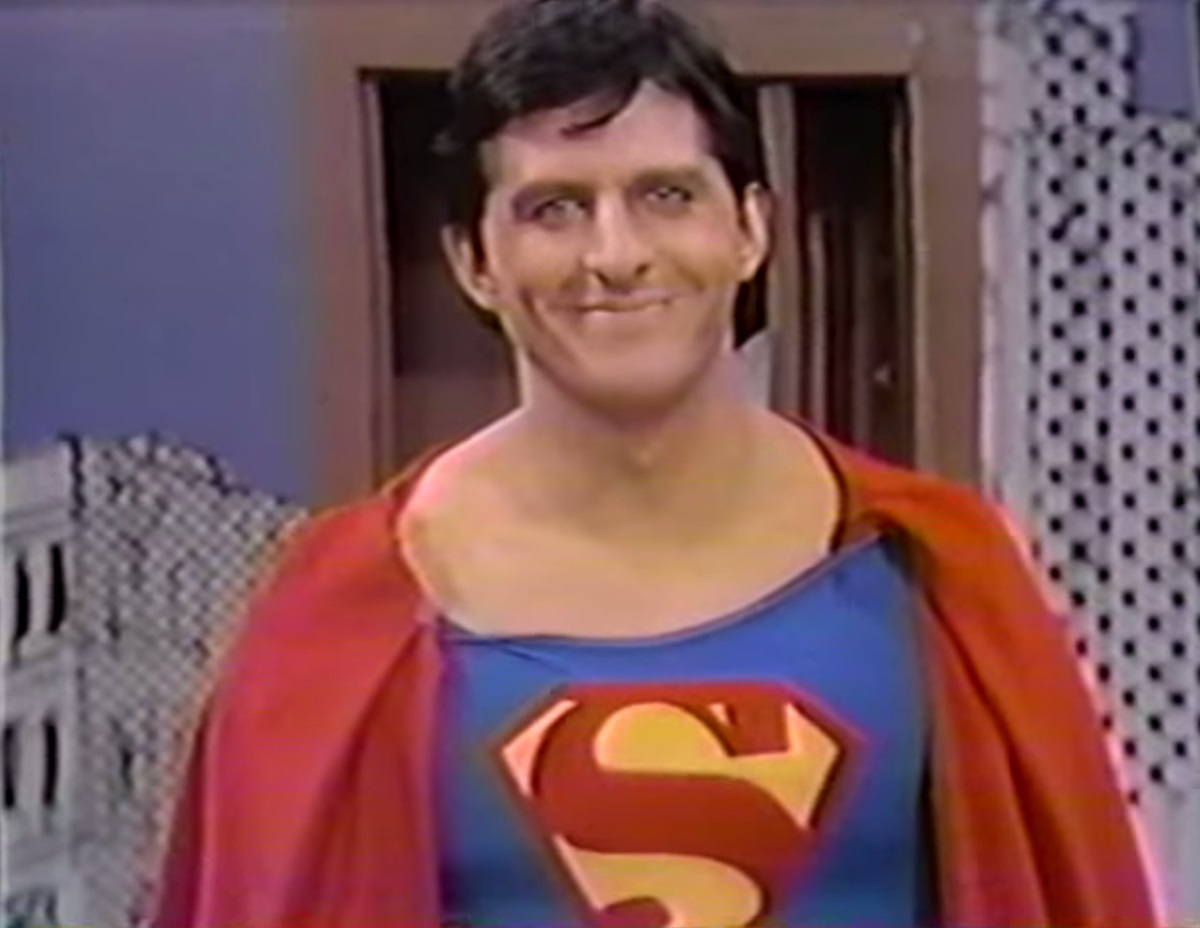 It's a Bird … It's a Plane … It's Superman is an considerable oddity in the canon of Superman films. That's probably the most polite thing you can say about it. For one, it is a Musical, which seems about the least likely way of making a Superman film (although 35 years later, we did have the musical Spider-Man: Turn Off the Dark (2010) on Broadway, but that proved a big flop too). That said, the various musical numbers at least have a listenability and are given a boisterous delivery by all involved. In these scenes, it is the actresses that later went on to have more high-profile names – Lesley Anne Warren, Loretta Swit – who end up owning the show. In the film's most bizarre sequence, we get singing and dancing gangsters wearing wide-brim fedoras and waving tommy guns.
It is also a low-budget production. I was watching a low quality YouTube version of the film so it is not always possible to tell some of these things. The film avoids much in the way of effects – a couple of closeup shots of David Wilson flying, a couple of others of him bursting in through walls, while the climactic scenes with him fighting off henchmen is choreographed more as a dance routine. Many of the explanatory scenes – in particular, Superman's Kryptonian origin story – are told as comic-book panels, which are also used to bridge sections, creating serial-like chapter breaks. The sets bizarrely enough look like they were shot on an actual stage where many of the buildings in the background are just drawn.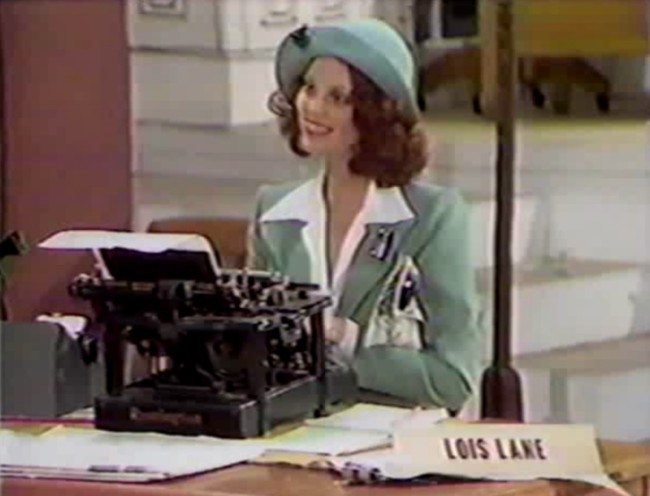 In terms of a Superman film, It's a Bird … It's a Plane … It's Superman feels lacking. Superman almost seems a secondary character. Much of the show is taken up between David Wayne's mad science schemings and his recruitment of Daily Planet gossip columnist Kenneth Mars; Lois's love triangle and ignoring of Clark and then sudden attraction to him, and a subplot where Lois is wooed away by one of Kenneth Mars's smooth approaches. There's also quite a bit of focus on Mars and his girlfriend Loretta Swit.
David Wilson makes what must be the worst Superman in the history of cinema, For one, he is a beanpole figure and lacks the physique for the part – he's more like a washed up B movie cowboy actor. Moreover, he is clearly not taking the role seriously. The lowest point of any screen portrayal of Superman is surely the sight of Wilson curled up on a couch in Clark's apartment crying like a baby for his "mommy". Equally, Lesley Anne Warren makes for the screen's worst Lois Lane ever. She plays the role as a ditsy airhead without a brain in her body.
The character of Abner Sedgwick is like a low level Lex Luthor with a not-particularly serious mad science scheme. Surprising time is given over to Kenneth Mars – he gets top billing, for instance – as the gossip columnist Max Mencken. The character was later incorporated into the tv series' Lois and Clark: The New Adventures of Superman (1993-7) and Superman and Lois (2021– ).
Other Superman appearances on screen are:-
seventeen

Superman

animated shorts produced by Fleischer Studios between 1941 and 1943
two serials made during the 1940s, Superman (1948) and Atom Man vs. Superman (1950) both starring Kirk Alyn
the low-budget feature film Superman and the Mole-Men (1951), which became the basis of the long-running tv series

Adventures of Superman

(1952-8) starring George Reeves
the big-budget Superman (1978) starring Christopher Reeve, which led to three sequels with Superman II (1980), Superman III (1983) and the cheap Superman IV: The Quest for Peace (1987) from Cannon Films, as well as spinoffs like Supergirl (1984) starring Helen Slater and tv's

Superboy

(1988-91) starring Gerard Christopher. Also of interest here is Superman II: The Richard Donner Cut (2006), Richard Donner's edit of his original intended vision of

Superman II

, which had been subject to much in-fighting with the producers

Lois and Clark: The New Adventures of Superman

(1993-7), a popular tv series that focused more on the love triangle relationship between Clark/Superman (Dean Cain) and Lois Lane (Teri Hatcher)
the excellent animated series

Superman

(1996-2000) where the superheroic exploits were rendered in a beautifully stylised Art Deco milieu, which led to several spinoff films with Superman: The Last Son of Krypton (1996), The Batman Superman Movie: World's Finest (1998) and Superman: Brainiac Attacks (2006), while Superman also appears as one of line-up of DC superheroes in the same creative team's

Justice League/Justice League Unlimited

(2001-6)
The DC Universe Original Animated Films:- Superman: Doomsday (2007), Superman/Batman: Public Enemies (2009), Superman & Batman: Apocalypse (2010), All-Star Superman (2011), Superman vs. The Elite (2012), Superman Unbound (2013), The Death of Superman (2018), Reign of the Supermen (2019), Superman: Man of Tomorrow (2020), Superman: Red Son (2020) and Batman and Superman: Battle of the Super Sons (2022), while Superman also appears in Justice League: The New Frontier (2008), Justice League: Crisis on Two Earths (2010), Justice League: Doom (2012), Batman: The Dark Knight Returns Part II (2013), Justice League: The Flashpoint Paradox (2013), Justice League: War (2014), Justice League: Throne of Atlantis (2015), Justice League: Gods and Monsters (2015), Justice League vs Teen Titans (2016), Justice League Dark (2017), Justice League vs The Fatal Five (2019), Justice League Dark: Apokolips War (2020), Injustice (2021), Justice Society: World War II (2021) and Legion of Super-Heroes (2023)
the tv series

Smallville

(2001-11) played by Tom Welling, which concerns Superman's teen years
Bryan Singer's follow-up to the Christopher Reeve films Superman Returns (2006) starring Brandon Routh and Superman: Requiem (2011), a feature-length fan film starring Martin Richardson that was sanctioned by Warner Brothers
Zack Snyder's reboot Man of Steel (2013) starring Henry Cavill and its follow-ups, the DC superhero team-ups Batman V Superman: Dawn of Justice (2016) and Justice League (2017) and the extended cut of the latter with Zack Snyder's Justice League (2021), while Cavill also makes a cameo in the end credits of Black Adam (2022)
the tv series

Supergirl

(2015-21) starring Melissa Benoist with appearances from Tyler Hoechlin as Superman who was later given his own series with

Superman and Lois

(2021– )
the prequel tv series

Krypton

(2018-9) concerning Superman's grandfather before the destruction of Krypton
Superman also turns up as an animated character in

Legion of Superheroes

(2006-8), The Lego Movie (2014), The Lego Batman Movie (2017), Teen Titans Go! To the Movies (2018), The Lego Movie 2 (2019) and DC League of Super Pets (2022), while the animated series

Young Justice

(2010-3) features Superboy, a clone of Superman, as a regular character
Also of interest is The Death of "Superman Lives": What Happened? (2015), a documentary about the aborted Tim Burton-Nicolas Cage Superman film of the late 1990s, and the South Korean A Man Who Was Superman (2008) about a man who believes he is Superman.
---
Full film available here
---