---
Crew
Directors – Pierre Coffin & Chris Renaud, Screenplay – Ken Daurio & Cinco Paul, Story – Sergio Pablos, Producers – John Cohen, Janet Healy & Christopher Meledandri, Music – Heitor Pereira & Pharrell Williams, Animation Director – Lionel Gallatt, Supervising Technical Director – Etienne Pecheux, CGI Effects – Mac Guff, Production Design – Yarrow Cheney. Production Company – Illumination Entertainment.
Voices
Steve Carell (Gru), Miranda Cosgrove (Margo), Dana Gaier (Edith), Elsie Fisher (Agnes), Jason Segel (Vector/Victor Perkins), Russell Brand (Dr Nefario), Will Arnett (Mr Perkins), Kristen Wiig (Miss Hattie), Julie Andrews (Gru's Mom), Pierre Coffin (Tim the Minion/Bob the Minion/Mark the Minion/Phil the Minion/Stuart the Minion)
---
Plot
Gru is a super-villain with world conquering schemes, although most of these so far remain unfulfilled. When another super-villain steals the Pyramid of Giza and leaves an inflatable rubber model in its place, Gru decides to top this by stealing The Moon. However, the Bank of Evil rejects his loan to build a rocket because Gru does not yet have the shrinking ray he needs to be able to carry The Moon away. Gru and his Minions conduct a raid on the laboratory and steal the shrinking ray, only for it to be snatched as they fly away by Vector, a young up and coming super-villain who was the mastermind behind the theft of the Pyramid. All of Gru's attempts to break into Vector's fortress are outwitted until Gru sees three young orphan girls, Margo, Edith and Agnes, invited in by Vector as they sell cookies door to door. Gru goes to the orphanage and adopts the three girls, planning to send them into Vector's fortress with robots disguised as cookies in order to steal back the shrinking ray. However, as the mean-spirited Gru becomes involved in the bothersome process of looking after the girls, he finds himself beginning to care about them.
---
Despicable Me was not a film that seemed to do anything for me in its lead-up. The trailer, which consisted of the opening gag about tourists discovering that the Pyramid has been replaced by an inflatable rubber model, was cute precisely once and in subsequent screenings seemed too precious. The rest of the film felt like no more than a concept on top of which you expected would be arrayed the usual formula gags and plot arcs of the modern animated film. Nor did anybody associated with the film seem to have had any notable credits before. Of the two directors, only Chris Renaud had worked in the industry before as a storyboard artist for Blue Sky Studios. Producer Janet Healy previously had a background in visual effects, although producer Christopher Meldedandri had acted as an executive producer on all of Blue Sky's films from Ice Age (2002) through to Horton Hears a Who! (2008).
One went to see Despicable Me expecting nothing more than a two-star film. Such low expectations ended up being pleasantly overturned and by the end of the film I was entirely charmed by the show. Despicable Me has an absurdly simple premise – the redeemable anti-hero of the piece is a super-villain that could be taken from fairly much any cartoon. Gru could almost be a lost member of the Addams Family – the series of dialogueless opening gags could easily have been taken from one of Charles Addams' original strips, while his bedding the girls in bunks made out of bombshells is something that either Gomez or Uncle Fester would take great delight in. The look and character of Gru has been strongly modelled on the British comic-strip Grimly Feendish, which began in 1964.
Via a series of plot contrivations, Gru is then paired up with three moppets of maximum adorability and cuteness. The arc of the story is an eminently predictable one where we go from him refusing to tell bedtime stories or drive them to dance recital, and in one hilarious scene leaving them dog bowls of water and a litter box in a corner of the kitchen, to his slowly being warmed by their presence. The results are thoroughly appealing. The two bedtime stories that Gru gets to read – the pop-up book story of the three kitties and the one he makes up at the end about a lonely unicorn – are completely heart-warming and it is only the most misanthropic grinch that would not be charmed by their sweetness.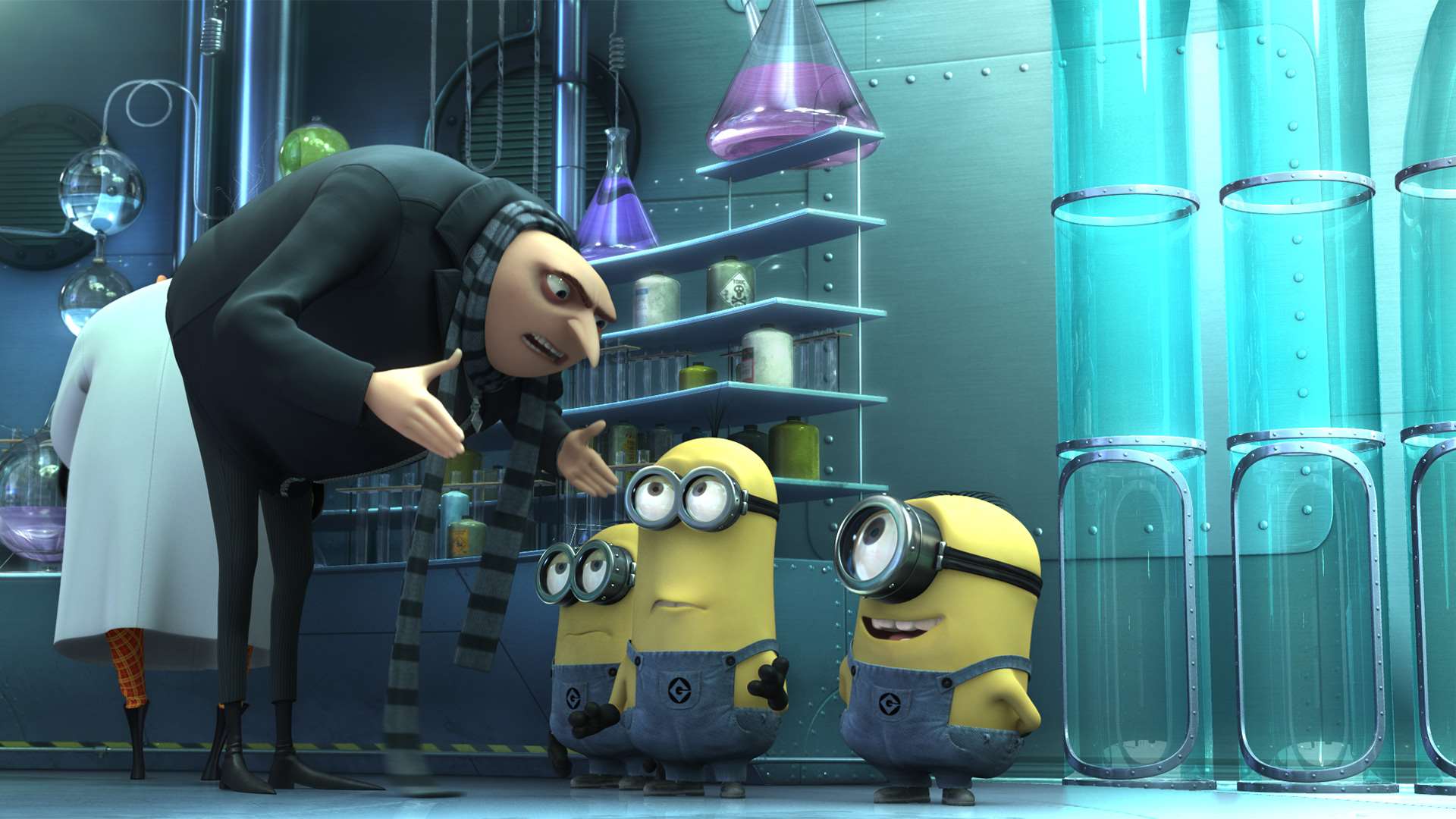 The appeal of Despicable Me lies not in the question of whether the character and his arc are original (as other critics knocked it for), the effect lies in the strength with which it is played and the downright hilarity and sweetness of everything that comes in between. I have not seen an animated film in some time that comes packed with so many witty gags throughout. A substantial part of the show is stolen by the horde of miniature, sometimes cyclopean, sometimes biclopean, Minions who natter away in an unintelligible high-pitched language and engage in endless physical slapstick. All of their appearances – be it seeing one of them miniaturised to their being shaken to be used as glowsticks and their attempts to winch the shrinking ray up through the roof without hitting the ceiling – are hilarious.
One of the best parts about the film is the way that some of the gags get fired off seemingly to be forgotten and then continue to reappear at later unexpected points throughout the film. Despicable Me is also welcomely free of the grating humour that infects much modern children's filmmaking – barrages of pop culture jokes and in-references, smartass one-liners and an obsession with poop and fart jokes. (The film does get off a couple of fart jokes but one of these is a delightful pun "I thought you meant a dart gun" that has an entire audience laughing). There is also a range of jokes aimed over the heads of the kids for the adults in the audience – loved the slyly tossed off reference to the "Bank of Evil (formerly known as Lehman Brothers)".
The design of the film comes in the peculiarly stylised and elongated form that was first seen in The Triplets of Belleville (2003) and has been used in other works like Corpse Bride (2005) and The Tale of Despereaux (2008). This is the first application in a science-fiction environment resulting in some unique designs – Gru drives a carbon-belching rocket-powered stretch tank and flies a plane that is like a spotlight attachment, which are all built in bolted aluminium plates like armoured Airstreams (the scene where the shrinking ray is turned on the plane and Gru and Minions are suddenly reduced to flying on something the size of a child's tricycle is side-splitting), while Vector's fortress and ships are all elongated Googie-styled creations.
Steve Carell does a sterling job voicing the role of Gru. Carell is a comic whose nerdishly deadpan screen presence I have yet to fully warm to, however his appearance here as he slips into and maintains an unidentifiable East European accent for the entire film is a far better piece of acting than all his live performances put together. Another good piece of voice acting is British actor/performer/stand-up comic du jour Russell Brand. Although I saw Brand's name on the credits, I failed to guess it was he playing the aging lab assistant until the cast list at the end. Another piece of casting that goes wholly against grain is Julie Andrews, about as far as it is possible to get from the sugary wholesome family roles she built her career on as Gru's cynical apathetic mother.
I enjoyed Despicable Me thoroughly – in fact, I am prepared to go out on a limb and say I found the film far more naturally funny and sweetly enjoyable than both of the two other big over-praised animated hits of the year – How to Train Your Dragon (2010) and Toy Story 3 (2010). Surprisingly, 2010 also offered up a second animated film about a super-villain with Megamind (2010), although that lacked even half the charms of Despicable Me.
Illumination Entertainment made two sequels Despicable Me 2 (2013) and Despicable Me 3 (2017), while giving the Minions their own film with Minions (2015), followed by Minions: The Rise of Gru (2022), which actually acts as a Gru origin story.
Despicable Me served to announced Illumination Entertainment as a major new presence in animation. They next went onto make the disappointing live-action/CGI animated Easter Bunny film Hop (2011), the Dr Seuss adaptation The Lorax (2012), The Secret Life of Pets (2016), Sing (2016), The Grinch (2018), the sequels The Secret Life of Pets 2 (2019) and Sing 2 (2021), and The Super Mario Bros. Movie (2023)..
(Winner in this site's Top 10 Films of 2010 list).
---
---